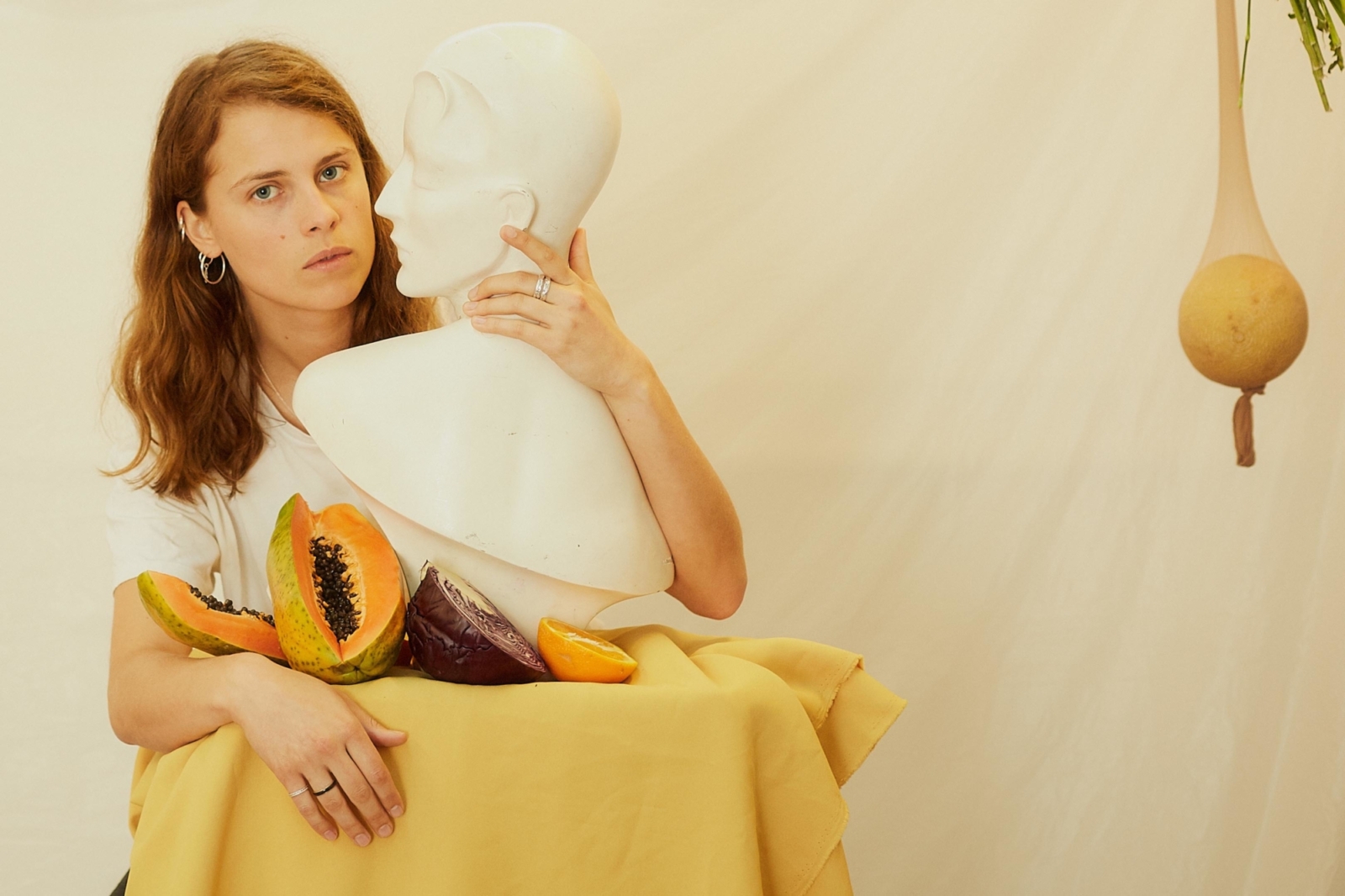 Marika Hackman: Sexual Healing
From difficult break-ups to unapologetic romps in the bedroom, 'Any Human Friend' finds Marika Hackman with her heart on her sleeve and her hand down her pants, digging deep into both love and sex.
A few months ago on a leafy street in Peckham, Marika Hackman caused quite a stir. Concerned residents crowded around their doorways, watching in mild horror as the unflinching musician was walloped across the face by a long procession of spurned lovers, her underwear hung nearby from a tree after being hurled out of an upstairs window. Later on, she was seen trudging wearily down the middle of the road drenched in tomato juice. To an unsuspecting onlooker, it must've resembled the messiest break-up of all time - either that, or a strange remake of the noughties music video for Frankee's middle-finger-up pop anthem 'F U Right Back'.
"Someone tweeted 'Marika Hackman is being slapped on my doorstep right now'," the slappee in question laughs today. "People started coming home from work around 5pm. They were all standing in the street, like, 'what is going on?'" Thankfully, they were witnessing the video shoot for Marika's first single - the twanging emotional-detachment banger 'i'm not where you are' - rather than an episode of EastEnders rendered real.
Since her game-changing second record 'I'm Not Your Man' - a riff-slathered gear shift from an artist with previous groundings in intricate, pastoral folk - Marika Hackman has played the role of the swaggering, egotistical fuck-boy very well. On 'My Lover Cindy' (named after a minor character from lesbian TV show The L Word) she boasted of being a "greedy pig" who's gonna get her fill, self-deprecating and aggrandising at the same time. 'Boyfriend' saw her copping off with an anonymous man's girlfriend, and sardonically reciting the myths of heteronormativity in a cool, piss-taking drawl. "It's fine 'cause I am just a girl, it's just a dream," she beams angelically. "A woman really needs a man to make her scream."
It was quite the sideways swerve from her delicately-spun 2015 debut 'We Slept At Last' - at first glance. However, in truth, Marika's always had a fixation with the grotesque. Return back to the strange hungry mouths that lingered on her debut, and a similar darkness hangs in the shadows. If the deliciously sarcastic chorus of 'Open Wide' - "What's your favourite game to play / Lying on your back all day?" - isn't intended as a jab at pillow queens and selfish bedfellows, then it certainly should be. It's not that Marika Hackman keeps continually changing; rather, she becomes ever more direct in her approach. "'I'm Not Your Man' was a very important album for me to make," she says of her second record. "The growth in confidence on the last record was definitely a huge thing. I've stepped up again on this one."
"
There's a sense of liberation, a sense of sexual freedom, and being a solo entity again - and working out what that means.
Think of a guitar-wielding lothario, and a pouting Mick Jagger type will probably spring to mind: they will almost certainly be male. That's because the cocky, exaggerated, sexually-free persona with a creased suit and popped collar is rarely inhabited by women, at least in the sphere of rock. It's also a role that 'Any Human Friend' playfully embraces and questions at the same time. "It's a real dig in, looking at the old ego," Marika says of the record. "There's a sense of liberation, a sense of sexual freedom, and being a solo entity again - and working out what that means."

It's an exaggerated reflection of Marika Hackman's own life; over the last year or so, she's been piecing herself together after her break-up with fellow musician Amber Bain (otherwise known as The Japanese House). Ending their four-year relationship felt like a "big upheaval," Marika says. "Moving house and everything, and then having to write a record and actually do this, with my head all over the place…" she continues, gazing down into her mug, "I was feeling so anxious all of the time. It got quite a lot."

Some people bounce back from a break-up by listening to Robyn's 'Dancing on my Own' at full pelt, necking whiskey shots, or chopping themselves a wonky new fringe with kitchen scissors. Marika? She took up swimming. Every morning before sitting down to write - rain or shine - she would walk for an hour down Regents Canal, and go for a dip at London Fields' outdoor lido. She prefers the chilly days best; hard as nails, she's even swum in a snow blizzard. "The pool was just empty, and it felt so still," she says. "That's my favourite time. I think it kept my brain on track."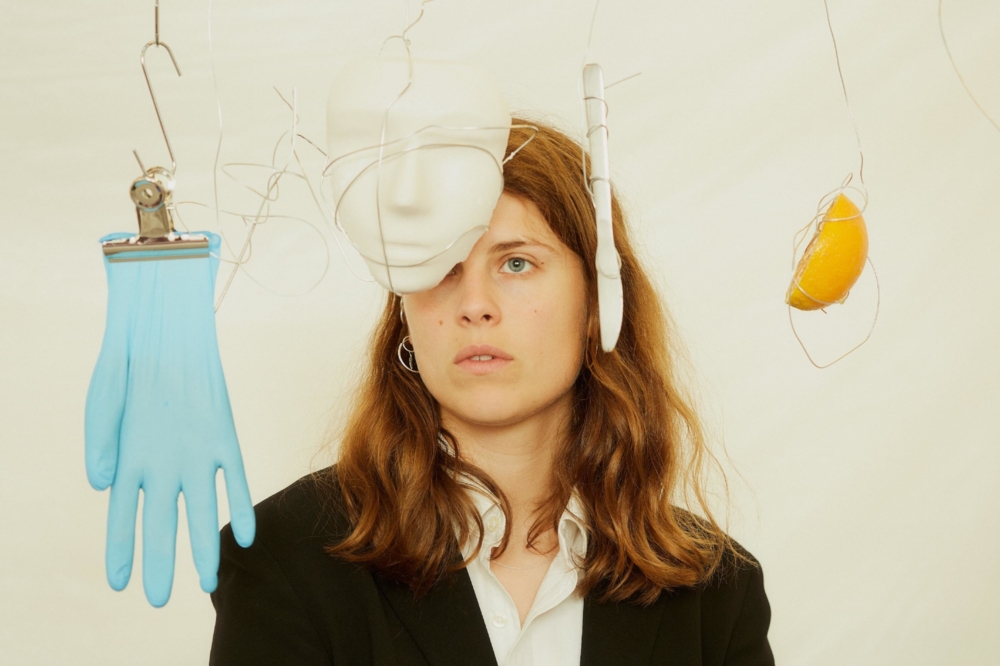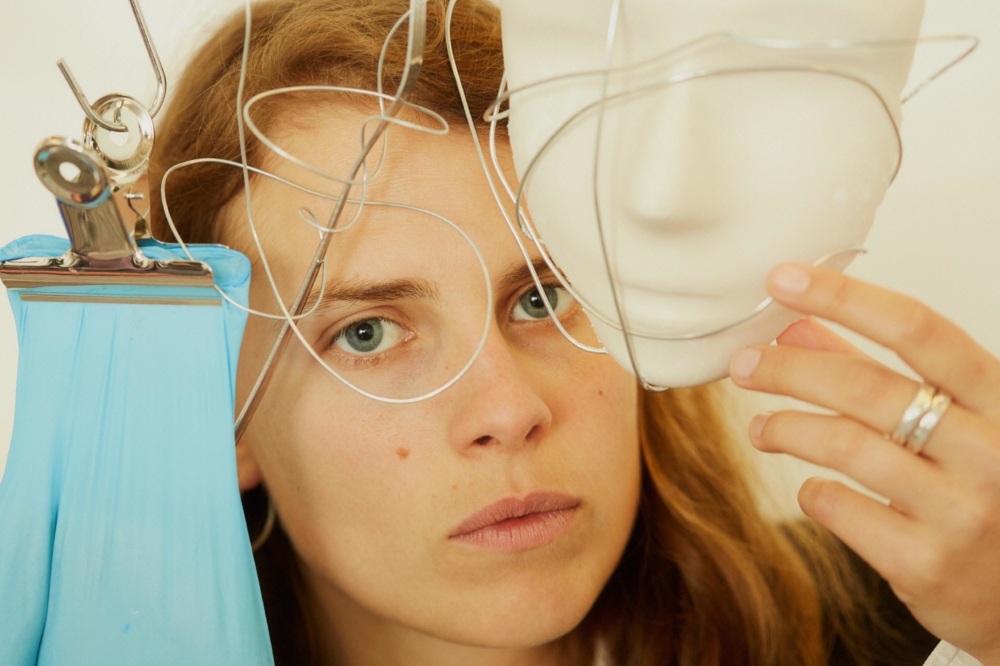 "
I think we need more wank anthems, especially for women.
Intensifying the process even further, Marika also switched up her approach to the album. Treating the studio like a second swimming pool, 'Any Human Friend' was recorded in multiple dives. After a short burst of deep-digging, she and producer David Wrench would take her material into the studio; a week later, more writing, more excavation, more burrowing right to the bottom. "There was no brain respite through the whole thing," she says. Going through all the shades of the last year, it's about peeling back, and digging in and in.
"That incredibly hot summer [last year] was spent alone in my bedroom, or in a windowless studio with David. I hate hot weather anyway," she groans, "so last year was just killer. I'd be in my room in a vest and boxers, sweating at my desk and stealing my housemate's fan. I had to turn it off for vocal takes, and the room would heat up again," she adds, looking pained.
A striking mental image, and very far removed from the smooth-operating seducer who prowls through the record's raunchiest numbers (more on those very shortly). "That's the dark side of rock n' roll," deadpans Marika in response.
Growing up, Marika always knew she wanted to make music: "In my heart of hearts I always knew I wanted to be a musician and I got a bit embarrassed to say it," she admits. As a kid, she and her brother spent their days running around the countryside in elaborate costumes; during one more memorable phase, Marika had a habit of carrying a black suitcase everywhere she went. "There was a fully black outfit inside, and a BB gun. A compass, a little penknife, and lots of documents that I printed off with loads of gibberish written on there. I made an ID card. I really wanted to be a spy."

But can you keep a secret, Marika? "Umm…" she pauses, mulling it over. "I can keep a secret, but I can't tell a lie," she decides. "I'm the worst liar in the world, which is quite nice."

Perhaps that goes some way to explaining why Marika Hackman's music is so searingly honest. Nothing - not even its creator - escapes examination. Take the bouncy stabs of 'come undone' as one example. "I mean, the lyrics are quite disgusting - I'm not proud of myself," she says, typically candid. "I think that I love her, but I'm fucking another," she adds, reciting the chorus. "That's not a nice thing to write, sing, or hear, but it's still a reflection of human experience. The record isn't all 'ooo, sexy sexy sex!'" Marika protests. "Sex can be this passionate moment, but also something that's treated with derision, or a bit gross. Gross sexy. Funny sexy. I can't wait to sing some of these lyrics live," she comments, "and really inhabit that role."

'Any Human Friend' often gets a bit hot under the collar. Unlike the metaphoric throbbing howls of her previous record's "saucy" number 'Violet', the grunge-laced 'all night' leaves absolutely nothing to the imagination. "We go down on one another, you're my favourite kind of lover," she sings, "With your kissing, fucking / Kiss it, fuck it." That's a chorus that certainly, er, stands out. "Yep," she concurs, smiling.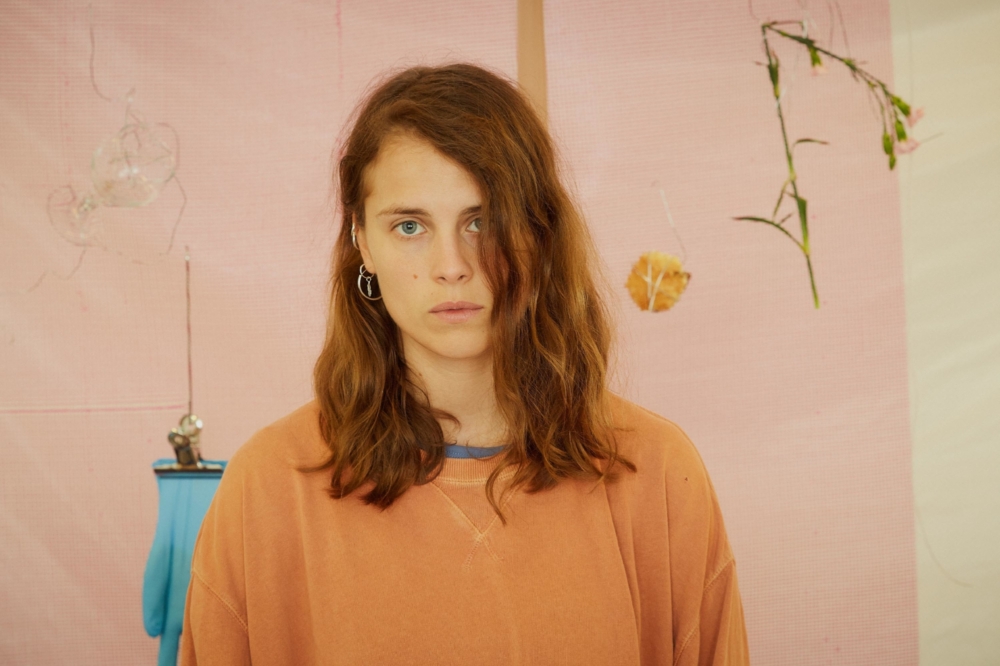 "
The lyrics are quite disgusting - I'm not proud of myself…
And 'hand solo', if you hadn't already guessed, has nothing to do with Star Wars. Instead, it's a song about having - and let's not mince our words here - an absolutely massive wank. Besides the surreal imagery painted across the song (much of it is abstract and fleshy: "My finger touch / I've been feeling stuff / Dark meat / Skin pleat / I'm working" she sings) the song also introduces the shame usually associated with women's self-pleasure, before tearing it down with wry accuracy. "When I go blind, will you keep in mind I had fun?" Marika asks in one verse, referencing Victorian attitudes towards masturbation. "I gave it all, but under patriarchal law I'm gonna die a virgin."
That second lightening-quick line introduces a familiar comment that many LGBT+ people will recognise - the damaging myth that women's sexuality 'doesn't count' for anything unless it actively involves and gratifies men. "This idea that you haven't lost your virginity unless you have sex with a guy…" Marika nods. "Well, how do you define having sex? What actually is sex? A line like that is definitely political. There, I know exactly what I'm doing," she says, sticking up her middle finger and blowing a forceful raspberry. Message received.
"I think we need more wank anthems, especially for women," she adds cheerily. "The more the merrier, that's how I feel."
Though 'Any Human Friend' is a deeply personal record - unpicking everything from being a straight person's experiment, to the bleak and final intimate moment of 'send my love' - Marika also acknowledges that, standing shoulder to shoulder with an outpouring of other queer experiences told by numerous other musicans' work, her music becomes part of something larger. "Power in numbers is a thing," she agrees. "This is my life. But sharing that, and knowing there are people out there who maybe haven't heard that voice before - I certainly didn't, growing up - is a nice feeling."
"We're not in a happy, perfect place by any shot," she adds, pondering further. "Things are getting better, maybe, but then two women get beaten up on a bus for not kissing and being performative for some male fetishisation of their sexuality," she says, referring to an attack that took place in Camden this year. Carried out by a group of teenage boys, aged between 15 and 18, the assault hit national headlines, and highlighted exactly why children should be taught about LGBT+ issues in schools. "There has to be a push back, and you have to force that pendulum the other way."
In the run-up to finishing 'Any Human Friend', Marika shared more of herself than ever before. Around six months after she and Amber split up, The Japanese House began work on the visuals for her own single 'Lilo'. A brutal dedication, the song charts the pair's relationship from start to finish: the excitement of their first meeting through to a slow, fizzling, falling out of love. Amber's initial plan for the video was to act out specific moments from their relationship alongside an actor; "The whole time," Marika says, "I was thinking it should be me". When the original casting pulled out, she didn't hesitate to get involved. It's an incredibly bold owning of a personal narrative, from both artists.

"I think afterwards, we both felt quite shellshocked," Marika says. "It was maybe a step back emotionally for both of us. We still hang out all the time, and we felt like we were doing fine, and then you spend three days on a shoot having to act like you're in a couple. That's quite triggering. We spoke about it, and a month later it was fine again," she says. The pair have remained friends. "To go through that was hard, but I'm really proud of what Amber achieved. I think it's a really powerful video. It was a rare opportunity, I reckon."

"I've only watched it a couple of times," she adds with a chortle. "I can't do it too much. My mum was like, 'don't watch it anymore'. It's intense!"

"Amber's heard the whole record, and I know she struggled with 'send my love' for a bit, because it's quite sad. Seeing her shows, too, it can be hard to hear particular songs. But the reason it's emotional is because it's achieving what it set out to achieve. That's incredible. We both feel that about each other's work," she concludes.

Emerging the other side, after a muddled year of freezing swimming pools, self-examination, and learning to be alone, 'Any Human Friend' craves connection. By the end, it settles on a sort of rebirth, and a curiosity for everything that life has to offer, instead. "I want to be a newborn," hums the morose orchestral wave of 'hold on'."Reprise of the child, I'm tired."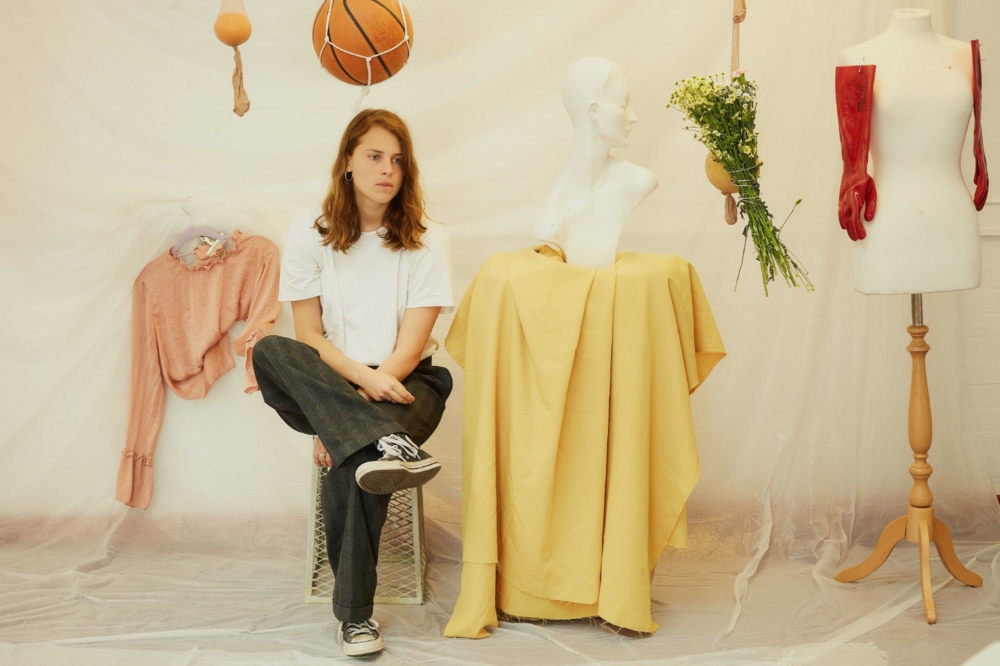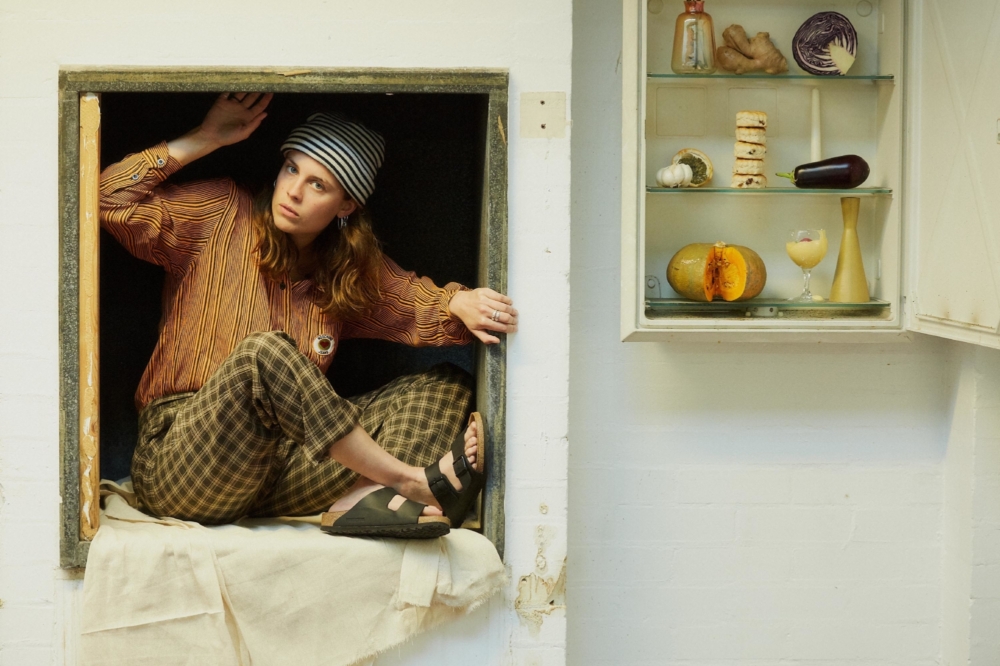 "
The growth in confidence on 'I'm Not Your Man' was definitely a huge thing. I've stepped up again on this one.
On the sleeve of 'Any Human Friend', Marika is standing in nothing but Y-fronts and a pair of bunched up socks, clutching a tiny piglet in her arms. It's inspired by the Dutch photographer Rineke Dijkstra, best known for her images of new mothers holding their tiny babies. "They're really stark shots, warm at the same time, and kind of funny, too - just these knackered mums holding their weird, gnarled babies, who always look like aliens-slash-old-people. They're in post-labour pants with the pads and stuff."


"Obviously this isn't about me being a new mum," she adds. "It's about my album and what that is. Having a little piglet represents a lot of that. Pigs are super clever, they're really clean, they're quite sexual beasts, but we treat them as if they're gross and dumb, and we eat them, and treat them really badly," Marika says. "Pig is an insult."

"I really didn't want to create an image that was sexual in any way - even though it's a sexual record," she adds. "The sexuality of the record is from a very raw, open perspective. Yes, I'm in my giant pants, but I'm just going to stand here," she states. "That's exactly how the record feels to me. Take it or leave it."

Take it or leave it also feels like a fitting mantra for the art that Marika is creating as a whole. Unafraid of examining her own flaws with scalpel-like dissection (she refers to herself as "arrogant" three seperate times in conversation) and playing the hammed-up villain to magnify them even further, the brilliance of 'Any Human Friend' lies in how it captures mangled, messy emotion, and dollops it up without a filter.


'Any Human Friend' is out 9th August via AMF.