Out Friday!
Right In The Chaos: Sleater-Kinney are the cover stars of DIY's August issue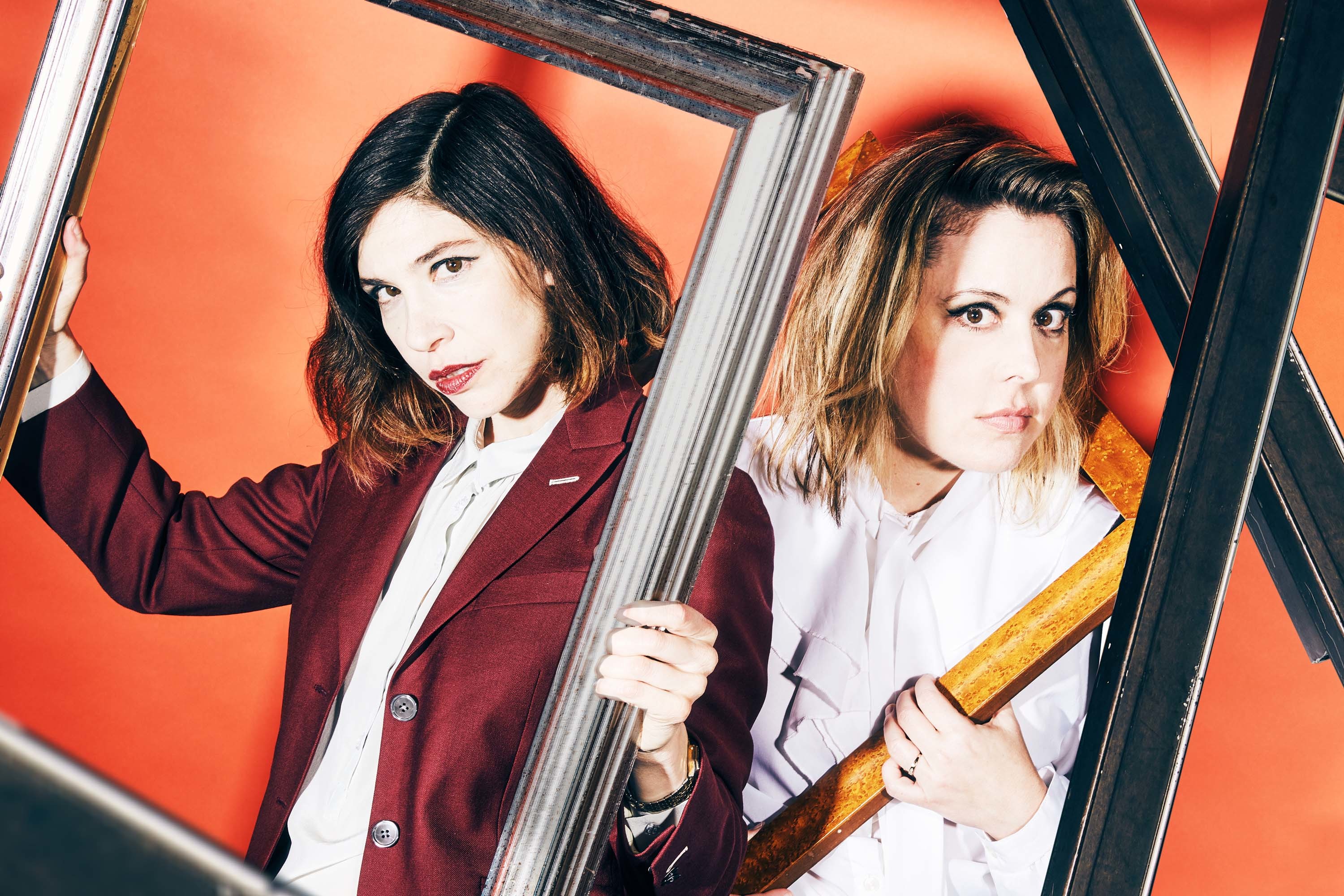 Photo: Ed Miles
Plus, The Murder Capital, Friendly Fires, Shura, Kim Petras and loads more!
"We're right in the chaos," say Sleater-Kinney. Specifically, about their new album, the St Vincent-produced 'The Center Won't Hold' - but it's just as apt for the situation Corin Tucker and Carrie Brownstein find themselves in after the shock departure of Janet Weiss earlier this summer. For our August issue, we spoke to the then-trio, and remaining duo about the themes behind the record, working with St Vincent and more.
A record on the run from that very chaos, 'The Center Won't Hold' hungers after forming a meaningful connection in this modern void, and often gets nowhere. "There have been moments of total despair," starts Corin Tucker, taking stock of the last few years, gathered together in London with bandmates Janet Weiss and Carrie Brownstein.
"Right before we went in to record ['The Center Won't Hold], Brett Kavanaugh was being confirmed," she continues, referring to Trump's pick for the American Supreme Court. Neither the fact that he faced three separate allegations of sexual abuse, nor the brave testimony from Dr Christine Blasey Ford, who spoke publically about being assaulted, could stop Kavanaugh's nomination being approved. Like the US President, who also faces multiple sexual abuse allegations, he has now been admitted to a position of immense political power. "It was such a knife in the heart, " Corin continues. "Of course it makes you feel so raw. Thank god we have this band to put those feelings somewhere."
Elsewhere in the August issue, we chat to Ireland's finest new band The Murder Capital about their debut, finally get the lowdown on Friendly Fires' long-awaited record, and meet Kim Petras for the first time, ahead of her upcoming stints at Reading and Leeds.

There's also chats with Whitney, Jay Som, Shura and The Futureheads, as well as a visit to The Big Moon's studio to find out the progress of Album Number Two. Plus, there's previews of Ypsigrock and Reading and Leeds festivals, as well as Neu features with Alfie Templeman, Working Men's Club and Zuzu. Phew!
The new issue of DIY is out this Friday - you can find it at these places listed here, read online from midday Friday, or order a copy right to your door.

Photo: Ed Miles. Collage: Louise Mason.