Interview
Gimme Some Truth: The Murder Capital
On debut 'When I Have Fears', Dubliners The Murder Capital set out to explore their inner workings in the most commited way possible. This is what they found.
The Murder Capital are a band for whom an obvious narrative has already been written. They are, it is often said, a part of that fertile Dublin scene we all keep hearing about – the same one that spawned Fontaines DC, Girl Band, Just Mustard and the like. They are Ireland's answer to IDLES, people say, because you know, they toured together, play guitars, and touch on similar themes of mental health. They're often called a punk band, and their music is described as aggressive, dark and uncompromising. They are angry young men, etcetera, etcetera, etcetera.
But all of this does the band a disservice, it lumps them in with others when there's a richer and more multifaceted tale to be told. "'Here's five angry young males with something to shout about!'" quotes bassist Cathal Roper. "Sometimes it's like, 'oh, just fuck off!'"
"And we're not a punk band either, Jesus Christ," says frontman James McGovern.
The Murder Capital are admirers of IDLES, good friends with Fontaines and champions of their Irish contemporaries, but they're also more than just a chapter in someone else's story. Their debut album 'When I Have Fears' proves them a band capable of something staggering when they turn on those swarming, bubbling walls of noise. Yes, they're inspired by Dublin and its failings to provide for its most vulnerable, and James sings in a thick Irish accent, but that's because they're from Dublin and James has a thick Irish accent. They're not just the next on the conveyor belt of Irish guitar groups, they've got their sights set on something much more universal.
James, Cathal, and their bandmates Diarmuid Brennan, Gabriel Pascal-Blake and Damien Tuit, are clearly a little guarded as they sit around a table in an upmarket London pub, unafraid to ask questions of your questions if they spot an inconsistency, but generous, open and eloquent with their thoughts. The extent of their ambition is obvious within seconds as talk turns to their debut - a record made with a ceaseless desire to push themselves to the limits of what's possible.
Recording it was an intense experience, says James. "When we're writing and recording together, we try to be as authentic to the truth that we're trying to communicate as minutely as possible, to always try and stay honest with ourselves," he says. "When you do that, I think you have to confront a lot of things in yourself. You take every book off the shelf and you're dusting in areas you haven't seen before, then you're placing them back up in what you deem to be a better order." "The five of us hold up mirrors to each other all the time," Gabriel adds. "You probably don't [normally] confront your flaws as much as when you're in a band like we are."
'Truth', of course, can be an ephemeral thing. To seek out a straightforward 'message' about the modern world on the record would be a fruitless task; the main search here is inwards, and one that still hasn't, and may never, reach its conclusion. Perhaps, indeed, 'When I Have Fears' is more of an exercise in honesty than an expression of it. In press material, the band have called the record "an attempt to dismantle ourselves", with the goal of stripping away the superfluous in search of the purest expression possible. "You start to feel quite insignificant when you start to track back why you think what you think," James explains. "It tends to be quite menial. It's just because your mum thinks that way, and her mum thought that. Have I formed any individual self at any point, or have I just collected other people's experiences and just reflected back a lesser version of a true human being?"
There's aggression and darkness on the record, sure, but tenderness and compassion too; with an album's worth of material to play with, the quintet are clearly keen to demonstrate the breadth of their ambition. "We're serious about every single thing we do, even in the softer songs we play there's a lot of integrity, we're very conscious of everything," says Gabriel. "Although I do like the idea of there being a certain aggression arching over the whole thing," interjects James. "Maybe there is. Maybe there's an unbearable dysfunction in our modern society and maybe that can leave a dull tone in your head."
"There are lots of beautiful and wonderful times whilst making a record," he nods, "but many dark moments as well."
It is no secret that the suicide of a close friend, and the recovery from that trauma, has underpinned a lot, perhaps everything, that The Murder Capital have done since, and it's something they're unflinchingly open about. The problem, however, is when the music business starts to use that as a selling point. "Sometimes you feel like you're being lulled into saying the same old things about it," says Diarmuid.
James sighs. "I've been in Travelodge toilets on tours, just trying to have a bath because I feel so sick and unwell from touring, then I get a phone call [from an interviewer] and the second question is 'I know this song is about your friend killing himself, want to tell me more about that?' I feel like they don't give a shit about how I actually feel about it, so why are they asking me? If there's a question to ask I'm more than happy to talk about it, but at least come with a fucking question…"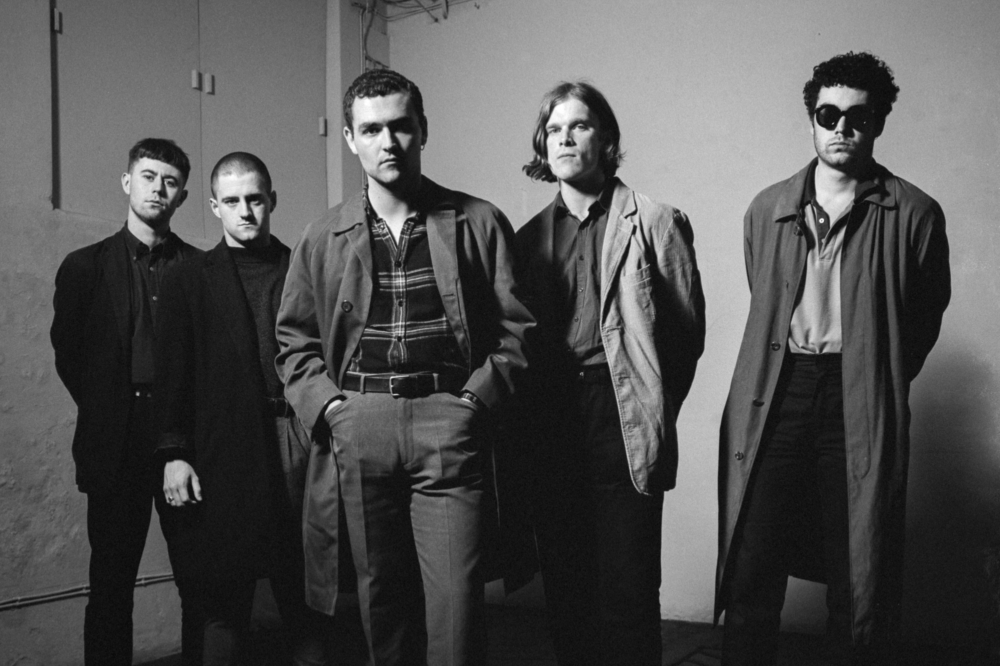 "We're serious about every single thing we do."
— Gabriel Pascal-Blake
The band speak often about how literature and poetry is as much, if not more, of an influence than music; "I've only read ten books, but I've fucking READ them," jokes Gabriel. "Joyce and Beckett man, they're fuckin' serious!"
James himself writes lyrics with a blend of philosophy and poetry, his words packed with meaning, though sometimes cryptic and laden with metaphor. Narratively, it might be tempting to try and place him in that great tradition of specifically Irish writers, particularly when he talks about the gentrification of his home town, and the shortcomings of Dublin's mental health provision, but again, the band seek something far more universal. "I don't think our music is geographically anchored," the singer argues. "We're from Ireland and we're completely affected by it, we drink and we pray, but what I'm saying is that that allows for that sort of universal nature to expose itself further. The words are written and they're conveying our experience of living, and then the heat of my breath is the Dublin."
On 'When I Have Fears' The Murder Capital do not transport the listener directly to their Dublin, but find in that city the kind of themes that permeate everywhere. So exhaustive was their quest to tell their truth in its most potent form, that the most important achievement has already been made by virtue of the record's sheer existence. "I think the beautiful thing for us is that we've got nothing to prove to anyone," says James. "That's how we got away with making something that I believe to be so pure. That record is like a living sentient thing when I listen to it. It's imperfect and it's breathing."
'When I Have Fears' is out 16th August via Human Season.