Introducing:
Get To Know… Husky Loops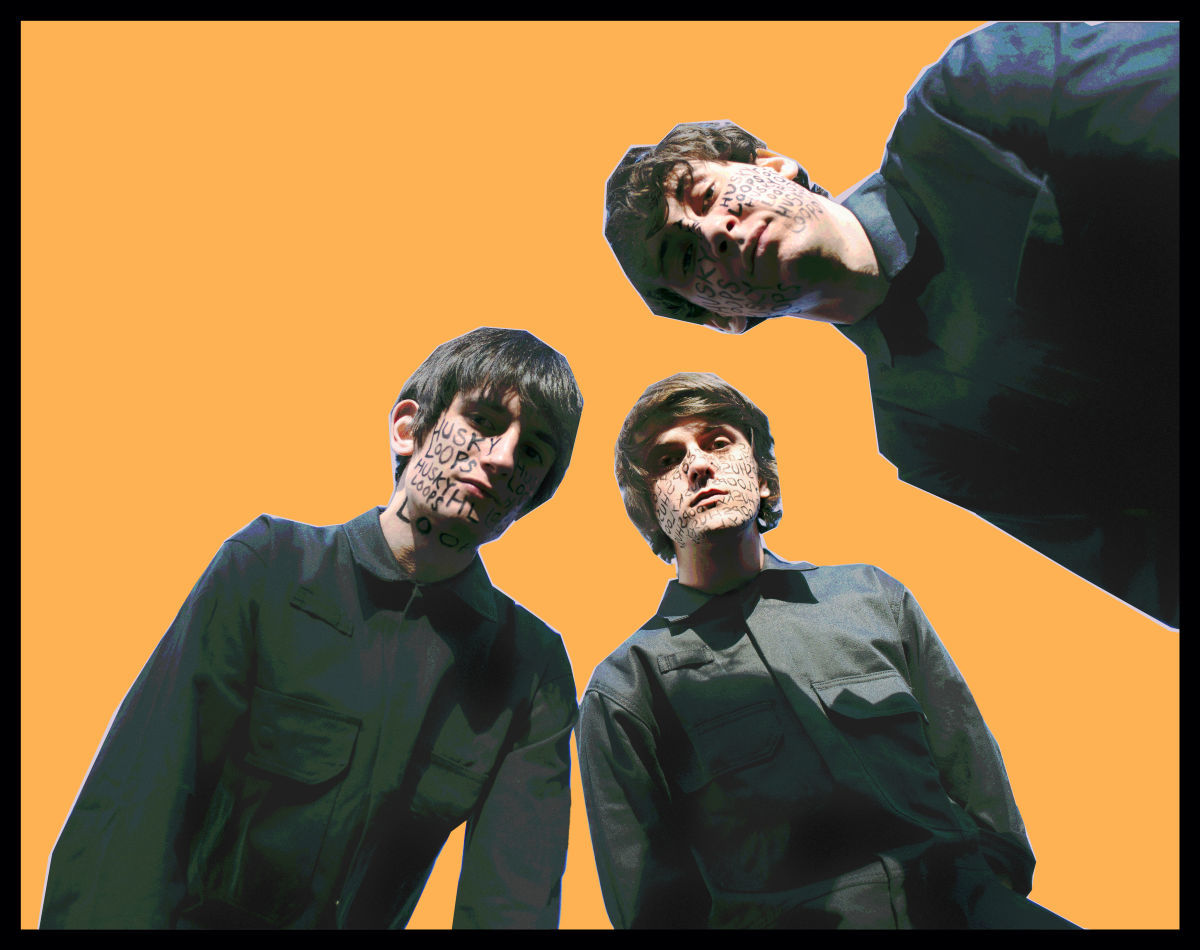 With their debut album 'I CAN'T EVEN SPEAK ENGLISH' out now, we meet the genre-blending newcomers.
Hello and welcome to DIY's introducing feature, Get To Know… getting you a little bit closer to the buzziest new acts that have been catching our eye as of late, and working out what makes them tick.
Already this week we've brought you rock'n'rollers Vinyl Staircase and South London rapper Master Peace, so we're rounding the week off with London-via-Bologna trio Husky Loops!
Releasing their genre-blending debut LP 'I CAN'T EVEN SPEAK ENGLISH' today, we grabbed five mins with Danio to tell us more!
Describe your music to us in the form of a Tinder bio.
We don't use Tinder. We like to meet people in real life. It's about what feels real, it's about feelings and it's about chemistry.
That's also how I would describe our music.
What's your earliest musical memory?
Singing "The Best" of Tina Turner. My mum had that cassette in the car and she was playing that all the time 'cause I loved it. I was probably three or four years old.
I recently re-discovered it. It's such a great song. Fun fact: Me and my mum are both Italian, just like Pietro and Tommaso (we're all Italian) so actually at the time we didn't know any of the words, we didn't understand it.
We were just singing the chorus, and hum the rest.
Who were some artists that inspired you when you were just starting out (and why)?
When we started out we were kinda inspired by the bands of the time, the UK indie rock scene. That was around 2014. We didn't have a name yet.
When Husky Loops actually properly started, around 2015/2016, we shifted quickly onto Hip Hop, R'n'B and Grime, because those genres were more interesting to experiment with and everyone in the scene was pushing music forward way more than any other "rock" or "punk" band we knew. We felt rock music reached a point where it just got stuck, and instead everyone in hip hop was breaking boundaries and the music of artists like Kendrick Lamar, Frank Ocean, Solange, Flying Lotus, to name a few, felt way more free and innovating. In the UK especially BBK was a big influence for Husky Loops. Their energy is absolutely crazy. I feel really lucky as I work often with Jammer now.
Hip hop is also about repetition mostly, and that's obviously is a big thing for us. For us especially at the beginning it was more about playing "loops live" than songs. We just recently got into putting proper attention on the songwriting.
Btw, I'm not trying to say we don't like bands or rock is dead… there are amazing bands that are changing rock music and innovating every single day out there.
St Vincent, Jack White… shout out to our friend Carla Azar from Autolux, an incredible, incredible band based in LA. Adrian Younge makes live music 24/7 and his stuff is truly amazing too.
You're from Italy! What do you think of the music scene there at the moment?
Italian Trap is big over there now. Kinda cool. But we're not too interested in the Italian scene tbh. It doesn't feel as personal as what Italian music used to be in the 60's and 70's. But that's just my opinion, and I'm sure it can be changed.
The problem is that today (everywhere) everyone uses computers to make music, and the same programmes, Logic, Pro Tools or Ableton, and everyone sounds the same. I feel that's what everyone is doing in Italy right now, just getting a computer with Logic and stick autotune everywhere, to sound like the American rappers.
I also feel that streaming companies like Spotify kinda give you more opportunities if you sound like someone else.
We're about being a live band and play real instruments, because that way we could make our sounds and have our own style. If you make something with your hands and on the spot, recording live, it will never be the same twice.
If you start and correct everything, and quantise everything, and use the same plugins everyone uses and the same samples, then it's harder to build your personality.
Tbh, there's ways of making computer music sound extremely live and full of life, and that's another reason why we love Hip Hop productions… you just gotta get it right tho.
I sound like a professor, but I swear I am a nice guy.
Are there any other artists breaking through at the same time that you take inspiration from?
Many: Joy Anonymous, Fred Again, MEI, Kari Faux, Superorganism, Mother MaryGold, Pleasure Complex, Ten Dixon, SBK…the list is long, but these are our friends and the people who inspire us everyday. The musicians and artists around us.
Who would be your dream collaborator?
Dead: David Bowie. Rest in peace.
Alive: Tyler, The Creator.
…also, music now is shifting towards modern Afro Beat and G-qom and that's extremely exciting. Anyone that is in that scene and wants to collaborate, please hit me up.
We're ready to go. I'd like to move to Lagos for like 2 months. Then go clubbing in South Africa for 3 months.
Musically or otherwise, what are you most looking forward to for the rest of the year?
We have so much material that I still need to work on and to be honest I kinda just want to work on that, I'm excited. I'm a workaholic. It's bad man, take me away from the studio dude, I'm crying.
We're planning to release more stuff after the album, possibly another LP and a mixtape. Also a collaboration project. We'll see what happens.
Also we're touring the UK and Europe in October and we can't wait to do that, the new show is totally new. It's going to be very exciting.
If people could take away one thing from your music, what would it be?
The english language. We'd love to make an album in another language.
I CAN'T EVEN SPEAK ENGLISH out on the 6th of September.
Buy it. Stream it. Draw on it. ;)
More like this
The band opened for TRAAMS at the Queen of Hoxton just last month.
London bands join a 9th November bill at the Queen of Hoxton.
London-based trio's dark, sludge-infested indie is a bolt out the blue.