Festivals
DIY to media partner Hamburg's Reeperbahn Festival 2019
We'll also be taking a very special train from Berlin to Hamburg with our mates in Bloxx.
We here at DIY are pretty chuffed to confirm that we'll once again be official media partners for this year's Reeperbahn Festival, where the likes of Sports Team, Just Mustard, Squid and Easy Life will be taking over Hamburg later this month.
Not only that, but we'll be travelling there in style: we'll be hopping aboard the Festival Train, along with our friends from CD Baby, to bring punters a little bit of the festival during their journey.
The Festival Train, which travels from Berlin to Hamburg on Tuesday 17th September, the day before Reeperbahn Festival kicks off, will boast a series of stripped back performances from an array of different acts, including former Class of 2018 tour alumni Bloxx, who'll be headlining the DIY & CD Baby carriage alongside Berlin-based bands Amistat and Farafi.
The train leaves Berlin just after 4.30pm - check out the acts who'll be performing across its carriages below and get more info here.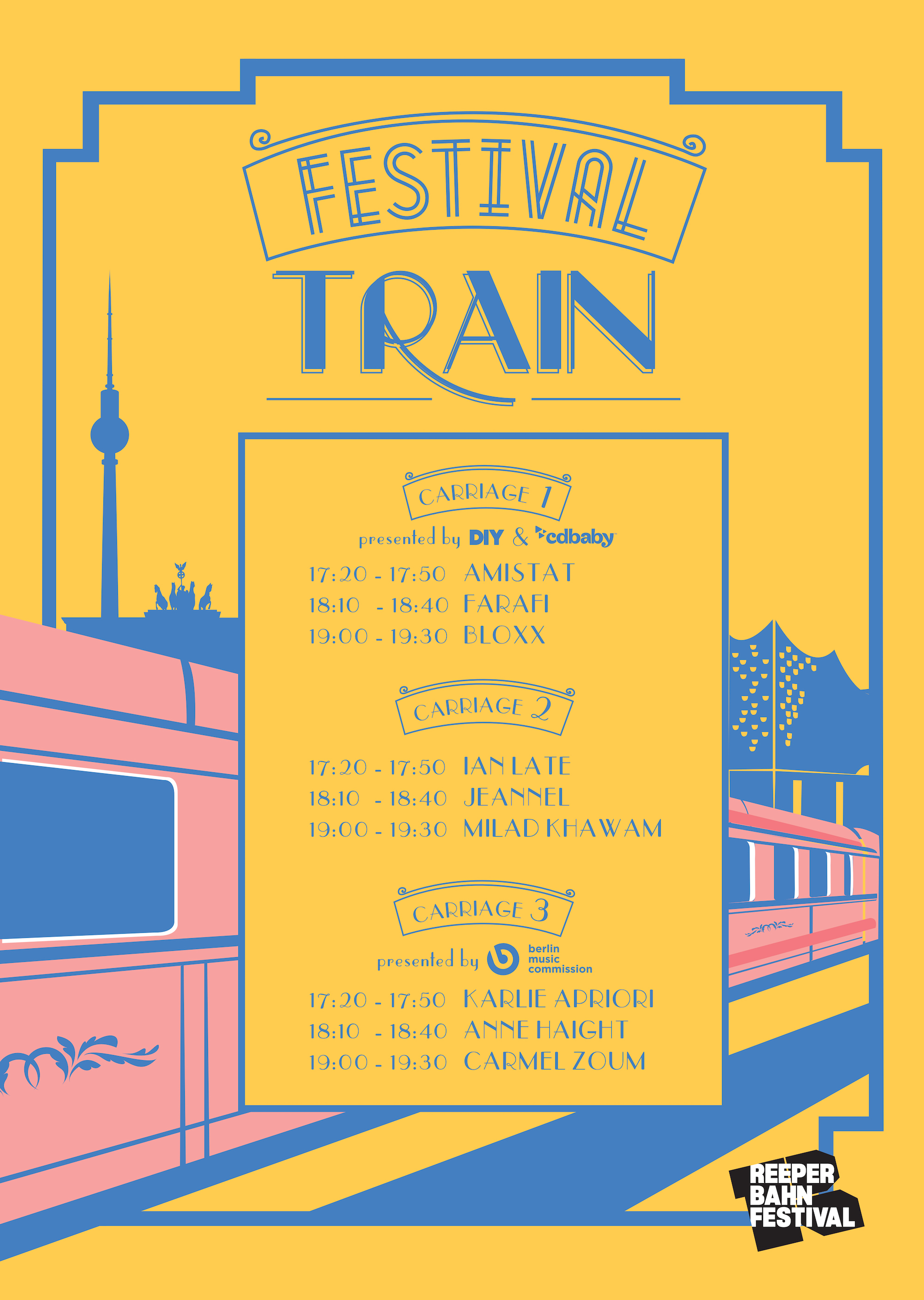 Ahead of possibly the group's most unusual gig to date, we caught up with Bloxx vocalist Fee Booth.
Hello Fee! What's new in your world?
Loads of new music and exciting things! Also a new member in the form of a pet dog on the way!
You're going to be playing on a train, which is pretty unusual. Where's the most unusual place you've played a gig before this?
I think a train wins. We have played in cafes and in business offices before, which was wild for us.
…and what is your favourite form of transport, overall?
Definitely boat. I love a good boat.
Hamburg is a city well-known for its party atmosphere: what does a Bloxx party consist of?
It's no party without inflatables and beer pong. Gin doesn't go a miss either. Good game of cluedo too.
Have you played in Germany before?
We played a show in Berlin which was really cool. We're excited to come back, it's so beautiful there!
What is quite literally next for you?
Writing sessions, and maybe a Wingstop for dinner. New music soon too.
Keep your eyes peeled for more DIY news from Reeperbahn Festival 2019 too.