News
Walt Disco to release new 7" 'Dancing Shoes Won't Fix My Mind' via Sports Team's Holm Front Records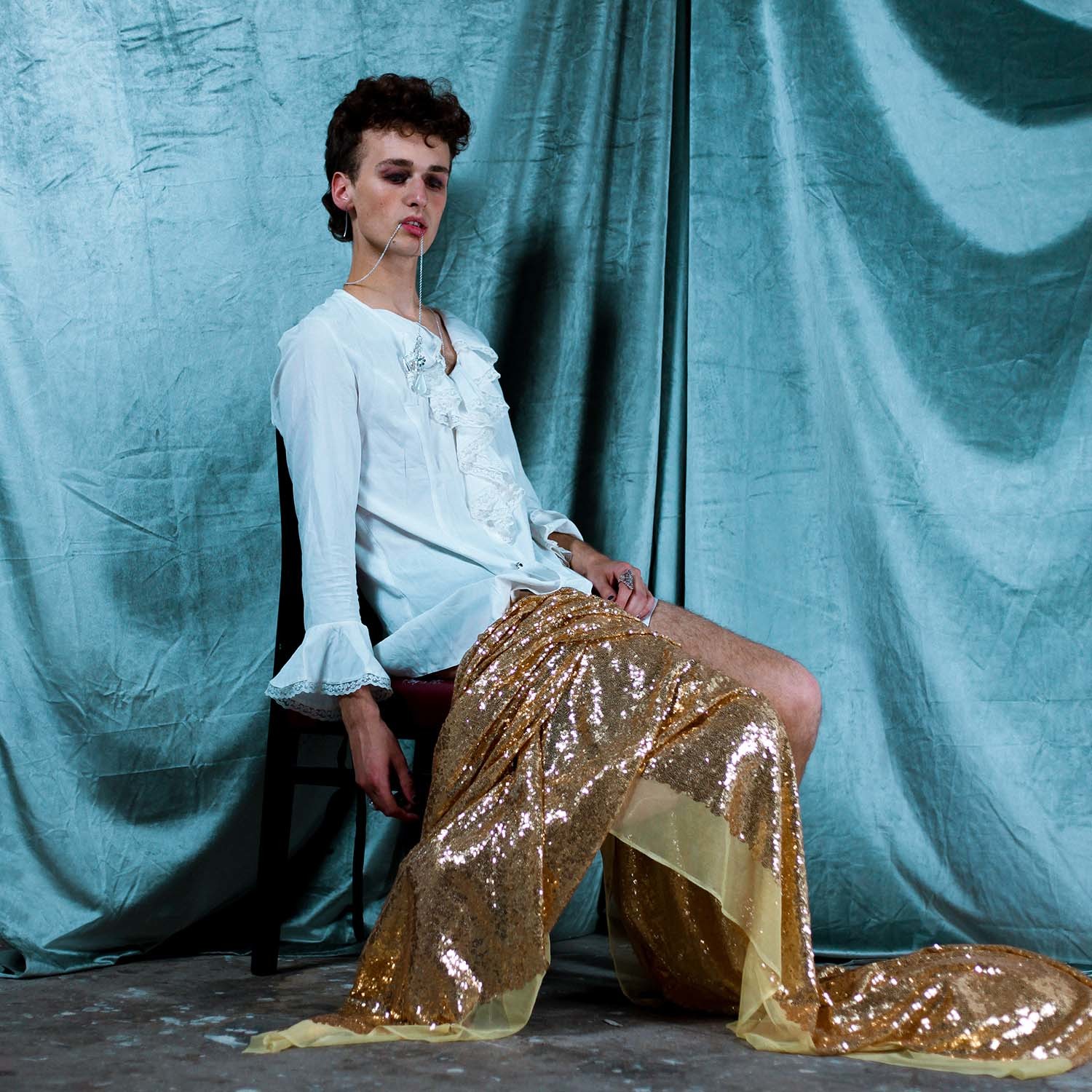 The Glasgow group's newbie will be released on 7" vinyl on 24th September.
Announcing today that their latest piece of shimmering goth-pop will be landing on 24th September, Walt Disco are also sharing that they're teaming up with Sports Team for the release! Love it when our faves come together.
"We're so happy to be working with our good friends Sports Team to release 'Dancing Shoes Won't Fix My Mind' on their label Holm Front," Walt Disco say. "The 7" single is a celebration of who we are and of other queer artists in Glasgow. The cover was taken by the endlessly talented Dylan Moore. The remix of 'Dancing Shoes' was done by producer and performance artist TAAHLIAH, and the release also includes our previously digitally released single 'My Pop Sensibilities' co-written with my flatmate Haydn of The Ninth Wave that has yet to be pressed to vinyl. We're so proud of this and we hope you enjoy it!"
Talking on the forthcoming 'Dancing Shoes' track, singer James Potter adds: "I wrote 'Dancing Shoes' about a year and a half ago. It was during a time in my life where I was really struggling to deal with noticing pain and depression within my immediate family and found it difficult to talk about, so I used the writing of this song as therapy. It is very sad but I feel better now it's written and hope others can take comfort from the song too."
Set for release on 7" vinyl on 24th September, Sports Team say of the upcoming drop: "We've been lucky enough to have Walt Disco along with us on multiple occasions - from Electric Ballroom to Margate - and they just keep getting better and better. Already one of the most compelling new live bands around, we're psyched to be putting out their latest single. They're also lovely boys with great haircuts."
'Dancing Shoes Won't Fix My Mind' – 7" vinyl track listing
Side A:
1. Dancing Shoes
Side B:
1. My Pop Sensibilities
2. Dancing Shoes (Taahliah Remix)
Catch Walt Disco live at the dates below too!
SEPTEMBER
13 – Freakender Festival, Glasgow
28 – 234 Festival, Brighton
OCTOBER
05 – Dials Festival, Portsmouth
10 – The Waterfront, Norwich (w/ HMLTD)
11 – Picturehouse, Sheffield (w/ HMLTD)
12 – Neighbourhood Festival, Manchester
15 – Headrow House, Leeds (w/ HMLTD)
16 – The Flapper, Birmingham (w/ HMLTD)
17 – The Mash House, Edinburgh (Headline)
18 – Church, Dundee (Headline)
19 – Cafe Drummond's, Aberdeen (Headline)
23 – The Hope & Ruin, Brighton (w/ HMLTD)
24 – XOYO, London (w/ HMLTD)