Interview
Health and Happiness: LIFE
For years, Hull's LIFE have sat on the peripheries, but recently their socially-charged punk has started to resonate further out. We meet the band in their hometown in the year that it all went right.
"We stopped giving a fuck," states guitarist Mick Sanders, delivering his verdict on the key to LIFE's forthcoming second LP 'A Picture of Good Health'. "That's funny, because I think we actually give more of a fuck now," drummer Stew Baxter shoots back. A ripple of laughter runs around the sparse tent that, backstage at Hull's Humber Street Sesh, is presently acting as the hometown four-piece's dressing room. Later that night they'll play a huge homecoming show, celebrating an already massive year that's seen them tour Europe with kindred spirits IDLES, land on the BBC Radio 6 Music A-List and become mainstays on the festival circuit: frontman Mez Green approximates that this is their tenth consecutive weekend on it.
That they're marking what looks like a long overdue upswing in fortunes by returning to the city that they still call home says a lot about LIFE. They're a group firmly rooted in the often harsh realities of life in this corner of Britain, but one who simultaneously make it their mission statement to uplift and inspire people all the same. The festival itself, now in its eighth year, has grown from similarly humble beginnings. "The first one was crowdfunded," says Mez, "and I remember chucking in twenty quid." It's now taken over a huge site on the town's picturesque marina, with a record 32,000 people through the gates on a weekend of huge symbolic significance for the band, who evidently remain fiercely proud of its growth.
"It was born out of necessity, really," says bassist Lydia Palmeira, "because Hull had nothing like this, where local acts could be showcased and gain a little bit of experience to push them onwards and outwards into the rest of the country. We headlined the main stage two years ago, when Hull was the Capital of Culture, and we were still running stalls selling records; I'm doing that again this year. There's a real emphasis on community. The people pulling the pints and emptying the bins are all playing the festival at some point. That's quite humbling; it's still very much in touch with the grassroots."
This sense of camaraderie isn't just something that LIFE immerse themselves in once a year. They remain at the forefront of Hull's close-knit music scene, playing key roles in the area outside the arts too. Mez continues to work at The Warren Youth Project in the city, having been there for four years; Stew, meanwhile, recently left after a fifteen-year stint. Lydia manages the record shop that's attached to it, and the centre sees budding artists given a place to develop their creativity. Mez, though, sees the wider importance of the idea.
"Stew and I worked a lot on talent development there, but it's about a lot more than that. It's literally a sanctuary for young, vulnerable people under the age of 25. Somewhere they can come regardless of what crisis it is that they might be going through in their lives. It's not just about music; there's counselling, food banks, sexual health, alternative education, employment services, a lot of open access stuff. It's a safe space to come in and be who you are," he explains. "The Tory government have squeezed statutory youth provision massively, and things like mental health in young people have been brushed under the carpet. We're at a moment where a lot of people are falling through the cracks in society, and we're just firefighting against that. It's sad, but it's where we are."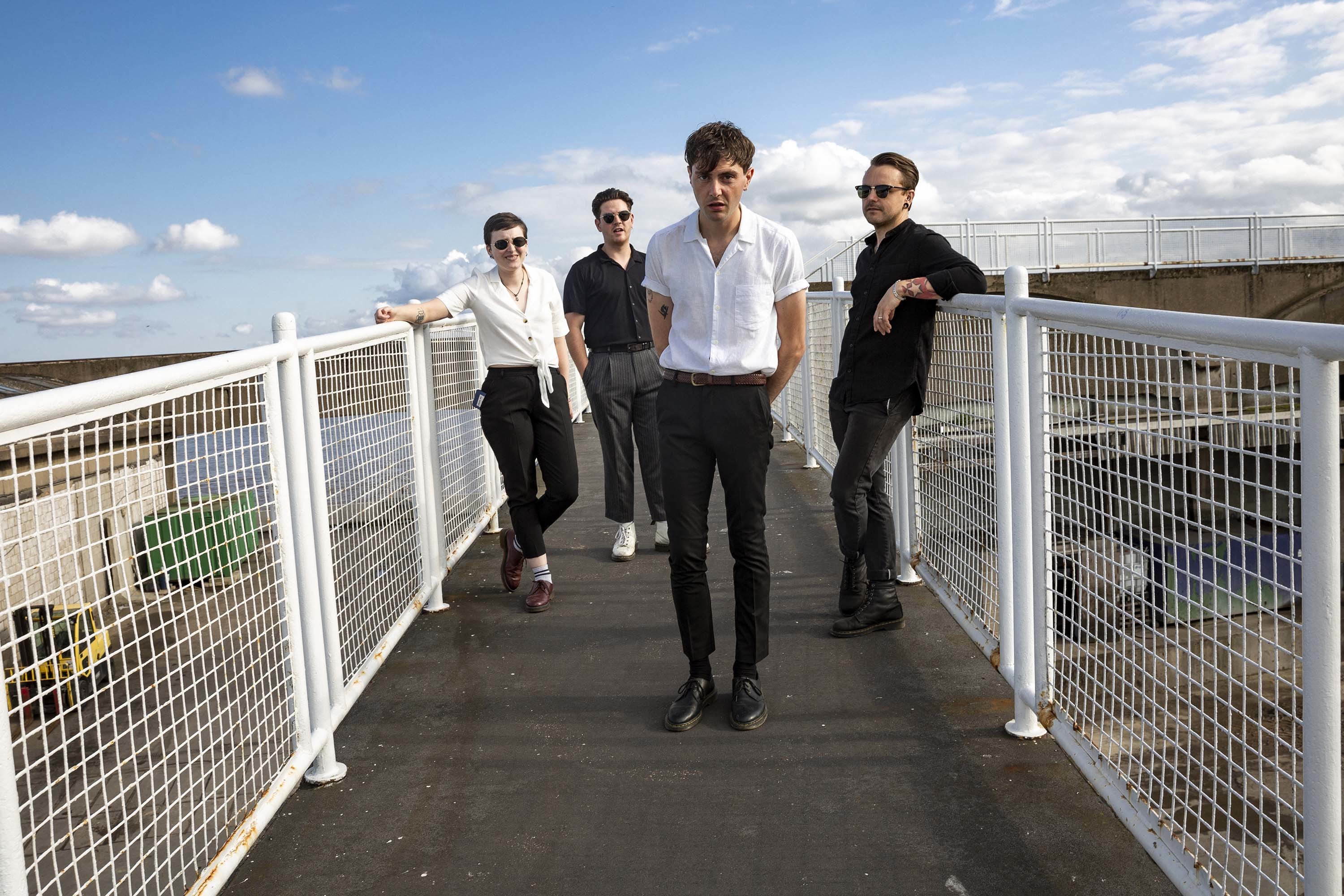 "We're at a moment where a lot of people are falling through the cracks in society, and we're just firefighting against that."
— Mez Green
Mez speaks urgently, passionately, with the same sort of physical energy he expends onstage; the fire with which he delivers his state-of-the-nation lyricism is no act - it's who he is. His experiences working at The Warren, as well as in his own life and those of his bandmates, are at the heart of what makes the singer's writing so compelling and intense. "I think on our first record [2017's 'Popular Music'], the themes were broader," he explains. "We were focusing on issues that affect a lot of people - trying to live within your means, trying to get a tin of beans as cheaply as possible in Tesco. The second one was much more about just us a unit. There was a really difficult period of six months that we all had, so it was about our problems. I'm a lone parent, so there was that, and then our mental health in terms of wrestling with isolation, trying to be ourselves, trying to find love again. It was political, but in a personal way."
Where does that leave this month's 'A Picture of Good Health', then? Musically, it's the most incendiary statement that LIFE have made to date; there's a furious post-punk framework throughout, all racing drums and freewheeling guitars, and over the top, Mez's vocal delivery is maniacal and mercurial enough to bring Mark E. Smith to mind. Whether The Fall's late frontman was ever this politically astute, though, is another matter entirely. As he riffs on futility, boredom, fatherhood, financial difficulty, mental health and the bleakness of the present political climate, Mez sounds every inch the modern day firebrand.
Mick, on that note, circles back around to his earlier assertion that the record represents fewer fucks being given on the band's part. "There was a time when it was a risky and bold move to talk about things like mental health," he explains, "because there was a pressure on bands to keep up an image of everything being great all the time. For some people, that's worse than ever now, because social media's accentuated it, but there's also a movement of musicians leading a backlash against that, like us and friends of ours like IDLES and Nadine Shah.
"We're saying that it's OK to talk about these issues, and if that alienates people, then fine," he continues. "We want to show younger musicians that they shouldn't be afraid to attempt that difficult balancing act of, on the one hand, being in a touring rock band and being in magazines and on the internet, whilst still maintaining a sense of self."
In that respect, it seems serendipitous that LIFE should be firing on all cylinders at a time when the political situation in Britain is crying out for a band like them - it surely helps explain the pace of their current upward trajectory. "We've been talking about the same things for five-plus years at this point, and maybe it just took things getting really shit for people to take notice," says Stew, laughing grimly. "We've maybe gotten to a breaking point in terms of where the country's at - the media cycle has become so saturated that everybody's starting to search for their own truth.
"I think if there's anything that sums the new record up, it's that in times of bleakness, the one thing that does come through is your human nature," he nods. "That, to me, [means] being honest, and embracing things that make you happy. All music is escapism, anyway. Creatives are trying to express that now, because everything else is so gloomy. You need that for basic survival. Food, water, and love. Actually, that'd be a good title for the next album..."
'A Picture of Good Health' is out 20th September via Afghan Moon.