Album Review
Temples - Hot Motion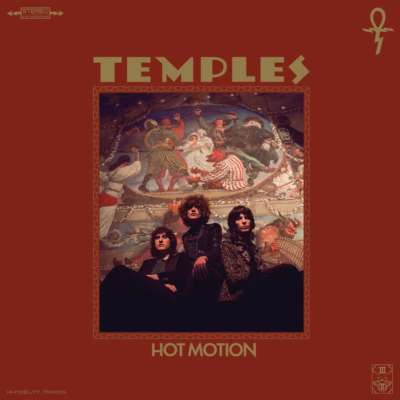 The riffs are chunkier, the hooks catchier, the lyrics more poetic.
Label: ATO
Released: 27th September 2019
Temples' prismatic cuts of modern psych felt awe-inspiring even before album one, and the fizzy melodies of 2017's 'Volcano' jolted them even higher. So it's no surprise that with 'Hot Motion' the Kettering bunch are three for three on epic records that froth with lush, honeyed noise.
Delving into this album is a real adventure. Uncharacteristically gloomy at times but for the most part curiously disorienting, its diffracted production is more 'Sun Structures' than 'Volcano' except with a level of conviction that comes only from musicians who've truly honed their craft. Across 'Hot Motion' the riffs are chunkier, the hooks catchier, the lyrics more poetic.
At the top of the record sits an upbeat title track whose spiralling riff-percussion combo is downright hypnotic and a welcome introduction to a newly revitalised Temples, down a drummer (Sam Toms left early last year, replaced by Rens Ottink) and on a new label. In quick succession, 'You're Either On Something' and 'Holy Horses' boast some of the band's most saccharine earworms to date; the latter's meaty intro cries out for clap-alongs aplenty in the live setting.
Lofty vocal drifting merrily over otherwise broody instrumentals, James Bagshaw has the gravitas of a charming fantasy video game character offering an irresistible side-quest. The smooth crooner is in his element as on the stunningly beautiful 'The Beam' and the slow to rise (then impossible to stop) 'Atomise'.
'Hot Motion''s only pitfall comes from frankly how safe it feels. Sure, it's bigger and brighter than anything Temples have done before, but its whole aesthetic is still nestled deep in their sepia-tinted comfort zone. It begs the question, where else can they go with this sound before they run out of ideas? Nevertheless, it's a solid statement that Temples are alive and kicking, drawing fresh inspo from the past without fading into it themselves.
More like this