Interview
Shine On: Swim Deep
Returning with third LP 'Emerald Classics', the Birmingham quintet tell us how they found the light at the end of the tunnel.
"No-one actually knows what happened to Swim Deep in the last four years…" says frontman Austin 'Ozzy' Williams, peroxide blonde and supping on a Wetherspoons Guinness. "I couldn't tell you," shrugs bassist bandmate Cavan McCarthy. "It was like a black hole."
It's a statement that seems to hint at lost weekends of excess and oblivion. But, though they may have indulged in the odd few highs, the time following the release of 2015's second album 'Mothers' turns out to be one more categorised by its trials.
Having emerged at the start of the decade as one of the initial wave of B-Town buzz bands, first album 'Where The Heaven Are We' landing next to debut releases from hometown pals Peace and Superfood and marking them out as similarly-minded, happy-go-lucky indie scamps, Swim Deep's second found them treading into more experimental waters. Baggier, and influenced by '90s rave, it might have been a shock for the die-hards, but it was one that cast them in a new light. "It wasn't a difficult second album, it was the complete opposite," enthuses Cav. "It was an easy second album, and we were buzzing after it. It did fairly well critically, and we became quite a good band and experimented. It was all quite natural; it was all good. It was only when we went away to try and write again that it wasn't so good…"
With touring for the record complete, Ozzy, Cav, keyboard player James Balmont and then-bandmates Zach Robinson and Tom 'Higgy' Higgins immediately headed back into the studio to pick up where they left off. But with their contract with RCA at an end, the reality was less fun. "None of us had a penny. We were jumping the tube to get there, and [all we'd have would be] some biscuits and a bit of hash. The vibes were so low," recalls the singer. "Not one song came from it, and that's when it was clear that something had to change. I don't think anyone wanted to be there," Cav continues, before Ozzy picks back up: "I think the easiest thing we could have done then is to have just knocked it on the head for good. The hardest thing was that we knew we had to carry it on, and that's when me, James and Cav decided to really go for it."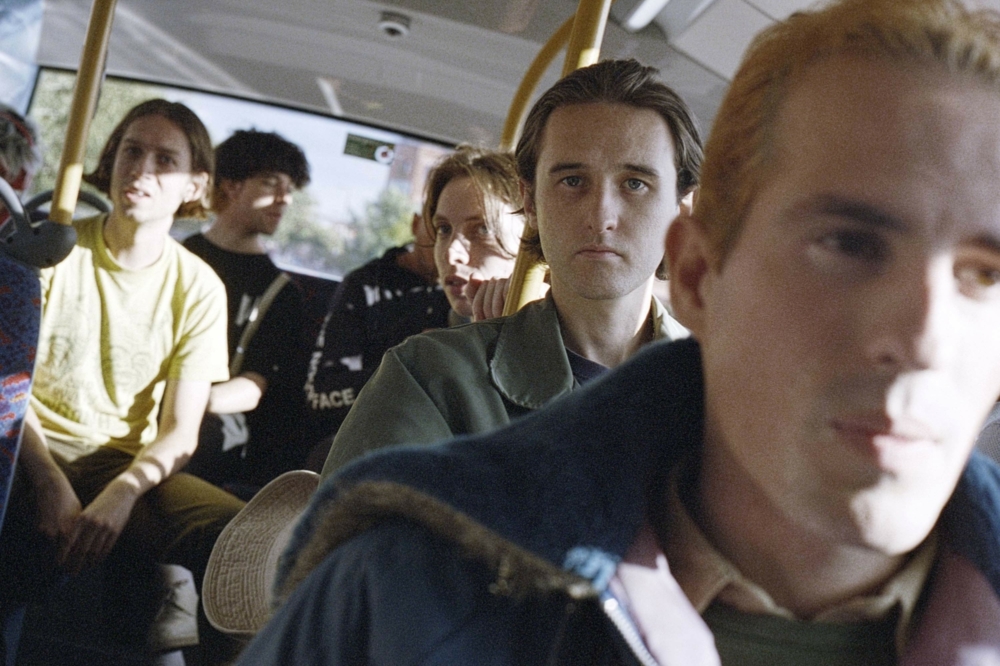 "ABBA and Prince are both direct influences on some of the songs."
— James Balmont
Temporarily down to three, they recruited new guitarist Robbie Wood (who Cav had met while on a modelling job) and former Childhood member Thomas Fiquet ("He used to play bass, so we stuck him on drums…"), and soon, Ozzy explains, they started to "feel like a gang again".
Yet though line-up changes and cold hard reality might have knocked them temporarily, if there's one thing that strikes about Swim Deep these days, it's how much hungrier they seem for it. "On the second album we took it for granted; we'd been touring loads, we were signed to a major label and there was obviously going to be a second record," nods James. "This time we took stock and realised that making the music itself is where the joy has to be. It's made me realise the value of what we've got." "There's no rose-tinted glasses anymore," adds Ozzy.
It's a sentiment that's written all over 'To Feel Good' - the single that heralded the introduction of third LP 'Emerald Classics' (named after a pub Cav grew up hanging out in). Full of gritty monologues, backed by a choir and featuring a Mike Leigh-esque video, it's as far-flung a leap from the jaunty bop of early single 'Honey' as you can imagine. "[Producer] Dave [McCracken] would come round and say, 'What's it saying though? And no-one had ever asked us that before," explains the singer of its weightier mood.
Across the rest of the record, however, the band say they were more interested in pop nuggets than hard-hitting poetry. "We've all been DJing loads, and you realise that what's fun is to play big hits that get people dancing. It really got us in tune with artists like ABBA and Prince, who are both direct influences on some of the songs," James explains. "'Mothers' was us trying to do something weird, but with this album, we riffed on things like Madonna's 'Like A Prayer'."
Chances are the resulting record will be seen as yet another left turn, but for Swim Deep, reclaiming the energy and excitement that they thought was lost means the battle's already been won. "Love Island was happening the whole time we were making it; for a while we were going to win the World Cup; the weather was amazing," recalls James excitably. "I think that energy is definitely in the music. It was quite magical."
'Emerald Classics' is out now via Pop Committee.