Live Review
Kano, Royal Albert Hall, London
7th October 2019
It's a show of epic proportions - moments of intimacy neighbour flashes of pure ecstasy and playful musicianship.
It only took a matter of minutes for Kano to sell out London's Royal Albert Hall when tickets were up for sale in July this year. The politically-charged lead single 'Trouble' was the only song from his forthcoming album sent out into the ether at the time, the five minute chop-up of soul, dramatic soundbites and gospel choirs suggested that he might be on to something special. These suspicions were validated as the 10 tracks that made up 'Hoodies All Summer' materialised in August to unanimous praise; it's quickly become regarded as his master work.
Parallel to the acclaim bestowed upon his sixth album, his returning performance as Sully on Netflix's 'Top Boy' was also the subject of glowing reviews. Riding high on a career peak, tonight's show at the Royal Albert Hall is the celebratory homecoming for the elder statesman of grime. Mid-set, he takes a moment to take in the endless thundering howls which fill in the gaps between every song, beaming and visibly overwhelmed, he simply says, "I dunno what to say - I'll find my words".
Even before the lights go down, the sense of occasion builds as a full string section, brass band and six-person gospel choir floods the stage. Eventually Kano emerges slowly from stage-left, and like each musician on stage, he is adorned in crystal-white clothing head-to-toe. His breathless flow brings the dramatic swells of opener 'Free Years Later' to boiling point; the outro's stammering staccato synth pulls at the tension which resolves in a warm gospel vocal harmony.
His live arrangements reimagine the thrilling left hooks he swings on record. Just as the jaunty piano of 'Trouble' gets into its stride, a scream and a gunshot segues into a soothing gospel choir section who suddenly surrounds him on stage. While the strings are sometimes eaten up by the low-end bass, the presence of the brass band provides an almighty punch to the driving bass of 'P's and Q's' and 'This Is England' which unleash utter carnage in the crowd.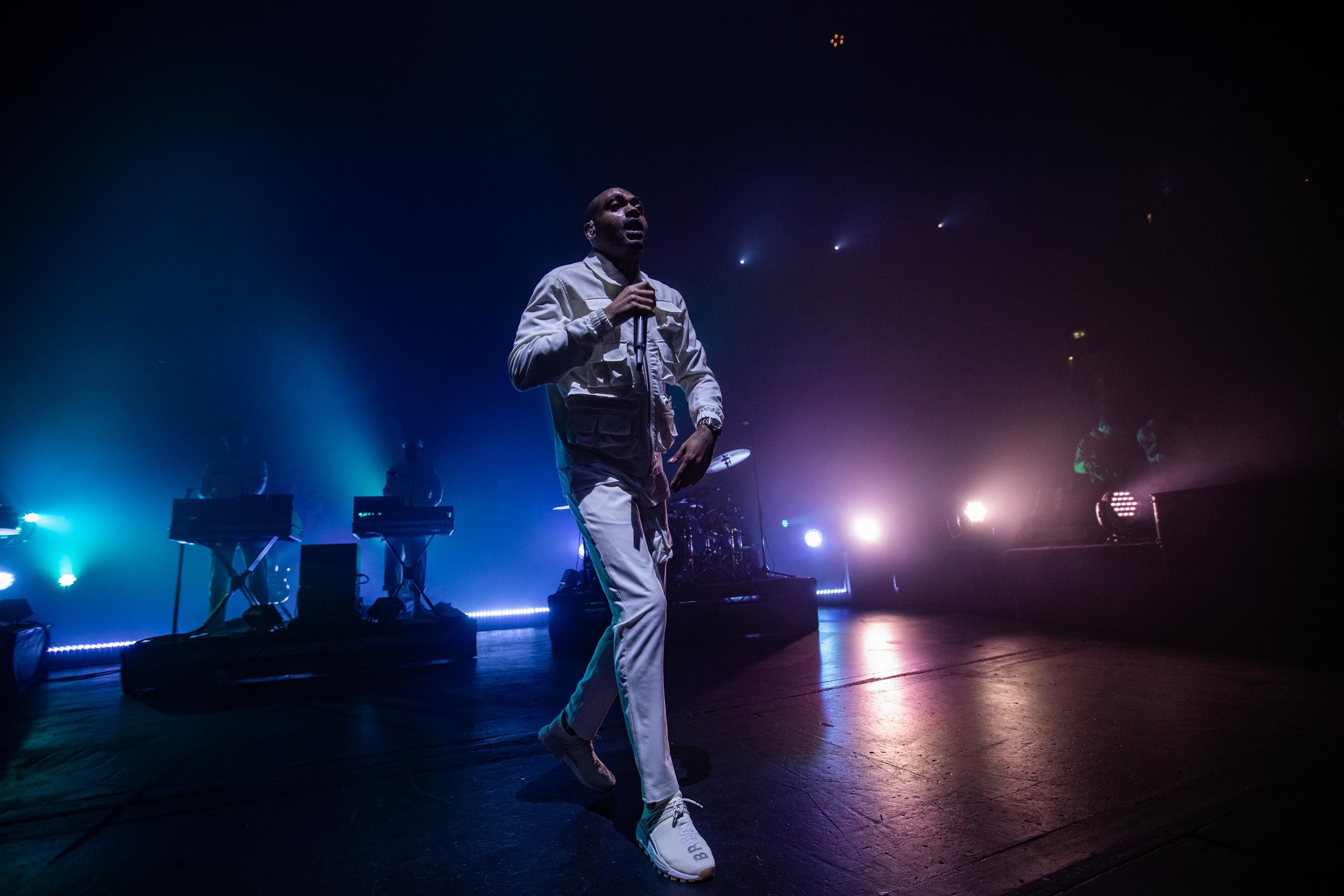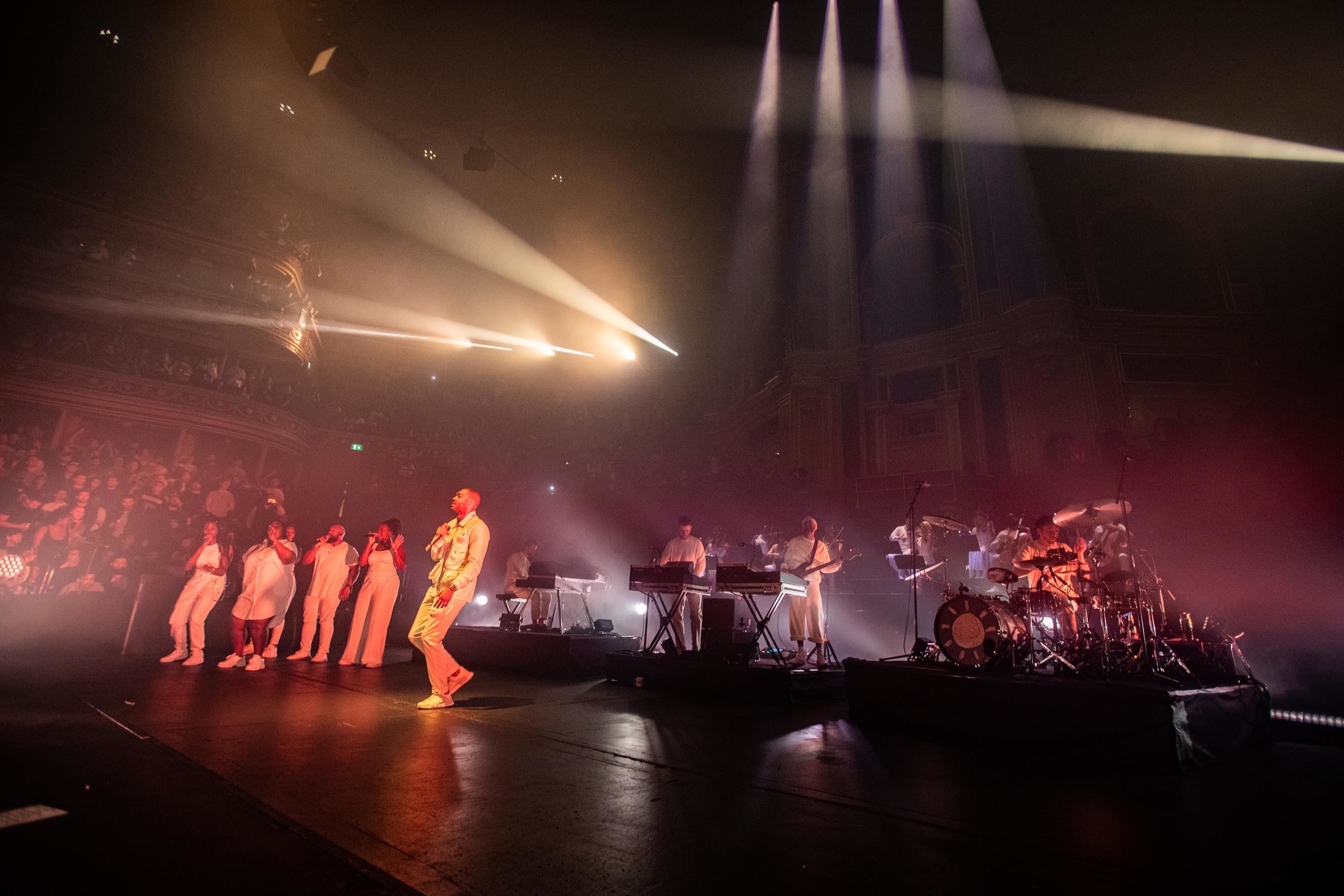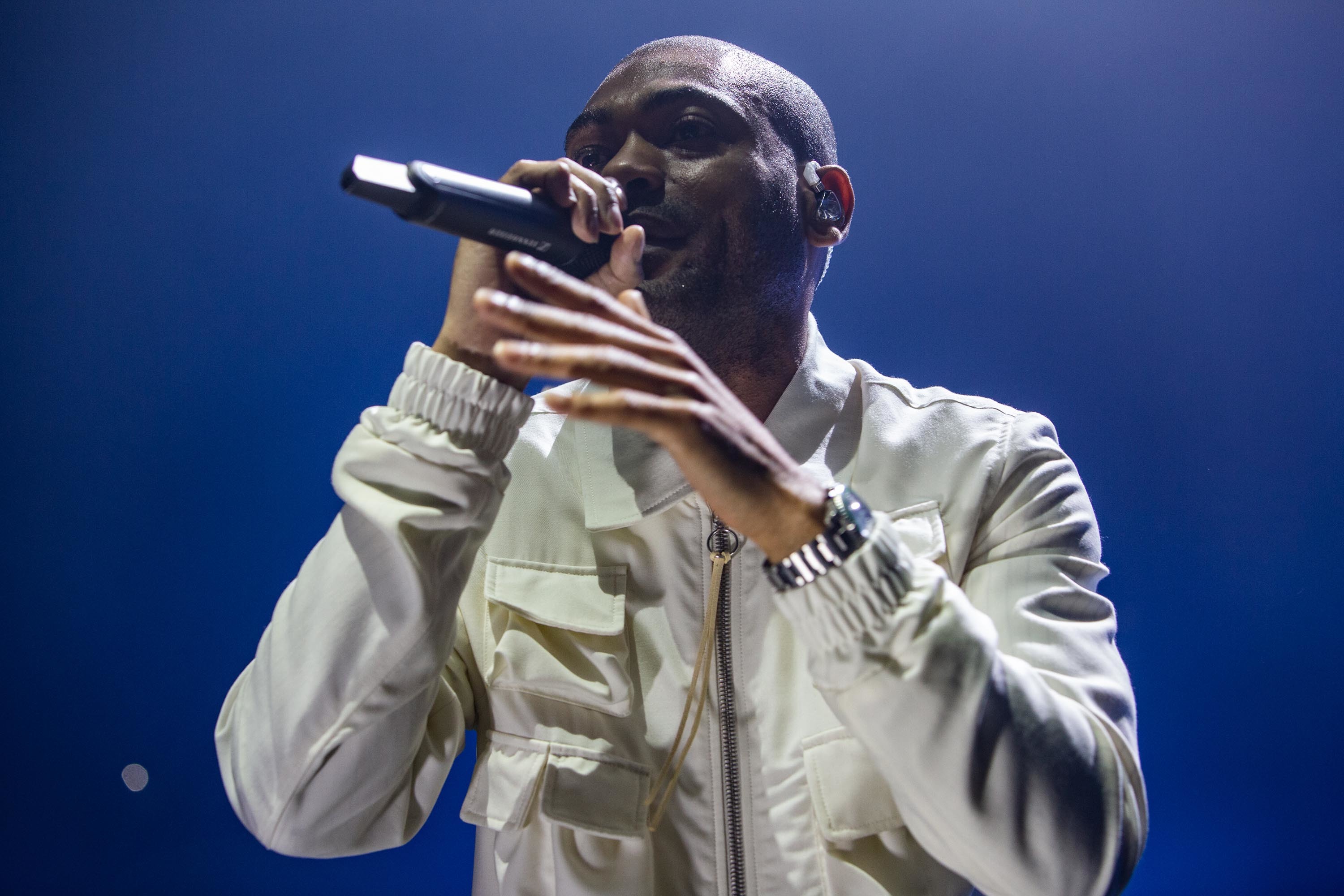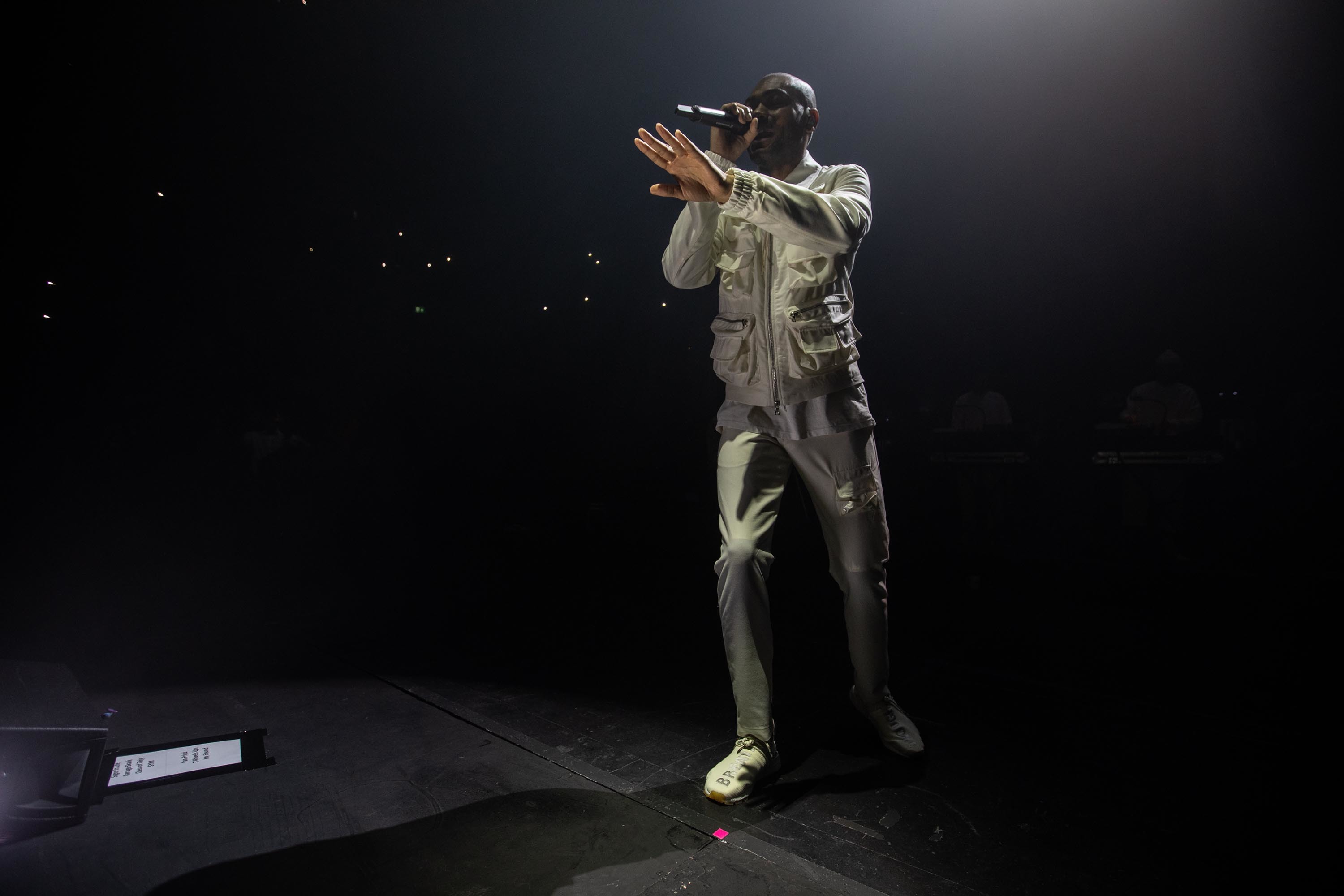 Later, the rapper holds the audience hostage to a hypnotic slow-jam in the shape of 'Got My Brandy, Got My Beats' - a welcomed change of pace after the pandemonium that builds mid-set, but his showmanship proves that he can command it back within a heartbeat, such as when Giggs emerges for his verse in '3 Wheel Ups'; the tape's rewound immediately and it all kicks off again.

A huge steel-drum ensemble joins Kano for the encore adding to the sheer volume of musicians on stage which gives the pounding thuds of 'Pan-Fried' extra vigor. It's a show of epic proportions - moments of intimacy neighbour flashes of pure ecstasy and playful musicianship, especially as the rapper instigates a battle between the brass and steel-drum ensemble on finale 'My Sound'.

The scenes of East London conjured throughout Kano's wordplay and back-catalogue stands in stark contrast to the opulent dwellings of the Royal Albert Hall. Lyrics such as "and these gunshots never reach your town / it's never on top when you leave your house" feel particularly pertinent ricocheting off the venue's iconic mushroom-shaped diffusers that hang from the ceiling. "This is my city," he shouts in pride as the house lights go up - judging by the rapturous reception to this battle cry, it's safe to say the people agree.
WE'VE GOT A FAVOUR TO ASK
We're often asked by potential advertisers about you, our readers. So we'd really appreciate it if you'd offer up a bit of information about you, and your music-loving habits by filling in our 2019 readers' survey.
Click here to reach the 2019 DIY readers' survey.
(Don't worry, none of what we're asking for is personally identifiable - and no questions are compulsory.)
More like this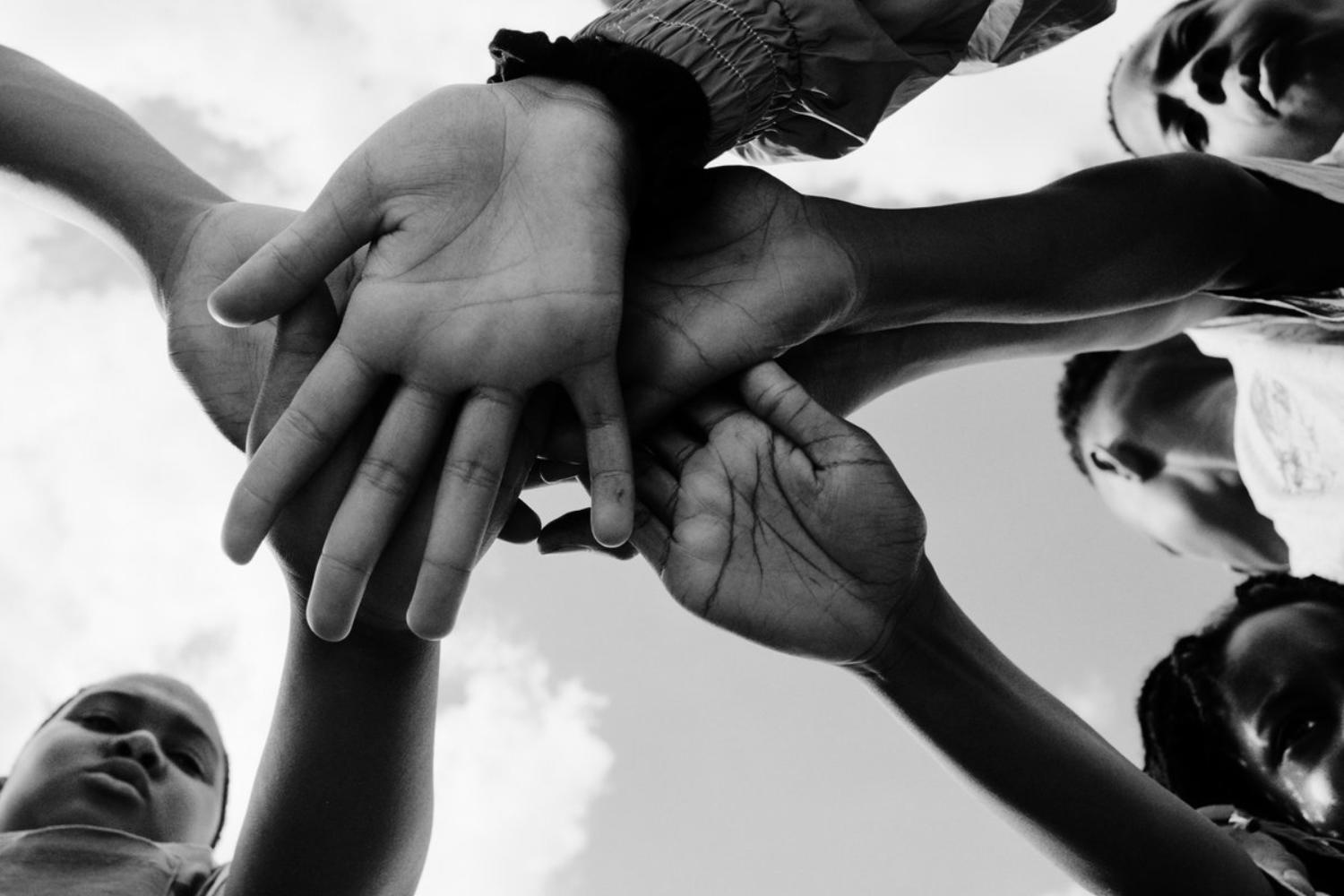 Kano holds the rhyme and reason to encapsulate our splintered society, and possesses the angst to make it hit home.