Interview
Happy Endings: Blaenavon
It's been a long and bumpy road towards 'Everything That Makes You Happy' for Blaenavon's Ben Gregory but with the LP's recent release he's showing that something positive can come from struggle.
Having formed as young teenagers, playing a series of increasingly buzzy underage gigs before inking a deal and releasing their critically-acclaimed debut 'That's Your Lot' back in 2017, Blaenavon had already clocked up half a decade in the game by the time they'd just hit their twenties. Managing to successfully transition from essentially the indie music equivalent of hyped child stars, to a genuine, serious adult proposition, the record felt like a triumphant punctuation mark on their first chapter, a long-awaited victory played out to a loyal fanbase who'd been willing them on for years. "I was really happy how that [album] went and we capped it all off at Shepherd's Bush Empire, which I never thought we'd get to do when I was a kid," recalls singer Ben Gregory now. "I felt like a badass motherfucker playing that show; it was awesome."
But throughout that period, despite the increasing external success of the band, the singer was struggling with his own internal demons. By the time he, bassist Frank Wright and drummer Harris Macmillan had completed the touring cycle for the record, Ben had started "getting really worried about [his] mental health"; by Christmas, the singer had been admitted into a psychiatric hospital. "Fucking hell, it's the gnarliest thing in the world, I can't stress enough how absurd a Christmas that was. I didn't know where I was, or who I was, or what the hell was going on, and it was truly harrowing," he says now. "It's a tricky one because you get to a place where you're not feeling yourself, and then you get to a point where you decide you're not fit enough to be around in public, so then they put you in a building with a load of people who also aren't quite feeling themselves and it's obviously going to be like a weird social experiment. But I got the treatment I needed and then I got out of there and started making music again and it was still good, so that's cool. That's when I wrote 'Fucking Up My Friends': "Cos living in corridors ain't quite the cards I was dealt"… Make of that what you will…"
The last track to be penned for Blaenavon's recent, fast-released second record 'Everything That Makes You Happy', it's fairly clear where the lyrical content of the deceptively-jaunty offering stems from. The rest of the record, however, had been written prior to the frontman's inpatient stay, and it's from an even darker, more troubled place that he now recognises that they emerged. "It's kind of scary because a lot of the songs ended up being quite prophetic and were pointing out areas in my life where I was getting concerned, but I wasn't really talking to anyone about it," he explains. "You don't send people songs and then they go, 'I'm worried about you'; you send people songs and they go, 'Hey, that's a great song'. A lot of the record foreshadowed what was soon to come, when I had a proper breakdown.
"I've always toyed with the idea of sanity and some of my favourite writers, Allen Ginsberg and stuff, talk a lot about madness," he continues. "Then I wrote a record that was kind of like that too, but I didn't really expect it to happen to me. I thought I was just being playful with the imagery, but it ended up being a bit more true to what was actually going on in my brain. I guess some of the songs are a cry for help which is quite troubling upon reflection."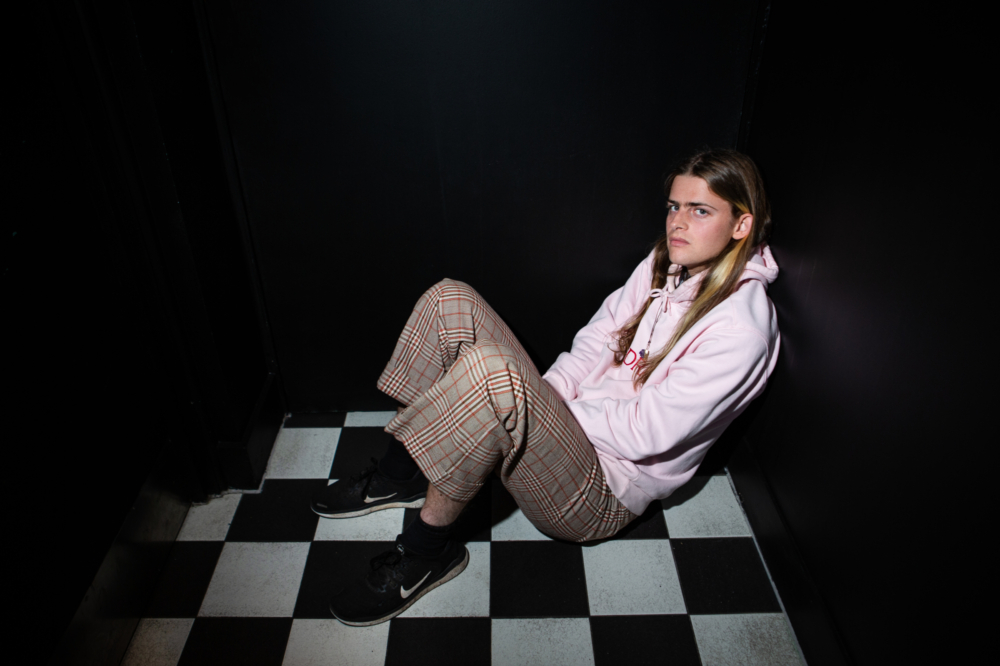 "Our first record asked a lot of questions about how to feel OK when you're growing up, but I feel like this one has more answers."
— Ben Gregory
It's a distressing narrative and, sitting today in his management's office, Ben accepts that he's still not completely there yet in terms of his mental health. Since that winter, he's returned to hospital for another stay, while currently he acknowledges that he's still not in a good enough place to be able to tour right now. But he's also rightly proud of the fact that, from the toughest of circumstances, he's managed to make a record that he describes as "clearer, more succinct and more blunt" than ever before. "Our first record just asked a lot of questions about how to feel OK when you're growing up. But then this one, I feel like it does have more answers," he nods. "And it's got more of a positive energy about it. I just didn't have anything to hide and I wanted total clarity in what I was trying to say. Maybe it's an arrogant thing to say, but I think for our fans who have been struggling, it will help them."
Recorded in 2018 with producer Catherine Marks [The Big Moon, The Amazons], the process was tough - "I had these songs that were all quite worrying, foreshadowing pieces about me getting ill and then [I'd have to] go back to the studio and sing them all really loudly," he recalls – but the result is an album that overflows with relatable emotion. Musically, it's still ambitious, a record with an innate sense of clever pop songwriting and a deceptive bounce beneath its thematic weight, but it's also one that you sense will mean a lot to those who need it most. "There's so much on our first album that's obviously about struggling with stuff in your youth and people tend to connect with that. Fans write me letters and DM me on Twitter with crazy stories about their mental health; we're obviously a pretty important band to some people and that's a pretty amazing feeling," Ben smiles. "I found [recording] this album really, really hard, but I think it sounds fucking amazing. And I can hear in there how difficult it was, but I think regardless of circumstances it's incredible, and especially given the circumstances it's a massive achievement that I got that record made."
You'll have noticed that it's just Ben talking to us today without his bandmates; on Blaenavon's recent album statement, it's signed solely from the singer, too. "I think this album's just so personal that, for now, it makes sense for just me to talk about it and then we'll see what happens," he says of the band's future as a trio. "I wish I knew. We all made it together, but we don't have any plans to do anything as a one or as a three. We're just putting the album out, and then we'll see. I think the next music will be Blaenavon stuff, but it just depends what that means any more."
It's an open-ended marker in a chapter for both Ben and Blaenavon that's been more difficult to negotiate than anyone would have hoped. But today he's happy in the fact that he's made something real and meaningful, born from rough waters but addressing a part of life that can only get better when acknowledged head-on. It's a point no more evident than in 'Everything That Makes You Happy"s closing title track. "It's about having everything that everyone says should technically make you feel OK in your life, but you still don't. It's about how it's OK to not feel OK, no matter what situation you're in, and no matter how privileged or lucky you think you should feel," he says. "I had six months where I'd wake up every day and just think, fuck, I can't do it again. But it's alright to feel like that, especially at this age. It happens a lot, and you can get through it."
'Everything That Makes You Happy' is out now via Transgressive Records.