Watch
Watch IDLES play 'Television' live at Le Bataclan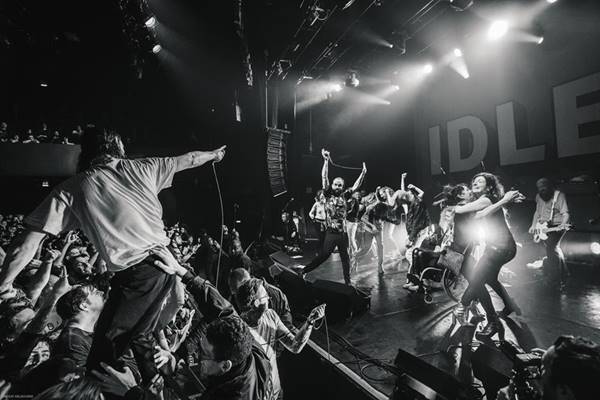 The new clip is taken from their first-ever live-album, 'A Beautiful Thing: IDLES Live At Le Bataclan'.
With their highly-anticipated live album 'A Beautiful Thing: IDLES Live At Le Bataclan' set for release on 6th December, IDLES are giving us a little taste of what's to come by sharing the new live vid for 'Television'.
Talking about the track, guitarist Mark Bowen says: "Show #162,378 of 2018. The final show of the first 'Joy as an Act of Resistance' tour. We love playing live, every show, but there is a lot of bullshit that comes with touring so rigorously.
There was an impending sense of freedom in the room. That night was catharsis in a bottle, a rage and camaraderie that can only be obtained by spending 3 and a 1/2 months on a bus/van with 8 other people you have already spent way too much time with. That can only be obtained by the presence of a receptive, understanding and respectful audience. That night felt as if everyone in that room was in it together. We had created something needed on that tour, by the 5 of us, our crew, anyone in that room that night or any other on the tour. We need, as much as any others, to repeat the simple mantras from our songs to help us work through the dark and get better. Love Yourself, love yourself, LOVE YOURSELF."
Recorded at Le Bataclan, the limited edition double LP is out next month via Partisan Records, and will contain a booklet designed by frontman Joe Talbot, featuring photographs from the show and a selection of poetry.
"Our show at Bataclan was the end of a very long journey for us," Joe explains of the record. "On that tour we learnt so much about ourselves, each other and the audiences we have grown with over the past 10 years. That show was nothing short of catharsis and nothing more than love. We love what we do and the people who have carried us here, there was no hiding that at Bataclan and we are so very grateful that the moment was captured in all its glory, love and fatigue. Long live the open minded and long live the moment."