Watch
The Big Moon channel 90s boy bands in 'Take A Piece' video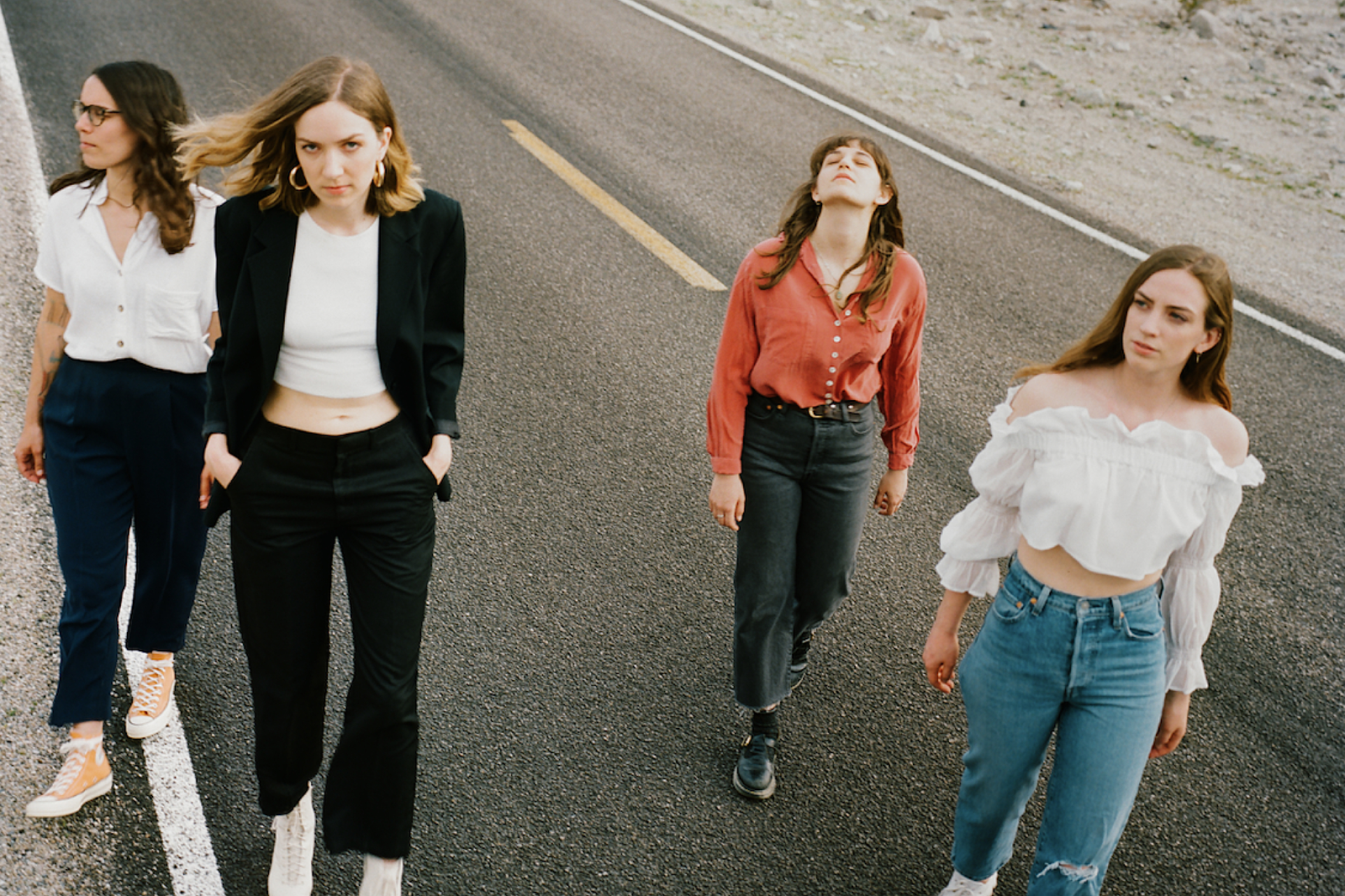 The new song is lifted from their upcoming second album 'Walking Like We Do'.
Sharing the latest glimpse into their upcoming new album 'Walking Like We Do' - the follow-up to 2017 debut 'Love in the 4th Dimension' - The Big Moon have revealed new track 'Take A Piece'.
Speaking on the song, Juliette Jackson says: "I initially wrote this song for someone else, speculatively, but for a pop star. I'd already written an album's worth of songs but a lot of them felt similar to our first album and I wanted to try something different.

"I'd just watched a documentary about this pop star and seen how insane their life was and their intense relationship with their fans, and was blown away by how much of themselves they'd had to give up to have the life they had. So that's where the lyrics came from really. It was a bit of a turning point in the writing process… like sometimes you have to pretend to be someone else to change things up and say things in ways you didn't know you could. This mega pop star's life was literally nothing like mine but I could really identify with the vulnerability of being a performer and standing on stage every night and feeling the eyes of an audience, which can feel either grounding and unifying or - occasionally - scary and isolating, and something any performer can identify with, whether they're playing arenas or the windmill.

"It also has a lot to do with how it felt to write this second album. Trying to get out of your head, figuring out which voices to listen to and which to ignore, and ultimately wanting to pour yourself into the thing you're creating and make something honest and meaningful that might connect with someone else and mean something to them as well.

"At first, we weren't really sure if this could be a big moon song, we were on unfamiliar ground… but the idea just stuck around. And we kept going back to it, and the more we played with it the more we fell in love with it, and now it couldn't be more ours. And you know what, it's exciting that as musicians we can do whatever the hell we want! And when we finally recorded it we were like gahhh what have we made? Is this a big moon song? Can we be this self-indulgent? BUT WHY THE HELL NOT?

"Look we made a pop song!"
The new bop also comes with an accompanying video that sees the quartet transform into your fave boy bands from back in the 90s, and it's pretty great.
Check it out below:
See The Big Moon live at the following dates:
JANUARY
20 – Cambridge Corn Exchange (w/ Bombay Bicycle Club)

21 – Bournemouth O2 Academy (w/ Bombay Bicycle Club)

23 - Leicester De Montford Hall (w/ Bombay Bicycle Club)

24 - Cardiff University (w/ Bombay Bicycle Club)

25 – Leeds O2 Academy (w/ Bombay Bicycle Club)

27 - Newcastle O2 Academy (w/ Bombay Bicycle Club)

28 - Glasgow Barrowland (w/ Bombay Bicycle Club)

29 – Glasgow Barrowland (w/ Bombay Bicycle Club)

31 - Birmingham O2 Academy 1 (w/ Bombay Bicycle Club)

FEBRUARY

01 - Brighton Centre (w/ Bombay Bicycle Club)

03 – Manchester O2 Victoria Warehouse (w/ Bombay Bicycle Club)

04 – Sheffield O2 Academy (w/ Bombay Bicycle Club)

06 – Norwich The LCR, UEA (w/ Bombay Bicycle Club)

07 – London Alexandra Palace (w/ Bombay Bicycle Club)

10 - Dublin Vicar Street (w/ Bombay Bicycle Club)

11 - Dublin Vicar Street (w/ Bombay Bicycle Club)

12 - Belfast Ulster Hall (w/ Bombay Bicycle Club)
HEADLINE TOUR
27 – Bristol The Fleece
28 – Liverpool O2 Academy 2

29 – Edinburgh Summerhall Arts Centre
MARCH

02 – Nottingham Contemporary

03 – Oxford O2 Academy 2

09 - Paris Le Point Ephémère

10 – Cologne MTC

11 – Berlin Privatclub

13 – Amsterdam Paradiso

14 – Antwerp Trix Bar