Introducing:
Get To Know… Moreish Idols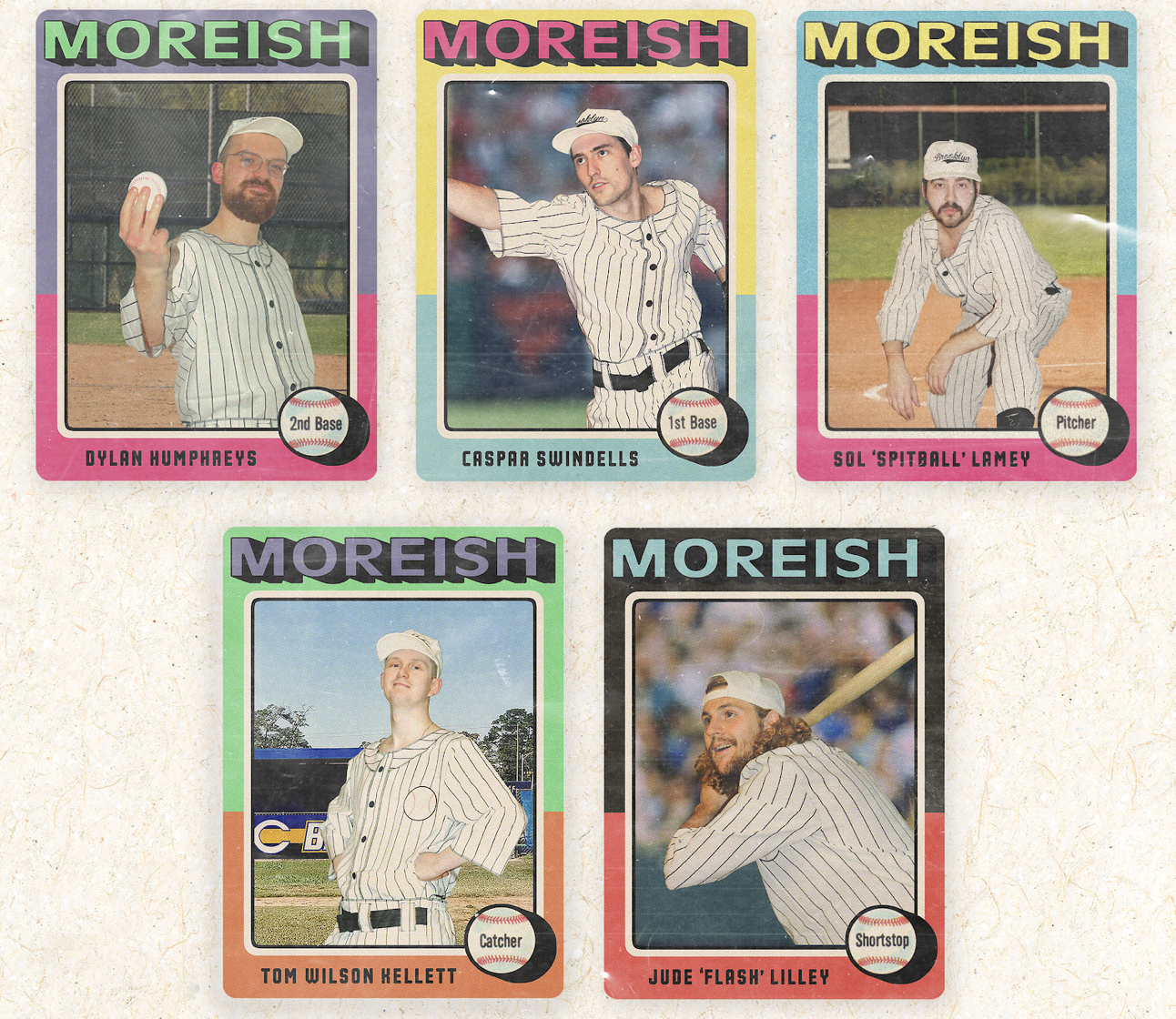 With their new track 'Baseball' out tomorrow (4th December), meet the Peckham-via-Falmouth quintet.
Hello and welcome to DIY's introducing feature, Get To Know… getting you a little bit closer to the buzziest new acts that have been catching our eye as of late, and working out what makes them tick.
Recently we've met LA sad boy Gabriel Black, NYC trio The Wants, Stoke Newington's M.T. Hadley, your new fave indie dreamboat Role Model, and now we're introducing you to Moreish Idols.
The Peckham-via-Falmouth five-piece first grabbed our attention with dream-pop bop 'Mobile Phone' back in September, and now they're back with disco-flecked track 'Baseball'. About an ex-baseball player that singer Jude met during Rio De Janeiro carnival, the guy was a star-in-the-making before a knee injury made him decide to retreat to Brazil. Know which life choice we'd choose too, tbh.
Officially out tomorrow, but with a cheeky lil stream for you to enjoy below, we're pretty sure these guys have hit a home run (get it), so we grabbed five mins with them to find out all there is to know.
Describe your music to us in the form of a Tinder bio.
Moreish Idols, 115bpm, love pints, hate noisy boats.
What's your earliest musical memory?
All of our mothers played us frank zappa in the womb. Jude's genuine earliest memory is seeing The Darkness play at Reading festival when he was about 10, the bassist bent over to pick something up or adjust his amp or something and the image of his builders bum on the big screen has imprinted on his brain ever since.
Who were some artists that inspired you when you were just starting out (and why)?
David Byrne, David Bowie, David Lynch and Craig David. For obvious reasons.
You're from Peckham! What do you think of the music scene there at the moment?
The music scene in south London is unstoppable at the moment, it actually played a massive part in us moving here. There are countless great bands and artists, a lot of which who are connected through extended circles of friends which kinda adds to that communal vibe, we feel bloody lucky to be a part of it. Would almost go as far to say that the underground bands that are surfacing are far more interesting and exciting than the bigger bands of today.
Shouts to BOSS, The Mantis Opera, 404, Tony Njoku, Lazarus Kane, Jerkcurb, Mauv, Chappaqua Wrestling, Margot, Sgt Duke & Spang Sisters. <3
Are there any other artists breaking through at the same time that you take inspiration from?
One band (among the many) that stands out for us is BOSS. Our styles differ but their approach to music is full on and motivating. They're a filthy, heavy, technical 3-piece based in Peckham. Definitely keep an eye out for them, their music is wild and they are such an entertaining band to watch. The guitarist and close friend Oscar Lane has been an advocate for supporting new unsigned bands whilst still doing his own thing including setting up the label Full Power, he's supported and helped us an unbelievable amount, we feel like many will agree that there are not enough people on the scene like him.
Who would be your dream collaborator?
Confidence Man. We need you.
Musically or otherwise, what are you most looking forward to for the rest of the year?
We're throwing a big, no bases barred baseball party on Friday the 6th December, homeruns all round. We also got plenty of shows and treats to announce in the new year.
If people could take away one thing from your music, what would it be?
Segway tours are the only way to experience a city.