Introducing
Get to know… mxmtoon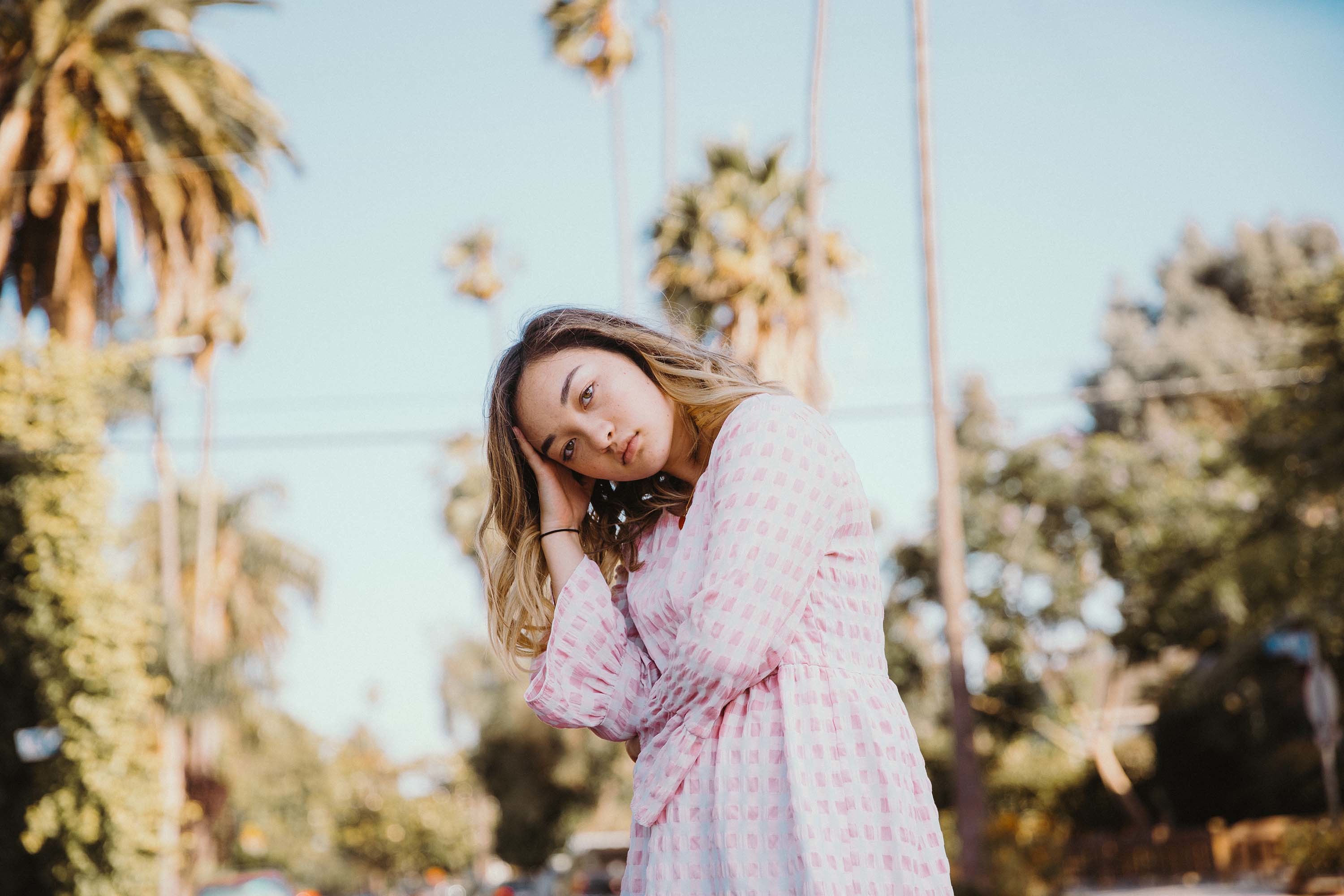 From social media sensation to a shining new pop talent, we meet the Oakland singer-songwriter.
Hello and welcome to DIY's introducing feature, Get To Know… getting you a little bit closer to the buzziest new acts that have been catching our eye as of late, and working out what makes them tick.
Recently we've met NYC trio The Wants, Stoke Newington's M.T. Hadley, your new fave indie dreamboat Role Model, Peckham-via-Falmouth five-piece Moreish Idols, and now we're introducing you to internet sensation mxmtoon.
Having already made waves on YouTube and TikTok, mxmtoon - aka Maia - has become known for her fiercely relatable and intimate pop songs, steadily becoming a voice for the legions of Gen X who adore her.
Mixing elements of folk and pop with her diary-like lyricism, her debut album 'The Masquerade' came out in September, successfully showing her strengths in writing songs that can pull on the heartstrings and remind us all of our teenage struggles.
We grabbed five mins with her to find out more!
Describe your music to us in the form of a Tinder bio.
Know four ukulele chords and like being sad but self-deprecating? Well boy do I have some art for you!
What's your earliest musical memory?
My earliest music memory is sitting in the kitchen with my family while my mom and dad cook, and Rapper's Delight is blaring on the speakers. Those are some of my favorite memories that I have to this day.
Who were some artists that inspired you when you were just starting out (and why)?
I think about inspiration a lot more nowadays with my music, but in the beginning the songs I was writing definitely felt like they were done more out of necessity. I needed a space to vent and so I did it the way that made sense to mei my brain, but I wasn't looking at other artists at that point to try and find inspiration quite yet. It was like learning how to write a sentence, I knew the basic structure but the flair came later.
You're from Oakland! What do you think of the music scene there at the moment?
To be totally honest I'm not really aware or in the trenches of the Oakland music scene! I'm only 19 so I haven't been around for that long or really of an age where I could go and explore my city's nightlife, but the cultural background of the city has greatly impacted my being growing up. And I think the diversity of people and the history of music in Oakland has also impacted the way that it affects those that live there. Hopefully, I'll get to spend some more time seeing people perform in the Bay as time goes on though.
Are there any other artists breaking through at the same time that you take inspiration from?
Totally exposing myself here but I do kind of live under a rock with music, I have the same playlist from 2014 that I still rock out too, so I'm not always aware of who is on the up and up! I do have a handful of artists that I adore and listen to all the time. Cavetown is a huge inspiration to be and such a kind person, and has really helped me grow into feeling as I'm capable of developing as an artist. I also love Tessa Violet, dodie, and Conan Gray!
Who would be your dream collaborator?
I think all the time about how much I would love to sit in a room with Alex O'Connor. Rex Orange Country has consistently been my favorite music project and I would be so honored to even see his creative process and get a peek as what goes on when he's working! Collaboration might blow my mind so much I'd explode right then and there though.
Musically or otherwise, what are you most looking forward to next year?
I'm really looking forward to being back in the studio and working on writing! I've been on the road for a few months now and I feel like I'm itching to get back to writing. Also really looking forward to seeing more of the world. I've gone out of the states this year alone that I have in my entire life and I hope to keep the travel strong next year!
If people could take away one thing from your music, what would it be?
That they're not alone. My music is made to help me feel better about my emotions, but also to help other's understand that the emotions we often deal with privately and silently are not something to be ashamed of. We're all human and our feelings are what make us so.