Live Review
Harry Styles, Electric Ballroom, London
19th December 2019
He also brings Stormzy out too, just because he can.
"Ladies and Gentlemen, Harry fucking Styles!" grins Stormzy, after appearing as a guest tonight to bring his own 'Vossi Bop' to Harry's self-described "tiny" show at London's Electric Ballroom. The 1,500-capacity room isn't exactly a small venue by most people's standards. But, when tonight's star is someone who spent half a decade captivating the globe's stadiums before his choice of "smaller" venues for his first debut tour meant two nights at London's 5,000-strong Hammersmith Apollo and has a second arena run with multiple dates at the O2 lined up for the spring, he can probably be forgiven for his choice of adjective.
Stormzy's guest spin, a "Christmas present for me," as Harry introduces it, sees the singer act as hype man, both in awe at sharing a stage with the rapper, and joining in on parts, including now infamously the line "Fuck the Government / and fuck Boris" (while encouraging fans to vote in this month's General Election, Harry himself did not voice his support of any party or candidate). The love is mutual: before leaving, Stormzy declares "You're a legend. You're not just a pop star, you're a brilliant artist."
Both released their new albums in the past week, and it's Harry's 'Fine Line' that tonight is all about, as he and band - the now-core team of guitarist Mitch Rowland, bassist Adam Prendergast and drummer Sarah Jones augmented by newcomers Ny Oh and Ark - perform the record in its entirety.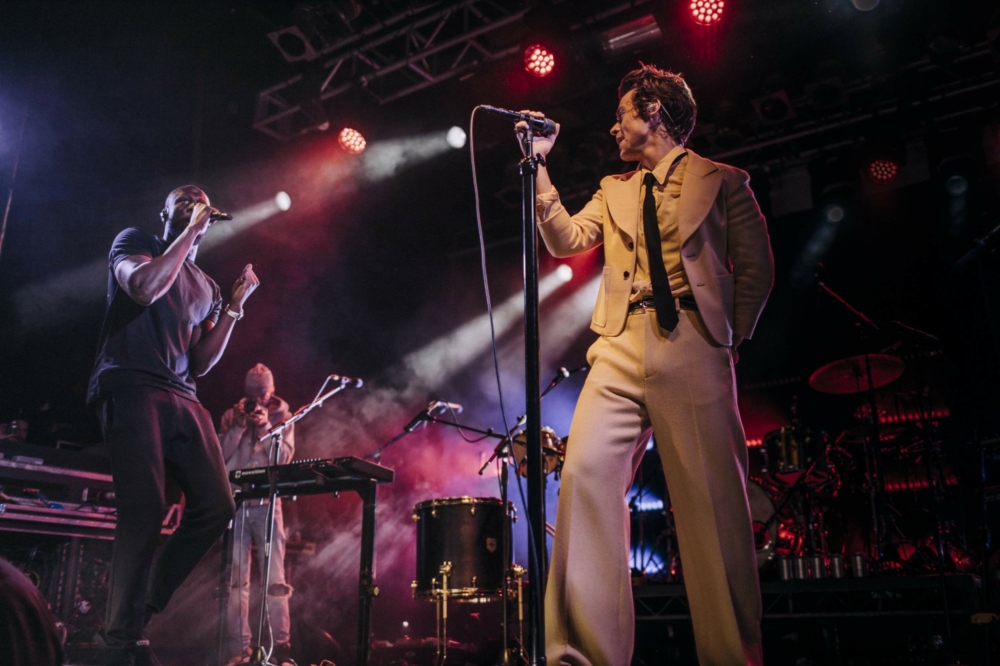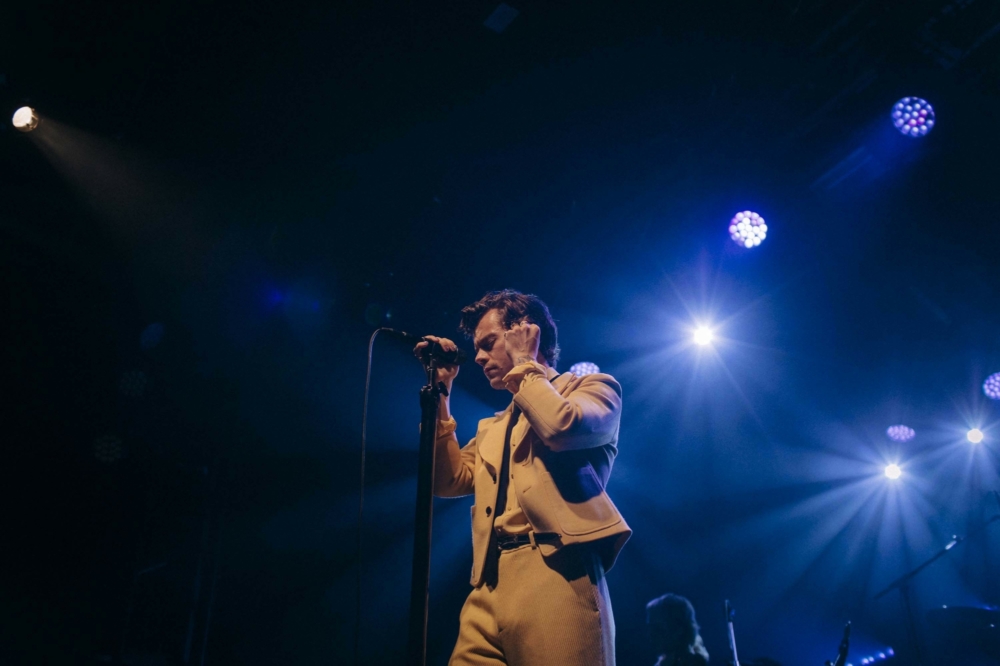 With the venue offering minimal scope for fancy production, and the comparatively diminutive stage giving Harry barely enough room to slink around, this second outing proper for 'Fine Line' has the songs in full focus. 'Golden' leaps off the blocks after a self-referential use of Charles Bukowski's poem 'Style', 'Cherry' is beefed up live, with slide guitar and a mesmerising drum outro, and on-record standout 'She' proves itself even further up the epic scale. It's not until the glitzy 'Treat People With Kindness' that he fully lets loose on the stage, rock star swagger in full flow, pride flag in hand (naturally). "This one's about fifteen minutes long," he then jests of his titular album closer, the building Bon Iver-indebted number met by as close to reverent silence as it's possible for a room this excitable to get.
Because yes, there are still screams. There were screams an hour before stage time when One Direction album track 'Olivia' began quietly over the PA inciting a full singalong; it goes without saying that each song from 'Fine Line' is received as if a hit single. "Louder!" he smirks during 'Lights Up', which has obviously already racked up the decibels. The floor moves for the encore outing of his rock'n'roll take on 1D's 'What Makes You Beautiful', and there's also time for a take on Lizzo's 'Juice', another of Paul McCartney's festively cheesy 'Wonderful Christmastime' and yes, that Stormzy guest spot before the rock stomp of 'Kiwi' incites (attempts at) circle pits and the kind of racket the Electric Ballroom witnesses more regularly.
An arena-ready icon, the world at his flare-covered feet - if there's anything Harry Styles has tried to do and failed at, we'd love to see it. Maybe it's festive vibes, perhaps it's the musical legends' love-in, but tonight in London feels magical - and that it's still only the start for him.
Photos © Hélène Pambrun