A - Z of 2019
The ultimate A - Z of 2019's best bits
Can't quite remember everything that made 2019 quite such a massive year for music? No worries, mate - we've got you covered!
2019: the year that albums went double, pop stars got woke and Billie Eilish ruled the world. The year that Glastonbury returned (hooray!), The 1975 went stratospheric and we all took our horses down the Old Town Road. A great year, you could say, to categorise in a handy alphabetised format. Well, as luck would have it, we've done just that. Once more from the top…
Possibly one of the year's greatest memes, Alex from Glasto found himself the ultimate viral sensation this summer after he was pulled up to perform 'Thiago Silva' alongside Dave at Glastonbury. As you'll know by now: he smashed it. We caught up with the man himself to find out how it felt.
Hey Alex! Was it always the plan to try and get on stage with Dave?
No, not at all! I did know Dave brings people up a lot, but I thought as Glastonbury is so huge he wouldn't bother.
Dave asked, "Who is sober enough to sing these lyrics with me?" when trying to find someone to join him on stage, and you obviously volunteered. Just between us, how true was that claim?
Opposite to what everyone seems to think, I was completely sober.
What was it like getting on stage and seeing all those people watching you?
It felt amazing! Everyone in the crowd was shouting my name and the adrenaline running through me just made me feel insane. The only thing that was going through my head repeatedly was, "Don't mess up!".
How's it been navigating your new-found fame as #AlexFromGlasto?
It's obviously been a hard thing to get a grasp of as it's all been so sudden, but I've started to ease into it while trying to balance college and making the most of it all at the same time. The maddest thing was probably meeting Thiago Silva the footballer himself.
What would be your top tips for getting chosen?
Just make sure you do whatever you can to get noticed and get as close as you can to the front row.
B - Burning Man (and Flume's rather memorable weekend…)
An annual, week-long summit of hedonism and high jinx in the scorching hot Nevada Desert, Burning Man is the kind of place that makes Glastonbury look like a wholesome jaunt to a Peppa Pig sing-along. Real-world currency is scorned, radical artistic and social expression is encouraged and free love reigns supreme: a concept that ya boy Flume took rather literally at this year's get-together. "Does Flume even eat ass?" read a sign in the crowd during his set. Yes, was the answer. Yes, he does. And, oh look, here's his girlfriend to... oh wow, OK that's, yep that's happening. Flume: putting the 'butt' into rebuttal since 2k19.
C - Clairo, the new kid on the block
From Justin Bieber to Lana Del Rey, YouTube has been making seemingly-overnight stars out of musicians for years now. But when the world universally decides to click 'like' on the same video, it still has the power to send the chosen one's career beaming up to the big time. That's what happened to then-19-year-old Claire Cotterill, aka Clairo, when she uploaded a super lo-fi bedroom recording of her track 'Pretty Girl' to the platform back in 2017; filmed on a webcam, and featuring the Massachusetts singer goofing about with different props, it immediately caught the web's attention and has since racked up over 40 million views to date. Yet, rather than a mere one hit wonder, the track kick-started a trajectory that feels like it's only truly just beginning. This year, Clairo released debut LP 'Immunity' - an intimate collection that hinted at a patchwork of influences and a wealth of possibility in front of her. This month, meanwhile, she plays Camp Flog Gnaw at the personal request of Tyler, the Creator, while next month she'll head to the UK for a full tour. Clairo might already be a viral sensation, but keep your eyes peeled: it won't be long until she's just as massive IRL.
D - Double albums, the musical trend no one knew they wanted

When The 1975 released 'A Brief Inquiry Into Online Relationships' at the back end of 2018, after revealing that what they'd previously decided would be one album called 'Music For Cars' was instead the first of a two-half 'era', little did they know they'd be just one of many acts opting to do pretty much the same.
Not unlike the concept record, double albums have, until now, often been the domain of the boorish, a luxury reserved for the self-indulgent artist refusing to 'edit' themselves to the standard 45-minute runtime (a length set by the physical limits of a 12" record, fact fans). Yet, in 2019, they've become so regular that it's almost a surprise when an act announces an unembellished 13-track release.
As well as Matty and pals, whose 'Notes On A Conditional Form' is set to feature a hefty 22-strong track listing (er, *cough*?), Foals ushered in the stellar 'Everything Not Saved Will Be Lost - Part 1' back in March, with its flip-side having followed last month. Marina (previously of '…and the Diamonds' fame) split her fourth into thematic sides of 'Love' and 'Fear'. Even newbies The Ninth Wave divided up their debut into halves; 'Infancy Pt I' was released in May, while its second half comes this month. And as we write, Nick Cave and the Bad Seeds have just given us a two-part record, 'Ghosteen'. Brevity, it seems, has not been on 2019's radar.
E - Eilish fever: The momentous rise of Queen Billie
When Billie Eilish was booked for Reading & Leeds this summer, she was originally slated for a mid-afternoon BBC Radio 1 Stage spot. Come the August Bank Holiday weekend, she played on the Main Stage to what was easily one of the festival's biggest ever crowds, circle pits stretching far beyond the back screens, a pop show more punk than most rock acts across the festival's three days.
March's debut 'When We All Fall Asleep, Where Do We Go?', meanwhile, caught the world's imagination like no other record this year; full of #relatable lyrics and brother Finneas' mind-blowing production, it veered from gnarly industrial to a whisper and back again like nothing before. It might've taken until August for omnipresent single 'bad guy' to oust 'Old Town Road' from the US Billboard top spot, but the track had long since climbed to the top of 2019's pop canon.
F - Fontaines DC: Dublin boys made good
Since the release of their thundering debut 'Dogrel' back in April, Fontaines DC have been on an unstoppable upwards trajectory. As they prepared to close out 2019 with a sold-out tour and their biggest shows to date (til next year, natch), we checked in with the breakthrough band of the year to find out how it's all been. Read our interview here.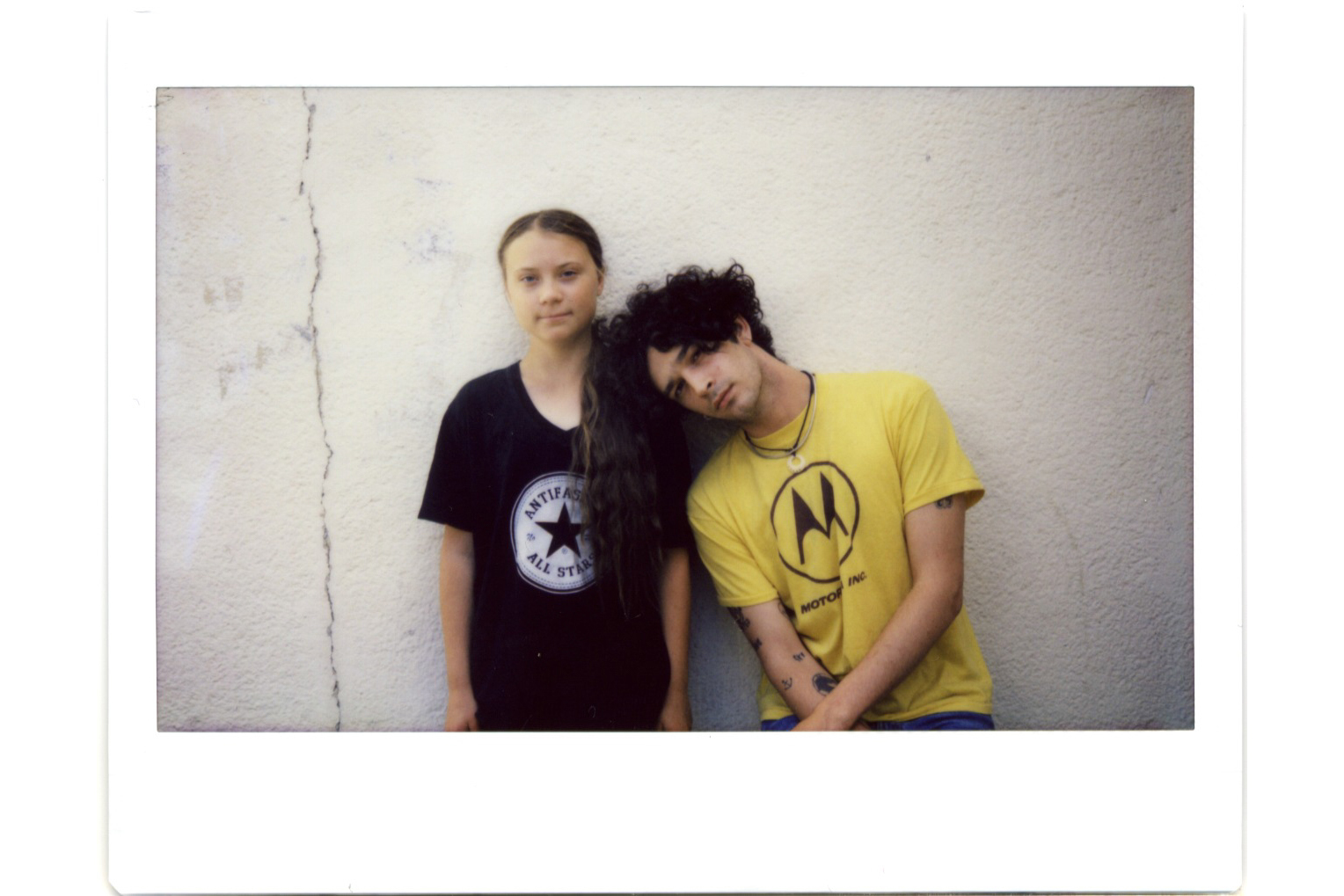 G - Greta Thunberg, the accidental rockstar
In case you need a slight refresher, Greta Thunberg is a fucking badass. Not content with inspiring a global movement, dubbed 'The Greta Effect', thanks to the work she's doing to combat climate change, and being tipped to win the Nobel Peace Prize, the 16-year-old Swedish activist has also been inadvertently racking up the music credits throughout 2019, too.
Earlier this year, The 1975 pied off singing about BJs in the first track from their brand new album 'Notes On A Conditional Form' in favour of getting Greta to deliver an impassioned speech about the global climate emergency. Still not enough? How about when she gave a no-holds-barred speech to the UN about how they're doing sod all and Fatboy Slim turned it into the hook for 'Right Here Right Now'? And lest we forget the epic takedown stare she gave to Donald Trump.
Punk ain't dead pals: it's just in the form of ya gal GT.
H - How many…? The ultimate stats of 2019
203,500 - People who attended Glastonbury this year.
6'2" - Height of Lana Del Rey's man child.
15: Songs Superfood played at their final gig in April.
80,000 - Number of tickets Billie Eilish has already sold for her forthcoming O2 Arena run.
1 - Members Sleater-Kinney were down between our cover feature and the magazine coming out.
750 - Days between Tyler, The Creator revealing his ban from the UK to playing his first date at Brixton Academy.
11 - Years between the last Raconteurs album and 'Help Us Stranger'.
990 - Number of Monday mornings we have left according to 'People'.
100 - Percentage Lizzo is that bitch.
I - IDLES merch: everywhere, all the time
Although a quick glimpse at the pics from this summer's festivals might have you thinking that bucket hats and mesh crop-tops are the new go-to gig uniform, you, my friend, would be sorely mistaken. Oh no, like the infamous Zara '@hot4thespot' dress, a new fashion craze has been taking over music events, and once you spot one, you'll see it (for lack of a better term) fucking everywhere.
That's right, IDLES merch has become THE must-have item to be worn at every single remotely musically-affiliated event ever, giving us the brand new punk philosophical thought of the day: If a band plays a gig and no-one is there in an IDLES t-shirt, did it even happen?
(Spoiler: the question is irrelevant, because there will ALWAYS be someone at the gig in an IDLES top).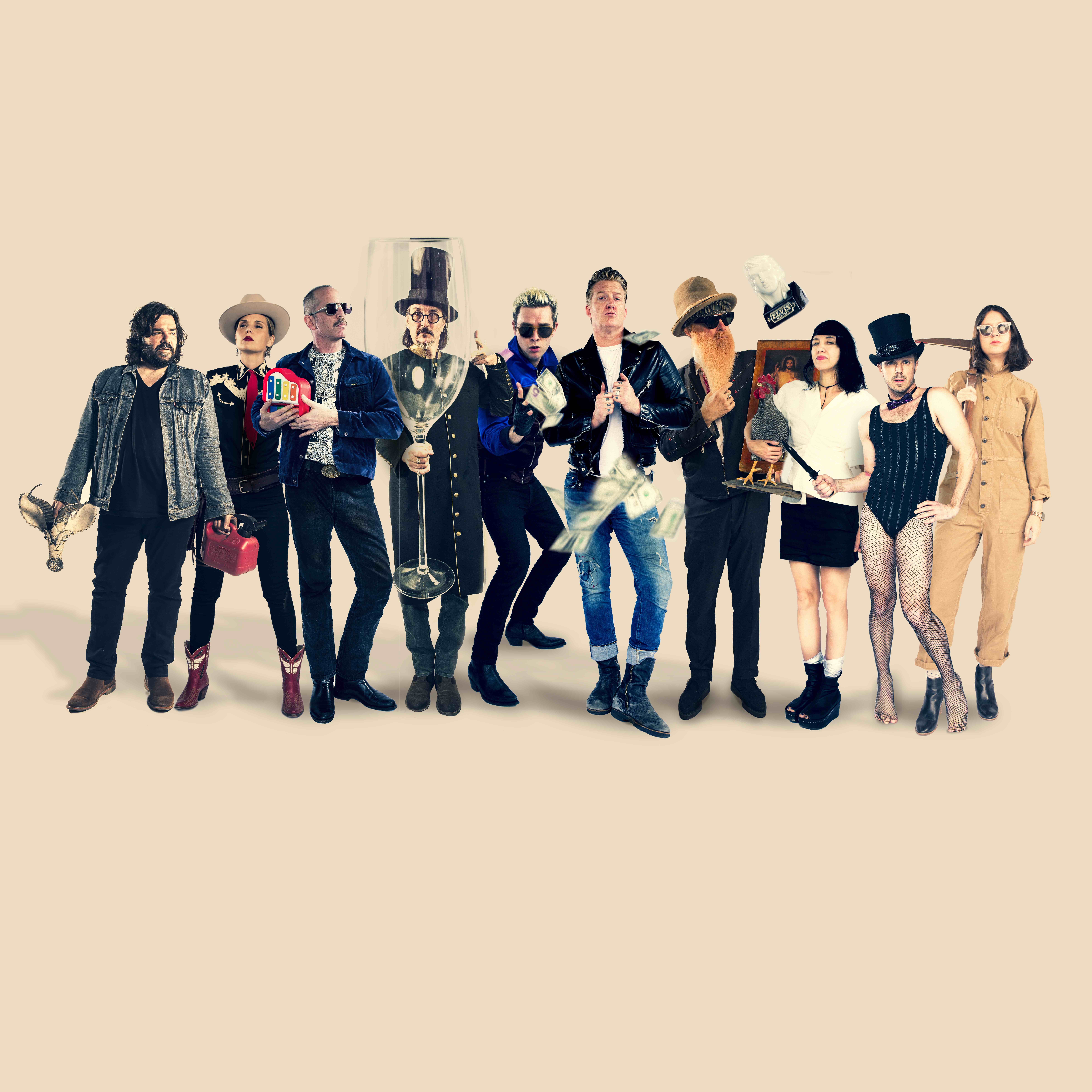 J - Josh Homme and his merry band of Desert Session-ers
16 years since Queens of the Stone Age mainman Josh Homme last summoned a group of unlikely comrades to his California desert studio for an Avengers Assemble of rock'n'roll, Desert Sessions returned this autumn for its long-awaited 'Vols. 11 & 12'. With an eclectic cast including ZZ Top's Billy Gibbons, Royal Blood's Mike Kerr, Warpaint's Stella Mozgawa and all-round polymath Matt Berry descending on Rancho De La Luna for a week, the result was pure alchemy. Here's what Mike and Matt had to say about it..
MIKE KERR, ROYAL BLOOD
How did the invite come about?
We'd been on tour with Queens for quite a while and I'd got to know Josh really well over that time. I had no clue [who else was doing it] and I'm pretty sure that no-one else knew either. But it was kind of like Christmas; I didn't wanna know what was under the tree.
What's Josh's role in the operation?
It's his house party and, like any good host, he knows who to sit next to each other, who's gonna get on, and also who's gonna cause positive friction. It's all very planned out; nobody's there by accident. He knows how to get the best out of people.
What was your highlight?
There was a point when I was playing a bit of guitar and I had Josh and [heavyweight guitarist] Matt Sweeney looking at me, and I realised how preposterous that was. To my friends, the in-joke with my band is that it's funny that it even happened because when Royal Blood kicked off I didn't really play bass or sing. So playing guitar next to two of my favourite guitarists and them liking it... it felt like showing Picasso my finger-painting.


MATT BERRY
You've known Josh for a while - how did he get you involved?
It was a spontaneous thing that became a song. I wasn't in [Joshua Tree] with everyone; I was in Los Angeles and played organ on 'Chic Tweetz' with him and Stella out there. Josh was playing a Stones-type rhythm and I was doing a different thing; when you hear it, it's kind of like the organ player and the guitarist have no interest in what the other person is doing. That's what made it sound interesting and schizophrenic and odd.
What's it like recording with the big man?
We went in there and within 15 minutes we'd come up with something and it's done. Unlike anyone else I can think of, he's interested in getting people together to record in that way. Most people who are fronting massive bands are far too concerned with whether they're gonna be interesting anymore or what they're gonna do next. But there's more to him than that. Not to sound like a wanker, but he's interested in the art of making music.
And the result was a pretty fucking weird tune!
It's not weird to me because I was in the middle of it, but if I wasn't then yeah, I'd probably think the same! But there are some fairly heavy things on the record, so with this it's just a 'What the fuck?' [moment], which is what it's all about. Not letting you be too comfortable with all this nonsense.
K - Kombucha and the year's other unexpected lyrical features
"She said, have you ever spat cum on the carpet of a Travelodge?" - Dry Cleaning, 'Goodnight'
"Well, my generation wanna fuck Barack Obam a/ Living in a sauna with legal marijuana" - The 1975, 'People'
"Love, honey, sex, money/ Text emojis saying you love me" - Metronomy, 'Sex Emoji'
"I saw you drink your kombucha / And it really don't suit ya" - Foals, 'Black Bull'
"My finger touch / I've been feeling stuff / Dark meat, skin pleat, I'm working"- Marika Hackman, 'Hand Solo'
"Got a tongue that doesn't quite translate / To look in somebody else's bowl" - Two Door Cinema Club, 'Dirty Air'
L - Lizzo, perhaps the greatest entertainer 2019 has seen
"If you can love me, you can love your own damn self," began Lizzo's sermon during her beyond-capacity set at Glastonbury back in June. "I love you, you are beautiful, and you can do anything," she urged the masses at the West Holts Stage to tell themselves in the mirror. It was just one moment of many during 2019 that underlined the polymath's status as pop royalty. Singer, rapper, flautist and actor, Lizzo isn't a new artist by any means - 'Cuz I Love You' is, after all, her third album, following 2013 debut 'Lizzobangers' and 2015's 'Big Grrrl Small World' - but 2019 saw her star rise to new heights daily. She all but kicked off the year with self-love banger 'Juice'; by the time 'Tempo', her collab with rap legend Missy Elliott hit in the summer, these twelve months were hers for the taking. Then, thanks to TikTok and Netflix film 'Someone Great', 2017 single 'Truth Hurts' - not even on her latest full-length - became the year's sleeper hit. Add to that her appearances in both animated film 'UglyDolls' and box office smash 'Hustlers', a standing ovation from Rihanna and love on Twitter from just about every celebrity going, yes she's 100% that bitch, and the world's better for it.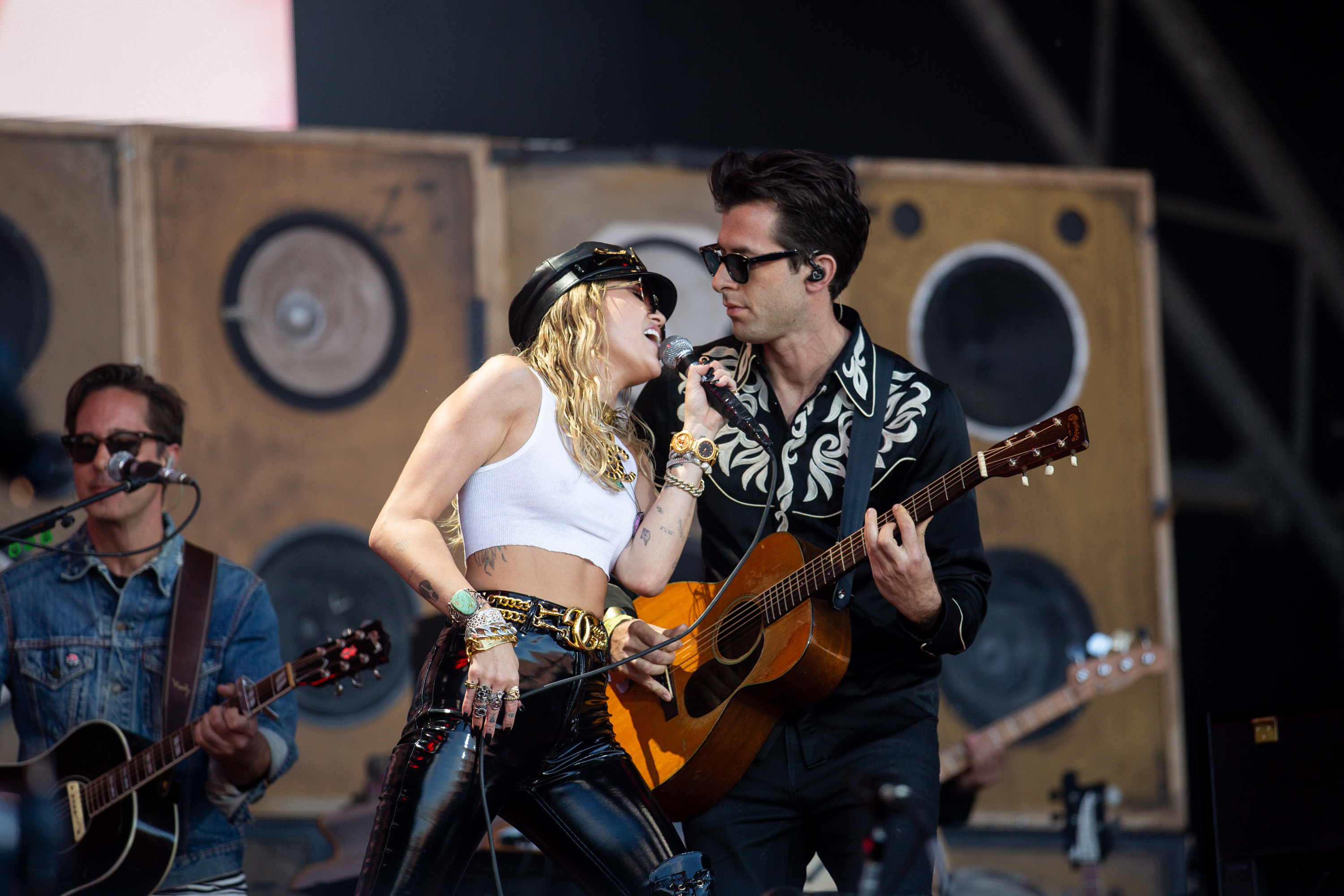 M - Miley Cyrus does Glasto
Being quite literally sandwiched between the pop behemoths of Kylie's legends turn and Billie Eilish's upgraded spot over on the Other Stage, there was probably a bit of pressure off Miley Cyrus' Pyramid debut. She'd long stretched her weirdo wings - who could forget 'Dead Petz', the musical result of her friendship with chief Flaming Lip Wayne Coyne - so an outing at Worthy Farm wasn't completely anathema to the singer. And still, she wowed: opening with help from bestie Mark Ronson for the pair's 'Nothing Breaks Like A Heart' before a take on Amy's 'Back To Black', showing off her incredible rock vocal via Led Zep's 'Black Dog' and Metallica's 'Nothing Else Matters', and nodding to godmother (and past Legend) Dolly with 'Jolene'. Bringing on Lil Nas X and her dad Billy Ray for 'Old Town Road', before proceeding to dip into Black Mirror alter ego Ashley O for 'On A Roll', the left-turns didn't let up until the credits rolled. Few use the world's most famous stage to ponder where their next steps might head - this June, Miley showed hers could be anywhere at all.
N - 'Norman Fucking Rockwell!'
In the opening line of 'Norman Fucking Rockwell!', Lana Del Rey showed exactly why she's one of the best ever. "God damn, man child, you fucked me so good that I almost said I love you" was instantly iconic and cutting, and LDR to a T (also, man child will forever be the best putdown, just sayin').
Kicking off her sixth studio album, the 14-track record has been spoken of as her best yet, and it's no real stretch to see why. Coated in nostalgia and romanticism, Lana's lyrics are sharp and her voice beguiling; for the 67 minutes it plays, you're transported into Lana's Classic Hollywood-tinged world - albeit one full of vaping, winged eyeliner and Kanye West. Also, we'll be using "your poetry's bad and you blame the news" to shut down fuckboys from now on. Thanks Lana.

O - 'Old Town Road' takes over
2019 breakout superstar Lil Nas X has surely had one of the most stratospheric rises in modern music history. Since its release back at the start of the year, his ubiquitous single 'Old Town Road' has been inescapable; like the repeated dismay at the price of Freddos, or Liam slagging off Noel at every given opportunity, it's a phenomenon you can't get away from.
But credit where credit's due: Mr. X put the work in. After being snubbed by the Billboard Country Music Awards for "not being country enough" and coming up with the genius plan to get Billy Ray Cyrus on a remix, the track subsequently topped the charts for a record-breaking 19 consecutive weeks, and has spawned about 800 more remixes and memes from there. And it's also so catchy that once it's stuck in your head can't nobody tell you nothin'. Oh no, not again...
P - The Peaky Blinders Festival exists (and it wasn't half as strange as it first sounded)
While sometimes, admittedly, the events of a festival can make for great TV (Fyre Festival, we're looking at you here), it doesn't necessarily work too well the opposite way around. Until now that is… Now, there's only been a ruddy Peaky Blinders festival. Featuring a genuinely decent array of musicians - Primal Scream, Nadine Shah and Liam Gallagher all reared their heads over the two-day affair - the Birmingham event gave viewers the chance to presumably pretend to be gangsters for a day, while watching Anna Calvi perform the show's score? We're not too sure either, but apparently it was pretty bloody good. Get your flat caps ready for next year, lads.
Q - Er, quite a depressing year for the charts, tbqh.
Yes yes, it's 2019 and there's not really any point in still moaning about how the charts aren't what they used to be. EXCEPT ISN'T THERE JUST A BIT THOUGH??? Streaming, playlists, blah blah blah: we all know how the numbers are crunched these days and that there's sweet FA we can do to reverse it. But does that actually make the sour taste of The Greatest Showman soundtrack (the biggest selling album of the year, for the second year in a row) any more palatable? Does it soften the blow that, despite literally dozens of incredible new records being released over the past 12 months, the Top 10 also contains a further two film soundtracks and an Ed Sheeran LP from 2017? No, Mister Official Charts. No, it does not. Hmmph.
Everyone loves a good dose of nostalgia, and this year a whole batch of bands decided that 2019 was the time to put aside their differences and reunite for the greater good of the people. From the ginormous stadium tour that the Spice Girls completed earlier this summer, to the decidedly more low-key return of The Futureheads and Britpoppers Supergrass' recent surprise gig, it was a big year for musical comebacks. We even caught up with indie sweethearts Bombay Bicycle Club in the very spot where they decided to get the gang back together!

S - slowthai reigns supreme
At the start of the year, slowthai was a buzzy new hopeful. But as 2019 comes to a close, following the release of incendiary debut 'Nothing Great About Britain', he's grown into a bona fide star. From Northampton to Brixton Academy and back again, we caught up with Tyron Frampton in the middle of it all. Read our interview here.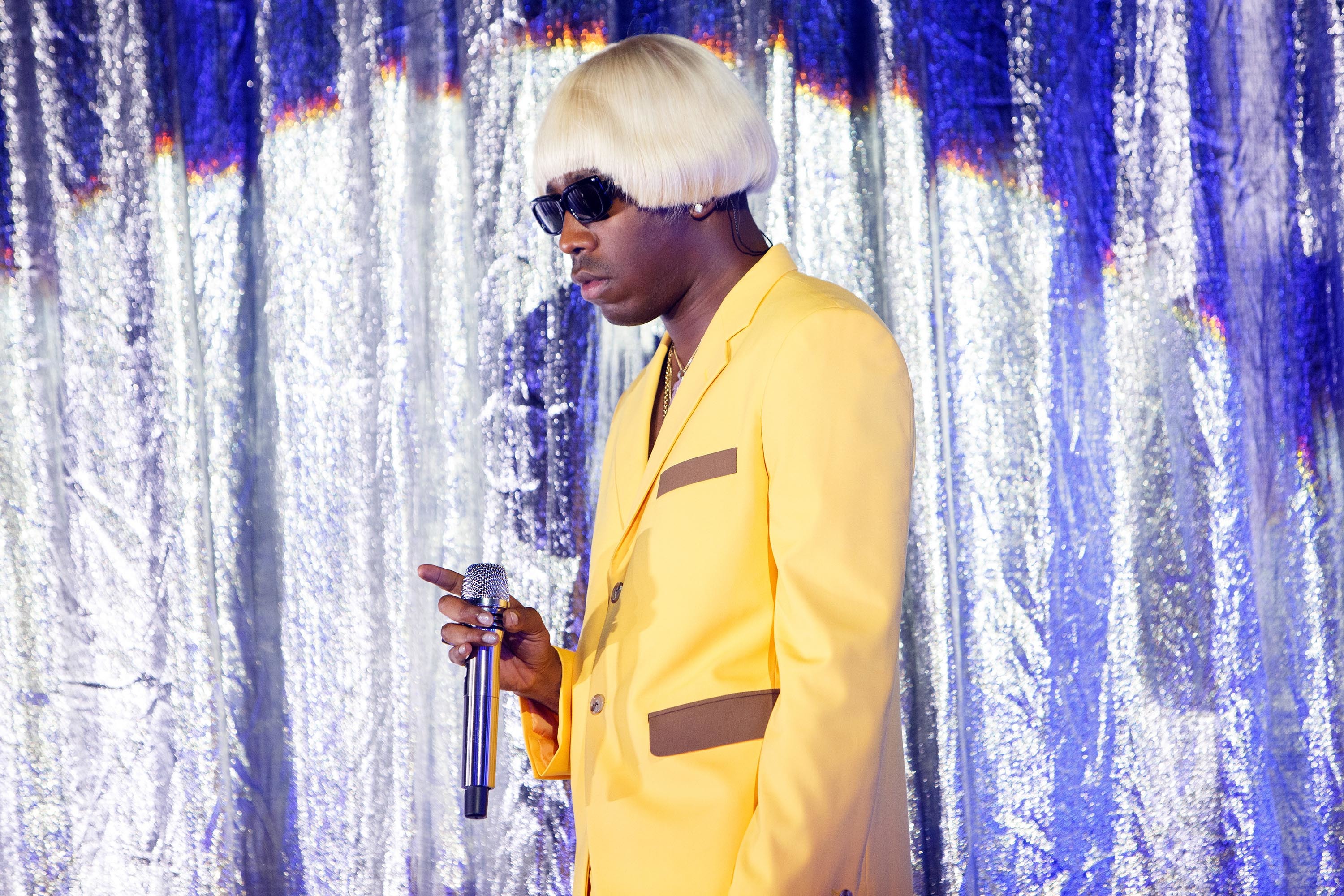 T - Tyler, The Creator gets iconic
Tyler, The Creator has never exactly been afraid of *~fashun, but in 2019 the star underwent his most major transformation so far. With the release of album 'IGOR', we finally got to witness the Odd Future rapper's long-awaited return to the UK. And boy, was it worth the wait. Taking on a whole new persona, complete with an array of pastel coloured zoot suits and a cropped blonde wig, does Tyler now embody the essence of slick? You can bet your bottom dollar on it.
U - (The) unlikely resurgence of the saxophone
"I hear that you and your band have sold your guitars and bought turntables. I hear that you and your band have sold your turntables and bought guitars," quipped James Murphy on iconic scene takedown 'Losing My Edge'. But what would ol' Jim-Bob have said about the kids then ditching them both in favour of... the saxophone?! Yes, in 2019, are you even a buzz band if you don't have some brass parping away stage right? From Swedish scallies Viagra Boys to South London's latest hopes Black Country, New Road; Canada's Crack Cloud to super-hyped Brightonians Squid (OK fine, theirs is a trumpet, but still...), plug-in-and-play is out and classical training is the new cool. All hail the nerds: turns out your mum was right about those after-school lessons after all.
V - Vampire Weekend finally return
It seems strange to think that, just over a year ago, we still had no idea what the new Vampire Weekend album was going to be called, let alone when we might finally hear it. But, after more hype than you can shake a selfie stick at - including 'FOTB' clues and a two-hour track of solely looped guitars - the long-awaited follow-up to 2013's 'Modern Vampires of the City' finally landed and, despite it not being titled 'Mitsubishi Macchiato' like first rumoured, it was as joyous as we could've hoped. Eighteen songs in length and featuring appearances from Danielle Haim and Steve Lacy among others, 'Father of The Bride' felt immediately playful and classic, well-worn but unique. "Having other people involved, practically speaking, it's more fun!" Ezra told us, back in the summer. "I have other people in the studio, people to collaborate with, and it gives the texture of the album a new feeling, which I think is the right feeling after the trajectory of the last three albums."

W - Why Me, Why Not? and other questions we've asked ourselves this year
Q: Does nothing break like a heart?
Q: Does Damon Albarn ever sit still?
Q: When we all fall asleep, where do we go?
Q: How many times can Dave Grohl say "rock" in a single minute?
Q: When is the new Tame Impala album actually coming?
Q: What does Orville Peck's face look like?
X - Charli XCX (finally!) unleashes a new album
A full two years since some dickhead hacker leaked all her material, Charli XCX finally (FINALLY!) released her self-titled third album in September! Featuring shit loads of exciting guest stars, and some undisputed #bangerz, we'd be lying if we said we weren't left wanting even more after all the build-up and hype. '1999' is still an absolute slapper though.
Y - Years & Years get troll-y on Twitter
What exactly do you do when the BBC launches a new dystopian thriller series which happens to share your band name and people are desperate to talk about it online? Well, if you can't beat 'em, you might as well troll 'em... That's exactly what poptastic trio Years & Years must've been thinking earlier this year when dark sci-fi drama, ahem, Years and Years launched, and they found themselves with quuuuite a few tweets sent their way. "Jeez, I wish I knew @yearsandyears was so bleak. @russelltovey, so depressing!" wrote one torn viewer, before the band took matters into their own hands. "Oh no! We thought our songs were quite upbeat and happy! We'll speak to A&R." Ten points guys, ten points.
Z - Buzzzzzzzzzz: New music for 2020 is just around the corner…
…Alright, alright, so this one isn't quite about 2019, you've caught us. Maybe it's more of a plug for our latest issue - our Class of 2020 issue - in which we offer up a healthy dose of new music, and highlight all of the bands we'll be throwing our support behind next year. Maybe you should check it out. Just maybe.