Album Review
Bombay Bicycle Club - Everything Else Has Gone Wrong
4 Stars
For those who've held on in hope of their return, the rewards are fruitful.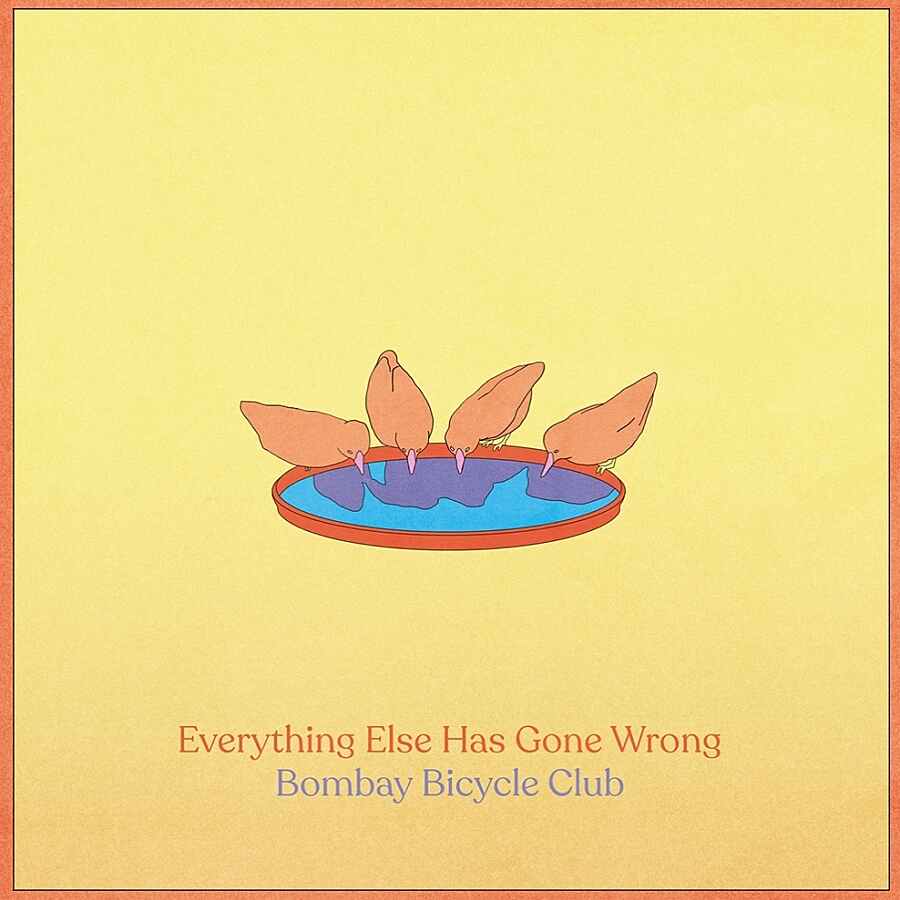 In a year that's seen more anniversaries and notable returns from more of the class of '09 than it's possible to mention, the news of a Bombay Bicycle Club return was one that felt particularly eagerly-awaited. Their approach to music-making was one that always felt dependably solid, driven by Jack Steadman's trembling voice and knack for picking out just the right earworm borrowed from dance or hip hop, embedding it in just the right amounts so as to never feel inauthentic. The music that was made was the product of four best friends, and it showed - from record to record, the subtle expansion of their sonic palette has never felt anything other than natural.
While nods are made to the musical explorations of Mr Jukes and Toothless that have kept members busy for the past few years, 'Everything Else Has Gone Wrong' is an indisputable 'Bombay-does-guitars' record, with all the emotional light and shade you've come to expect. The same boys you knew a few years back are still very much present, but the frown lines have furrowed a little deeper, the energy is a little less carefree, and the worries are more complex. In the time they've been away, the world has changed: concerns over the girl who didn't fancy you back are traded with the realisation that romantic bliss doesn't instantly solve the struggles of mental health ('I Worry 'Bout You') and the desire to stay young forever is tempered with the realisation that 'growing up' is actually learning to exist in an often unfair world that is burning through its resources and tolerance, leaving little to distract you from the temporality of your own existence. If this narrative sounds depressing, it's because it kinda is. But their ability to juxtapose soul-searching lyrics against jaunty melodies creates instant anthems, at one both antagonist and healing. Nowhere on the record is this exemplified as well as on 'Good Day' - as a one-two punch against lead single 'Eat Sleep Wake (Nothing But You)', it taps into their strongest asset - the ability to break your heart and heal it in the time it takes to move from verse to chorus.
Although musically very little has changed, clues are left throughout the record as to its Stateside recording. Opener 'Get Up' sounds the horns of a Beychella-themed Thanksgiving parade, and the album's title track is a stand out, capturing a nervous energy in its low-register, chanting verses - the world-weary brother to 'Dust on the Ground'. One suspects the influence of producer John Congleton, who also helped Wild Beasts find their radio-rock energy on 'Boy King', but again, it never feels forced - just the slow seeping spread of their musical exploration, a gentle nod to their mission statement to create a call-to-arms record that you can turn to in a crisis. The relief they share at having found this for themselves, a reunited band of brothers, gives the music a secondary energy.
A very subtle progression from what has come before, it remains to be seen whether 2020-era BBC will capture the hearts and minds of a new generation. But for those who've held on in hope of their return, the rewards are fruitful. Heck, if you met your 'one' as a floppy-fringed teenager at one of their early gigs, a whole heap of these songs could accompany your nuptials, or maybe just soundtrack the firey inferno of the final days on earth that threaten as we try to make the best of a bad situation. In the spirit of the album's title, there is hopefulness in despair, a peace in accepting the unknown. The same blues of ten years ago are still very much in evidence, but Bombay Bicycle Club remain a band who are more than capable of shaking them loose.
More like this