Interview
The Road Less Travelled: The Big Moon
Having released one of the most beloved indie debuts of recent years, The Big Moon had some big shoes to fill with LP2. In 'Walking Like We Do', they've made the journey in style.
"It was mad, everyone was crying except me," says The Big Moon's Juliette Jackson, reminiscing about a particularly memorable live show the band played last summer. "I felt my eyes start to go and then I thought, 'Wait, this might not be real', and it went away," she laughs. "It's funny because I cry a lot, but I guess you don't want to think you're being proposed to and then realise that's not what's happening. Especially on stage with hundreds of people watching."

Thankfully, Jules wasn't wrong to assume that a marriage proposal was indeed on the cards when her boyfriend Max came on stage at Green Man last August, accompanied by a posse of on-site postmen (the pair met at the weekender in 2014, when they were delivering festival mail). And, though the band have a European tour and a support slot for the recently-reformed Bombay Bicycle Club to get through before she can even think about wedding planning, having such a huge life step play out in front of a visibly adoring audience seemed timely. Having evolved from carefree, wide-eyed newbies making music for fun to mature, self-assured artists with critical acclaim and a Mercury shortlist spot under their belts, it's not just the singer's personal life that's been moving in significant new directions.

It may be a well-worn cliche for an artist's second album to illustrate a newfound maturity, but getting older undoubtedly forms a central theme of 'Walking Like We Do'. "A lot of the songs on this one are about growing up and moving on, and the things and feelings left behind as a result," Jules explains. "It definitely feels more mature than the first one. I mean, I am more mature, the songs on our first album were written five years ago." But though the finished product still makes for a typically hopeful, emotive listen (albeit one with subtler nuances than before), writing the follow-up to 2017's much-loved debut 'Love in the 4th Dimension' wasn't exactly plain sailing for the band, completed by guitarist Soph Nathan, bassist Celia Archer and drummer Fern Ford.

At the start, the success of their first effort began to inflict its own pressures. "For the first couple of months of writing, I was trying to fit the songs into a mould," explains Jules. "I was trying to copy the first album, basically. It felt like I should do the same thing, and it wasn't satisfying or exciting." "And we were writing for an album more this time, whereas the first time we were just writing songs," chips in Soph. "But ultimately you can't really think about that when you're trying to create things, otherwise you end up second-guessing everything you do," Jules continues, finishing off her friend's sentence. "We realised that we didn't have to stick to a structure, and after that we chilled out a bit."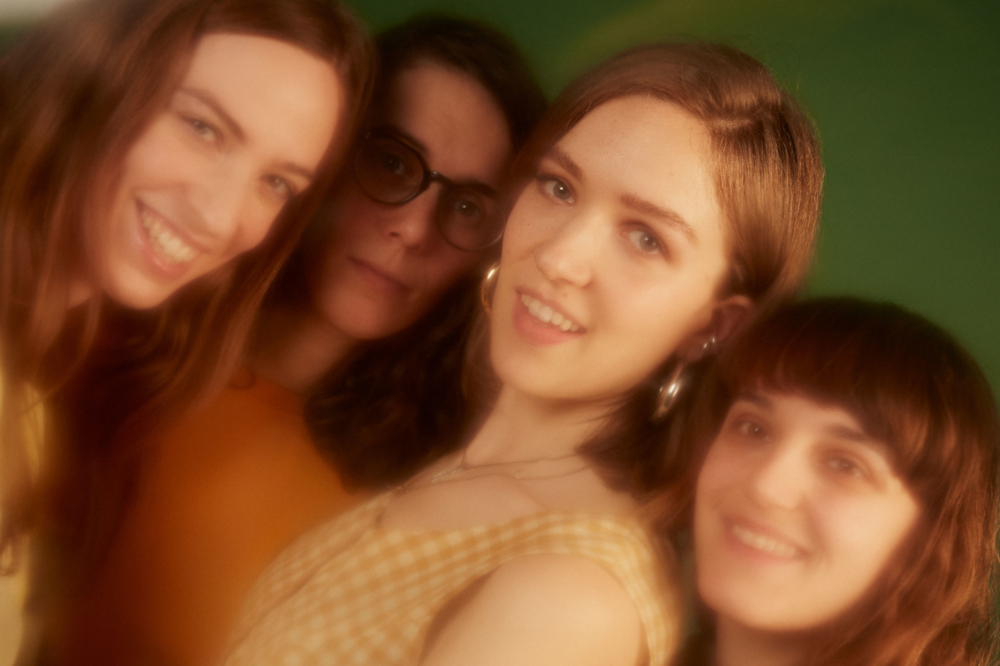 "The first album was quite a lot more innocent I think, but things feel different now."
— Juliette Jackson
The Big Moon's Big Day
So, as we've mentioned, Jules got engaged live on stage - no biggie. But how exactly did this feat of magical romance come to pass?

Soph: Nobody knew, none of us knew.

Jules: A friend of a friend had brought [the ring] in because it was supposed to get delivered from India before he went to the festival. So it was this whole thing, and everyone was like, 'Max, why are you trying so hard to meet this guy called Dan?!' or whatever his name was. He was very grumpy in those few days.

Soph: Yeah, afterwards he was saying that he'd not been able to eat all weekend and he was like, 'No-one even realised!'. But he got away with it.
The realisation led to a newfound sense of experimentation, allowing the band to test out different instruments rather than going back to the guitar-driven sounds of their debut. This time around, there are more keys and less chords; it's still The Big Moon, but it's a broader, more open version of the band coming to the table. "When I first started writing, it was on guitar and you just end up writing the same song all the time," Jules says. "Your fingers keep going to the same places and it's really frustrating. I was looking for different ways to do things so a lot of it was written on piano. I can play the piano but I'm less familiar with it, so I ended up going to different places."

"She also likes writing to other people's music videos on mute," Celia interjects. "I'm yet to meet anyone else who does that," Fern adds wryly. "Sometimes I like pretending to be a completely different person when I'm writing because you can kind of have some distance from it," Jules explains. "I think it's a really fun technique."

Then came the hurdle of recording the follow-up to a debut that had been happily laid down in a week. For it, the band travelled to Atlanta to spend a month working with Grammy-winning producer Ben Allen - a galvanising departure from their previous experiences that re-cemented their thick-as-thieves camaraderie. "Jules didn't really have a break from the band [between albums] because she was writing, but the rest of us had only played the odd festival show for the past year," explains Celia. "So when it finally came down to recording the album we were all like, 'Oh cool, we ARE a real band! We do real band things, like travelling around recording albums!' It was quite motivating; we all felt a lot more confident and up for it."

And while the marathon studio sessions might have been full on at times ("At one point we were just making feedback and drum noises for a couple of days and we all went a bit crazy," Jules grimaces), they also made room for some necessary tourism and a healthy dose of roller derby. "We had this nice bonding time out there," Celia smiles of their adventures, "and everything just came together really nicely." "It was such a warm experience," Fern nods.

But while the foursome might be tighter than ever, it's chief songwriter Jules who is largely responsible for the new sounds and perhaps-surprising restraint present in LP2. For all their raucous onstage antics, the band's frontwoman is a mild-mannered and introspective character in person, and one who obviously takes what she does seriously; though it would have been easy to dish up 'Love In The 4th Dimension' pt II, it's evident the singer was pushing herself far harder than that. "I learnt a lot about my flaws," she says of the writing process, "and one of them is that I put too much stuff into songs sometimes. It took some time to realise that actually less is more; it was definitely a deliberate thing to let the songs breathe a bit this time."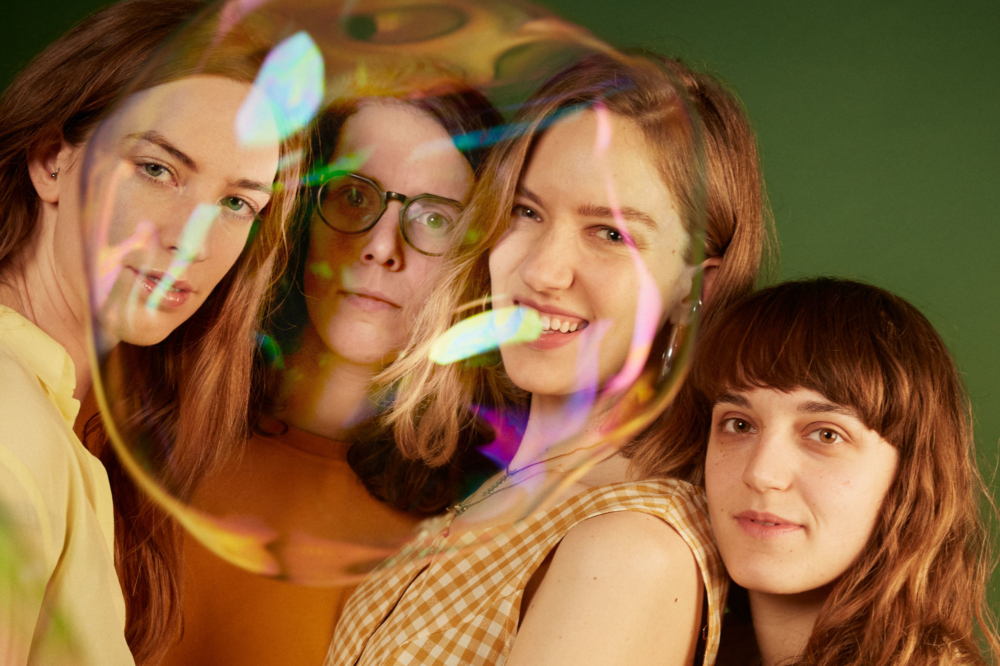 "Politically, environmentally, socially… Everything's a bit scary at the moment and I think that really comes out."
— Juliette Jackson
By allowing more space on the album, this time around Jules' talents as a succinct and heart-wrenching lyricist take centre stage. "I only saw the differences, I didn't see the change / I thought that you would soon be back and things would be the same," she sings on the mournful, introspective 'Waves' - one of the highlights of an album preoccupied with the loss of youth. "The first album was quite a lot more innocent I think," she nods, "but things feel different now. I mean, even from a personal point of view, everyone around us is settling down and having kids."

But it's not just personal anxieties that come through, there's political acknowledgement going on here, too. "These days the dust doesn't settle… Is it any wonder you've been freaking out?" the singer laments on the swaggering, piano and organ-driven 'Holy Roller', in reference to the tumultuous climate of recent years. "Politically, environmentally, socially… Everything's a bit scary at the moment and I think that really comes out in the album," she explains. "I feel like there are a lot of artists doing this at the moment, just trying to understand the world a bit through their art. When I'm writing a song, usually I'm trying to process how I feel about it. I think music is really good for reflecting stuff back to you or helping to cope with stuff and understand it."

However, though the subject matter of 'Walking Like We Do' might be more ambitious, that's not to say the band are taking themselves too seriously just yet. "It's interesting that being mature means being serious," notes Soph, "whereas being light-hearted, writing love songs and having fun is seen as immature." It's evident that The Big Moon are - thankfully - still a band who like to have a laugh, particularly in the video for recent single 'Take a Piece': an homage to '90s music clips in which the band wear double denim, bucket hats and orange-tinted sunnies, dancing in sync like a boyband. "The Irish ones were definitely the best," nods Fern sagely as the conversation moves to their favourites.

With the record now out in the world, the quartet are hyped to get back on the road again this month after a quiet 2019. "With the old album, we knew all the songs so well from playing live before we ever recorded them, and because we've done it the other way round this time I did feel quite anxious about playing stuff live at first," explains Celia. "But now we've done a couple of live sessions, I can't wait."

"It's actually been a while since I listened to the whole thing," Jules continues. "I think it's always good to have a break after recording something, but the other day, I was looking for some demos that we could put out as bonus tracks and I ended up playing a couple of the finished songs. And you know what?" she says smiling. "They were really good!

"We spent a long time making the album right, trying to communicate things in the right way," she smiles, confidently. "Now I'm just excited for it to do the talking."
'Walking Like We Do' is out now via Fiction.