Album Review
Halloweens - Morning Kiss at the Acropolis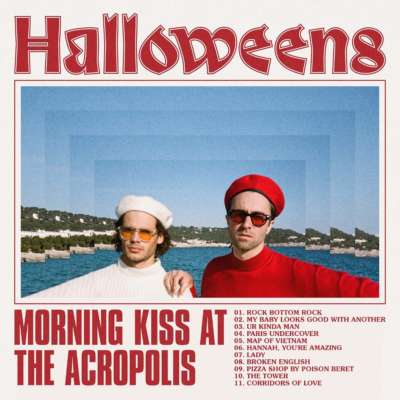 Pure wide-eyed schmaltzy goodness.
Label: Super Easy
Released: 20th March 2020
To the casual critic, The Vaccines might appear a Varsity-jacketed bunch of indie purists, but in reality Justin Young's songwriting has always come delivered with a large knowing wink. Bountiful proof of this playfulness now comes in the form of Halloweens - Justin and keyboard player Tim Lanham's side project - and their swoonsome, nostalgia-ridden debut: essentially an excuse for the singer to play twinkle-eyed charmer and throw out as many one-liners as possible. "I've thought about death every day of my life / Guess I'll think about life when I'm dying," he croons on Randy Newman-esque highlight 'Ur Kinda Man', while on the synth-lounge of 'Pizza Shop By Poison Beret' he declares "We DJed at the pizza shop / But no-one ordered rock'n'roll with pineapple on top". It's purposefully cheeky, and offered up in a package that's more 'working men's club compere' than chin-stroking artiste, but crucially it's also genuinely good; 'Lady' could sit alongside anything off Alex Turner's 'Submarine' EP while 'Rock Bottom Rock' is pure wide-eyed schmaltzy goodness.
More like this