Photo: Jorge Olazaba
Neu Get To Know… Peach Tree Rascals
The LA-based collective making genre-blurring bops.
Hello and welcome to DIY's introducing feature, Get To Know… getting you a little bit closer to the buzziest new acts that have been catching our eye as of late, and working out what makes them tick.
Recently we've met emerging London artist VC Pines, woozy-pop troubadour Brad Stank, PC Music's shiniest new talents Planet 1999, Nice Swan record newbie Phil Madeley, and now we're introducing you to LA-based collective Peach Tree Rascals.
Sharing new track 'Things Won't Go My Way' today, the Californian quintet create genre-blurring bops, pulling influences from pop, R&B, rock and hip-hop.
Speaking on the new song, they say: "This song is special to us because it reminds us of something that's often difficult to put into words. We always try to justify that there's a particular thing preventing us from doing something, but at the end of the day - it always comes down to the fact that it's a mindset and you're often preventing yourself from getting where you want to be. We think everyone has a moment where they experience self-doubt, or like they're not able to perform their best. When we wrote this song, we thought a lot about how there are people, or how your own mind will try to drag you down and make you feel like you're not good enough. In the end, we're all just trying our best and it's about acknowledging that, knowing that we've all been there and felt that and that you can turn that feeling into something positive."
Get to know them a lil' bit better below.
Describe your music to us in the form of a Tinder bio.
Jorge: My Tinder bio was terrible…(haha), but probably something like: "We make you feel good on the inside….and the outside"
What's your earliest musical memory?
Issac: I made a song when I was 6 and recorded it on my older brother's equipment. It was a headset microphone (haha). It was a bunch of nonsense to be honest about intense pain and struggling that I for sure wasn't going through at the time as a 6 year old…
Who were some artists that inspired you when you were just starting out (and why)?
Tarrek: We always loved artists like Tyler the Creator and Frank Ocean who are unapologetically themselves and don't fall into a specific genre. We love making music that makes us feel something and we hope in listening, others feel something as well. I think Frank and Tyler have always done a great job with this and why they are able to retain fans that keep coming back for more
You're from LA! What do you think of the music scene there at the moment?
Joseph: We are actually from the Bay Area! We just moved to LA at the end of last summer. While we love our home because it's where our family lives and is the home to many sub-cultures of music, LA has been great because we've been able to be completely immersed in a scene of music where people are constantly touring through. We never got to go to that many shows at home, but out here we've had way more opportunity to see different types of artists.
Are there any other artists breaking through at the same time that you take inspiration from?
Tarrek: We are fans of all of the emerging artists that break boundaries with their lyrics, as well as genre-wise. We believe that music shouldn't have to fall into a genre or sound like something in particular to make you feel something. We love artists like Billie Eilish, Dominic Fike, Dijon, Clairo, Juice WRLD, Post Malone, etc.
Who would be your dream collaborator?
Everyone: Frank Ocean collab would be ultimate for everyone.
Musically or otherwise, what are you most looking forward to this year?
Issac: We are so excited to get on the road and meet our fans! Everything has been pushed back because of the crazy uncertainties going on with this virus, but we want to make sure everyone is safe and that we're able to put on the best show possible for our fans when everyone is healthy. It's felt like so much of our music has been in this online community and I can't wait to see it come to life.
If people could take away one thing from your music, what would it be?
Dom: We just want people to feel something and to feel their best self when listening to our music. We love making feel-good / optimistic music rather than sad music. We want to create happy music and to make people see the good in life.

Get your copy of the latest issue
More like this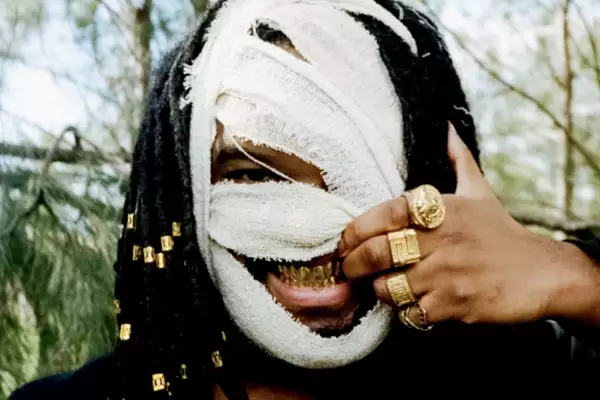 A round-up of the best new music at The Great Escape this year, featuring Genesis Owusu, Priya Ragu, Yard Act and more!
The LA-based collective making genre-blurring bops.