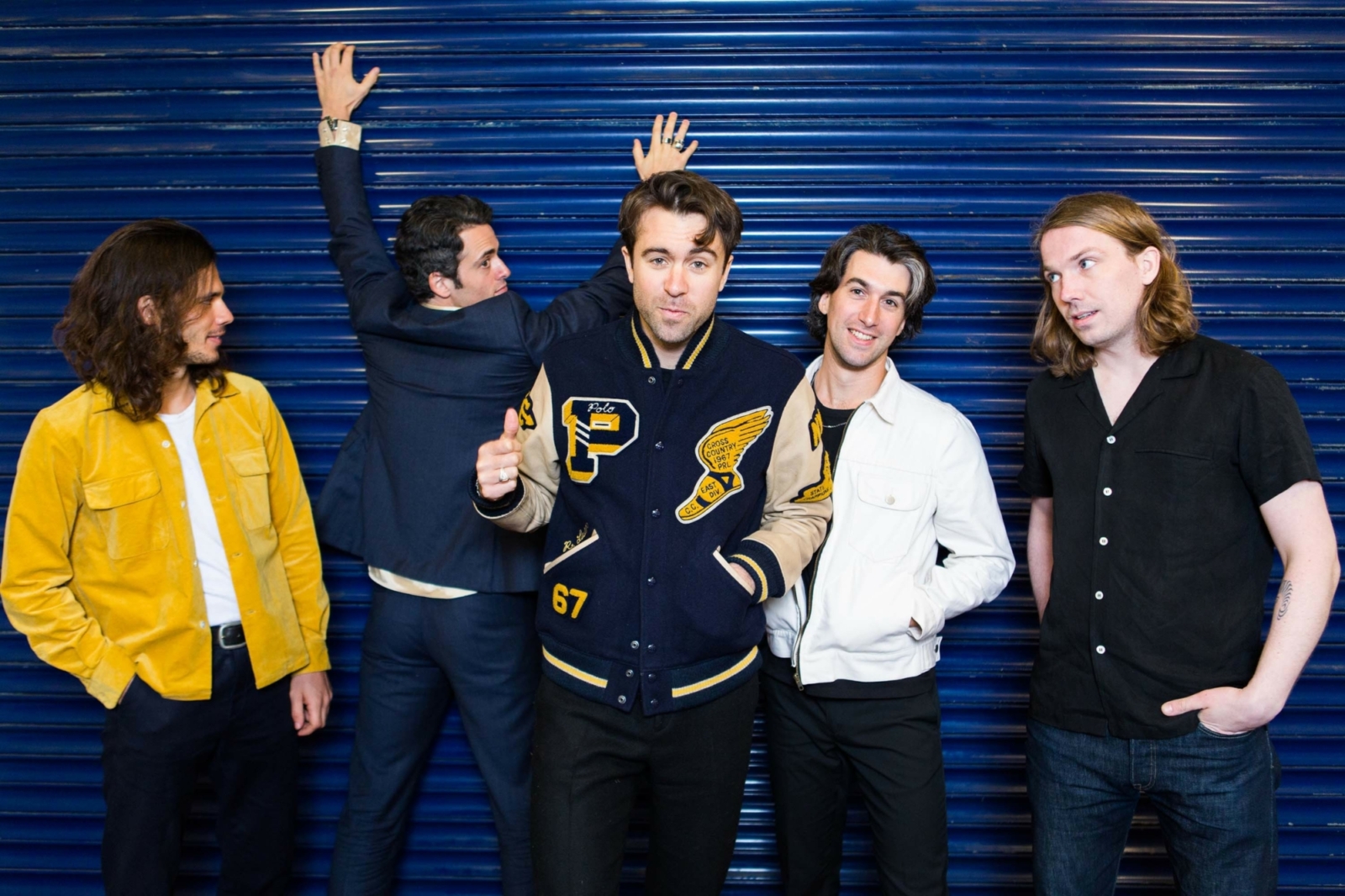 Photo: Jenn Five
Listen
Tracks: The Vaccines, Squid, Bright Eyes and more
The biggest and best tracks of the past week, rounded up and reviewed.
The Vaccines - I Never Go Out On Fridays
Keen social commentators, or just rubbing salt in the slowly-unravelling wound? On their surprise drop new single (actually written a few years back, but left unreleased), The Vaccines might be addressing the self-imposed hermit status of the newly spurned, but you can imagine the gleeful twinkle in singer Justin Young's eye that he's managed to inadvertently write indie's first social distancing banger. "I never go out on Fridays… I'm never gonna leave my house no more" he sings over the kind of big, fists-aloft chorus that would be perfect for thrashing around to in a field, were we allowed. Instead, turn your speakers up, whack this on repeat and join him in sticking two fingers up to the outside world: it's not like you've got much choice, anyway. (Lisa Wright)
Bright Eyes - Persona Non Grata
Ending their nine-year hiatus, Bright Eyes unveiled their first new song since 2011 in the form of the poignant piano-led 'Persona Non Grata'. Accompanied by a letter from Conor, Mike and Nate expressing their love and solidarity during these unprecedented circumstances we find ourselves in, the goosebump-inducing new song is an intimate and heartwarming affair, with Conor's emotion-filled vocals cutting through with each verse. And, on top of all of that, it also has bagpipes! We love to see it. (Elly Watson)
Squid - Sludge
When announcing that you've signed to a label - and the very exciting Warp at that! - you've got to come out with a banger to celebrate, and Squid haven't let us down. Sharing chaotic new track 'Sludge', it's the classic-Squid-screamer we've all come to know and love. Shedding the former characters seen in previous releases such as 'Match Bet' and 'Cleaner', the offering sees the quintet looking more introspectively. Driven by Ollie Judge's screaming vocals over the funk-tinged backing, Squid are back and just as balls-to-the-walls as ever.
Nadine Shah - Trad
To any woman who's ever suffered through a family gathering containing the phrase "the clock's ticking," Nadine Shah's latest (and, indeed, Nadine Shah in general) should be held dear like a talisman of sanity and relief. "Shave my legs / Freeze my eggs / Will you want me when I'm old?" she sings cuttingly over simmering, sparse beats. It's clearly a moral 'fuck you' to the traditions of its title. And yet, as its yearning chorus kicks in ("Take me to the ceremony/ Make me holy matrimony"), it's not all that simple, because nothing ever is. Another example of the Newcastle singer's nuanced, open dialogue about the rollercoaster of clashing feelings that we call life, there's few expressing it as eloquently and intriguingly as Nadine right now. (Lisa Wright)
Run The Jewels - Ooh La La
"I think we have a classic jam," said El-P of 'Ooh LA LA', before playing it to Run The Jewels partner-in-rhyme Killer Mike. He wasn't wrong; the hypnotic loop that underpins this second teaser of RTJ4, when coupled with its immediate hook screams 'hit'. It's as evocative of a summer spent outdoors as ice pops and water pistols, radios blaring out from bedroom windows. If only we were… you know… (Emma Swann)
Egyptian Blue - Nylon Wire
Giving us a sizzling glimpse into their forthcoming second EP 'Body of Itch', Brighton's Egyptian Blue have shared their electrifying new single 'Nylon Wire'. A thrilling and immediate bit of post-punk, the scuzzy new number is frantic and ferocious, with the kind of boneshaking climax that is made for mosh pits. Echoing the huge sounds of heavy Foals or even contemporaries The Murder Capital, frontman Andy's intense growl is matched by lyrical punches to create a snarling new direction in the group's blossoming sound. (Elly Watson)
Jerskin Fendrix - Oh God
With debut album 'Winterreise' set to land next month, Jerskin Fendrix has given us our latest taste of what to expect with new track 'Oh God'. Another example of his experimental pop chops, it's a synth-heavy glitchy banger, inspired by Schubart's 'The Trout', full of pulsating beats cut through by Jerskin's melodic vocals. "Here every fuck-up is brought into focus, every past fuck-up and every fuck-up to come," he explains. "It is a man going to confession after writing an album fat with melodramatic self pity. It is an operatic admission of wrongdoing."
Young Knives - Sheep Tick
For the young and uninitiated, the Young Knives were a briefly popular mid-'00s trio who hailed from Ashby-de-la-Zouch (home of fictional tyke Adrian Mole), dressed like geography teachers and made some music that was actually a lot better than all of that might suggest. To say their comeback - forthcoming new LP 'Barbarians' is their first in seven years - was not at the forefront of anyone's agendas would be an understatement. And yet here we are, and here we are again addressed with the reality that, despite singer Henry Dartnall swapping geek chic for a hairy 'Derek from The Good Place' vibe and the band returning with a video that's either shit or great and we're still not sure which, 'Sheep Tick"s spiralling, nightmarish coos and mad, wailing chorus are actually pretty good. It's ridiculous, but it knows it, and maybe that's fine? (Lisa Wright)
CHAI - No More Cake
Cake: sugary, pink, sweet. All words you could easily have associated with Japan's premiere kawaii indie band Chai on their 2018 debut LP. But now, the title of their latest – the first taster of their return – throws down a gauntlet; from the first distorted notes that introduce 'No More Cake', this is a far gnarlier, no-fucks-given band than the smiling quartet that came to the table first time around. Taking cues from the most aggressive end of Dream Wife's feminist canon, mixed with industrial, throbbing beats and vocals that literally laugh you into submission, Chai's latest follows in the steps of pop-metal queen Poppy, fusing butter-wouldn't-melt moments with pure, riffy, devil-horned brilliance. (Lisa Wright)

Get your copy of the latest issue