Track by Track
The Chats take us through 'High Risk Behaviour'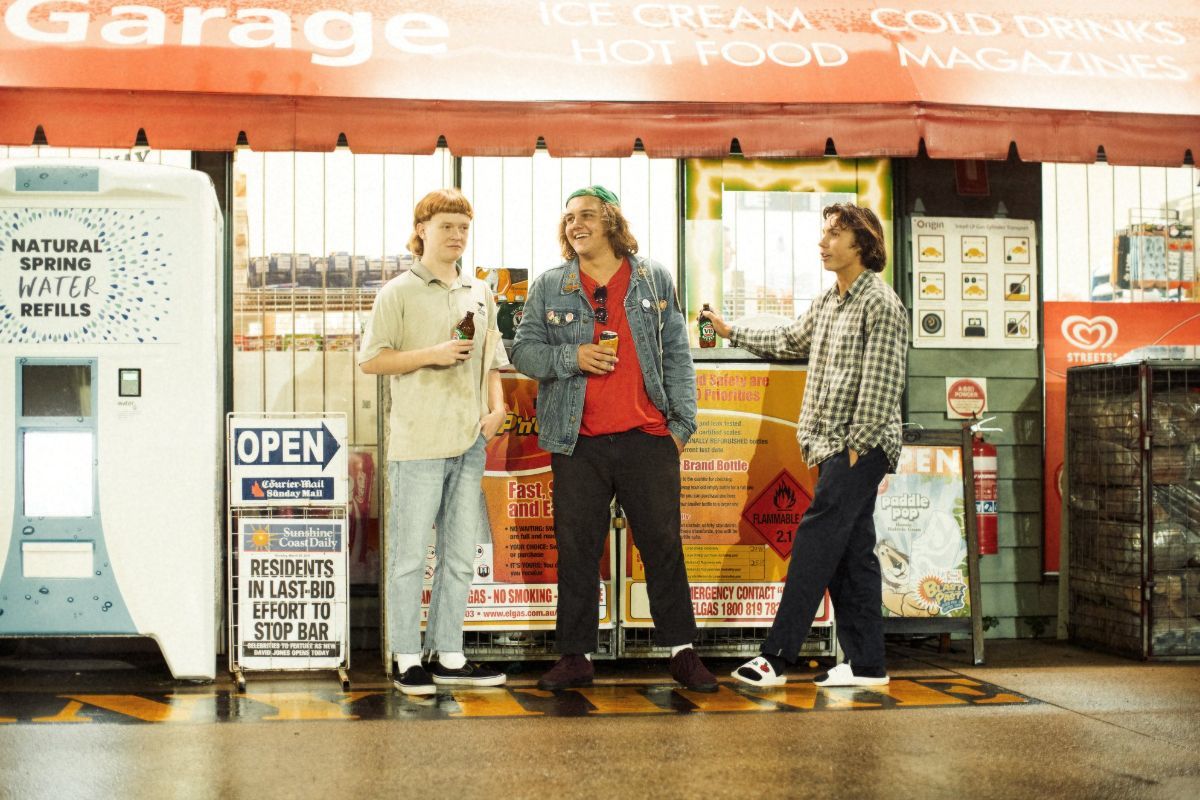 Photo: Luke Henry
The Aussie group give us a track by track run through of their recently released debut studio album.
Releasing their debut studio album 'High Risk Behaviour' last month, The Chats have honed their skills at forming undisputed tongue-in-cheek bangers detailing tales of getting pissed, getting STDs, and generally having a fucking fun - if not strictly PG - time.
"The Chats may have started as a joke," we said in our review, "the group's breakout track 'Smoko' dripping in Aussie humour in a way not unlike hard-hitting compatriots Amyl & The Sniffers, but 'High Risk Behaviour' has them showing off a far more polished sound than rough-around-the-edges 2017 release 'Get This In Ya' while keeping that Antipodean charm that's been their calling card."
We hit up Eamon to talk us through the record a lil' bit more.
Alright! 'Stinker', first track on the album. This one's just about living in Queensland and the unbearable heat summer brings.
'Drunk and Disorderly', track two on the album. It's a little tale about having a few too many and getting a drunk and disorderly charge.
A little cautionary tale here about STIs.
Another cautionary tale about buying drugs over the internet on sites such as Silk Road.
'The Kids Need Guns' is a kind of tongue-in-cheek track about America's gun control and how every child in America should be issued a gun.
'Dine N Dash' is just a song about going to a restaurant, having a big meal, and then running away at the end of it!
'Keep The Grubs Out' is a story about a bar in Brisbane that tried to - what's the word? Fuck. It's a tale of mullet discrimination at a bar in Brisbane who would not let people in with mullets.
Next side of the record! 'Pub Feed' - this is just a song about going to a pub and having a meal. Nothing more, nothing less.
'Ross River' is a tale about our friend Tristan who contracted the Ross River virus from a mosquito bite.
'Heatstroke' is another song about living in Queensland and the harsh summer. You can see that by this point in the record we were really just scraping the bottom of the barrel…
'Billy Backwash's Day' is a day in the life of a complete fuckwit. Oh, I can't say fuckwit... 'Billy Backwash's Day' is a day in the life of a grub who gets around doing whatever the fuck he wants and being a prick to everyone!
This song is an ode to our beautiful hometown Peregian Beach where we all grew up.
This is probably the first song we wrote for this album. It's all about doing whatever you want and not listening to anyone who tries to tell you what to do.
The last track of the album! Really pulls on the heartstrings a bit this one; it's got a bit of acoustic guitar in there and even a minor chord!