Introducing
Get To Know… Lunch Money Life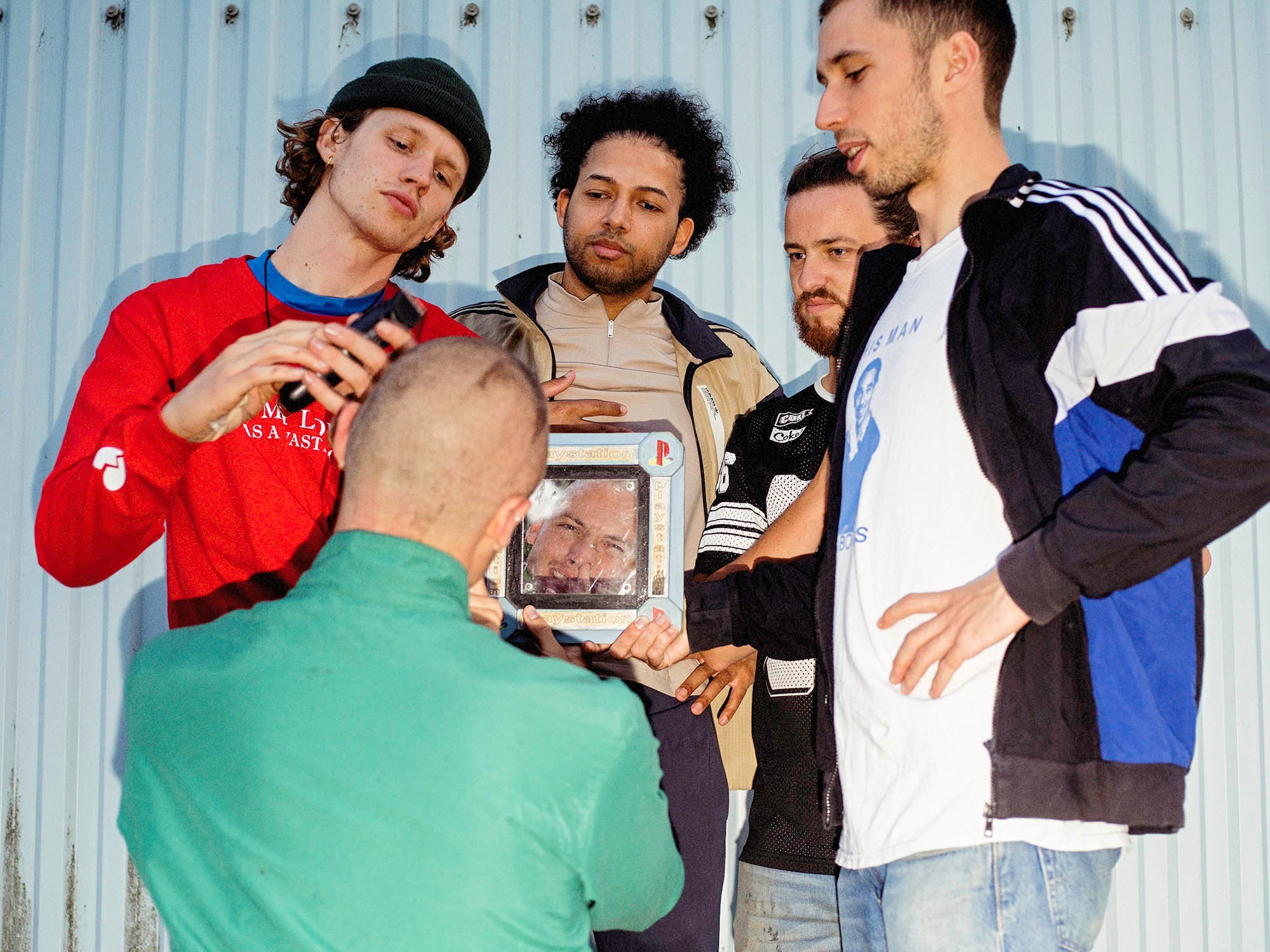 Photo: Joe Hart
Recently releasing their new LP 'Immersion Chamber', meet the five-piece crafting "hits for the end-times".
Hello and welcome to DIY's introducing feature, Get To Know… getting you a little bit closer to the buzziest new acts that have been catching our eye as of late, and working out what makes them tick.
Recently we've met experimental artist GLOWS, Aussie alt-rockers Loose Fit, gritty five-piece Hotel Lux, Vancouver-based indie-pop band Peach Pit, and now we're introducing you to electronic experimenters Lunch Money Life.
Having already made a buzz with their live shows, the London based five-piece - consisting of Stewart Hughes (drums), Sean Keating (guitar), Luke Mills-Pettigrew (bass), Jack Martin (electronics/trombone) and Spencer Martin (electronics/saxophone) - craft bizarrely brilliant soundscapes, creating, in their own words, "hits for the end-times".
Recently releasing their new LP 'Immersion Chamber', the group - which was originally made-up of ten members - are now gearing up to share even more material this year, promising that "there'll be a melancholic and introspective thread running through everything we release". Exciting, eh?
We sent them over some qs to get to know them a little bit better.
Describe your music to us in the form of a Tinder bio.
Ur lurid digital fantasy.
What's your earliest musical memory?
We started life as the musical arm of a charitable organisation that swiftly folded. Our first ever show was playing ~15 minutes of noise to ~15 prospective volunteers.
Who were some artists that inspired you when you were just starting out (and why)?
The community at Total Refreshment Centre has been massively important to us. Danalogue (of The Comet is Coming) - who ended up mixing and co-producing Immersion Chamber - has always been a mentor; as has Capitol K - who engineered the drums. It's key to have visions of the future as a musician, often that's what makes it feel concrete. Love to both those guys. Got to give it up to our boy Louis C as well, who has on various occasions let us build a golden Immersion Chamber in his living room, hold an EP Launch in his basement and record demos in his kitchen.
You're from London. What do you think of the music scene there at the moment?
Music scenes are created as a sort of pre-emptive nostalgia. Our whole musical culture looks back. We worship moments & eras from the 60s onwards. So people really start to buzz off music because it positions themselves in a history, like a rush of subjective presence. Just listen to & love music, but never go thinking you're important.
Are there any other artists breaking through at the same time that you take inspiration from?
Music's getting weirder all the time. Every weirdo act that breaks through is a reminder not to compromise. Artistic saturation + imminent global apocalypse = no one wants to waste their final days easy-listening. The existence of bands like us is proof people want music that remains true to their decaying world.
Who would be your dream collaborator?
The vocalist we've most wanted to work with, since day one, has been Nicolas Cage. Hopefully this is self-explanatory.
Musically or otherwise, what are you most looking forward to this year?
Playing our first live show again. We've just had a UK & EU tour postponed and it's devastating. But those first, post-quarantine gigs will be wild. Like a shower after a festival or food after 24 hours going hungry, a Nouveau Shamanic wet dream.
If people could take away one thing from your music, what would it be?
Music isn't just to make work go quick or bars feel full or jogs more fun. It can change you if you let it.