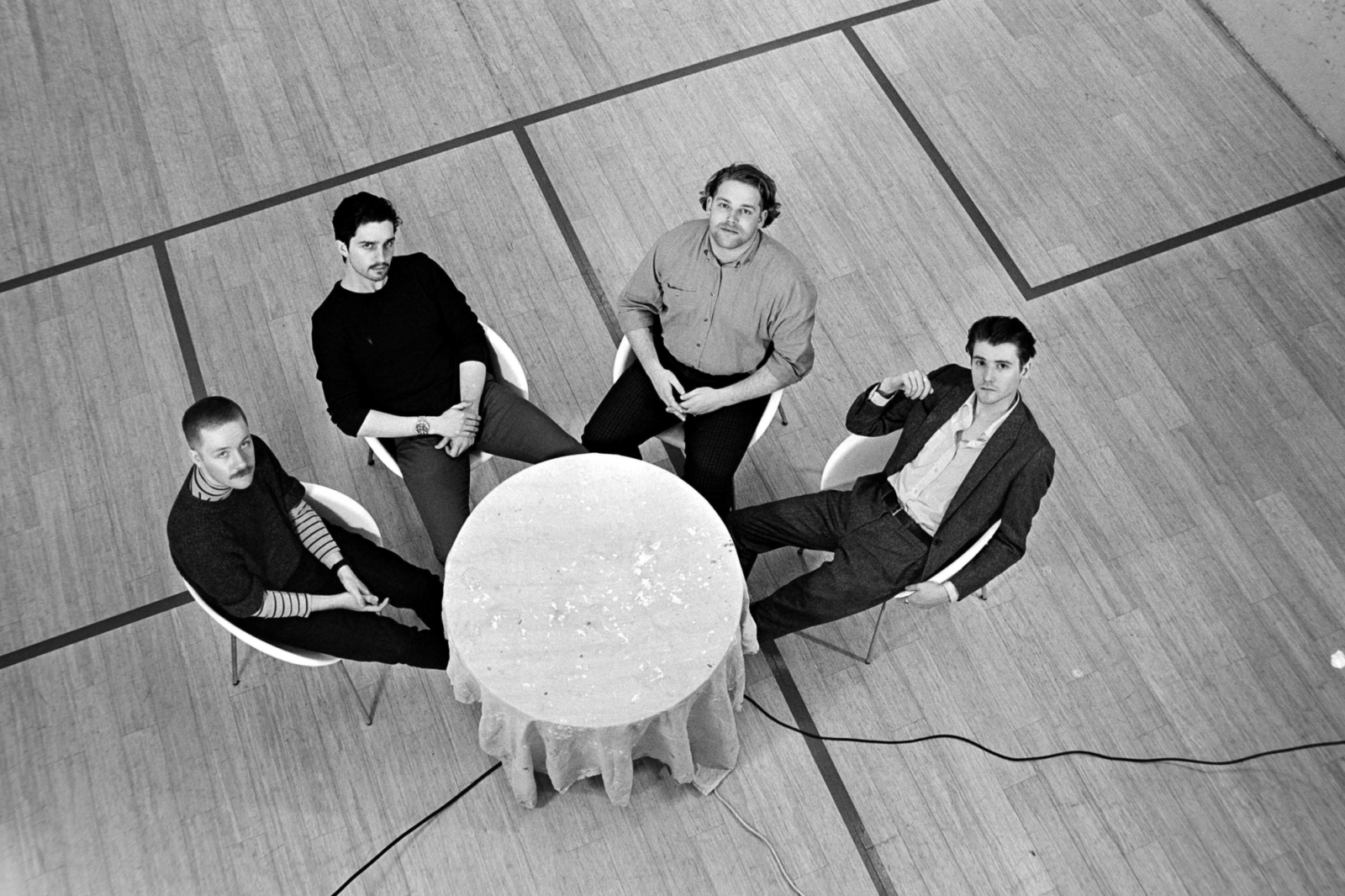 Photo: Adrian Vitelleschi Cook
Track By Track
Do Nothing take us through their debut EP 'Zero Dollar Bill'
Released today (10th April), frontman Chris Bailey takes us through the Nottingham newcomers' stellar debut.
With their debut EP 'Zero Dollar Bill' dropping today (10th April), Do Nothing have cemented just why they're one of Britain's best newcomers.
Hailing from Nottingham, the four-piece - made up of Chris Bailey, Kasper Sandstrom, Charlie Howarth and Andy Harrison - craft blistering post-punk bangers, garnering comparisons to The Fall, LCD Soundsystem and Talking Heads.
"We've known each other for ages, and we'd been in various bands so this is a very recent version of what we've been doing," Chris explained in our Class of 2020 chat with them. "We used to play very… boring music? But then we took a year off and figured out what we wanted to do, and now it's going alright!"

Doing definitely more than "alright", we grabbed Chris to take us through their brand new EP.
This one is one of our more abstract songs, lyrically at least. Generally it's sort of about manly menly men who are stuck being a certain way because of how they were raised. It's also somewhat about the consequences of being a big old bastard, and the fact that all good things must come to an end.
The line "Don't ever leave your wingman, don't bail out on your buddy" is a reference to a famous half-time speech given by a West Virginia American football coach.
"How did Johnny swallow that three hundred grand so easy" is about the snooker player John Higgins, haha. He got caught on film negotiating an offer of £300,000 to throw a snooker match, and sometime afterwards some dude in the crowd while he was playing shouted "How did you swallow three hundred thousand John?".
This is a nice little song about being fully prepared to sign up for a real difficult time with somebody because you love em! It wonders vaguely about free will, which explains the big obvious references to the Truman Show and 2001: A Space Odyssey. There's also some God stuff in there.
This song is about tricksters and thieves and con-artists. Lebron James is NOT included in that list! He's only referenced in the song as part of a reference to the guy who ran Fyre Festival - I just found it interesting how completely unhinged that dude was, and I found it crazy that he continued trying to scam people over email (offering people fake tickets to events eg. Dinner with Lebron James) even after being caught the first time.
Various references to the Simpsons, ENRON, and the Pied Piper.
This one actually has a not-very-fun story behind it! It talks about the time that Kasper our guitarist was hospitalised after taking something that was cut with fentanyl. It's about the sort of person you have to be to throw a load of fentanyl into the drugs that you sell in order to save/make more money, knowing that it'll almost certainly harm somebody big time.
On the other hand, it's also about the very well documented dangers of messing around with such substances in the first place!
In there are references to the Sopranos, Good time, and Requiem for a Dream (which I will never watch again) for various reasons.
This one's about nostalgia, and missing stuff. In particular it's about not seeing my big brother enough, and not always being there for him when he's going through tough times. What a fun note to close on, huh?

Get your copy of the latest issue