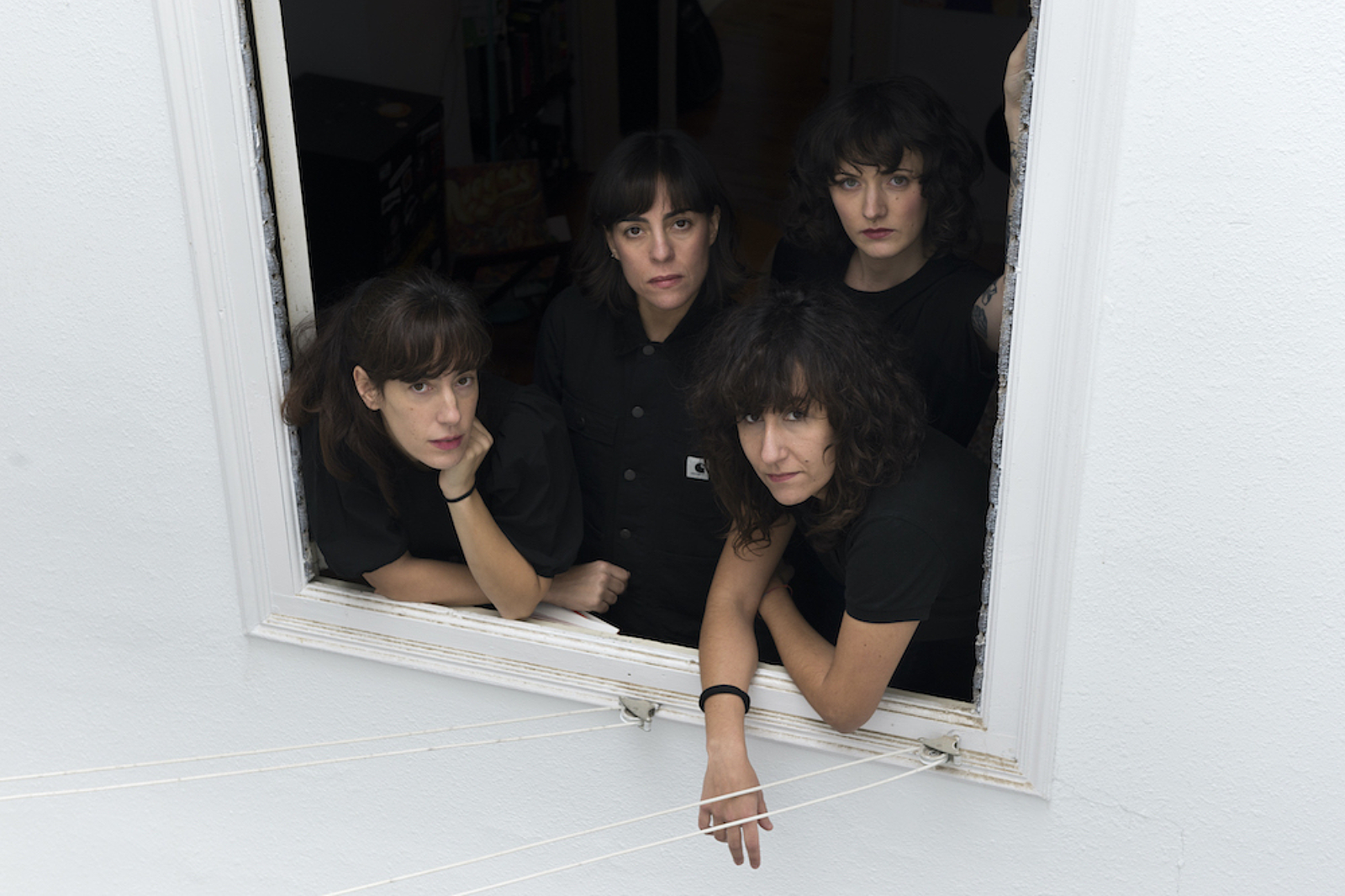 Photo: Mirari Echávarri
Introducing
Get To Know… Melenas
Following the release of their LP 'Dias Raros', get to know the Spanish quartet.
Hello and welcome to DIY's introducing feature, Get To Know… getting you a little bit closer to the buzziest new acts that have been catching our eye as of late, and working out what makes them tick.

Recently we've met Oxford-based songwriter Rhys Lewis, indie songwriter Taylor Janzen, genre-blending NYC collective MICHELLE, Leeds-based punk trio Thee MVPs, and now we're introducing you to Spanish garage-pop quartet Melenas.
Hailing from Pamplona, the four-piece recently released their new album 'Dias Raros'. Translating as 'Strange Days', the group explain that the title acknowledges "…those days where you spend more time inside than outside. Inside your own self, inside your bedroom and your own universe thinking about your wishes, dreams, memories, obsessions or fears.". Pretty much an absolute #mood atm, eh?
We grabbed a quick moment with the group to get to know them a lil' better.
Describe your music to us in the form of a Tinder bio.
Sexy as fuck!
What's your earliest musical memory?
Oihana: I remember going on holidays with my parents, not sure of the age, about 5 or 6 and during the 10 hours drive from Pamplona to Huelva (crossing Spain from the cloudy North to the sunny South) my sister and I wanted to listen to the whole Los trotamusicos tape again and again. Singing loud all the songs made us easier to bear what it means 10 hours of car for 2 kids, not that easy to bear for 2 parents travelling with 2 kids willing to listen to the same thing all the time. I like the song nowadays too and I'm the age they were in that time, so it may not had been that bad. We used to give them some rest to listen to the "apple cd" of the Beatles, that we absolutely loved too, while we kept singing invented lyrics in "english".
Laura: There are too many memories! But if I have to choose, I remember watching a spanish TV show called La bola de cristal, now is kind of legendary, very unique in the history of public television. It supposedly was a children-oriented show, but at the same time, it wasn't at all: a lot of underground punk, rock and pop artists took part in it. It was hosted by Alaska, an eighties punk diva, and I became kind of obsessed with her looks and outfits and her songs. But specially, I will never ever forget the performance of Loquillo, a rock and roll star who became my idol and changed my (little) world. I was like five years old!
María: My parents used to listen french music so one of my first music memories is to put again and again a Moustaki's LP. I remember to be laying on my parent's bed while this bearded strange man of the cover singed. I was 7 or 8 years old. I remember the "Hey stoopid" from Alice Cooper too, that cover fascinated me.
Leire: As Laura, one of my earliest musical memories are connected with "La bola de Cristal tv show", Radio Futura, Alaska, Loquillo..Those people that every saturday morning blown up our little minds! But I also remember one day that my dad was watching some music clips on tv and I saw Mick Jagger dancing and singing sooo close to the camera and i thought that I liked that guy, he was so cool dressed in his striped shirt and that rhythm that made him move that way, it was a crush!
Who were some artists that inspired you when you were just starting out (and why)?
We were very inspired, on one side by the artists we used to see playing live at Nebula bar, the rock and roll bar in Pamplona, the place where the 4 of us met. And on the other side, by all the music we have listened to, of course. On the first one, seeing so many bands from all over the world performing in that small basement made us want to be part of that side of the stage, even more. In that sense, we could say that the bands who inspired us for their live energy, music and personality were: Sonny & the Sunsets, Shannon and the Clams, Holy wave, The memories, Cosmonauts… and many more.
On the other side, there is some music that the four of us love and share, and it probably inspired us when we started… Marine Girls, TV Personalities, Slumber party, The Modern Lovers, The feelies, Vivian girls, Aventuras de Kirlian… And we have added more and more during this time :)
You're from Spain! What do you think of the music scene there at the moment?
Nowadays the scene in Spain is musically rich and it is growing quite fast, new bands appear every month, there is a big range of styles and some of the bands are getting internationally big (we are talking about the underground scene, not the league were Rosalía plays, she may have helped, anyway? ). People from abroad are paying more attention to what is being done over here and we have felt that when travelling abroad, there is something about singing in other language and in the music we make that feels fresh, as if it was somehow new. Apart from that, and due to the actual sanitary crisis, the scene is uncertain and the conditions for the musicians have never been very good, so it feels that is gonna be even worse. Anyway, is time to collaborate all together to keep the scene alive… there was a very active live scene at the cities and so many festivals that… well… they will probably have to be reconsidered. We can't wait to play anywayyyyy, here and abroad!
Are there any other artists breaking through at the same time that you take inspiration from?
There are a lot of breaking through artists that inspire us!
Sometimes this inspiration is not directly related to the kind of music they make, which can be very different from ours. Sometimes it comes from the quality, determination, strength or the attitude you see in other artists. We love Orielles, Girl Ray, Caroline Polachek.. Spanish bands like Cariño, who started later than us, and they are so big now and Adiós Amores who is a band that is just breaking through. We love the three songs they have released so far, and we are so curious about what they are doing next.
Who would be your dream collaborator?
Ariel Pink. We love Ariel Pink's music, the beauty of the songs + how crazy, free and psychedelic he can be to create different universes in his songs. We were so lucky to play in a little festival just before him and his band. He was in the audience at our show and when we finished he came to us and said that he liked our music and the show so much, whaaaat?!! We exchanged our records with him and shared backstage and super nice and funny chats with all of them. We loved the weirdness of the combo of musicians in the band too and how all of them made sense together, it was a great show and we felt we were "friends" for a few hours, haha! So since that moment we have been dreaming, well DREAMING, about the idea.
Musically or otherwise, what are you most looking forward to this year?
To play live!!! This is our deepest wish and in fact it is becoming almost an obsession. We know we are not going to tour a lot, because of the sanitary situation, but at least we hope we will be able to play in our city and even in some places in our country: the first moment we get on a stage we are going to get literally insane. Look out, guys!!! Melenas are going nuts. Come to see us and stay away at the same time.
If people could take away one thing from your music, what would it be?
Take that dreamy mood! :)

Get your copy of the latest issue