Interview
What is LARRY PINK THE HUMAN?
Slaves' Laurie Vincent on his new band LARRY PINK THE HUMAN: "This whole project is about re-finding your inner child."
At the tail end of last month, fans of Kent punk noiseniks Slaves might have noticed a new character popping up on guitarist Laurie Vincent's Instagram feed. A lone balloon with a forlorn expression, he came with the caption 'What is LARRY PINK THE HUMAN?' - and soon, that question was answered with the announcement of a brand new project, a collaboration with producer and musician Jolyon Thomas of the same name.
So far, the pair have debuted their opening offering 'LOVE YOU, BYE.' – a contemplative, melodic and sweetly affective number that sits a world away from the thrash of Laurie's other band. They've got a whole world concocted for the new project too, as they explain…
Tell us a bit about the idea behind LARRY PINK THE HUMAN - is it a character? A concept?
Laurie: LARRY PINK THE HUMAN is a music, art, video and clothing project. Somewhere where all our ideas can live together. All the individual elements are just as important as the others. Alongside all that we do have some characters we are working on - firstly 'little LARRY', our balloon guy. I've always been obsessed by characters; dressing up was my favourite thing to do as a child. I'd always be a knight or a superhero. Escapism in the form of character has always been an interest of mine, and I think this whole project is about re-finding your inner child and expressing what you enjoy - it almost feels like we're 'playing', our park just happens to be the studio.
Did you have any previous inclination to do something away from Slaves?
Laurie: Not really, it just happened organically. The last [Slaves] album campaign finished and we were taking time out; writing didn't feel like a priority between Isaac and I, but I still had a real urge to create. I thrive off the creative side of music the most. The studio and writing songs is still the part that blows my mind. Creating something that didn't exist before is such an adrenaline buzz, and I never get bored of it, so I decided to keep writing for myself to see what I could do.
Jolyon, you're obviously more known as a producer, what made you want to step out to the other side of the desk?
Jolyon: I started out as a musician and have collaborated with many artists as a songwriter, so I really have always seen myself as an 'artist' in some respect or other. Starting LPTH with Laurie just felt like the right moment to step out and share my creativity. We both have a very strong vision and are pretty driven, so it just made sense for it to be a team effort. Creating a band like this has way more to it than just writing a few songs; I'm inspired by all aspects of what we're creating beyond that of just the music or indeed production. It's a new challenge for sure but I'm ready.
Musically it's very different to what people know you from with Slaves - what's been the most rewarding thing about exploring something new?
Laurie: I've always been obsessed by lyrics, but never really attempted to do them myself. Learning a new craft and getting better at them has been so rewarding. Hearing my voice and words on music is so exciting, and now seeing people connect to my words and the sentiments of my thoughts has been amazing. It's a completely new experience and it means the world to me.
Jolyon: Its early days for us in terms of putting things out there, but I feel we're pretty genre-fluid. The music side of things feels fresh to me; I like the fact we're not a traditional band set-up and there is still so much to be discovered.
Has Isaac been giving you feedback? What's his thoughts on it?
Laurie: Isaac has been really supportive. I sent him music sporadically over the year and he's really into the project, he's been working on his own material that I really love too.
How has it been stepping to the front of the stage and taking on the role of frontman?
Laurie: The experience has been quite daunting, sitting in the studio the first day and showing my frail song to Jolyon. That was the hardest bit - now the ball's rolling and my confidence is building I feel powerful and excited. I cant wait to keep writing and learning.
What have you got planned for the visual side?
Laurie: Visually, we started work as soon as the music started. There are a tonne of ideas in a super organized Dropbox; I've never felt so organized in my life (Jolyon brings a great discipline and order to the project). More characters are coming and the balloon is here to stay, for the near future at least.
Jolyon: So far people seem to connect with the ballon guy/gal! I think it'll be here for as long as people need. We're super into the visuals and will really try and experiment with them as much as possible, I'm certainly enjoying working on the clothing and merch right now. There's some really cool bits that I can't wait to get out there.
Tell us a juicy teaser about something you've got in the pipeline.
Laurie: There's an animation coming, which marries our concepts with an amazing animator's style. It's a product of lockdown and not being able to get out to make a video, but we are really excited about it. I've always wanted to make an animation.
How do you see this project unfolding? Is there a record on the cards and would you say this is your main priority right now?
Laurie: This is definitely my priority right now. I see records, tours, festivals: the whole lot.
Jolyon: It feels like the right time to put this out, we've had a really great reaction so far. We're going to put everything into this.

Get your copy of the latest issue
More like this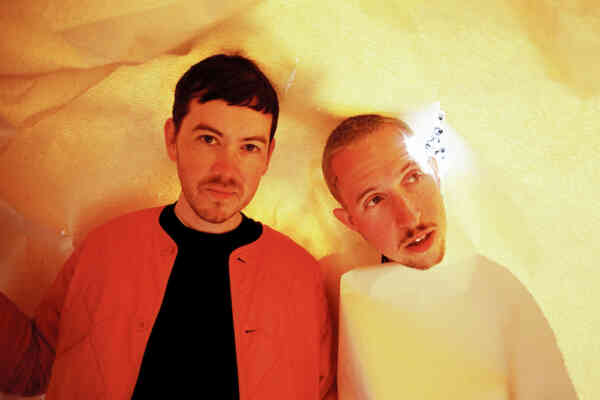 Laurie Vincent and Jolyon Thomas give us a track by track run-through of their full-length release.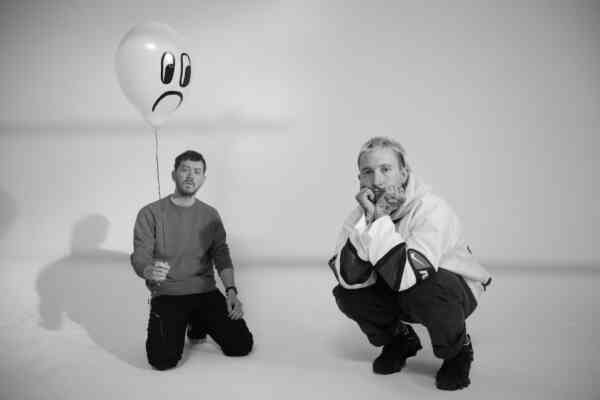 Slaves' Laurie Vincent on his new band LARRY PINK THE HUMAN: "This whole project is about re-finding your inner child."