Interview
Forever Changes: Orlando Weeks
Documenting the emotions and adjustments as he prepared to become a father for the first time, 'A Quickening' finds the former-Maccabees frontman opening up and letting the world in more than ever.
If, when The Maccabees called time on the band back in the summer of 2017, you were to have placed a bet on what their softly-spoken singer would get up to next, you'd have been wise to look not at the canon of emotive indie anthems that made the Brighton quintet's name, but at the under-the-radar side project Orlando Weeks quietly put out back in 2012.
While the band were busy promoting Mercury-shortlisted third LP 'Given To The Wild', the frontman also released an illustrated picture book and accompanying EP under the name Young Colossus; a gorgeous, subtle thing, it was given a limited release, one solitary live show and then consigned to rare eBay fan forays forevermore. Though its tracks and wide-eyed outlook still clearly came from the man who'd soundtracked a thousand lovelorn moments with his band, it hinted at an artist who was in it for the art's sake as much as the increasing objective success. And, since parting ways with his musical comrades, it's been this that's been the singer's fuel - from 2017's audio-visual project The Gritterman to now, as he prepares to release 'A Quickening', a 'concept' album of sorts based around the experience of becoming a parent for the first time.
"There's something addictive about [success] but I don't think I have that addiction as bad as I might," he decides, talking down the phone from where he's currently locked down with his young family. "The Maccabees did two nights supporting Florence and the Machine at the Hollywood Bowl, and I don't normally feel envious of people like, 'Oh you're headlining here, that must be great', but I totally did. So there's an element of me that really wants to do that. And I'm not unambitious to play to lots of people, but it's in no way the guiding force and I want to make sure that, with what I'm making, that isn't part of the decision. Don't get me wrong, I have my moments where I think, hmm… maybe I've gone a bit left [with this project]. But I don't think so; I think I've done something I'm comfortable with."
For a lyricist who's never been particularly prone to baring all with explicitly personal tales, it's notable that the singer's first full-length solo endeavour is one that puts himself so readily at the centre. Of course, with such a huge life hurdle on the cards, the preoccupation was a natural one - "Once we found out that we were going to be having a baby, I found it increasingly difficult not to think about and not to write about it," he notes - but there's the sense that the experience also re-sparked the urge to chronicle something so close to home. "By the time it got to [Maccabees final album] 'Marks To Prove It', I was feeling less like exploring the personal and actively seeking out other people's experiences to document them. And then The Gritterman was written entirely from the point of view of a fictional character, so I sort of thought I'd fallen out of love with that," he explains. "But because the writing and the making is a comfort to me, I'd keep coming back to this [topic], and unless you're going to try and make grand, sweeping statements then the only way you can possibly document it is to root it in your own experience and the fiddly, imprecise aspects of the day to day."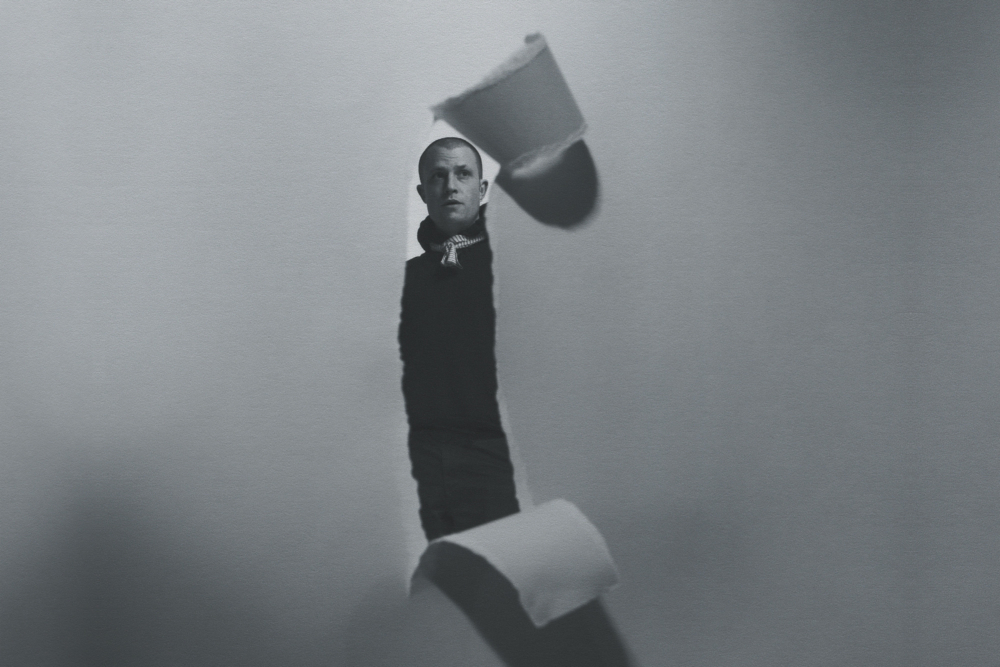 "I'm not unambitious to play to lots of people, but it's in no way the guiding force."
A fragile, atmosphere-driven record that takes in wonderment, tenderness, excitement and fear via piano and brass, intricate textures and the prioritisation of "beauty" at every turn, 'A Quickening' is a time-capsule of an album that's both specific but relatable - one that fully explores, but doesn't require you to have been through, those tentative first steps into parenthood to understand where it's coming from. There are moments, such as the sparse, circular 'St. Thomas'' - an ode to the hospital where both Orlando and his son were born - that are clearly rooted in a particular scene; "Big Ben is under repair at the moment and it's boarded up, and I was looking at my Mum's pictures from my birth and it's the same photo with Big Ben boarded up - that was the last time they did it for refurbishments," he notes. Others, such as the vocally-dextrous 'Moon's Opera', give a more heady, ambiguous snapshot into his mindset.
However, from the first bars of 'Milk Breath', which open the record with a repeated intonation of "my son", Orlando's latest is an album that knows what it is and embraces that idea fully. It's a confident record - a word that has, perhaps not always correctly, been lacking from portrayals of the singer in the past.
"I remember once doing an interview where I wasn't feeling super comfortable, and there was a bowl of shells left over from some pistachio nuts so I started lining them up on the table. And then the interview went on about how it was a sign of such deep [inner turmoil] and made a big deal out of the fact that I wasn't being polite or whatever," he remembers. "I think I am quite private, and that's less normal than it was. And I get shyer days and less shy days, but I also think that the cultural landscape that this record's coming out in, there's less and less personal space [in general]. Everyone's given up the ghost of privacy, so maybe I need to try and be less concerned about that. It's precarious enough putting art out in the world, especially if you're not sure you can back it up, but I know I can. I've minded a great deal about this record, and I should be proud of it, so I want to be able to communicate that and talk to people about it."
Orlando's turns of phrase might never be those of the Gallagher-esque blustering rock star, but you can tell he's content, and assured in the path that he's chosen. Currently, he's working on an illustrated book based on 'Moon's Opera'; musically meanwhile, 'A Quickening' might mark the first album to bear his own name, but he's not seeing it as necessarily the beginning of a traditional solo career. It's not the standard route for a musician who's experienced a Number One album, but it's one that suits him fine.
"I'm enjoying the clean-ish slate that I'm now working with, and part of that is feeling like I'm not now beholden to this style of record, or to maintaining a chronological approach to writing," he nods. "I'm really excited for this record to exist as a whole in the world, and I'm very pleased with the package, but I'm equally excited to do something else completely and not be bound by this. I feel like life's too short. And maybe it will end up being [another solo thing] like this, but I'd be surprised. I have no music written and no idea, and I'm going to try to have no idea for as long as possible."
'A Quickening' is out now via Play It Again Sam.