Introducing
Get To Know… Sammy Brue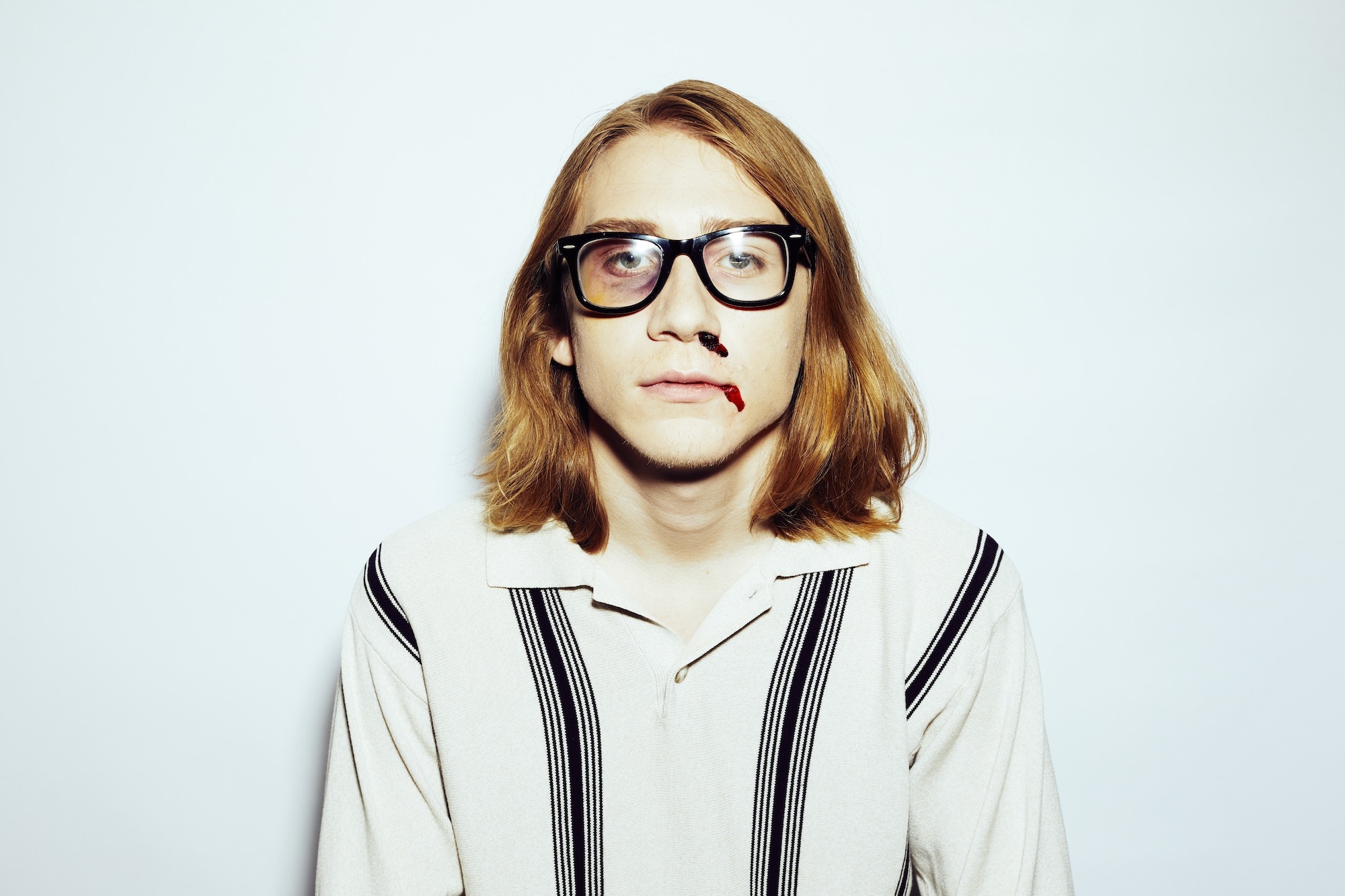 Following the release of his latest album 'Crash Test Kid', meet the country-folk newcomer.
Hello and welcome to DIY's introducing feature, Get To Know… getting you a little bit closer to the buzziest new acts that have been catching our eye as of late, and working out what makes them tick.
Recently we've met Spanish post-punks Belako, grunge-pop four-piece Coach Party, dream-pop trio Drug Store Romeos, rising LA-based singer-songwriter Alaina Castillo, and now we're introducing you to Americana-loving wunderkind Sammy Brue.
Sharing his second album 'Crash Test Kid', Sammy blends elements of county-folk, pop, and rock to create his Americana-tinged sound that has seen the 18-year-old Utah-born up-starter hailed as an exciting new musical prodigy.
Pairing the release of his sophomore album, which follows his debut 'I Am Nice', Sammy has also shared the videos for the title track and 'Teenage Mayhem' which show the different sides of Sammy's artistic output.
"'Crash Test Kid' and 'Teenage Mayhem' go together so well because they're the polar opposite emotion," he explains. "'Crash Test Kid' is more me pondering over the shit we're going through in the world and how we deal with it, and 'Teenage Mayhem' is my outburst - an attempt to bring the spotlight to the young kids. To say: 'Hey, we're here too and we're going through all the same negative stuff as everyone else.' Now more than ever. Too much has been the same for so many years and I know a change is coming. I am ready to help lead the charge."
We sent him over some qs to get to know him a lil' better.
Describe your music to us in the form of a Tinder bio.
Folky vibes but I can get rockin' if you'd like.
What's your earliest musical memory?
I was in kindergarten or 1st grade and we had an assignment where we had to tell and draw what we wanted to be when we grow up. I remember vividly imagining rock star written on the paper, and a guy with a guitar drawn. But, at the time it made no sense to me because I had no desire to play (except for air guitar) so I wrote down "guy who works on computers" because computers were the only thing I was interested in at the time because of YouTube. Years after I figured out I was right the first time.
Who were some artists that inspired you when you were just starting out (and why)?
For more acoustic vibes some of my influences are Old Crow Medicine Show, The Avett Brothers mainly because I love the amount of energy they put into their acoustic music as a band. The fast songs are just rock'n'roll but with acoustic instruments. Bob Dylan, Woody Guthrie, Joe Pug, and Justin Townes Earle are some of my favorite troubadour singer songwriters because they have all been through so much in life and describe it in a way where it connects with you, and thats what I want to do with my music.
You live in Utah! What do you think of the music scene there at the moment?
There's a couple little scenes here in Utah that are cool, we all help each other when we can and there's plenty of love and I really just float between everyone because I've never been a part of a specific scene.
Are there any other artists breaking through at the same time that you take inspiration from?
I take inspiration from all of my fellow musicians, and by no means are we super close to "breaking through" to any humongous success yet. We have plenty of years of grinding to do and we help each other look forward to those years. But, Kolars are close! I have a huge amount of respect for Rob and Lauren and I love their songs deeply.
Who would be your dream collaborator?
Alive, I got my eyes set on working with The Marcus King Band again, whatever it may be. Dead, I'd want to write and travel with Woody Guthrie.
Musically or otherwise, what are you most looking forward to this year?
I'm looking forward to the slight chance of touring becoming a thing again. I'd like to record a little EP in Ogden with the homies at some point too.
If people could take away one thing from your music, what would it be?
Live it up, make mistakes, take no grief, give some love.