Introducing
Get To Know… joan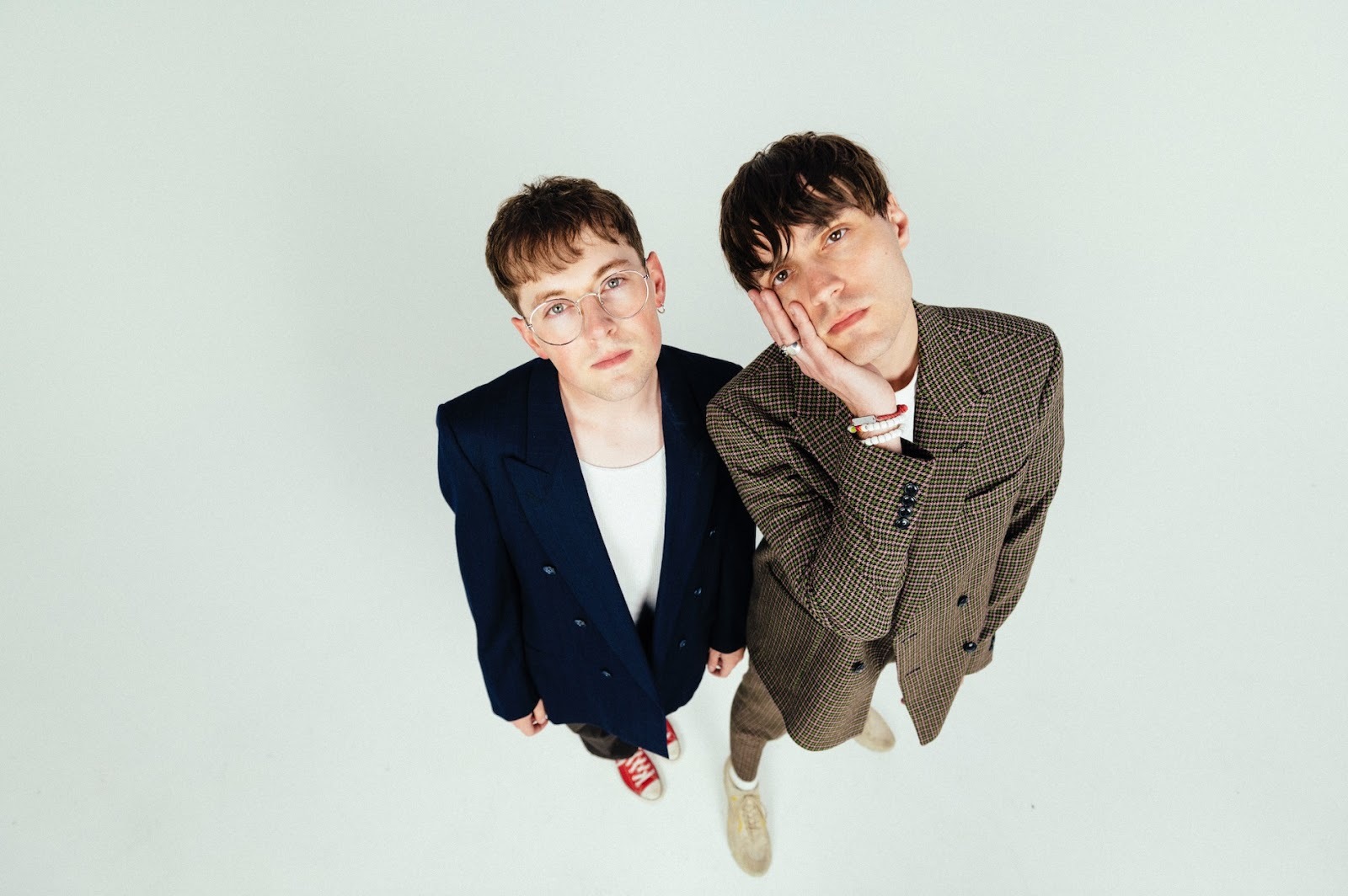 Sharing their 'cloudy' EP today, meet the Arkansas-based pop duo.
Hello and welcome to DIY's introducing feature, Get To Know… getting you a little bit closer to the buzziest new acts that have been catching our eye as of late, and working out what makes them tick.
Recently we've met Australia's Cub Sport, rising Manchester pop star Phoebe Green, bedroom-pop newbie Oscar Welsh, Kansas-based leftfield pop maestro Jordana, and now we're back with some more pop faves in the form of Arkansas duo joan.
Releasing their new EP 'cloudy' today, the pair channel 90s vibes through a sleek pop lens. Speaking about their new EP, they describe 'cloudy' as "an ep about seasons. created in the fall, introduced live in the winter, finished in the spring, released in the summer. we made 'cloudy' to tell a story of one relationship and the fact that love can be messy but so beautiful. you know you shouldn't be with them right now, but you *have* to be with them, right now. as we were finishing the record, we were forced to be in quarantine and spend more time at home. we both took to walking every evening, and would text each other pictures of the sky while doing it. it felt like the name for the ep had fallen in our laps after talking about it one day. clouds can create a beautiful or terrifying scene, they can bring refreshing rain or a destructive storm. when you see clouds, it's probably not great at the moment, but it will get better. that's what this ep is about - getting better, growth, loving harder, and learning from mistakes."
We sent them over some qs to find out a lil' bit more.
Describe your music to us in the form of a Tinder bio.
"a very small boy band"
What's your earliest musical memory?
steven: every time i would go play baseball games as a kid, my dad and i would listen to ac/dc and metallica and creed (the taste) in his old pick up truck to pump us up. it sounded terrible because some of his speakers were blown, but it didn't matter. i have a terrible memory but i'm glad i have that one.
alan: i distinctly remember two scenarios, both ironically in vehicles: 1) riding in the backseat of my mom's '76 dodge charger, while she blasted this country artist jo dee messina, both of us singing at the top of our lungs; 2) riding to school with my dad in his truck, listening to prince with dad showing me his favorite "most funky" parts of the songs :)
Who were some artists that inspired you when you were just starting out (and why)?
prince, bryan adams, don henley, etc. we were very taken at that time by artists that our parents had us listening to when we were growing up. there's a certain feeling you get when you listen to songs like "heaven" by bryan adams and it's more than just nostalgia. there's a reason your hair stands up on your arm and gives you goosebumps. we were chasing that feeling when we were first started writing, and we still chase that feeling today!
You're from Arkansas! What do you think of the music scene there at the moment?
yes we are!! well, the music scene is completely non-existent right now! :) but normally the scene here is not that booming. there's a lot of country and DIY music happening, but there's not much of what we're doing here. we like that, though. when we're touring all the time, it's nice to come home to a place that doesn't feel like another touring city. we can come home, retreat a little bit, and get to writing. it's also an absolutely beautiful place to live, which is super inspiring.
Are there any other artists breaking through at the same time that you take inspiration from?
yes! valley, jeremy zucker, sure sure, nightly, the band camino, and the wldlfe are all some great friends of ours and they're making amazing music. it's super inspiring to see them do what they love and work hard to continue doing it. most people don't know that it takes a lot of work to do.
Who would be your dream collaborator?
producers: ian kirkpatrick, jack antanoff
writers: michael pollack, teddy geiger
artists: julia michaels, dua lipa
Musically or otherwise, what are you most looking forward to this year?
we're currently working on another EP. covid sucks and it sucks to not be able to tour, but we're more productive writing songs now than we ever have been. we're feeling really good about the next year :)
If people could take away one thing from your music, what would it be?
our goal is for the listener to be able to easily place themselves in the story being told. if they can hear the songs and feel happy, sad, like they want to dance, anything, we feel like we've succeeded.