2020 Hyundai Mercury Prize
A brief look into… Sports Team's 'Deep Down Happy'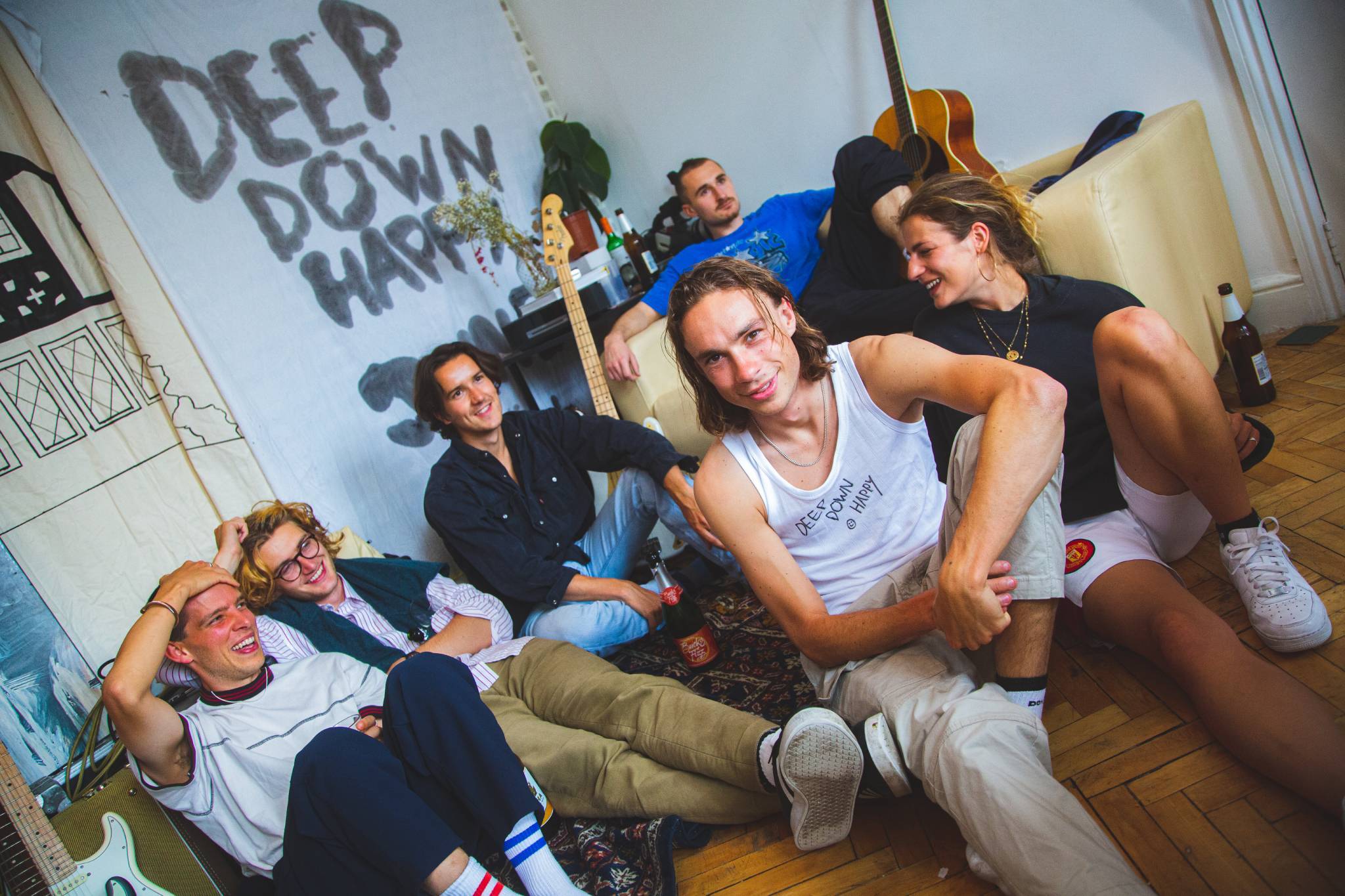 Ahead of the 2020 Hyundai Mercury Prize, we've taken a brief look at the twelve shortlisted albums.
Fan-inclusive Whatsapp groups. Rowdy annual coach trips to Margate. A social media presence so ridiculously piss-taking (mainly to themselves) you couldn't help but be on their side. Since Day One, London six-piece Sports Team have made it their mission to hark back to a golden era of indie artists – one where this band could be your life, and the last gang in town mentality would magnetise an entire youthful tribe. If their live shows have always been somewhat chaotic – raucous parties that would find gobby singer Alex Rice flailing around like Jarvis Cocker on strings, deadpan percussionist Ben Mack inexplicably 'playing' a box of TicTacs and, at a particularly gnarly pre-lockdown gig, drummer Al Greenwood bleeding from the head but carrying on regardless – then that was all part of the charm.
Sports Team have always marketed themselves as the people's band, and undoubtedly their loyal following (and a strong line in bundle deals) helped their debut reach Number Two back in June, narrowly missing out on the top spot to Lady Gaga. But away from all the in-jokes and tomfoolery, 'Deep Down Happy' landed as a debut that surpassed mere schtick and, instead, cemented the group in a lineage of great British bands whose idiosyncrasies could have come from nowhere but this strange, small island.
Though their outward ethos might be rooted in the community spirit of '00s types like The Libertines, lyrically, their references to "burning British necks" ('Here It Comes Again'), "sit[ting] by the Thames" ('Fishing') and the Aldershot Municipal Gardens ('Lander') nod back to the decade before, to the likes of Blur, Pulp and the Britpop masters of suburban picture-painting. If the puff-chested protagonist of 'The Races' makes for a modern update of 'Charmless Man', then Davey, Sam, Trinny and Susanne hanging out by the pool on 'Going Soft' could find themselves in any of Damon's daydreams. Musically, nods to Pavement and the American end of the decade wrestle with their UK counterparts, with the whole package soused in the kind of air-punching choruses destined for exactly the kind of sweaty rooms they've always been so adept at creating.
Yet, while all of this sets the Londoners up as something of a relic, then you only need look at the very current group of fervent fans who've devoured 'Deep Down Happy' and couldn't give a f**k about some old blokes from 30 years ago to know that's not the case. Sports Team may have their roots in the genre's glory days, but they're blossoming against all odds in 2020.
Brought to you as part of our media partnership with Hyundai.
Watch performances from the shortlisted artists on BBC Four at 10pm on 23rd September.