Interview
Upset The Rhythm: Working Men's Club
Syd Minsky-Sargeant may have ditched an entire line-up of band mates and made an album born for pills and thrills, but up in Todmorden we find a sweet 19-year-old who just wants to do what he loves.
Syd Minsky-Sargeant is a shock to the system, just not in the way you might think. Polite, warm and with a sense of reserve, after five minutes of being in the same room as the Working Men's Club's lynchpin and sole original member, it's clear that the singer is not the crass figure he's painted out to be.
Ahead of today's interview he's locked in friendly conversation at his local pub with a landlord who knows him on a first-name basis. According to other articles written about him he is, for want of a better word, a gobshite. Yet it's hard to connect the dots between the brash, chaotic figure seen on stage, or the sound of this month's self-titled debut album - a heady release in debt to the ravier end of Factory Records - and the quiet teenager sat across the table.
Stranger still is the place that raised Syd, where we meet him today. Rife with greenery and antique shops, the West Yorkshire market town of Todmorden seems an unlikely location for the genesis of a magnetic frontman. "I was born in London, and then got kicked out of social housing. I think as a child it excited me moving [to Todmorden] because I'd never been somewhere so green, but I always had the intention to move back to a city," he ponders. "I find cities more intense now; I used to like the excitement but now I like the peace…"
Syd's brief fling with city life didn't end with his early childhood. Studying music then brought him to Manchester, yet, separated from urbanity at a young age, the bright lights and climbing office blocks clearly did nothing for him - nor did the mundane nature of schooling. "I found music college weird, I didn't like it. You find most people who form bands went to art school, but I wasn't welcome there," he shrugs. Because of his supposed misbehaviour, loudmouth antics and rebellious streak? "I just wasn't very good at art!" he laughs.
"I had a tough time throughout school, so as soon as I could leave, I did. I ended up dossing around and didn't do much work; I wanted to make music. I didn't like the idea of some boring career. I didn't care if it worked or not; music made me happy."
"I have a lot of aggression in my head that blows up when I'm performing."
— Syd Minsky-Sargeant
It seems that school aversion did the trick for Syd. After their debut single 'Bad Blood' gained critical acclaim in 2019, Working Men's Club - now rounded out by bassist Liam Ogden, keyboard player Mairead O'Connor and guitarist Rob Graham after the departure of two original members - quickly began pricking up ears, leaving little time for the singer to fall in love with education, but plenty for him to fall in love with the microphone.
"I've always enjoyed playing gigs, it's nice to be able to be yourself," he explains. "I have a lot of aggression in my head that blows up when I'm performing, like, I'll see someone on their phone at a gig and it makes me really angry, so I'll get even more into it. It's shit like that - it's an outlet for stress, but honestly lockdown has mellowed me."
Today, Syd does mostly seem mellow. Far from the strident man we've seen spouting his mouth off with a middle finger up to the world, there's evidently a far more sensitive one behind the facade. "I'll act on stage how I feel in my head, but when I meet people I'll try and be as nice and polite as I can because I don't want to be known for being a dick." He pauses. "I don't think I am one. [The press] make me sound like a pretentious arsehole and it upsets me because I try and not be. This is why I keep my circle small and I go off and get fucked with my band after and don't integrate with everything else. I'm just doing my job. That's what everyone else gets to do."
Separating Syd from Working Men's Club reveals a 19-year-old battling the same struggles as any other young musician, forced into the music industry's spotlit shark-pit. Who wasn't seen as a bit of an arsehole before they hit their twenties? If you point the finger at someone and call them a prick for long enough, you can bet they'll start to act like one.
"I think it's because I tell people what I think instead of trying to fit in," he speculates. "Especially with guitar music, there's a real lack of honesty. It's like post-punk: now everyone wants to make that. Just fuck off and do what you want - if it's good then it's good. Sign a folk artist if it's good. Not everyone is listening to folk, but if it's better than that shitty little band from London then why aren't you signing them?"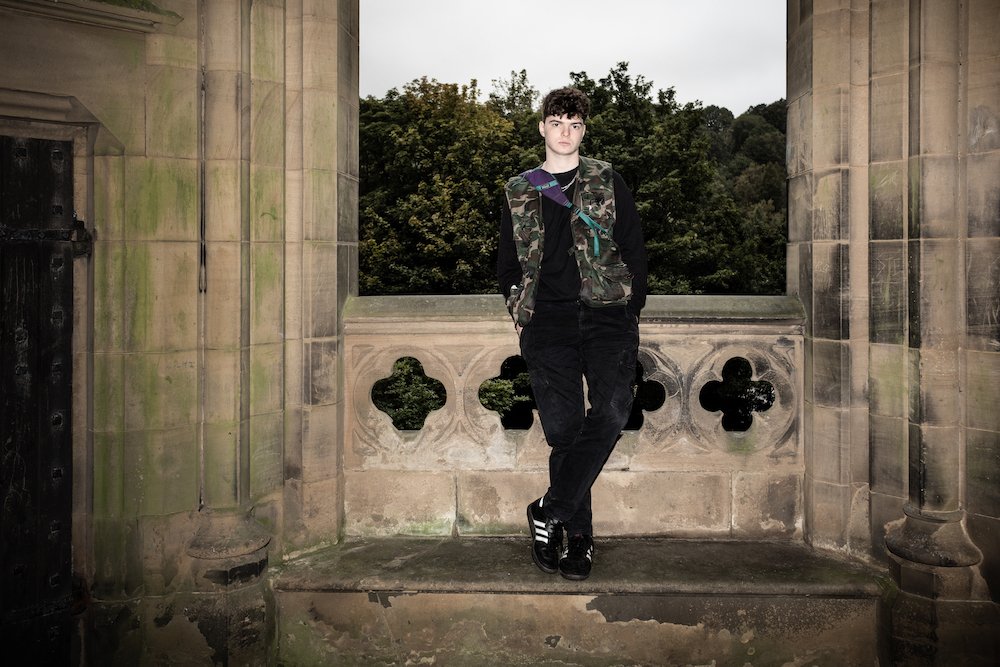 "The day the businessmen took over music, it all went to shit."
— Syd Minsky-Sargeant
Join The Club
With a tally of members a hair short of what you'd find in an actual working men's club, it's easy to understand why Syd Minsky-Sargeant has gained a bit of a reputation….
''It wasn't some Mark E. Smith thing; it was just stuff that didn't work out,'' he says on the departure of original members Jake Bogacki and Giulia Bonometti. ''I'm really content with the band now, if anything I'll just add to it. But I don't need anyone else [in the studio] with me, I like the fact I can do it alone because it eliminates all the things that get in the way. There are seas of ideas otherwise; all I want to do is bang it out then fuck off, write the next one.''
Would he like to be in a band with himself?
''I'd hate it!'' he laughs. ''It's like that Anton Newcombe thing in Dig: 'What Anton wants is seven other Anton's in a band'. I don't want that though, I still like working with other people, and it'll always be a semi-collaborative thing.''
It's this reluctance to toe the musical party line that leads us to 'Working Men's Club', the band's debut, recorded with lauded producer Ross Orton - who's previously twiddled the knobs for the likes of Arctic Monkeys, MIA and The Fall.
"This album is very much my work melodically," he says, "but I did work with a producer. I feel like they're helping me get the best out of myself. There's no ego there, there's just two people after the best thing. But I've moved on from [the album] already to be honest. Obviously I care what people feel because once it's out there it's not mine anymore, I just don't care if people like it or dislike it. I only care if they have their own relationship with it.''
Syd's declaration of indifference feels authentic; you can tell he really doesn't strive for approval. ''I just feel content. Now it's been recorded it's past the final stage of excitement so I'm trying to separate myself from that and move on. I'm not really excited about it anymore; I guess it's nice when you see it on vinyl for the first time, but now I just want it to be out there.''
Yet though the singer might not be tooting his own horn, there's plenty in 'Working Men's Club' to get the blood pumping. Signed in their infancy, the band have already morphed into something that builds on their first moves and sends them veering to the left, swapping out that first track's Late-of-the-Pier-goes-post-punk strut for Human League-esque keys ('Valleys'), spacey synths ('John Cooper Clarke') and industrial Fall-isms ('Be My Guest'). "'Bad Blood' wasn't necessarily my type of music, I just wrote the synth and the drums for it," Syd says. "When we were in the studio this time it was just me making [the record] and whoever I needed at the time, so I feel like it sounds more like what I want.''
The singer is clearly a character who cares little for the standard new band narrative, and it's this particular gripe that brings him nearer to the opinionated upstart he's portrayed as. Rather than an antagonistic young Liam G in the making, however, he simply seems frustrated, principled and ready to carve out his own path, as he's already begun to do. "You walk around a gallery and see 50 different paintings and like one of them; it doesn't matter why you like it, you just do. The day the businessmen took over music, it all went to shit. It used to be something that brought people together, now it's gone down this capitalist route," he says.
"You've got bands on their fourth record [still] trying to make it sound like their first because they think that's what sells. But I wouldn't pigeonhole myself. That's what the media does and it's fair enough they want to feel like they understand, but how can anyone else understand my music when I don't even understand it myself?"
And despite - or perhaps because of - this, there's a fierce passion to keep creating within Syd. ''It excites me when I write a song. I don't know what the music I write is really, it's not anything," he shrugs. "It's a mood or feeling, and then I'll just go with that and move on. I'm not trying to recreate anything because I think that's when it loses its meaning and becomes repetitive.
"Making music still excites me though, it always will.''
'Working Men's Club' is out now via Heavenly.