Track By Track
Keep Dancing Inc take us through 'Embrace'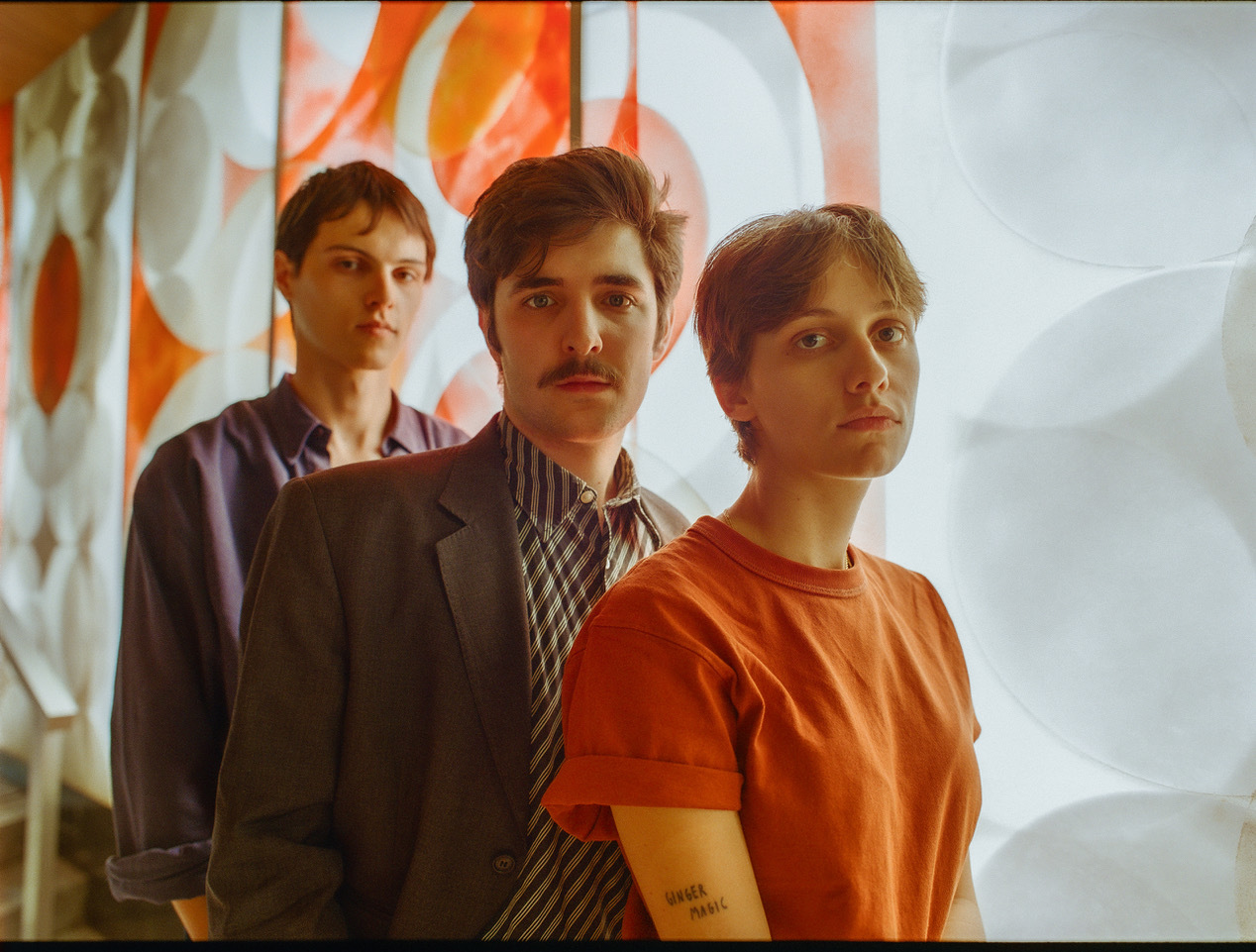 The Parisian trio give us a track by track run-through of their debut album.
Sharing their debut album 'Embrace' today, Keep Dancing Inc are giving us a track by track run-through of the record!
"Most of the songs on the album talk about relationships" explain the band. "Themes of brotherhood, love, parents & teenagers, family all fall under the idea of 'Embrace', from the physical meaning to a more metaphorical one, embracing your relationships, as dysfunctional as they may seem."
Tune into the track by track below!
START UP NATION
The first idea for this song was to make fun of the Start Up ideal by writing ironic lyrics. We wanted to emphasize some of its absurd and sometimes insane deviances while the economic and political spheres made it a totem. We don't pretend to impose any worldview, but we wanted to draw attention on that matter. 80's Disco Funk artists like Chic or Surface were important inspirations as we wanted to keep it fun and have a dance touch, as Keep Dancing Inc. Basically, it's just a song about someone in a club witnessing surrealistic situations à la Terry Gilliam's Brazil but who remains unabashed and keeps dancing.
UNCERTAINTY
It's a song that talks about the doubts that one can experience at the beginning of a relationship, especially the fear of doing too much or not enough without knowing the level of commitment of the other person. It's the poppiest song on the album with its soft synth sounds, jiggling guitar parts and sing-along vocal melodies. It's also a rare example of a track that we composed entirely by jamming together, and it's probably the reason why it's so concise.
NO MILKSHAKES IN HELL
It's the most energetic track on the album. It's both very rock and very electro, somewhere between Devo and the first album of Fidlar. This track tells an absurd story: a psychopath who has an addiction for milkshake. This idea was probably inspired by movies like 'Profondo rosso' by Dario Argento or 'Halloween' by John Carpenter – films Louis was watching when he was writing the lyrics of this song.
SILENT & SATISFIED
Silent & Satisfied is probably our most minimalist and appeased song yet. It talks about the feeling of safety and peace that we can sometimes experience when we are far away from the city, and from stress and noise. It also talks about the simple pleasures that fulfil life. As far as the music is concerned, our main inspiration was an avant- garde synth-pop, soft and catchy, such as Ariel Pink or Arthur Russell. The romantic dimension of the song stems from a quote from Alphaville's Forever Young ("golden faces in the sun"), which is one of our favorite guilty pleasures. The idea to focus the song on the importance of simple pleasures probably came from the movie Wings of Desire by Wim Wenders.
COULD U STOP
This might be our oldest song on the album. We started working on it 5 years ago and it probably took us 3 years, 5 demos and a lot of steps back to get to this final result. But it paid because we think it is our most KDI song to date : the blend of electronic music, pop, rock and disco is really all that we're about. The song talks about paradoxical relationships one can have with people they love, but with whom a conflict full of pettiness and jealousy is permanent.
CORSICA LOVE
It's a song that we wrote after a boat trip to Corsica. We didn't have a cabin on that night ferry and some of us stayed up all night, watching the sun rising on Corsica in the morning, a truly special moment. In the lyrics, the beauty of that landscape is enough to make all the existentials fears of the character disappear for a moment. Musically, the structure is a bit different from a usual verse/chorus type of song. It's a succession of themes and melodies based on the same chord progression throughout the whole track. We wanted to create a hypnotic mood rather than telling a story. The result is somewhere between 'Amour, émoi et vous' (R. Romanelli and G. Bonnet) and Porches.
(EMBRACE)
A simple instrumental interlude that separates the two sides of the album.
LONG ENOUGH
This song shows a fresh and new facet of Keep Dancing Inc's sound. We were keen on releasing it on the album, and as a single, because it moved a lot of our friends, even though we didn't consider spotlighting it initially. When writing this song, we were inspired by our old indie/rock crushes: The Drums, the Strokes and the Smiths. On top of that, we added string machines that reminded us of New Order and The Chameleons. The final words of the chorus, "This is the only way for me, to become what I should be" sum up the general idea behind the song: the longing for self-accomplishment, and the hindrances and fears that stand in the way. Specifically, parental pressure, credentialism, and the angst young people face on the threshold of adulthood.
MOVING ON FT. NIGHT WORKS
For a while we wanted to keep this song as an instrumental because it was mainly written by jamming together and we had troubles puting the vocals on top. Tom Carmichael offered Gabriel Stebbing (Night Works, Metronomy) to sing on the track and we absolutely loved the result. The lyrics were first written by Louis a while ago and Stebbing made a few adjustments here and there. They talk about the existential fear that one can experience when one is working too much on something (writing a song for example) and doesn't succeed. They have an overly-tragic Morrissey vibe that Stebbing conveyed really well in his performance.
OLD CHILD
Our most electronic and dance track of the album. At first it was a very old jam that we brought up during the writing of the album. We wanted a track like that on the album, built for our gigs, more electronic, longer, heavier, with an instrumental part that allows you to let loose. We were driven a lot by our love for Italo Disco but wanted to keep a real drum kit for a rock/electronic fusion à la LCD Soundsytem.
A LETTER
Our darkest song on the album. Written on the piano by Charles (ex-member), it tells a painful story about his family. We kept his vocals because no one else could tell this very personal story. The track had a different name at the beginning but we changed it at the last moment for 'A Letter' because we realised that the lyrics can be seen as someone reading a letter and we loved that poetic interpretation. Musically, the track is built around a synth sequence that resembles a heart beat, as an interpretation of the lyrics. We wanted to keep an intimate ballad vibe and the arrangements are going in that direction.
HOW IT STARTS
It's a very old song that was written, at the time, for our first EP in 2017. We were not satisfied with the lyrics so we re-wrote them entirely to have the song on the album. It tells a love story that begins like a firework but ends badly and still haunts the character a long time after. It's the last track of the album, our 'dancing in the dark' if you will, between a synth-pop and indie rock anthem.