Interview
Wallows: "We wanted to separate ['Remote'] as much as we could from 2020"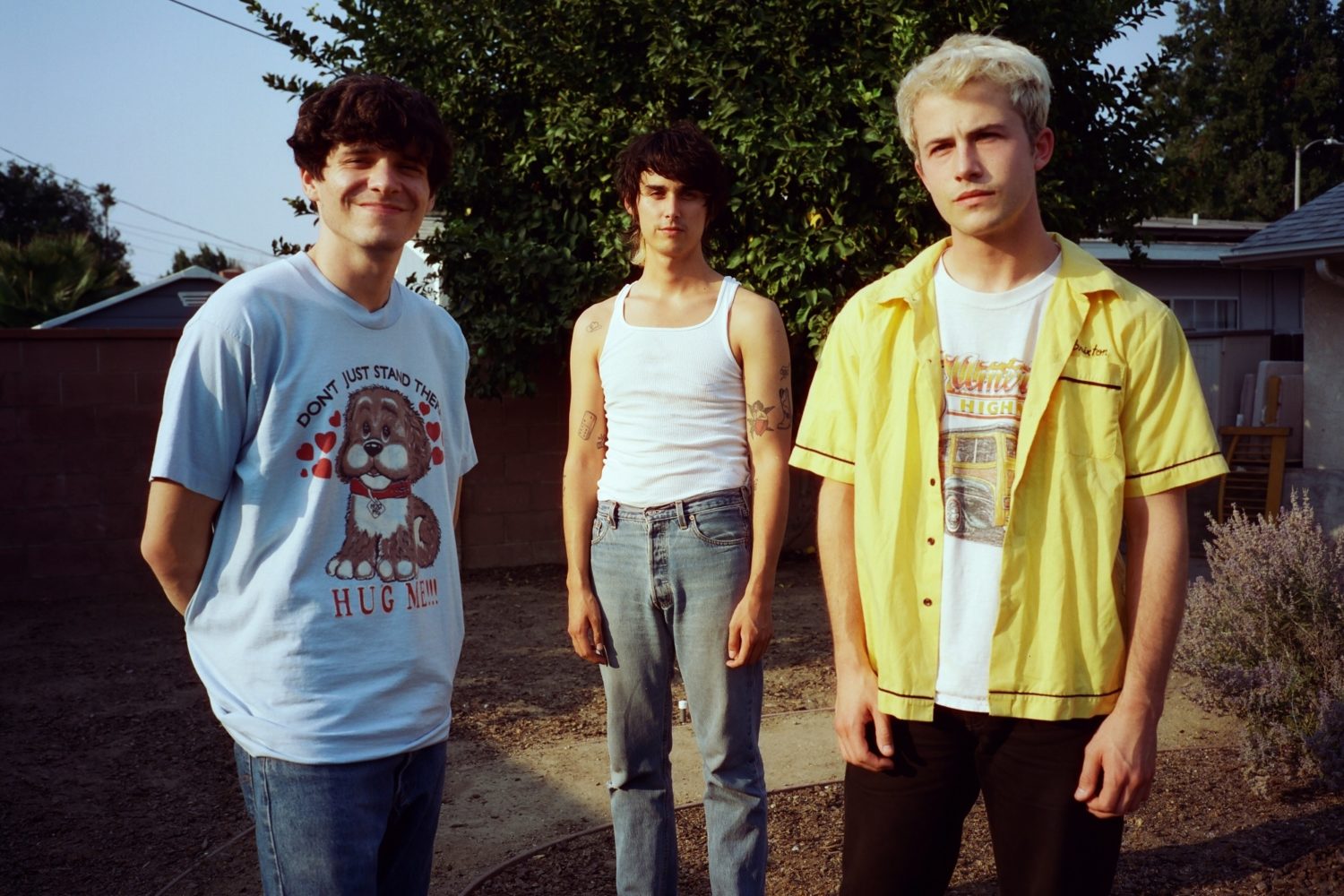 The LA trio chat to us about their new lockdown-made EP.
Created during lockdown, LA trio Wallows are sharing their brand new EP 'Remote' today!
Made up of six shimmering bops from the rising indie stars, the group say, "'Remote' is a special project for us. We finished it all without seeing each other in person by sending each other voice memos and spending hours chatting on FaceTime. Though the lyrics don't reflect on or reference our time staying at home, the music wouldn't have turned out the way it did if not for quarantine. Big love to our producers and friends Sachi DiSerafino and John DeBold for working around the clock with us. We hope you enjoy it as much as we do."
We caught up with them over Zoom to chat how it was made, hand sanitisers, hair dye, and what we can expect from them next.
Hey guys, how's it going?
Dylan: We're all good! We're all separated right now.
Where in the world are you right now?
Braeden: Dylan's out of town. Me and Cole are in LA. Dylan's out in the good ol' state of North Carolina!
Have you guys managed to be reunited during all of this?
D: Yep, we've seen each other a lot. We didn't see each other for a couple of months which is when we made 'Remote'. But then when we had to see each other to do demos for the next record, we started include each other in our little bubbles. So we were seeing each other a lot before I left, and we'll be seeing each other a lot when we get back. But safely and carefully and all of that stuff.
A lot of hand sanitiser…
D: You know, I'll now judge a place by the smell of their hand sanitiser. Before COVID everything smelt like rubbing alcohol, but now lots of them smell like tequila or poop… Like, it's so bad! But then I'll go to a place with a classic smelling hand sanitiser, and I'm like, this place knows what's up. They have the good stuff.
B: They're stepping up their game with the top smelling hand sanitiser.
D: Purell is like A+ high grade shit.
So how's lockdown been for you guys? We see a couple of new hairstyles…
D: I've not picked up anything new! I have two books I'm trying to start reading but haven't. I actually changed my hair colour before lockdown and just kept going. My hair has been through the wringer this year!
Cole: I've been reading books which I should have been doing my whole life. My hair's now blue because, why not? That's all I do these days: I dye my hair, I read and I sleep.
B: I've been trying to break habits rather than start new ones! I'm not trying to quit gambling or anything, I'm just trying to pick up my phone less. I'm trying to learn something new every day, because sometimes I feel like my brain is fully in a state of limbo at some times.
Screen time synopsis looking bad?
B: I was on my phone for 25 hours yesterday! I didn't even know that was possible!
D: I've turned mine off because I don't wanna know.
C: Yeah, mine is woeful.
Obviously you've also been busy doing your new 'Remote' EP! Were you working on music before or was it all done during lockdown?
C: The whole EP was started and finished during quarantine, at least recording wise, but the songs and ideas had been lying around for a while. Some for a really long time, some were a little newer than others, but it was all material that we'd planned to work on maybe for the second record, maybe not. It was all little bits and pieces of ideas that we finished.
What are some of the stories on it? Do they all pre-date this time?
D: I remember 'Dig What You Dug' had some quarantine references in there but then these guys helped me realise that we need to stay away from singing about all of that. We don't want to date it, we don't want it to feel like it's for this time only, so we wrote songs just how we would if we were out in the world. We really avoided writing about that.
I think, for me, the lyrics I wrote are all about experiences from a couple of years prior that I haven't written about yet and general things about myself.
It's all over the place really. There's no through-line, there's no narrative with the EP, which is fine because these songs are all so different anyway. We just took six songs that we really liked a lot which are all really different and tried to find a way to make it all feel glued together. It's like six stations on a remote control, that was the visual idea of what we wanted it to be. It's all over the place! But that's kind of the point.
How was the process making and creating it? Any fun Zoom jam sessions?
C: It's so funny because we tried doing a Zoom jam sesh once and just never did it again because there's latency on Zoom and I don't think anyone's made that actually doable yet. But yeah, we made this remotely, so it was one of us making a demo and we were bouncing stems to each other and Braeden and Dylan sang their vocals into their iPhone voice notes and they'd send me a bunch of takes and I'd comp together the best ones and send that to our producers. It was a lot of beaming around stuff. It was honestly kind of nice for me because I have the home recording set up, and it was nice to be alone. Not that being with them is bad! But it was nice to do it, make the decision, and move on. It forced all of us not to overthink.
What did you want people to take away from this record?
C: It is funny how there's moments on this that seem like our most joyous of any of our songs and it was created during the least joyful time maybe any of us have experienced during our lifetime. That wasn't intentional I don't think where we were like 'Let's cheer people up' and we aren't selling smiles, but that's what we were writing at the time. In making this, we wanted to separate it as much as we could from 2020, and it just so happened that we were inspired by more upbeat energetic things.
B: Yeah, we weren't trying to sell smiles, but naturally it was cheering us up to make these tracks and it was nice.
And what's the status with Album Two?
D: WOO!
B: There's some demos and musical notes flying around. We're starting the process, we're writing a lot. I'm very excited where the process is going. I made a little track list last night. We have demos lying around and we all send each other track lists based on the different demos, which is fun, and start to paint the picture. I think it's going to be different from [debut album] 'Nothing Happens', you know it's the second album! I think it's going to be interesting... I'm excited to see where it ends up. I'm stoked!
D: The exciting thing is we're going to start it soon. We'll be getting it sorted within the next couple of months.
C: Recently we went back to the demos we had for 'Nothing Happens' and compared those demos to these demos and the difference is unbelievable. The demos from 'Nothings Happens' are so hilarious, they're like non-ideas. We're going into this WAY more prepared than we were which I really think is going to be a good thing.
Any (hopeful) plans for next year?
D: We can't make any promises because no one knows what the hell is happening. But we want to get this album done so we can have it ready to go out. We want it to come out next year, but we really want to be able to tour it. We're really hoping that happens, and that we can put out a record by the fall. That's what we want to do and we just really really hope it can happen. Either way, we're making sure this album comes out next year!
'Remote' is out now on Atlantic Records.

Get your copy of the latest issue