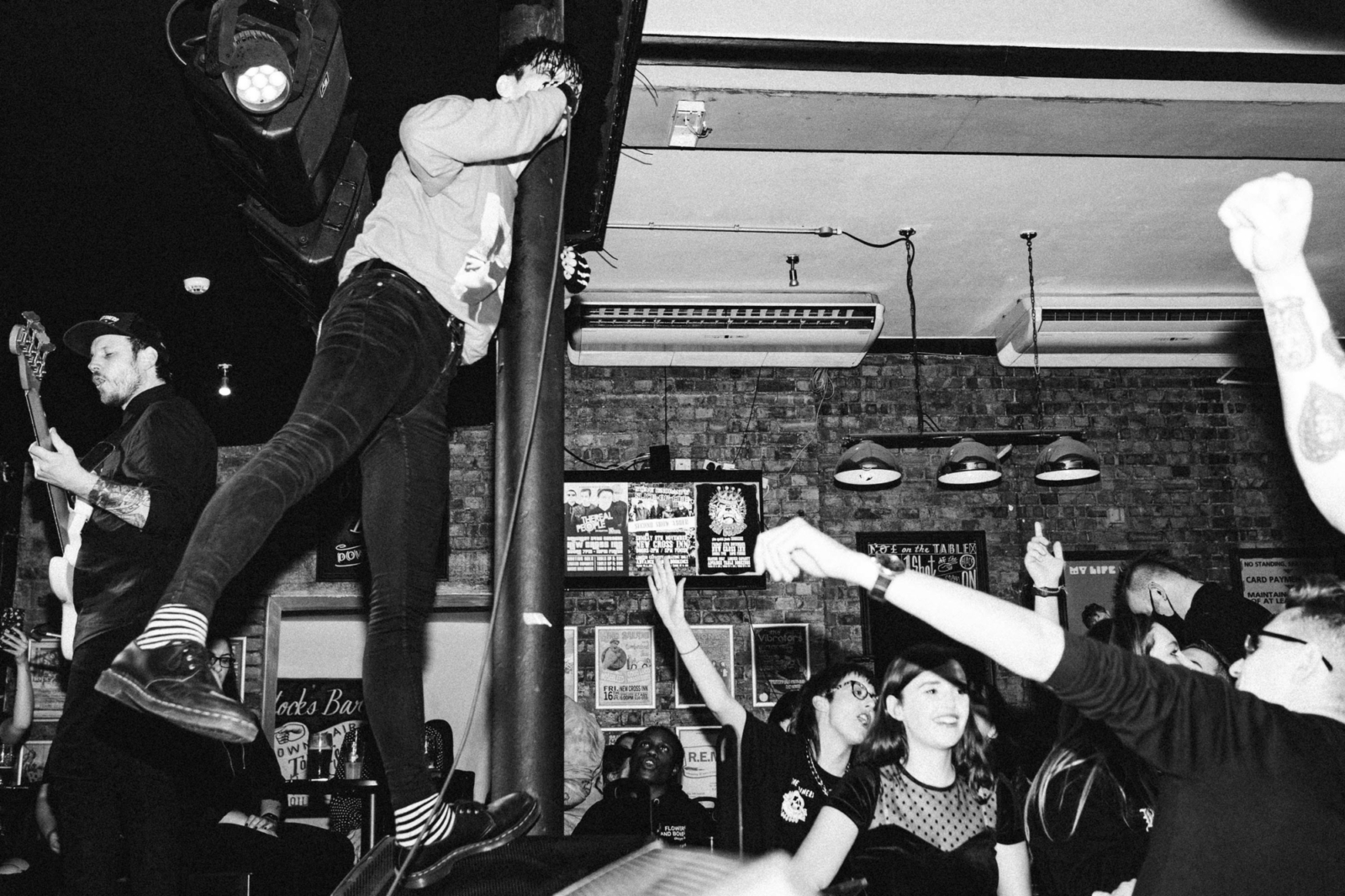 Photo: Jessica-Rose Lena
Live Review
Salem, New Cross Inn, London
30th October 2020
This is masterful punk'n'roll with a gloriously dark heart.
Back in September 2014, a promising punk outfit took to the stage at London's Old Blue Last for their first show in the capital. Dressed in black and playing their catalogue of only five songs with a ferocious spirit, it signalled the start of an acclaimed journey for Creeper, one that would eventually intertwine with fantastical theatrics. Back then, it was their raw delivery that captured the ears of early adopters, led by frontman Will Gould's singular passion. Their cult has grown ever since.
Over six years later, the parallels between that show and Salem's first and second live performances ever (it's a socially-distanced double hitter) are instant. With Will at the forefront, the quartet – completed by Matt Reynolds on guitar, Ranny Ransom on bass and Aaron Graham on drums – arrive on stage - with just five songs to their name. The space itself is tiny in comparison to Will's usual haunts, and the sound is distilled back to the raw punk of his early career.
That this isn't a fledgling band is obvious from the outset. Salem bring with them an already dedicated army of fans ready to project every word back at the stage. Will himself takes almost all of the focus, bounding around the small stage with the assured enthusiasm only reserved for those used to the restrictions of a barrier. The atmosphere is second to none, regardless of the fact that this is for many their first live music experience in quite some time.
The theatrics that dominate much of Will's main musical output remain in a small part, see the instrumental intro and the frontman's triumphant journey to the stage through the seated crowd, but what Salem affords him is the opportunity to focus fully to the music. There's no flashy lighting or smoke effects. There are no uniforms or costumes. Will stands front and centre, donning a nod to his hardcore roots in the form of an American Nightmare jumper. It all suits him.
In style and delivery it's the antithesis to the polish of Creeper, seemingly a cathartic musical outlet removed from the weight of his other project. Both have their place, but in Salem the band effortlessly thrive on their love for performance and for melody. The high of 'Eyesore' seems unmatchable until 'Throat' secures the biggest moment of the evening. It's all more direct; even faster and heavier than on record.
Stepping away from comparisons, Salem are creating brilliantly imperfect gothic love songs, as soaring as they are morbid. Delivered with an unrelenting passion across all four members of the band, they easily confirm themselves as far more than a side-project. This is masterful punk'n'roll with a gloriously dark heart.

Get your copy of the latest issue