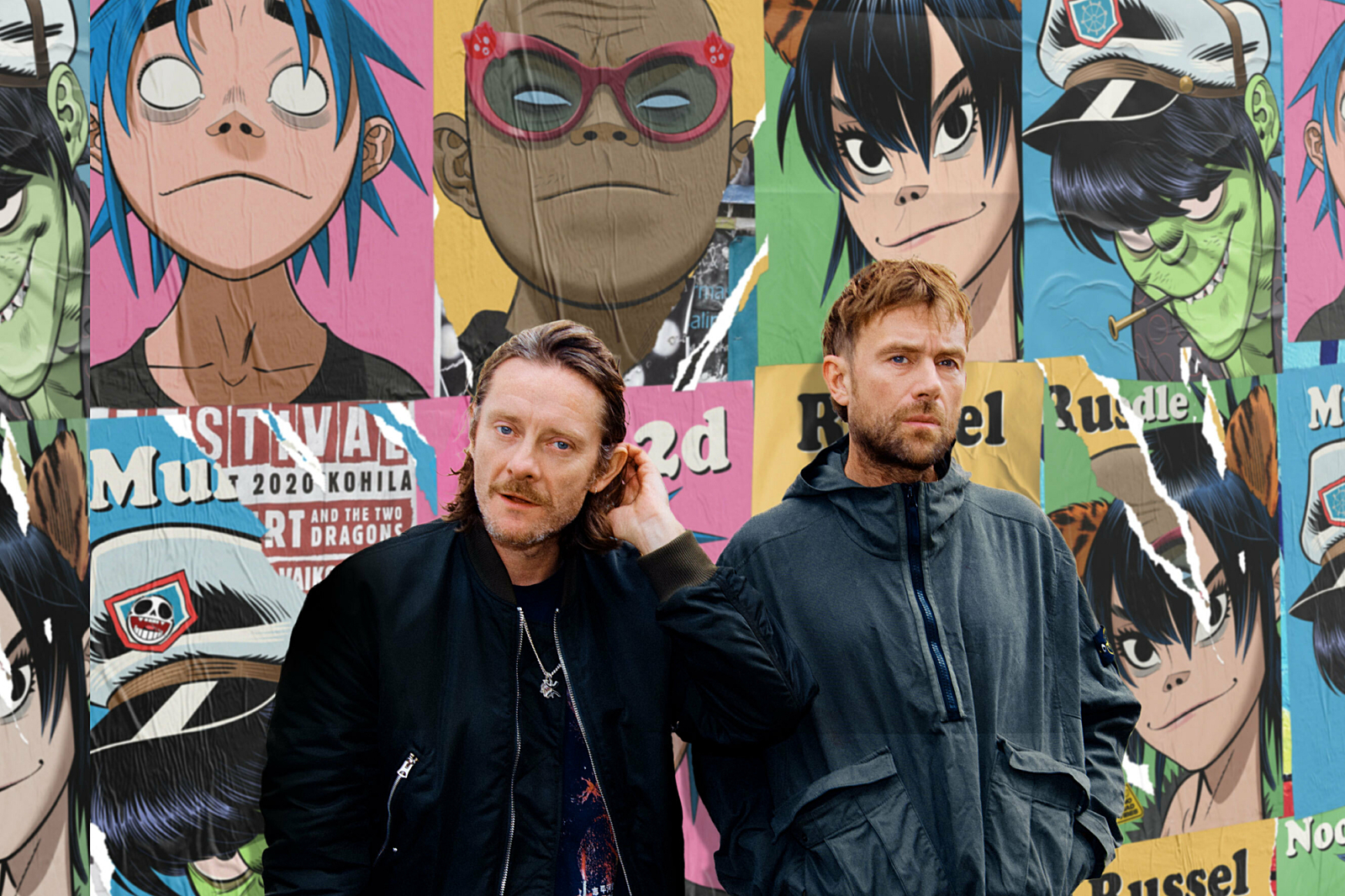 Planet Of The Apes: Gorillaz
'Song Machine' might have been born from a playful spirit, but it's also an album that finds Gorillaz holding a mirror to the modern world's divisions, and offering up a far more utopian alternative.
Damon Albarn might not be a man known for predictability, but there are some rituals he takes seriously. One, it seems, is the eating of cake. "It's tea time isn't it? I always have tea and cake," he says, mouth full, intermittently stuffing bits of a cherry-flavoured number in over a 3pm Zoom call. "A little early perhaps, but I'm still on French time…"
Quarantining in his London house after returning from a stint in Paris to perform collaborative opera Le Vol Du Boli (translated as The Flight of the Boli - a Malian spiritual object), Damon's penchant for a sugary treat, he tells us, hasn't always worked in his favour. "I developed a very mild eating disorder [when I was younger] because my mum would always put supper on the table at about 6.40pm, and I had to eat my main meal and my sweet before 7'o'clock when Top Of The Pops started because I wasn't allowed to eat food and watch television…" However these days, he doesn't have to worry about rushing for the BBC schedule. Now, with Gorillaz' latest offering 'Song Machine' - a project originally conceived as a string of standalone multimedia 'episodes' that's now evolved into a full record - he's basically created the greatest new music TV series going.
"We weren't thinking about songs joining each other or having any connection; it was just, 'Let's do this today'. And then three days later, we've done [a track]," he shrugs, gold tooth just about visible between bites. "There wasn't a sense of 'we're doing something', which in some ways helped the very eclectic nature of the people on the record. It didn't have a self-consciousness that a lot of albums have because you're dedicating a period of time to say something and create something with a sense of it being a unified whole. This [record's] strength is in it being the opposite."
"
Gorillaz is fluid. It's modern. This is a very modern band.
— Damon Albarn
Gorillaz, of course, are no strangers to innovation. Created back in 1998 by Albarn and cartoonist Jamie Hewlett as a conscious commentary on the manufactured bands populating the charts, it's easy to forget just how ahead of their time the pair and their animated monkey pals were. Though The Beatles' 'Sgt. Pepper…' had set the blueprint for fictional musical avatars decades before, the notion of a virtual band (at a time when the internet was still fledgling) was a wildly imaginative one. Add to that their early adoption of cross-genre collaborations, and the result would be a project that pushed the envelope - and still sold millions - from the start.

Their latest lands as yet another sidestep: a series designed in a purposefully episodic fashion, released monthly throughout the year, featuring songs, with accompanying videos and skits. Each track involved in the 'Song Machine' project, says Damon, is "very much an episode", highlighting the difference in terminology. "All the songs were made in isolation [from each other], none of it was done at the same time," he explains. "I didn't set out to make a record, it was literally make it up as you go along and then we just got to a point where we had so much material that we had to stop otherwise Jamie would have had a nervous breakdown with the endless succession of things to animate." Yet now, combined together under 'Song Machine, Season One: Strange Timez', the result is a sort of mammoth singles compilation - a wild hotchpotch of guests and genres, grouped together with no space for backseat drivers.

"You've just got to put your foot down and see what happens. If you crash into a wall, then you crash into a wall, but if you narrowly miss the wall and set off on a fantastic highway then that's great as well," Damon agrees, picking up the analogy. "It's accepting that nothing can be taken for granted and you have to really be very aware of the importance of that renewed energy each time - that blind optimism when you get up in the morning."

It is probably fairly easy, you sense, to wake up blindly optimistic when you have Elton John scheduled in for a Zoom recording session later in the day. Becoming the first guest to ever be animated by Jamie, the legend's turn on recently-released track 'The Pink Phantom' was clearly a special one for the band. "He's very himself, in a beautiful way. Every time he'd start singing, 'I tried to get to Atlanta… Oh, you fucking old bastard!'," Damon recalls, doing his best pissed-off Elton impression. "And then he'd go 'Right, start again'. And this went on for about an hour and a half, just him berating himself, but I absolutely love him. Apart from all his brilliant career and all the amazing things he's done politically and emotionally, he's just a really nice human being: someone I would definitely have tea and cake with," he notes with a wink.

Accompanying them on the track, meanwhile, is Baltimore rapper 6lack - not an obvious choice of musical foil by any stretch, but one whose auto-tuned vocals work to cleverly contrast Elton's powerhouse performance. It's one of many unexpected pairings across the record, and while Damon might cheekily attempt to insist that his appetite for curation merely stems from laziness ("It's less for me to do! It's less work!"), in reality the list of names that pop in for a turn on the Machine - from slowthai to St Vincent; Robert Smith to South African singer Moonchild Sanelly; Skepta to Japanese alt-pop band CHAI - emphasise his obvious thirst for musical exploration more than ever.

"It's just more fun. I don't really wanna listen to myself all the time; I accept that I have to do that sometimes where it's all about me, but I really like it being a shared experience. It's more exciting because you get a really interesting conversation if you just let everyone communicate. It avoids stagnant pools which is something the British Isles has to be very wary of at the moment, culturally…" he notes. It's a very ego-less way of working, but ego, says Damon, is something he's learnt to brush off over the years. "The whole idea of the ego is something that was imposed upon us, that came out of post-war America, especially in music. Elvis and the birth of the pop idol and all of that, you know? I don't think there needs to be anything like that," he continues. "Everyone gets caught up in that net unless they're very smart and I wasn't smart enough [at the beginning]. I have wised up a bit though… I'm not doing it for that, I'm doing it because I love music. It's easy to work all the time and do lots of adventurous things if you're in love; that's the whole point of it."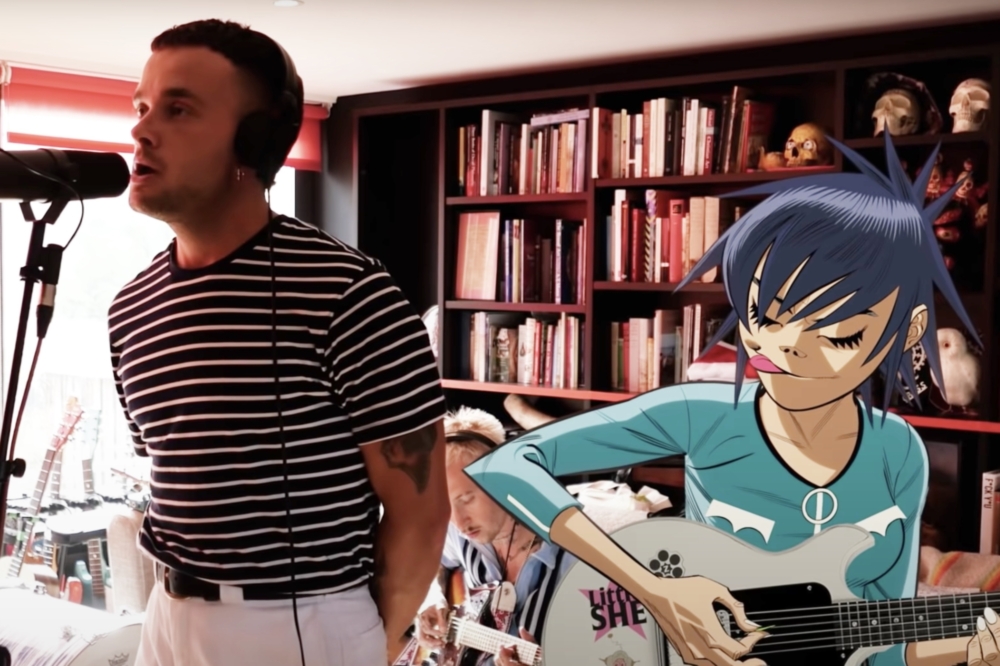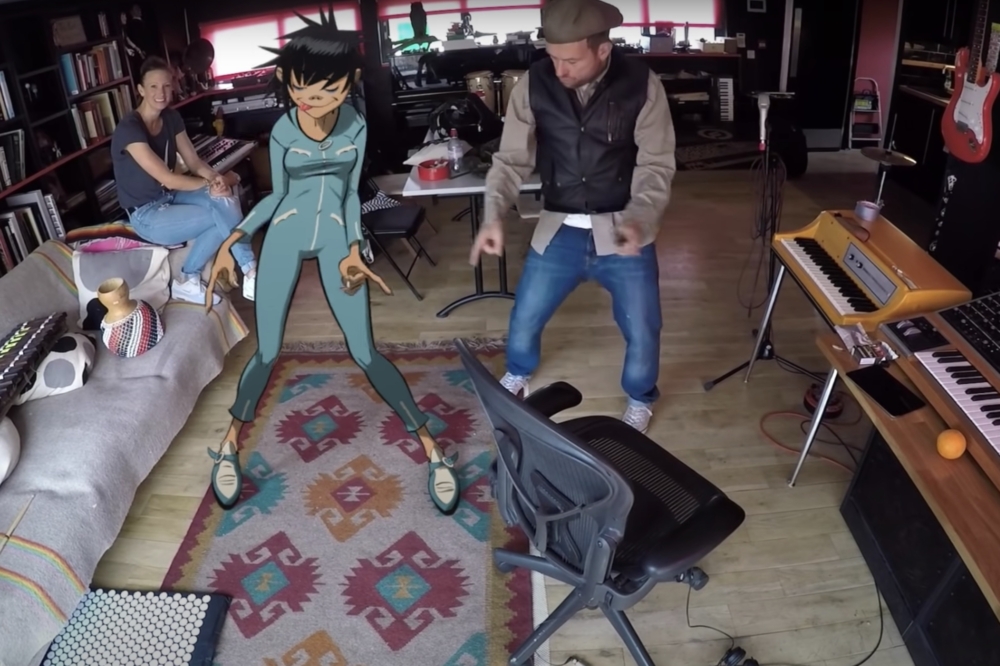 "
[Collaboration] avoids stagnant pools, which is something the British Isles has to be very wary of at the moment, culturally…
— Damon Albarn
Gorillaz' Little Black Book
Season One of 'Song Machine' has seen some of Gorillaz most adventurous collaborations to date, but, says Jamie Hewlett, they're far from done yet…
Do you still get a thrill when someone like Elton gets brought into this world you've created?
Jamie: The thing that's thrilling is when we have conversations about who we'd like to work with. I think we're at the point with Gorillaz where we can pretty much approach anybody, and people do say 'no', but it's never normally because they're not into it. So it's about coming up with interesting collaborations, and not just the obvious people.
Who's on your hit list?
I suggested working with Dolly Parton imagining Damon would throw it back in my face and he turned around and was like, 'Are you serious? I fucking love Dolly Parton'. So we need to find a way of getting in touch with Dolly.
What would you do with Dolly?
Damon's already written the track, I think! We had this conversation three weeks ago when he was in Paris, and I spoke to him the other day and he said, 'I've written that one'. He keeps saying we need to start Season Two of 'Song Machine' and I tell him I haven't finished Season One yet and he's like, 'Well hurry up'. He wants to start in January, and I'll finish in mid-December, so I might get about two weeks off.
How much has been written for Season Two?
He's written about five or six tunes already, and when I say written they're very rough versions, but he's got five or six in the bag. Damon never stops writing songs; he constantly has melodies in his head. He has a draw in his writing room that's full of cassettes with melodies on, so there's a never-ending supply.
It's obvious from one look at Damon's storied career to see that he is, undoubtedly, completely in love with the art of making music. But you can also see that he is, perhaps equally, committed to the unifying space that he can create within it. Blur may have made his name, but in recent years he's spent far more time working with Africa Express and forging collaborations around the world; even The Good, The Bad and The Queen's 2018 album 'Merrie Land', though quintessentially British, shone a lens on the state of the Brexit-encumbered nation and didn't exactly approve of what it saw.

So while 'Song Machine' has its fair share of global superstar guests, Gorillaz' (and Damon's) motivation has clearly never been merely to reel in the A-listers. Here, massive megastars rub shoulders on equal footing with relatively unknown newcomers, and people that hail from all corners of the world are represented. "It's more than just the music and the cartoons; it's what it means to bring young musicians and older musicians together, and to play around with what everyone's role is and everyone's genre is. It's fluid; it's modern, in that sense. This is a very modern band," Damon nods.

Gorillaz' universe is a utopian one - and one that, written during one of the most unsettled years in modern history, feels far removed from 2020 reality. One person who never quite made it onto a track, Albarn tells us, is Morrissey - who he'd previously asked several years back. "I don't agree with his politics at all. It's really weird and off-putting, and it's definitely a turn-off to loving Morrissey. I don't really wanna work with people who aren't very nice because that's a counterproductive thing really," he begins when asked if the invite would still be on the table, before reconsidering the idea: "But I suppose you could, through conversation, change someone's opinions, and that's worth doing as well isn't it? Not to write people off, because this is the mistake the internet makes. It's so regional, the internet…

"Surely we've veered from listening to both sides of the argument - whatever that argument is - too many times in the past to know that's not advisable and that the middle ground is obviously the best ground?" he continues. "It's the middle of the encampment, it's the campfire where everyone gets round and talks and sorts out their problems. Take it back to the beginnings of our society and all societies; the middle ground is the place where shit gets done and we're not inhabiting the middle ground at the moment because [we're] so polarised. Look at the internet and everything that's done on the internet as waves. You're lying by the ocean, and it's just waves and waves and you never get the chance to see the ocean itself."


"
I suggested working with Dolly Parton [for the next season], and Damon's already written the track, I think!
— Jamie Hewlett
Penpal
Of course, Gorillaz would not be Gorillaz without the vivid visual world created by artist Jamie Hewlett. He explains what's gone into bringing the band's latest opus into life.
How did you aim to visually tie all these very disparate songs together?
Up until 'Pac-Man', we were still in the studio when Damon was recording those songs. The idea was I would be around to film what happened in the studio and then cobble together the footage and add the characters, and it would be a continuing story to place around Kong Studios which is in fact Damon's studio. But then along came Coronavirus and that was no longer possible, and I ran out of footage and couldn't shoot anymore so I had to take the storyline somewhere else - so we went to the moon instead!
Of course!
After the murder of George Floyd, and all this other stuff that had started happening in America on top of all the OTHER shit happening around the world, I just thought well, it's nice to leave the earth, look back and scratch our heads, and wonder what the fuck are we doing and why are we like this? And then Robert Smith's on the track, so it just seemed appropriate. If I looked up at the moon myself and saw Robert Smith singing, I'd be very happy.
Turning Robert Smith's big white face into the moon: where's the line with how cheeky you can be with guests?
On 'Demon Days', I managed to get Shaun Ryder to be a giant severed head which was really cheeky, and in the video he wakes up from a nightmare and he's in bed with Murdoch. I got away with that… Robert was really cool actually, he had a lot of input - he was sending back photos of him as the moon with his own corrections. He didn't want to have too many craters. He wanted to look like a cool moon, but that's fine! Elton John was cool, and that was really easy. I sent him a drawing, he made a couple of slight changes and he was lovely.
Where's the balance between Gorillaz being playful and escapist, but also pointing towards real world issues?
I think Gorillaz have always been a bit political without getting on a soapbox and preaching it; you have to have a bit of humour in there and laugh at yourself as well. Not to come on too strong but say something that resonates. If you look at The Simpsons, they do it very well with their opinions about America and American life, but by doing it in a humorous way. People listen to that more. You can get away with anything when you're a cartoon.
The ocean right now, for artists in this country, is a turbulent one. Though certain initiatives are slowly being rolled out, the overriding sense is that the arts sector is being resolutely hung out to dry. With little-to-no certainty as to when any form of 'normality' may return, the level of financial (and psychological) support for people working in arts jobs has been dire; when Rishi Sunak announced last month that people should simply "retrain", it felt for many like the last bit of hope for real, tangible support had evaporated in tandem.

"Our government are undermining people's dreams, and that is unacceptable," Damon bristles at the idea. "Thatcher did it in the late '70s and '80s when she tried to get rid of all the art schools in England. There was a point, pre-Thatcher, when every single little town in England had an art school - a school of dreams; a place where people who weren't necessarily trained or very good at doing anything else could imagine things. And look at all the amazing things that have been imagined and how significant they've become to the fabric of our society, and how they define us in many ways around the world. It seems crazy to not consider that as important as anything else.

"On every level, undermining young people at the moment just seems to be a really, really stupid policy because at the end of the day, the only reason human society exists is to nurture the young and give them something to live for. The condition is that we are brought up, then we bring up the next generation, and they need to be free to do brilliant things and imagine brilliant things. I don't know what's the matter with us. Obviously people who are vulnerable need to be looked after, but people who aren't so vulnerable need to get on with life - especially people who are just finding their feet. You can't just take away the rug when someone's just finding their feet. Telling someone they should retrain - how can you tell someone to do that? And using the image of a ballet dancer - anyone who knows anything about ballet knows if you're even entertaining having a career, that means you've been doing it since you were three or four. How can you do that to somebody?" he gesticulates.

"It's really fucking mean, and I think people will realise that that unfortunately is the malign spirit of Brexit - it's really mean. And when people really realise what some of the architects of that thing have in their mind - their capacity to dream is very limited, it seems. Hence a lack of empathy with people who DO have a capacity to dream. Great. Let's all get fucking drunk and take heroin, you know what I mean? Because that's what people will do if all their dreams are taken away from them. No one wants that. And I'm nearly old as well! Some may say I'm already old! So I'm not exactly blowing my own trumpet here, I just feel really strongly. I just feel for kids. I feel like we need to be really fucking nice and positive with them, and there's some bad shit going down."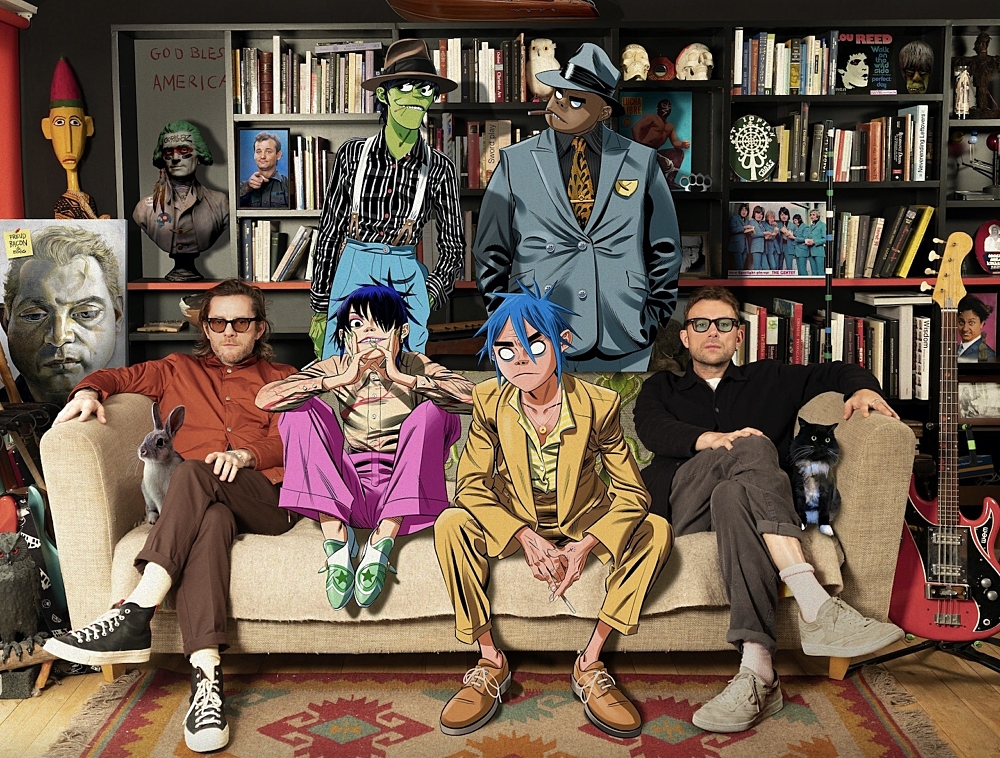 "
The only reason human society exists is to nurture the young and give them something to live for.
— Damon Albarn
Bit of a Blur?
Gorillaz, of course, aren't Damon's only world-beating, Glastonbury-headlining outfit. There's a little band called Blur that sometimes pop back into the picture too - so can we expect any updates from Damon, Graham, Alex and Dave soon?
"Well yeah, I'm sure at some point. I mean, why not? There's a lot of material out there that could be used, and we have been… Oh god, if I say one thing it just becomes… Er, but why not do something like that? It's wonderful when I do those shows; I love it. But it is a different thing to where I am now. I try from time to time to bring it up to speed, and [2015 Blur LP] 'The Magic Whip' - that was a relatively successful attempt to do that. I worry sometimes whether I CAN do that, but singing those songs and enjoying that moment, I would love to do that again, obviously.
I find it a lot easier to move forward. I'm happy to go back, but the world was slightly younger and more naive then. It was different. Blur is a pre-internet band, so it's kind of weird existing in the internet age in that form; it's much easier to exist in the Gorillaz form…"
Damon Albarn might not be able to single-handedly save the world but, amidst all the bad shit, he is doing as much as one man with a very good ear for a melody can do to counteract the tidal wave. Every day, he says, he "bounces out of bed with blind optimism". He doesn't see himself as religious, but he is "tuned in to the universe" and truly believes in the connectedness of humanity - that beneath all the bullshit, we are just a globe full of people, particles knocking around together, who have to learn to listen to each other a little bit more.

"You need to breathe deeply. You need to absorb the vibrations of the times. You need to let them have their effect on you - you can't fight things, you need to be fluid with them and then everyone grows," he theorises. "We think we have this interconnectivity because of the internet, but we've always been interconnected. [The internet] is creating an insensitivity to our innate connectivity - it's blocking it."

With Gorillaz' latest, and the project as a whole, this attitude permeates every pore; 'Song Machine' points to the exciting, invigorating results that can come from people uniting and working together - exploring that innate connectivity but from different viewpoints and backgrounds. "There's a lot of information on the record - what's going on in California, the African diaspora, the phantom voice of Elton John, a sort of strange midwestern quality of St. Vincent, and then CHAI somewhere in a very high building in Japan doing their thing. Fatoumata Diawara in Lake Como… it's all over the place," Damon muses. "Leee John in a garden, shaking off his chains… I was talking to Tame Impala but we never got that finished, so I was talking to Australia too. I was talking to a lot of different parts of the world when I was making this record, but that's always possible at any time."

It IS possible, and yet, more than 20 years since they first put pen to paper, Gorillaz are still doing it more successfully than most. Aged "52 and three quarters" precisely, Damon is showing no sign of pulling back any time soon.

"I can go on forever with Gorillaz - I mean forever in the sense that IT can go on forever," he ponders of the limitless scope of his creation. "I can't go on forever. I haven't somehow discovered immortality…" He pauses and grins that wolfish, gold-toothed grin. "Yet…"

Turns out maybe you can have your cake and eat it after all.


'Song Machine: Season One - Strange Timez' is out now via Parlophone.