Tracks: Arcade Fire, Baby Queen, Larry Pink the Human ft Joe Talbot and more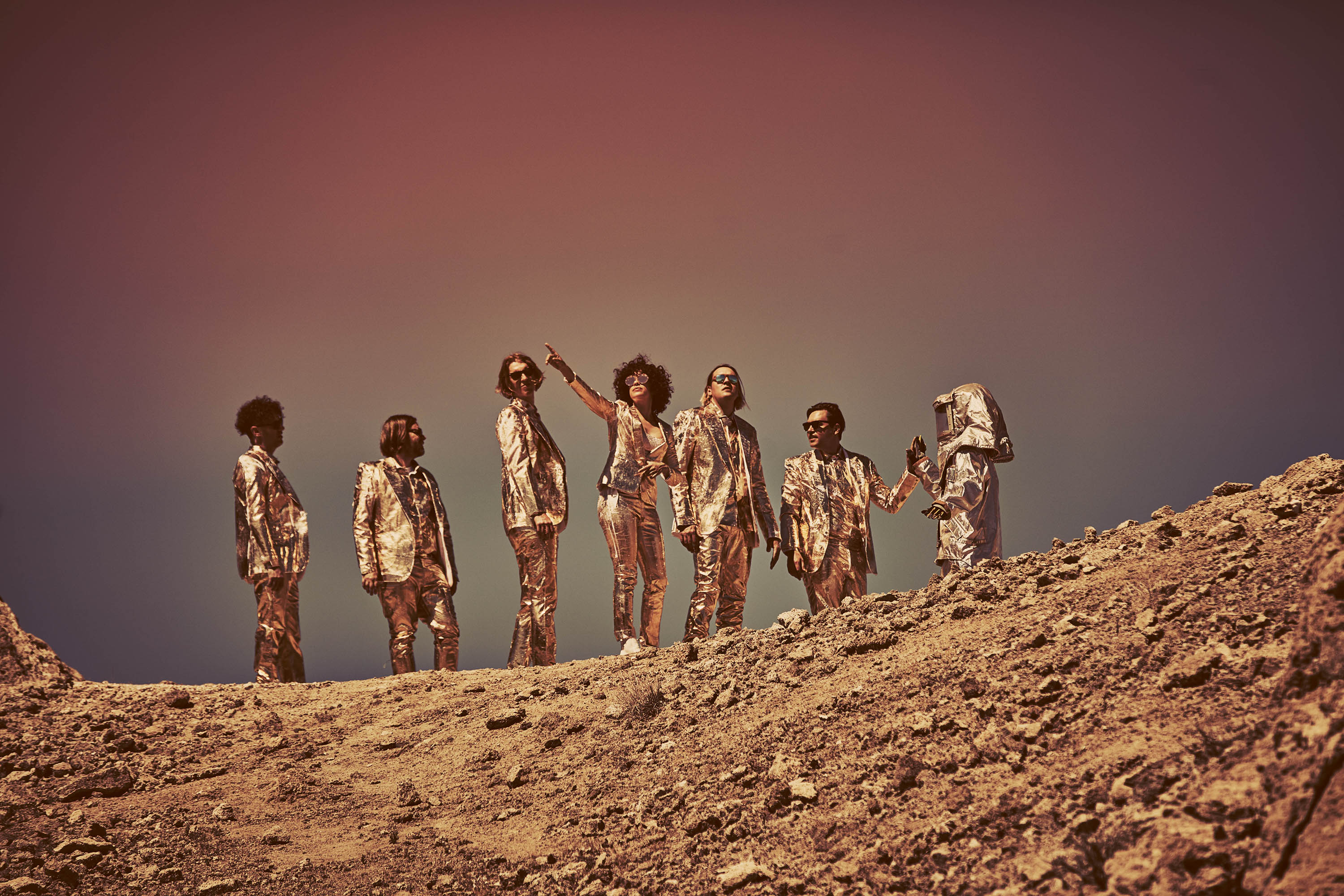 The biggest and best tracks of the past week, rounded up and reviewed.
It's the first Friday of Lockdown 2.0, so you've got absolutely no excuse not to dive headfirst into this week's edition of Tracks - our weekly round-up of the biggest and best new tunes around.
This week, we've got an election-centric surprise new drop from Arcade Fire (will we have a result by the time you read this? Here's hoping!), Neu favourite Baby Queen's latest - an ode to Killing Eve star Jodie Comer, no less - a heartfelt collaboration between Larry Pink the Human (aka Slaves' Laurie Vincent) and IDLES' Joe Talbot and more!
For what we have to say on this week's biggest and most exciting tracks, scroll on! And if you're itching to check out even more, subscribe to our Essential New Tracks playlist.
Arcade Fire - Generation A
Debuted on Stephen Colbert's Election Night 2020 special and introduced by a masked mini Win Butler lookalike, 'Generation A' might be somewhat more musically rudimentary than much of Arcade Fire's grandiose, layered back catalogue (after all it is, you suspect, a more hastily-readied offering), but its tone hits the mark entirely for this most critical of weeks. Riding high on frustration and a sense of patience entirely at its limit ("They say 'Wait, all we need is love'/ But darling, California's burning…"), there's nonetheless a classic Fire sense of urgency and underlying hope that rings with every mass-chanted line. If "I can't wait" is the message at its core, here's hoping within the next 24 hours, the world won't have to any longer. (Lisa Wright)
Baby Queen - Want Me
Falling in love with people on the silver screen is something that happens all the time. And for Baby Queen - aka Bella Lathum - her acting crush came in the form of Killing Eve's murderous leading lady Jodie Comer. So what do you do when someone who has no idea you exist becomes the object of your affection? Pen a synth-laden alt-pop ode with a verse sung entirely in French all about how much you fancy them, ofc. Sharing new track 'Want Me', Bella's packaged up the feelings of unrequited love in an infectious bop that'll strike a note with anyone who's become infatuated with a stranger, all whilst showcasing her flawless pop songwriting skills at the same time. (Elly Watson)
Larry Pink the Human ft. Joe Talbot - Wasted Days (Inbetweens)
Synth-led and spacious, Laurie Vincent's Larry Pink the Human project has already proven itself to be a sonic world away from his work with Slaves, and on 'Wasted Days (Inbetweens)' the differences are more heightened than ever. Ditching cheeky one-liners and punk chutzpah for something altogether more contemplative and unadorned, his latest - a collaboration with IDLES' Joe Talbot (in perhaps his most genuinely pretty, sonorous vocal turn to date) - is an ode to life's smaller moments and quieter pleasures. It's a meditative, steeling thing with a blooming crescendo that couldn't have been released at a more timely moment than now. (Lisa Wright)
Continuing the hype to this month's highly-anticipated debut 'Hey u x', New Zealand's BENEE has shared the record's opening track, 'Happen To Me'. Spearheaded by her signature sugary vocals, the track follows her emotional ups and downs, over a soaring backing with some added piano twinkling for good measure. An exciting glimpse at yet another side of BENEE's musical mind, if you're not excited for what's to come, you need to wake up. (Elly Watson)
A cover of Japanese pop star Mariya Takeuchi's 1984 original, 'Plastic Love' might not have come from CHAI's own pen, but the shoulder-shimmying, Chaka-Khan-goes-to-Tokyo smoke machine haze of their take on the track shows that it's certainly an avenue the kawaii punks should continue to explore. Having dialled back the hyperactivity of their debut 'PINK' on recent, mid-tempo highlight 'Donuts Mind If I Do', the quartet are clearly leaning into their pop side. It suits them well. (Lisa Wright)