Introducing
Get To Know… SCORS
With their new EP 'Punting' out today, meet the South East London quartet.
Hello and welcome to DIY's introducing feature, Get To Know… getting you a little bit closer to the buzziest new acts that have been catching our eye as of late, and working out what makes them tick.
Recently we've met rising South London rapper Theodor Black, Liverpool-based indie newbies Courting, West London's Jelani Blackman, alt-pop newcomers moa moa, and now we're introducing you to South East London lo-fi lovelies SCORS.
Sharing their new EP 'Punting' today, the record is a blissful jazz and soul tinged journey. Speaking on the EP, the four-piece say, "This thing we did before: They say art reflects life. Then that means this is the harsh reluctant sensibility of post-adolescence. Why we didn't call 'Punting' this, is another story. 'Punting' is a selection of older songs that reflect a era of constant change; Conceived at a time where life began to feel consistently uncertain. Through the boredom of bag life to the beckoning glove of boat life we eventually found our feet and bring you this record.
"In hindsight of this project, an obscure proverb by the great Charlorcha Kabucci comes to mind: 'There is always a darker underlying body looming, uniting us all. Only rearing it's greedy face once the lid is fastened upon your jar.'
"This EP was the first time we tried to do things properly and in doing so we learnt a lot. Making it was like feeling, for the first time, we were facing the right direction. Working with many talented and charming collaborators and muses; producer Zach Nahome and club owner Smooth Jazz to name but a few. Believing in us when things looked impossible gave us the growth we needed.
"We laze down this river, 'Punting', giving it a go and seeing what sticks."
We sent them over some qs to find out a bit more.
Describe your music to us in the form of a Tinder bio.
Jake: What's tinder bio? Are you referring to Herman F. Tinder and our views on his theory of Yeti Biology? If you were then that's good because we actually derive a lot of our music from that thesis.
Max: We won't bore you with it now but you should read it!
What's your earliest musical memory?
M: Probably the theme tune from Bear in the Big Blue House - it's where I gained my love of saxophone
J: I think mine was shouting along to Yellow Submarine or possibly something awful like Mambo No.5 on the Bob The Builder soundtrack. Dirty bob and all his many girlfriends.
Who were some artists that inspired you when you were just starting out (and why)?
J: There were so many - David Bowie, The Strokes, Billie Holiday, HOMESHAKE...
M: Orange Juice, Kendrick Lamar, Johnny Mercer, Sister Rosetta Tharpe...
J: Amy Winehouse, Velvet Underground, Nick Cave and the Bad Seeds, Tame Impala. Also some local lot: King Krule, Jerkcurb, LL Burns (formerly Filthy Boy), Ezra Collective.

You're from London! What do you think of the music scene in your area of the city at the moment?
J: How can you not get inspired when everyone and their nan makes beats and are usually down to collaborate?
M: We've always recognised the importance of collaboration to your personal growth as a musician.
J: I guess that's what you learn from being in a band is just how to bounce off each other and learn from one another. So I suppose being amongst other artists can be like that on a bigger scale. I wouldn't know half the stuff I know if I never made music outside of my bedroom.
Are there any other artists breaking through at the same time that you take inspiration from?
J: Artists like Brad Stank, Charlorcha Kabucci, Malady, Byulah are some to keep an eye on if you want any pointers
M: Also Allie Crow Buckley, Smokey Joe and the Ten Toes, BIGHEADMODE and Djungelskog are a few more.
J: But that barely scratches the surface...
Who would be your dream collaborator?
J: David Bowie's space ghost?
M: I bet he has at least one good album left in him!
J: Personally, I'd say HOMESHAKE, his production style is so different to ours I think we could make something interesting, we could learn a lot. Same goes for Tame Impala actually.
M: I reckon Nick Cave would be cool to work with as he's got a great knack of dipping his toes into eclectic musical styles whilst keeping his signature sound - something we aspire to.
J: Maybe if Phil Spector ever got out we'd have an interesting session?
M: Or André 3000, he'd turn anything into gold.
J: Yeah André 3000, hit us up!
Musically or otherwise, what are you most looking forward to this year?
M: Probably the year being over... I don't know... are we excited about anything?
J: Oh dear, maybe we've forgotten how to look forward to things - I guess we could say something obvious like... getting this music out?
M: Yeah, getting this music out and future projects.
J: There's so many potential projects from potential people just waiting to happen and we just don't know it yet - aren't we consumers lucky?!
M: I feel like maybe we are excited after all - sometimes with music it's hard not to get excited about what's coming up next. If you like this stuff wait till you new shit!
If people could take away one thing from your music, what would it be?
M: For us, SCORS is an opportunity to escape for a bit and I hope the good people listening can come away with a similar feeling
J: I guess like any music, we're trying to reflect the world around us and have a good time doing it. Make the best of an often bad situation.

Get your copy of the latest issue
More like this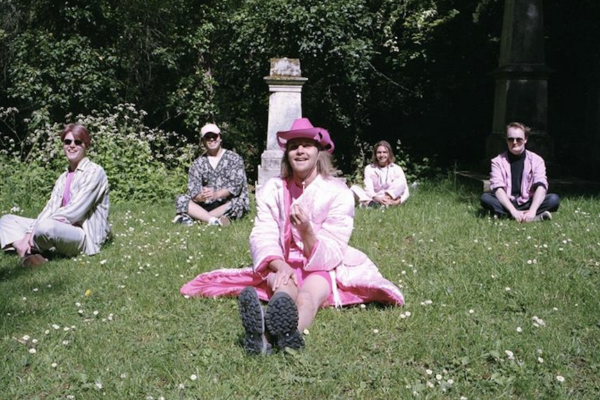 DIY's essential, weekly (kinda) guide to the best new music.