Class of 2021
Class of 2021: Lynks
Armed with a new name, an ever-expanding costume box and an arsenal of songs that aim to represent the queer experience from a lesser-described angle, Lynks is strutting into 2021 in fine style.
It's a chilly afternoon in early November and a very scantily-clad Elliot Brett is wrapped up in a blanket in the corner of the DIY photography studio, talking about his vagina costume. "I taught myself how to use a sewing machine over lockdown and it's been quite game-changing for my outfits," the musical maverick better known as Lynks (fka Lynks Afrikka) enthuses, tapping through a series of outlandish creations saved on his phone.
"I made this one out of some scraps left from an outfit I did for Josh Baxter from [Class of 2021 classmates] PVA," he says, gesturing to today's skimpy green neoprene number, "but the vagina one has to be my favourite. Obviously I'm gay, but I think vaginas are so beautiful, so I decided to make a kind of Elizabethan-style ruff thing on the front of a leotard and I'm so pleased with how it turned out. It's so fun!"
Fun it definitely is, but there's more to it than that. "When I first started performing, I did another music act that was comparatively very straight-laced and 'normal' and I found it quite scary being on stage," Elliot continues. "But as soon as I put my Lynks mask on, I just felt this complete and utter abandon, like I could do whatever and act whatever way. And even if it went terribly and I totally embarrassed myself it's fine cos I can go backstage, take the mask off, take the makeup off and nobody would know it was me."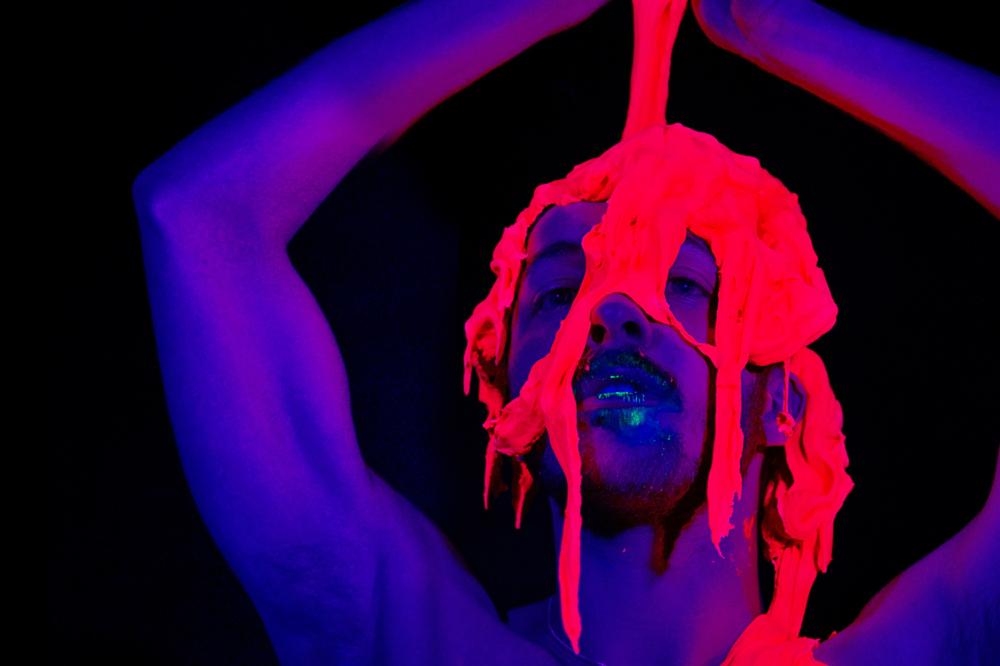 "As soon as I put my Lynks mask on, I just felt this complete and utter abandon, like I could do whatever and act whatever way."
Watching clips of Lynks strutting about on the stages of London and Bristol's underground venues in tutus, wigs and cowboy hats, belting out tongue-in-cheek bangers about everything from how to make bechamel sauce to passive-aggressive Sainsbury's cashiers, it's hard to imagine the singer performing anything remotely "straight-laced".
With an outré brand of squelchy synths and wonky electro beats soundtracking oversharing lyrics about the existential crises and mundanities of life as a twenty-something queer kid, Lynks is a refreshingly different, Leigh Bowery-esque act inspired by the weirder side of the UK's drag scene. But unlike the immaculately made-up queens on RuPaul's Drag Race, or the polished perfection of today's queer megastars like Years & Years' Olly Alexander or Troye Sivan, Lynks wants to celebrate "the imperfect side of queerness".
"I think most outwardly queer pop stars have this front of epic strength and pride, and I think that's so good, but it's also OK not to be like that all the time. I like to show the dark underside a bit," Elliot explains. "You know, the flipside of pride is shame, and it is there for gay people. We can't pretend it's not. I have so much pride in my sexuality, I mean, look at what I'm wearing!" he jokes. "I just think it's important to also talk about self esteem and awkwardness, and how alienating and lonely it can feel being gay sometimes."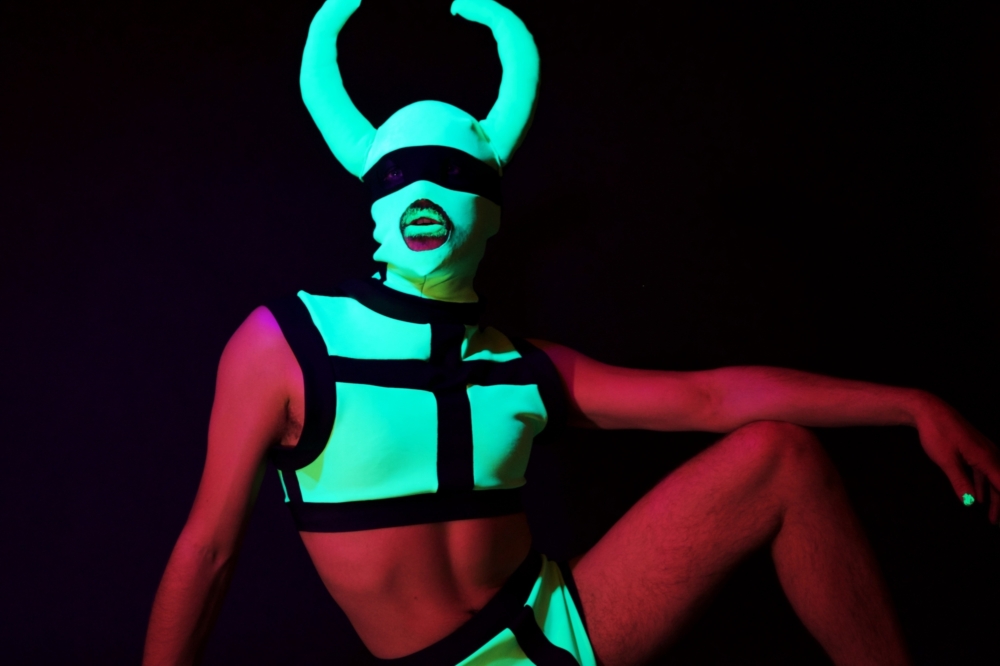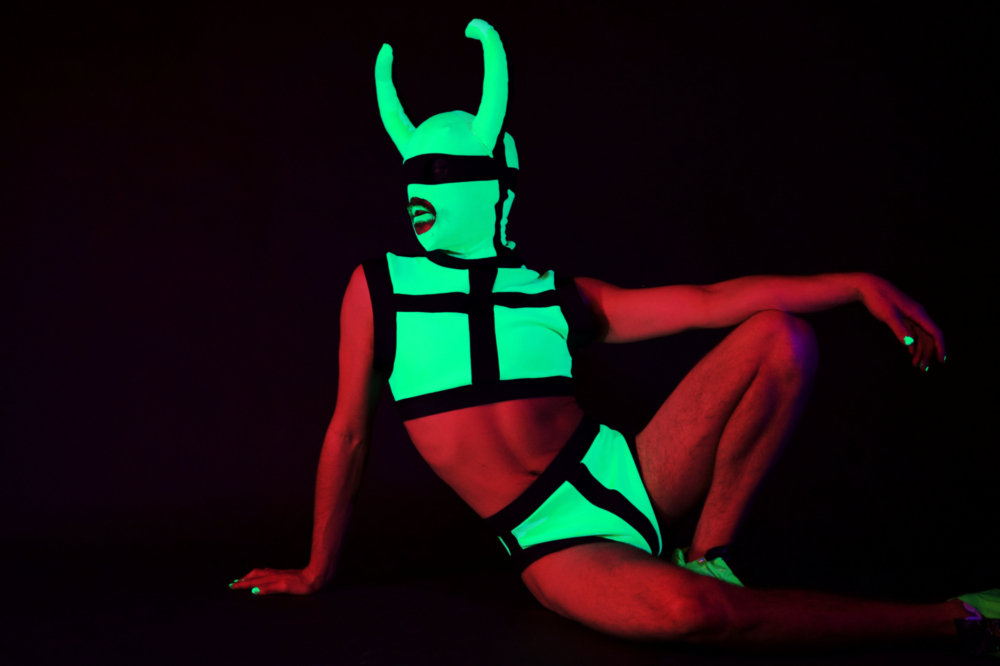 "I want everyone to get in on the party!"
Show Us Your Party Trick!
"I can do the worm, and I can make my pecs dance!"
It's these feelings in particular that are responsible for Lynks' breakout track 'Str8 Acting': an energetic and hilariously cutting remonstration of how being 'straight-passing' is fetishized in the gay male community, inspired by "scrolling through Grindr and seeing 'straight acting' and similar stuff on so many profiles," Elliot shares. "I remember just feeling really sad and alone, so I wrote that song thinking that it would be nice for people experiencing that to know that they aren't the only one."
It's partly this sense of what it feels like to be alienated by a scene that provoked the artist's recent name change, dropping Afrikka from his original deodorant-inspired moniker, following in the footsteps of The Blessed Madonna (formerly known as The Black Madonna). "The name originally came from a fancy dress party where I dressed up as a can of Lynx Africa, and then at first I was only performing in drag venues," he explains. "I think as a drag act it's standard to have a punny name and people expect it. But when I started moving out of the drag world and into music venues, a lot of people just didn't get the name and I got a few messages from people asking why I had Africa in my name considering I'm caucasian.
"My show and the entire point of it is to create a space where people can completely let go and get total catharsis, where even people who normally don't dance at gigs get to be the ones starting the mosh pit," he nods. "I don't want to be alienated or get a weird feeling when they see me and see my name. I want everyone to get in on the party!"