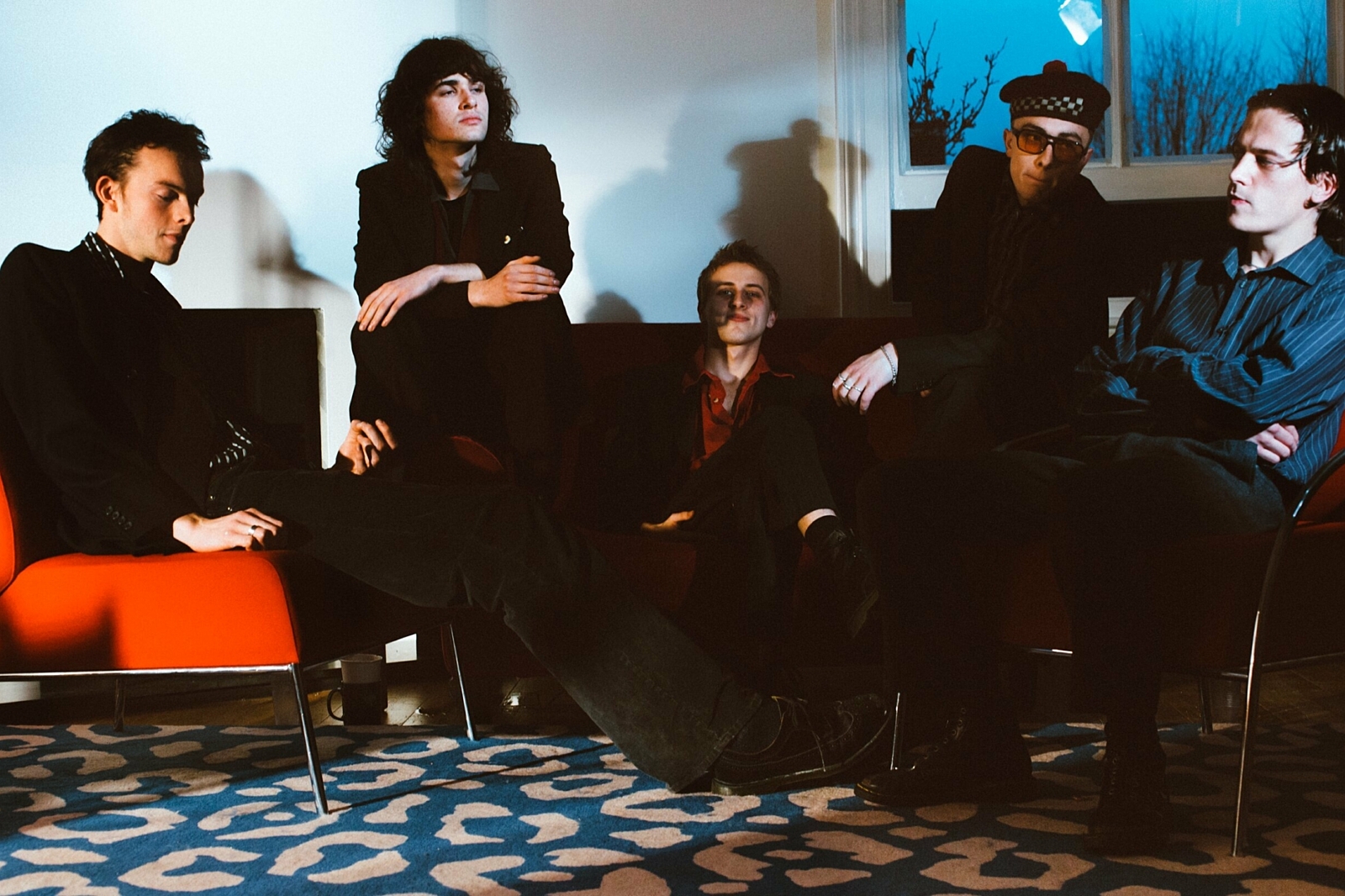 Photo: Alessandro Raimondo
Introducing
Get To Know… DEADLETTER
With new track 'Fall of the Big Screen' out now, meet the South London-via-Yorkshire post-punk outfit.
Hello and welcome to DIY's introducing feature, Get To Know… getting you a little bit closer to the buzziest new acts that have been catching our eye as of late, and working out what makes them tick.
Recently we've met Compton-born artist Channel Tres, vibey newbies NewDad, Dhaka-born Dameer, Oklahoma duo Sports, and now we're introducing you to South London-via-Yorkshire post-punk outfit DEADLETTER.
After making an impact with 2020 debut single 'Good Old Days' and follow up 'Fit For Work', they're now sharing sizzling new track 'Fall of the Big Screen'. As frontman Zac Lawrence notes, "As streaming services became household names, there was little doubt in anyone's minds that they were the future. Thousands of films, documentaries, and series alike, right there at the click of a button. No more will the cinema be regarded as the entertainment giant it once was. Just like its' musical cousin, the independent venues that hold big screens and popcorn machines are slowly but surely evaporating. Who needs to make the choice and effort of how and when to be entertained, when Mr Bezos and Mr Hastings have presented you with all you can ask for from the comfort of your own living room? We have swapped theatrical experience for ease of access.
"We are being sold free choice at the click of a button when in reality our options are shrinking as monopolistic corporations haunt every item of consumption, as we are algorithmically given a narrow margin of preference which blinds us to any true alternative. The Fall of the Big Screen is imminent, and this is our cry of understanding."
An exciting glimpse at what DEADLETTER have got in store for us this year, we sent them over some qs to get to know them a lil' better.
Describe your music to us in the form of a Tinder bio.
Dry, flammable songs, fairly woody, used for lighting fires.
What's your earliest musical memory?
Sitting in my high chair noshing marmite sandwiches screaming about toilet seats whilst my mother blasted 'Toiler On The Sea' by The Stranglers (How would a 2 year old know what a toiler was?)
Who were some artists that inspired you when you were just starting out (and why)?
I can remember becoming infatuated with John Cooper Clarke when I was about 15. I think his acerbic Northern delivery slotted perfectly alongside my angsty teenage brain. The same can be said for Mark E Smith. I'd put 'Twat' on in my room and write out the lyrics as JCC spoke them in the hope of being able to one day recite it at a dinner or a family gathering. Alas, I'm still to be presented with an opportunity to do so. Hopefully one of my nearest and dearest will have a child soon and I can ruin the christening.
You're from Yorkshire and are now based in South London! What do you think of the music scenes there at the moment?
I'm not going to lie and say I particularly know what's going on in Yorkshire at the moment. We fucking love Yard Act, so I suppose that's something to be said about the scene up there? In terms of South London, the "scene" is hanging on by a mere thread. There are seemingly endless new bands coming through, which is great, but there remain few venues in which the music can actually take place. The Windmill, which we refer to as "The Old Trusty" has just about managed to hold it together through the pandemic thanks to the fully deserved support of artists and fans alike all over the country. It wouldn't really be a viable option for it to close down. Without that place, there wouldn't be a "South London Scene." When it comes down to it though, I don't particularly think music scenes are a thing anymore. It's more so a collection of bands who happen to play at the same venue, but don't necessarily share too much characteristically, bar a frontperson with ego problems and a severe lack of funding.
Are there any other artists breaking through at the same time that you take inspiration from?
I've always been of the view that to go forwards, one must not look around, but behind. Take what you will from that.
Who would be your dream collaborator?
I think David Byrne would be incredible. I got his book "Arboretum" for Christmas, and my god is that man interesting. His formulae and theory could definitely help us to produce something magical. Alternatively, 4 minute instrumental with Shane Macgowan screeching every so often might produce a far more appropriate tune for our catalogue.
Musically or otherwise, what are you most looking forward to this year?
Without jinxing it, playing a gig to an audience of people who are not sat at tables? That's all one can really hope for at the moment. Visa free travel for British musicians in the EU would be wonderful too, but maybe I'm pushing it now.
If people could take away one thing from your music, what would it be?
Say what you see, don't be afraid to express a vehement opinion, and never let someone else's views make your own seem worthless.

Get your copy of the latest issue