Interview
Ground Control: Shame
When the perma-party around their breakthrough debut stopped, Shame had to look inwards and work out their next steps. In 'Drunk Tank Pink', however, they've turned them into massive strides forward.
"We've been blue-balled with Brixton Academy for a year now," guitarist Eddie Green huffs, as various groans of agreement come from his four bandmates, sprawling on sofas beside him on a wintery pre-Christmas afternoon. "We were meant to put out the record in September and then play [the venue] in November," informs vocalist Charlie Steen. "All of it would have already happened."
The reasons for the delay hardly need explaining, yet the fact remains that Shame - entirely ubiquitous around their 2018 rise and that year's debut 'Songs of Praise' - have been away for far longer than they ever intended. Having stomped their way around the globe, totting up more than 400 shows in support of the album and picking up end of year accolades and stacks of music press column inches as they went, the surprisingly slow return of 'Britain's most exciting new band' could have spelled trouble: the curse of the difficult follow-up rearing its head.
Yet, instead, 'Drunk Tank Pink' (finally released almost three years to the day after its predecessor) lands as a huge leap forward of a second album, full of playful Talking Heads-esque rhythms, personal examinations and an audibly strong relationship between its creators. Turns out they've been sitting on it since last spring all along, the cheeky little tinkers, and far from a testing period of creative uncertainty, they actually spent its recording in the French countryside, eating foie gras in the bath. "The recording was such a wonderful thing to do," recalls Eddie fondly. "It all started kicking off a bit with coronavirus and I remember Sean [Coyle-Smith, guitarist] being like, 'I think this could be quite bad?' And we were all like, 'Nahhhh, more wine?'"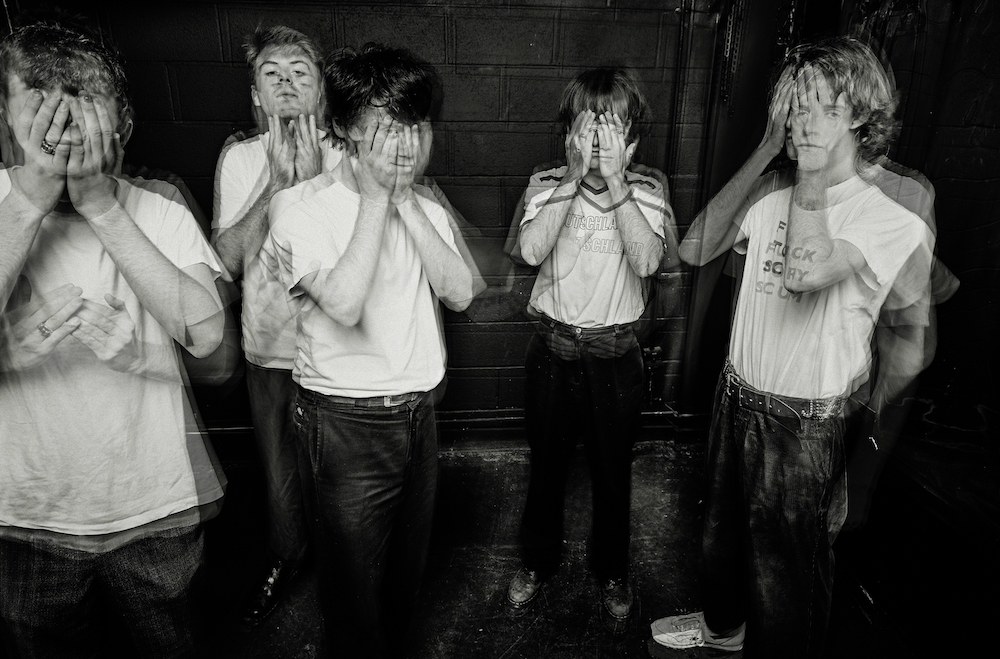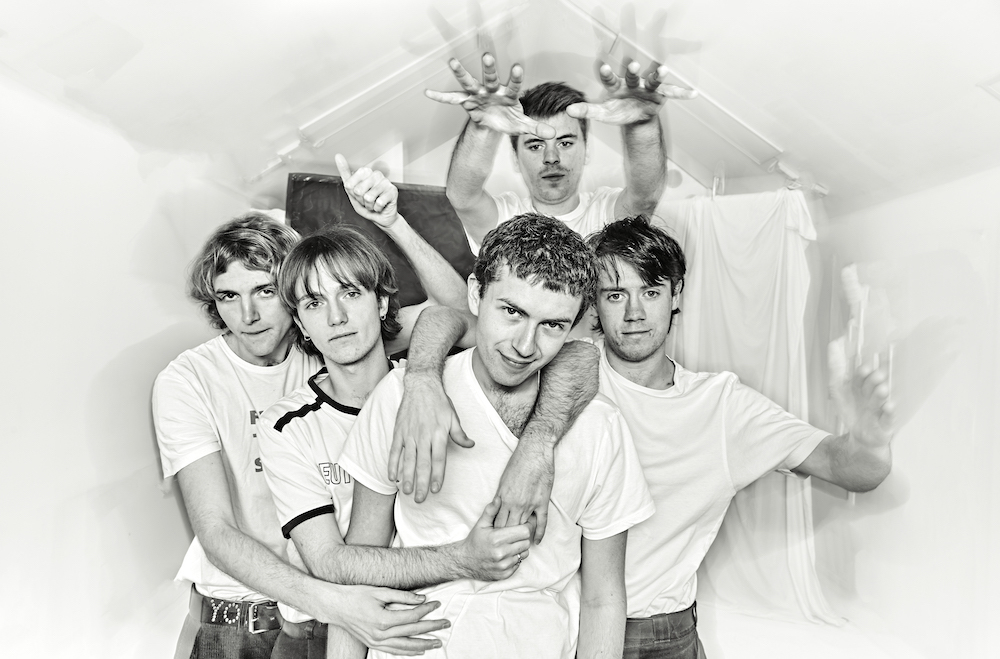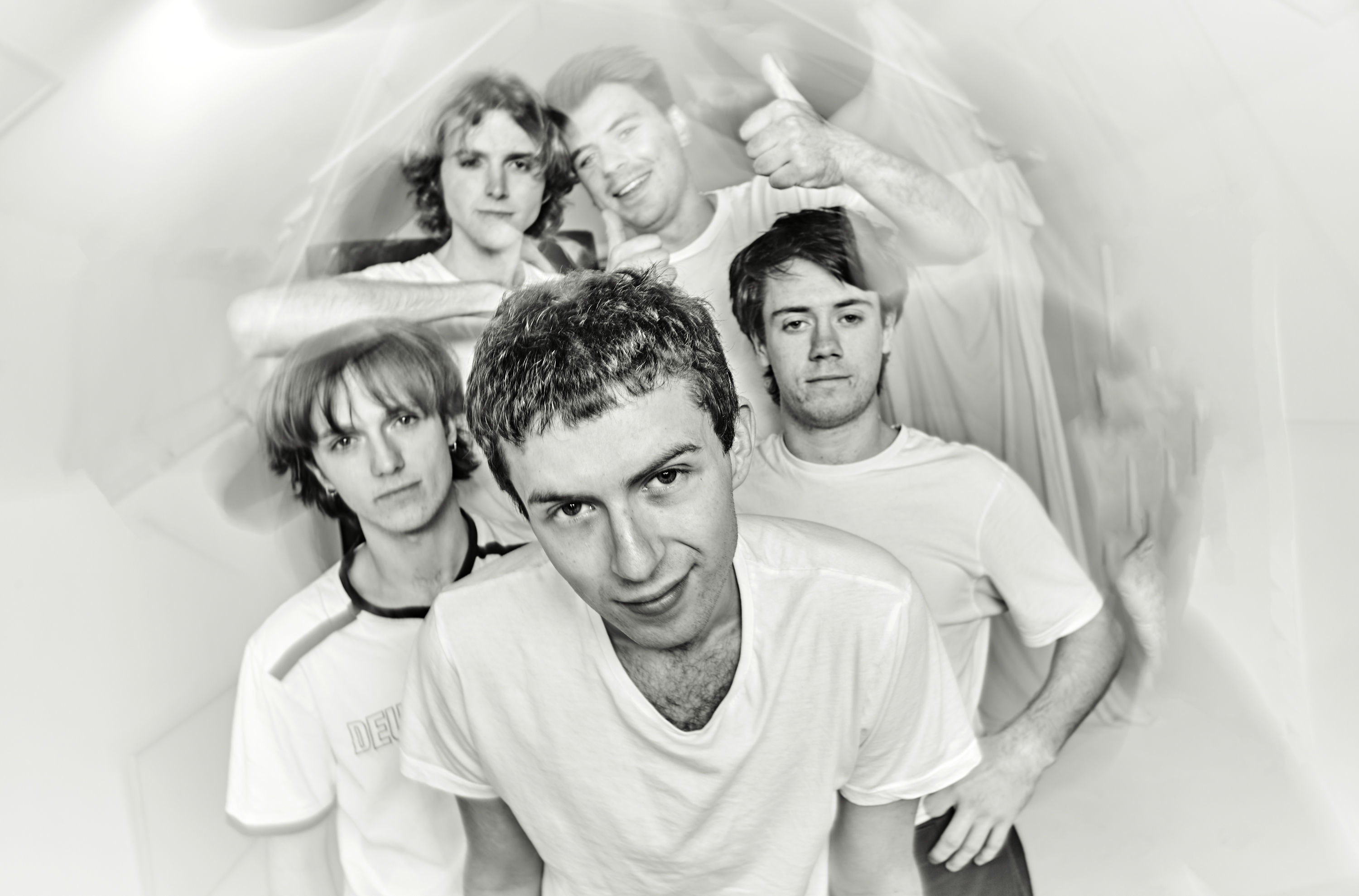 "When you're touring you have a constant cause for celebration, whereas back here you're not gonna get a coffee and then get a round of applause."
— Charlie Steen
Back in the halcyon days of early 2019, however, the quintet - completed by bassist Josh Finnerty and drummer Charlie Forbes - had decided on some more purposeful time off. Despite the band's communal tendency to downplay their successes ("Even though there were lots of big exciting things that happened, I still remember lots of tragic things happening - 'tragic' as in 'pathetically bad'," notes Eddie of their game-changing year), Shame had undeniably been on a whirlwind ride. And so, following their final 'Songs of Praise' show in Paris, they upped-sticks to various corners of the world for some down time. Or at least, down-ish…
"Sean and Steen went to Cuba and you fell asleep in a club," Eddie howls, pointing at the singer. "And they wouldn't let you in because they thought you were underage, so the guy they were with got up the Shame Wikipedia page to show the bouncer." "That was the night I saw the best tattoo," Charlie chips in with a trademark throaty cackle. "I was trying to have a conversation with this girl and she just turned her back to me and showed her neck which had the middle finger tattooed on it."
Yoga retreats and mindfulness meditation it may not have been, yet it was when the band then regrouped in South London that the crash back down to reality really began to occur. All barely 21 when they'd released their debut, the five old friends had spent their formative years in a bubble of hedonism and hours-long van drives; for the first time since those early days, they'd stopped. Now: the check back in to normality.
"When we were touring, everything was always new - new city, new person, new country - whereas when you're back here, things are familiar, and we grew up here too so that familiarity was a weird thing to adjust back into. It all seemed quite stale," Steen explains. "When you're touring you have a constant cause for celebration, whereas back here you're not gonna get a coffee and then get a round of applause; you have to just get on with your life like everybody else."
Did he miss the adrenaline of the applause? "I did hire someone to clap at me when we got back…" he jokes. "But I think the main thing is, on tour, you're able to distract yourself from a lot. All the normal things that happen in life regardless of what you do - break ups, general anxiety, highs and lows - are a bit muddled when you add them together with touring. You don't have to confront them, they can be delayed for long periods of time, so then you come back and realise you have a large chunk of your adolescence you've probably been ignoring for the past few hundred thousand miles." "And that's why everyone in a band is emotionally immature," Eddie concludes.
Writing in the specifically-hued, self-described "womb" of his bedroom that would go on to inform the record's title became a way for the singer to make sense of this new reality. "It was the only way I was gonna deal with that moment, through writing; it's cathartic," he explains. And from the seeds of 'Human, For A Minute' - the first track penned for the record, with its self-examining closing refrain ("I'm half the man I should be / Can't you see"), began to unfurl a record fuelled equally by the doubt and questioning of their present, and the sonic excitement and increasing musical skill they'd gained from their many adventures before. Or, as Charlie puts it, "The world ends tomorrow, you might as well use the synths! There was one comment on an Instagram photo we put up saying 'PLEASE dont use any synths', though…"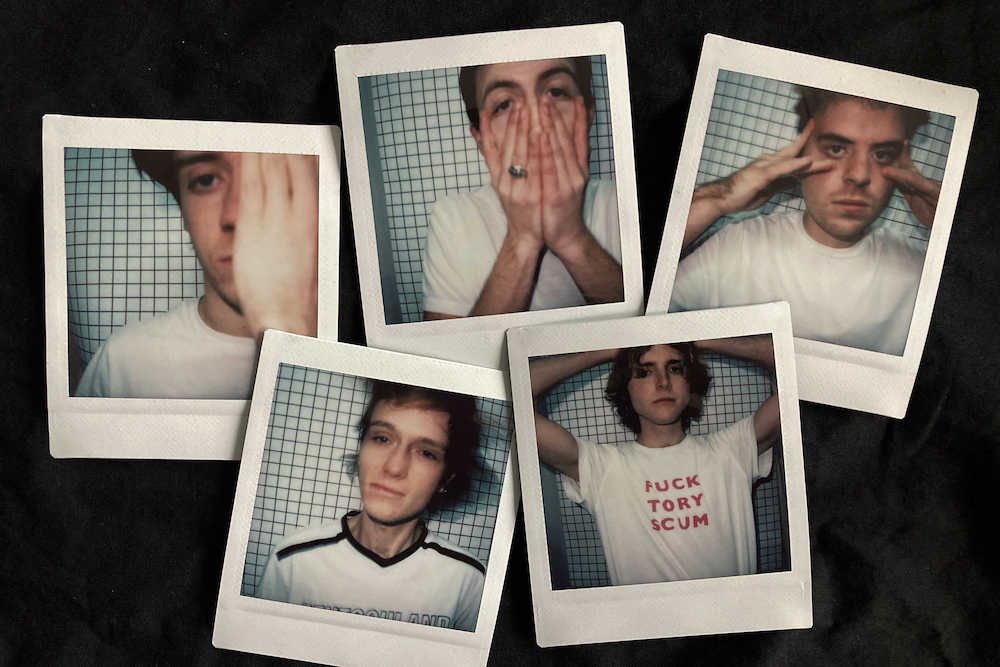 "Normally people don't want to talk about their feelings, let alone sing about them."
— Charlie Steen
Let's Get Lyrical
On 'Drunk Tank Pink', Charlie Steen's been using his pen to look inwards, but he's still got other ideas…
Eddie: There's still humour in the lyrics - maybe even more humour on this album in some parts.
Charlie: I think because of the period of time that both of the records have been written in, there are themes throughout them but it's more about a process and an adjustment. It'd be interesting to write an album in a month.
Eddie: Or just do a Joe Talbot and don't write any lyrics until you go to the booth.
Charlie: That's how people like Migos do it cos they have so many songs so they're not gonna spend hours working on each one. More streams, more dreams.
Eddie: Stop trying to coin terms!
Today, as ever with the quintet, Shame interact in the way that only a bunch of still-young men who've known each other since they were pre-pubescent can. Perpetually ripping the piss, they all agree that any potential for ego would swiftly be batted down by the rest. "We don't take each other seriously enough," Eddie shrugs. "If one person was to start throwing their weight around a bit we'd just laugh."
It's a dynamic that's clearly ideal for touring (the capacity to have a good night out is clearly a talent that none of the five are lacking), but perhaps less suited to being vulnerable in the writing room. "I think it's a different challenge, knowing you're gonna have to sing these songs live and they're very revealing," Steen begins of the more personal nature of 'Drunk Tank Pink''s lyrical arsenal. "It's a different thing, because you're exposing yourself to strangers…" "Don't expose yourself to strangers, mate!" the others all variously chime in on cue.
Opening up, then, has evidently been a test - as much, if not more, between the members of the band as to the wider world. "The first people who hear it are your bandmates, who know the context of you and every experience you've had," the singer nods, "so it's a lot more revealing. Normally people don't want to talk about their feelings, let alone sing about them in a fucking room. Without a doubt, for me [showing the band the lyrics] is the most intimidating thing - and any lyricist I know says the same thing."
Yet, within the album's tales of restlessness ("In my room / In my womb / Is the only place I find peace," goes 'March Day') and separation ("They say don't live in the past / And I don't / I live deep within myself / Just like everyone else", 'Snow Day'), are phrases that manage to cut quickly to the core. And it's not only the singer whose shaken off any fears of pushing out of his comfort zone; across the record, guitar lines ping and dance around each other, while the rhythm section teeters on the line between tight and loose, allowing for a spectrum of different shades to emerge from the more linear foundations of their debut.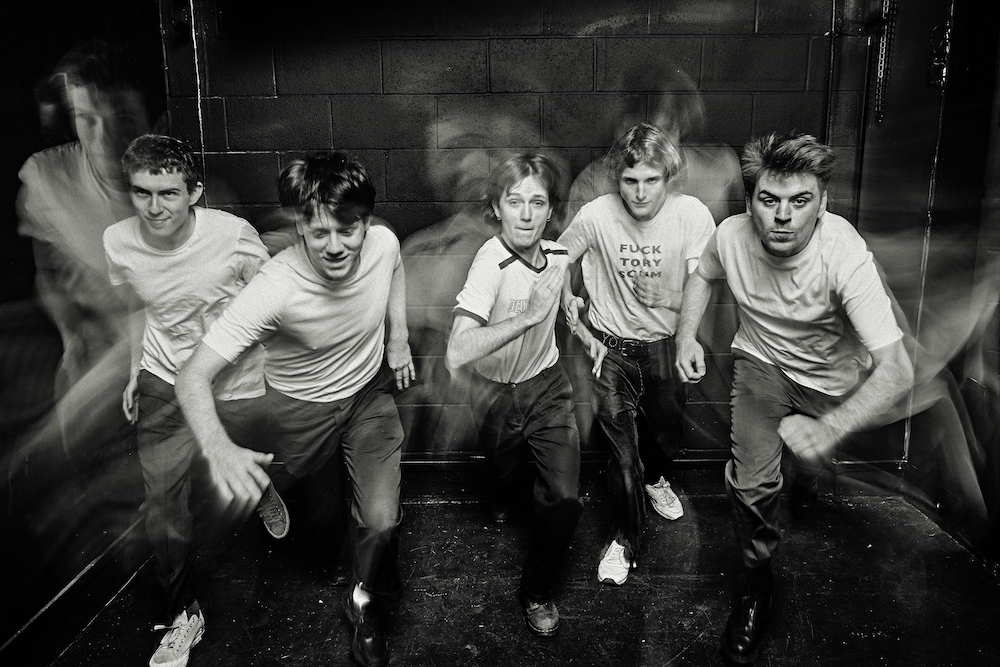 "I think when we did 'Songs of Praise' we were trying to push the boat out, but we just got better at being able to do it."
— Josh Finnerty
"We were trying to be ambitious with it, but there's always a bit of uncertainty because there's a pretty broad preconception of what we sound like. In most people's minds we still sound like 'Songs of Praise', but the good thing about the way people consume music these days is that people are a lot less territorial about what they listen to," Eddie posits. "So I think a band being more experimental or pushing the boat out a bit is nowhere near as much of a risk now as it would have been 20 or 30 years ago when you had armies of kids that only listened to one thing. So that gave us more flexibility to be carefree." "Maybe we just got better?" Josh shrugs. "I think when we did 'Songs of Praise' we were trying to push the boat out, but we just got better at being able to do it. I think we thought 'Songs of Praise' was groundbreaking at the time."
And if there's a clearer visual that the passing of time has level-upped Shame from all directions, it's their aforementioned French sojourn. Decamping to La Frette studios at the very beginning of 2020 to work with super producer James Ford (Arctic Monkeys, Foals, Florence + the Machine), they spin tales of being greeted by personal chefs and slipping off for away days against the backdrop of Paris Fashion Week. Toto, we're not in Brixton anymore.
It all paints a picture of an album born, gestated and birthed in a wholly different way to their visceral, purposefully rough-around-the-edges debut. Written as more of a unit than ever before, with the benefit of hundreds upon hundreds of shows under their belt to keep them razor sharp, 'Drunk Tank Pink' conversely arrives as a studio album - one that's only ever had half its wares played live ("That feels mental," says Eddie, with a disbelieving shake of the head. "That spins me out"), and whose whip-smart tracks have been polished into shape by the best of the best.
To those who'd written Shame off as a one-trick hype band, their second is the equivalent of that dodgy Cuban tattoo, shoving a firm middle finger up to anyone that gets in its way. "It's weird to think all last year, people still thought we sounded like 'Songs of Praise'," Eddie muses, now the quintet are finally able to lift the curtain on phase two. "But the songs feel fresh again now they're released; when people start engaging with them, they feel new again. I'll die on this album's hill!"
'Drunk Tank Pink' is out now via Dead Oceans.