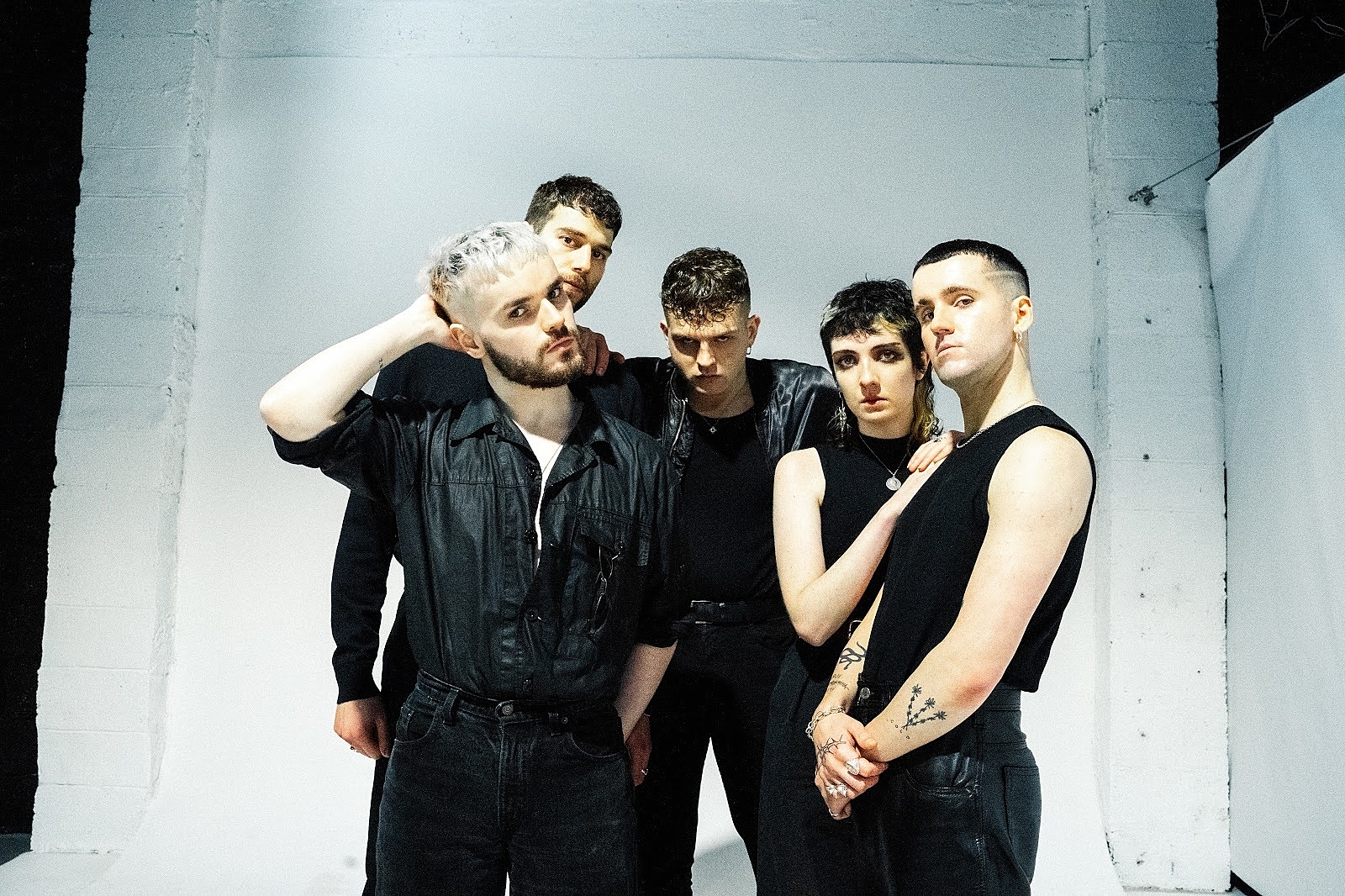 Photo: Rory Barnes
Introducing
Get To Know… VLURE
With their attention-grabbing debut single now out in the world, meet Glasgow's buzziest newbies.
Hello and welcome to DIY's introducing feature, Get To Know… getting you a little bit closer to the buzziest new acts that have been catching our eye as of late, and working out what makes them tick.
Recently we've met London collective Folly Group, Parisian artist Crystal Murray, Oracle Sisters, Welsh soul singer Nia Wyn, and now we're introducing you to buzzy Glasgow newbies VLURE.
Instantly grabbing attention with their debut single 'Shattered Faith', the group say of the track, "We wanted to create something that felt at home on the dancefloors that we all found ourselves on growing up, yet still equally at home in the sweat-filled venues that the band was conceived in. At it's crux, 'Shattered Faith' is about self-empowerment. It's the disillusionment with where you are and what you've been given. It's lying on your kitchen floor at 3am realising who you truly are and finding power in that - it's a new lease of life. We believe that, if you want to find it, there is something for everyone in this song."
We sent them over some qs to get to know them a lil' better.
Describe your music to us in the form of a Tinder bio.
Here for a good time, and for a long time.
What's your earliest musical memory?
Hamish: My parents seeing how loud they would have to play the hifi for the speakers to vibrate off the shelves. They chose The Verve – 'Bittersweet Symphony'. Eventually they did fall off, though my mum and dad didn't realise there was a wire between the two speakers that ran along the CD shelf. So off came all of the CDs at the same time, the next morning was spent finding the right cases.
Conor: I used to bounce about in my mothers stomach to 'Open Up' by Leftfield (feat. John Lydon). Unsure if that qualifies as a memory but I do remember my parents playing it constantly in the garden growing up. That probably explains my need to have a four to the floor grounding absolutely everything I make.
Alex: One of the earliest memories I have is my Dad collecting me from school every day, with Classic FM blaring out his car windows. He did this purely to embarrass me in front of my friends, but you can now catch me driving down the motorway listening to Chopin myself.
Carlo: I remember being about six years old and my Dad brought me along to his studio in The Hague to teach me how to play the drums to 'In The Air Tonight' by Phil Collins.
Niall: My earliest memory is probably being a toddler and hanging around my mum's work whilst she finished paperwork. She used to stick on 'Play' by Moby on repeat.
Who were some artists that inspired you when you were just starting out (and why)?
Conor: The intent to bend genres is something we consciously approached this band with. We were definitely actively planning to burst the bubble of classic 'post punk' traditions. We spent a lot of time collectively listening to acts who toe the line between genres when we first started (Massive Attack, Nine Inch Nails, The Prodigy, Grimes etc). Part of that comes from the hive mind of the band too - all five of us have completely different reference points, from punk to techno to grime & pop. We are excited to chip away at the foundations more. Big chorus' and hooks are of course instrumental to that - we want people to dance.
Hamish: A couple of big influences for me personally would be Dale Barclay of The Amazing Snakeheads & James Allan of Glasvegas. The way that both of these vocalists allowed their Glaswegian accent to be a focal point of the music gave me the confidence to not hide mine when creating. For me, they made being from Glasgow cool.
Alex: One of my biggest inspirations has been St. Vincent. The way she experiments with sounds and genre is incredibly intelligent. I also love the fact that she launched her own range of guitars that are designed to fit a body with breasts.
You're from Glasgow! What do you think of the music scene there at the moment?
Hamish: Glasgow's a bit surreal when it comes to it's music scene. With the city being pretty small geographically, there's just so much going on. It's a very densely populated creative scene. There aren't always specific clubs or spaces where different scenes and genres go specifically. Everywhere is for everyone up here, it creates a proper melting pot feel.
Conor: There are so many inspiring artists we are friends with doing completely different things. From The Ninth Wave to The Joy Hotel & Pelican Tusk, along with all those we know who are great DJs and producers. It keeps you constantly inspired and hungry to add to the great historical lineage of this city.
Are there any other artists breaking through at the same time that you take inspiration from?
Collectively we all love Shortparis, VTSS, Scalping, Blackhaine, Document, Schwefelgelb & LVRA. There is a collective called 'Up 2 Standard' who occupy the studio space next to us in Glasgow, watching all the work they do with Scottish rap and grime spurs us on constantly. Although the art we make is very different, the energy feels the same.
Who would be your dream collaborator?
Any of the following: Mike Skinner, FKA Twigs, Billy Bragg. Although if Lil Nas X ever wants to make a big industrial banger, you know where we are.
Musically or otherwise, what are you most looking forward to this year?
Looking into the whites of peoples eyes at shows again, meeting new people in every city we play. Staying up until sunrise with our wonderful friends to talk about music, art and life.
If people could take away one thing from your music, what would it be?
Hopefully a feeling of release, letting it all out and embracing being alive again. At its core, this band is really just a vessel for outbursts of raw emotion. We hope everyone, no matter who they are, can connect with something in what we're doing. There's no pretence here - these songs are for everyone.

Get your copy of the latest issue