Interview
Girl Meets World: girl in red
With the release of long-awaited debut 'if i could make it go quiet', the cult of girl in red is showing no sign of waning. Don't believe us? Just ask her fans.
There's a squealing coming from the other end of the Zoom. A high-pitched "Eeeeeeeeee!" sound only reserved for spotting insects, rodents or a pop star you really, really like.
"Hi guys! What's up?!" says Marie Ulven, bounding onto the screen with a chaotic energy none of us are quite ready for. The two other guests on the call - Rae and Merissa, both 15 - shake their heads in disbelief. It's girl in red. And they are girl in red superfans.
Here at DIY we like to do nice things for people, and for Merissa and Rae, this is about as nice as it gets. They've been granted an audience with their idol – the 22-year-old Norwegian pop star who, since 2016, has built a fiercely loyal fanbase by making hooky indie-pop songs that tackle mental health, queer love and growing up, with a candour that speaks to Gen Z music fans worldwide. So much so, in fact, that "Do you listen to girl in red?" has become TikTok code for asking if a person is queer.
Rae and Merissa are in North Carolina and Boston, USA - a long way from Horten, the Norwegian town where Marie grew up. But stand outside a girl in red show anywhere in the world and you'll find hordes of young girls, queuing all day for a glimpse of their hero - and a good spot at the barrier.
"How are you both doing? This is so cool we're doing this!" Marie says, cutting through their now startled silence. The two excited young Americans are here to ask Marie some questions - and also tell her how much she means to them. For Rae, girl in red helped her come out to her parents, a story this most unlikely of protagonists hears often. The three chat excitedly about life and the anticipation of going to their first Pride. Then it's time for mean old DIY to boot them off the call and bother Marie with some questions of our own.
girl in red's debut album 'if i could make it go quiet' is officially out now, and to say fans are a little bit excited to hear it would be quite the understatement.
"I wanted it to feel as authentic as possible to me," Marie says of the LP. "I just wanted to have really great songs on my debut record, but also for each song to carry itself in a very strong way. There's no song that I'm like, 'Yeah, this is definitely like the middle of an album', you know what I mean?"

"My fans are kind of like the heartbeat. I'm the brain and they're the heart."
We do. The album is one of the strongest debuts we've heard in some time, for that exact reason. Each track has purpose; from fast-talking FINNEAS-produced opener 'Serotonin', to the darker, fuzzier aesthetic of 'Apartment 402', girl in red takes us on a journey through her psyche, proving her knack for writing an indie floorfiller and her ability to swerve between moods, never sugar-coating how she's feeling - everything laid out in raw detail.
It's this openness, perhaps, that's resonating on such a mass scale. But girl in red's debut album has been five years in the making.
Debut single, 2016's 'I Wanna Be Your Girlfriend', was a near-perfect indie pop song about loving your best friend. Picked up from SoundCloud by Norwegian radio, her frankness resonated with a generation of young, queer women who hadn't heard such honesty from someone their own age.
From there came more anthems - most notably 'Dead Girl In A Pool' and 2018's 'Girls'. At a rowdy girl in red live show, a particularly rousing moment comes when it's time to play the latter as venues packed with young women erupt into the chorus: "They're so pretty, it hurts / I'm not talking 'bout boys, I'm talking 'bout girls". It's a line still bouncing around TikTok three years later. What does that level of connection mean to Marie?
"What I realised is that my fans are kind of like the heartbeat," Marie says of their relationship. "Like, I'm the brain and they're the heart. I genuinely don't feel like this is real when I don't get to play shows, and I don't get to connect in that real way. Like, if there's no heartbeat, you're pretty much dead even though your brain can be functioning still." We're not sure if that science exactly stacks up however either way, it's clearly a symbiotic relationship.
But as so many artists have found over the years, when you give too much of yourself away to your fans or the media, it can feel draining. "I've been able to differentiate," she says, fortunately. "It's a lot harder for me to be honest with someone in real life than it is to be fully honest in the song. The song is an art form. I feel like I could be even more honest sometimes, so I don't feel like I'm being too honest in a way that's going to harm me. Hopefully, that's good. We'll see."
Previously producing her tracks as well as writing them, for this album Marie has brought in some external help, while still managing to mastermind everything. "I didn't hand over any control because we were very much like, 'Marie's a producer. And Marie is a songwriter. And Marie does not want anyone to write any lyrics. She wants to do everything'," she explains.
"Even in the studio with Mattias [Tellez], who I made the record with, I'm like, I want to suffer for four hours trying to get this shitty ass lyric done. I'm very stubborn." She corrects herself. "No, I'm not even stubborn. Women automatically think they're stubborn just because they're saying no. But no! They're not stubborn. I just know what I want."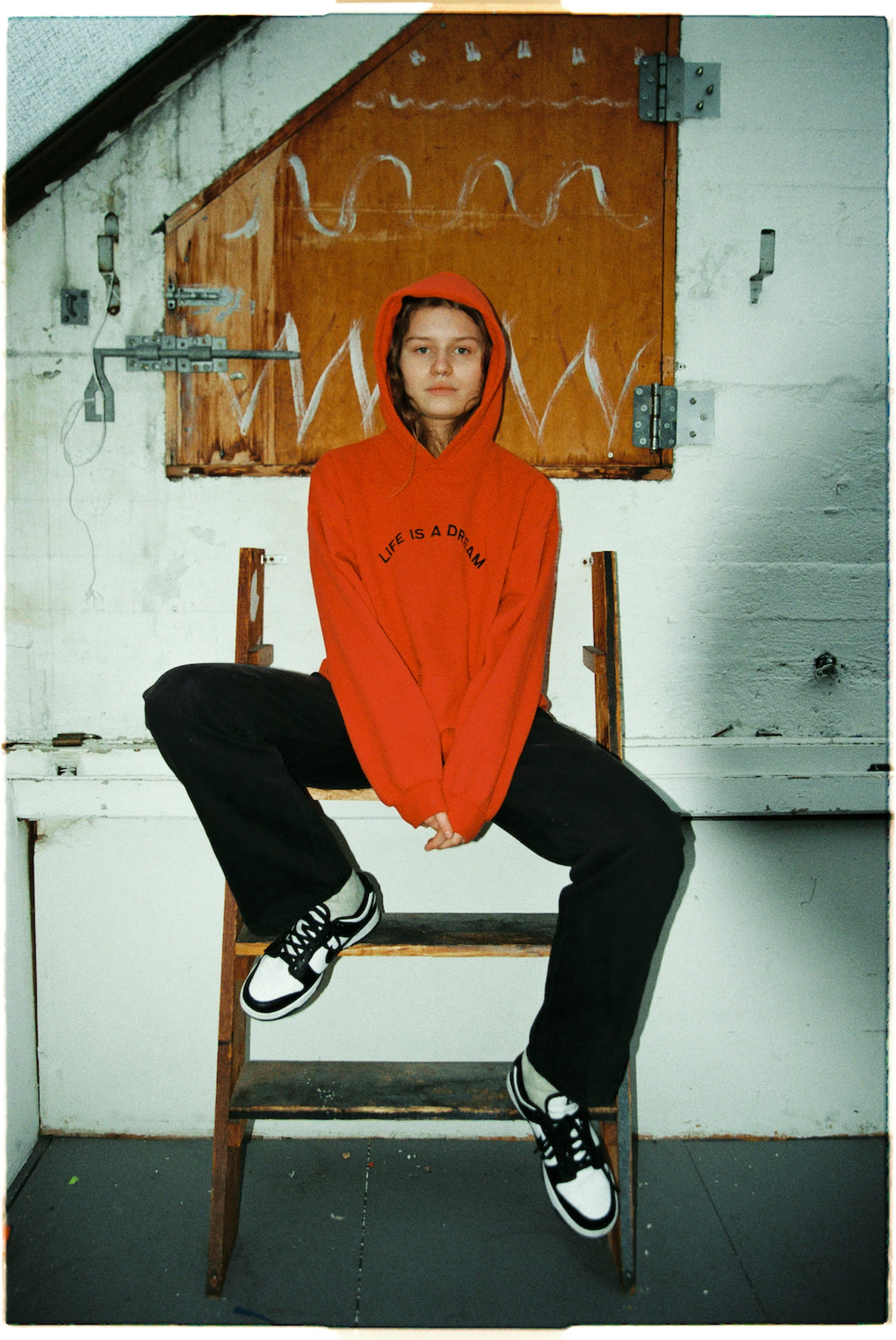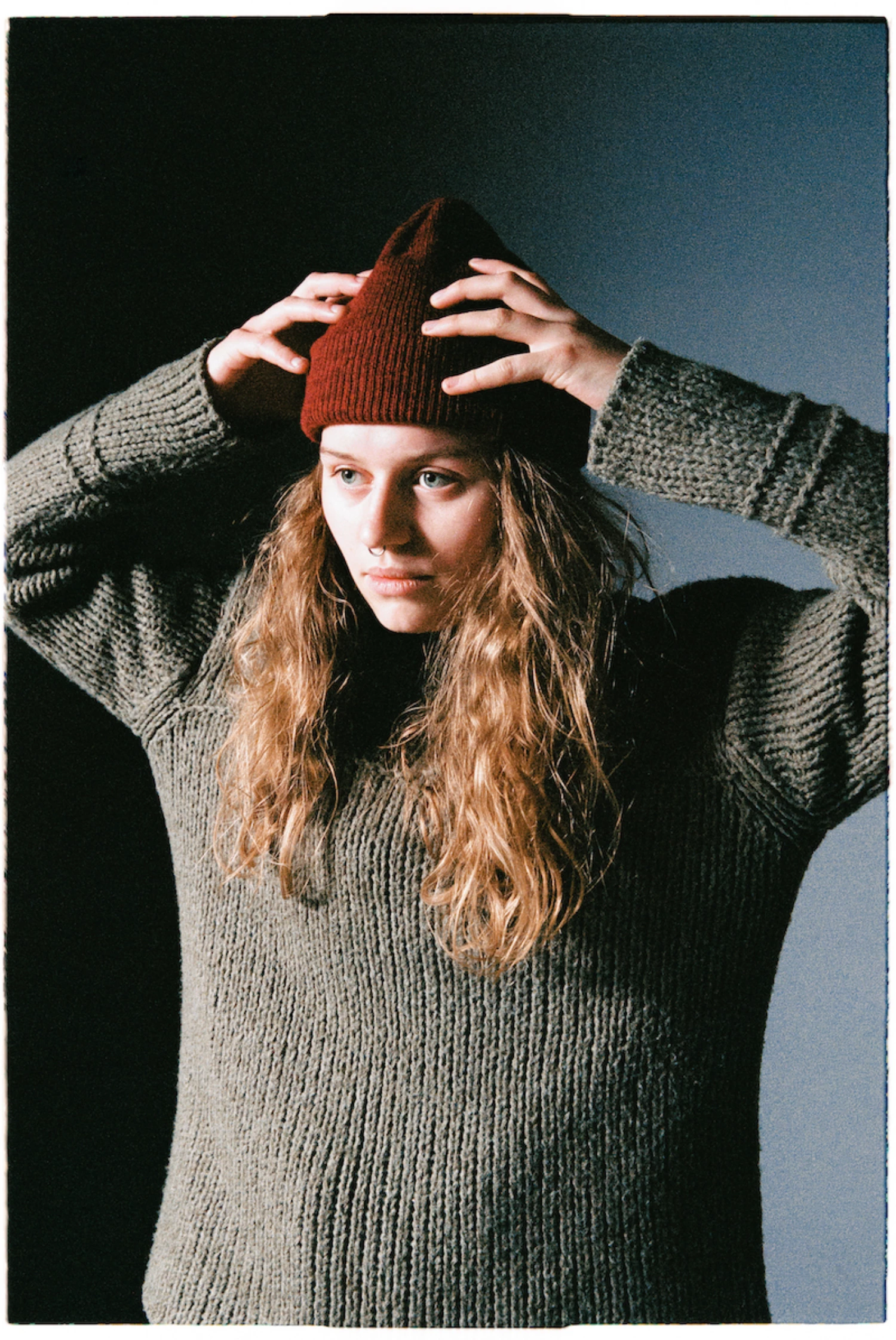 "We're so fragile, so I want to do everything I can to be as happy as I can for the rest of my life."
It's a hard time to be a young person right now and that's reflected in the amount of emerging artists speaking candidly about their mental health. For Marie, it's not been a linear journey, as her often jubilant, sometimes sombre music highlights; as such 'if i could make it go quiet' contains a wealth of frank discussions about intrusive thoughts, trauma and heartbreak. Previously having told an interviewer that "the older I get, the sadder I get", how is she feeling now?
"Um, I would say that's not the case anymore," she says thankfully. "I think I was in a really bad place at that time. When you get older, it's easy to get more sad, because you realise - at least if you're like me - you sort of realise how pointless this shit really is and how small you are, and that there are many things that make the world a very horrible place. You can get very trapped into thinking about those things. But honestly, two years later, at the age of 22, I absolutely love life, every single day. I'm so happy I woke up today. I'm like, telling everyone around me that I love to be alive! We're so fragile. So like, I want to do everything I can to be as happy as I can for the rest of my life."
With health and happiness front of mind, taking care of herself is a priority for Marie when she finally hits the road again on the make it go quiet European tour, scheduled for Spring 2022. "My manager is great and has seen me in so many different mental and physical states and knows that it can get really bad. I have amazing teammates," she nods, but notes that that's not the case for everyone. "I was watching the Avicii documentary and he was like, 'I can't play, I can't play, I have such bad anxiety' and he'd just had surgery on his appendix or some shit. And they said, 'You have to play', and now obviously he's not here anymore which is just really, really sad."
But despite the sometimes gruelling nature of tour life, Marie's excitement is palpable when she talks about hitting the road again and getting back into the loving arms of her fans: the Raes and Merissas of the world.
"I need to meet my fans. Like, they are essential for me to actually be able to do this. At one point, I didn't realise that; I thought I just wanted to make music. In 2019, because I was just so exhausted, I felt like, who am I doing this for right now? I was sort of on the edge of burning out because it had just been a very, very heavy year. But now I'm so happy that I've sort of realised that I actually NEED to go on tour. If not, this isn't worth it."
'if i could make it go quiet' is out now via AWAL.