Interview
Paris Texas: "All the songs we do are accidents!"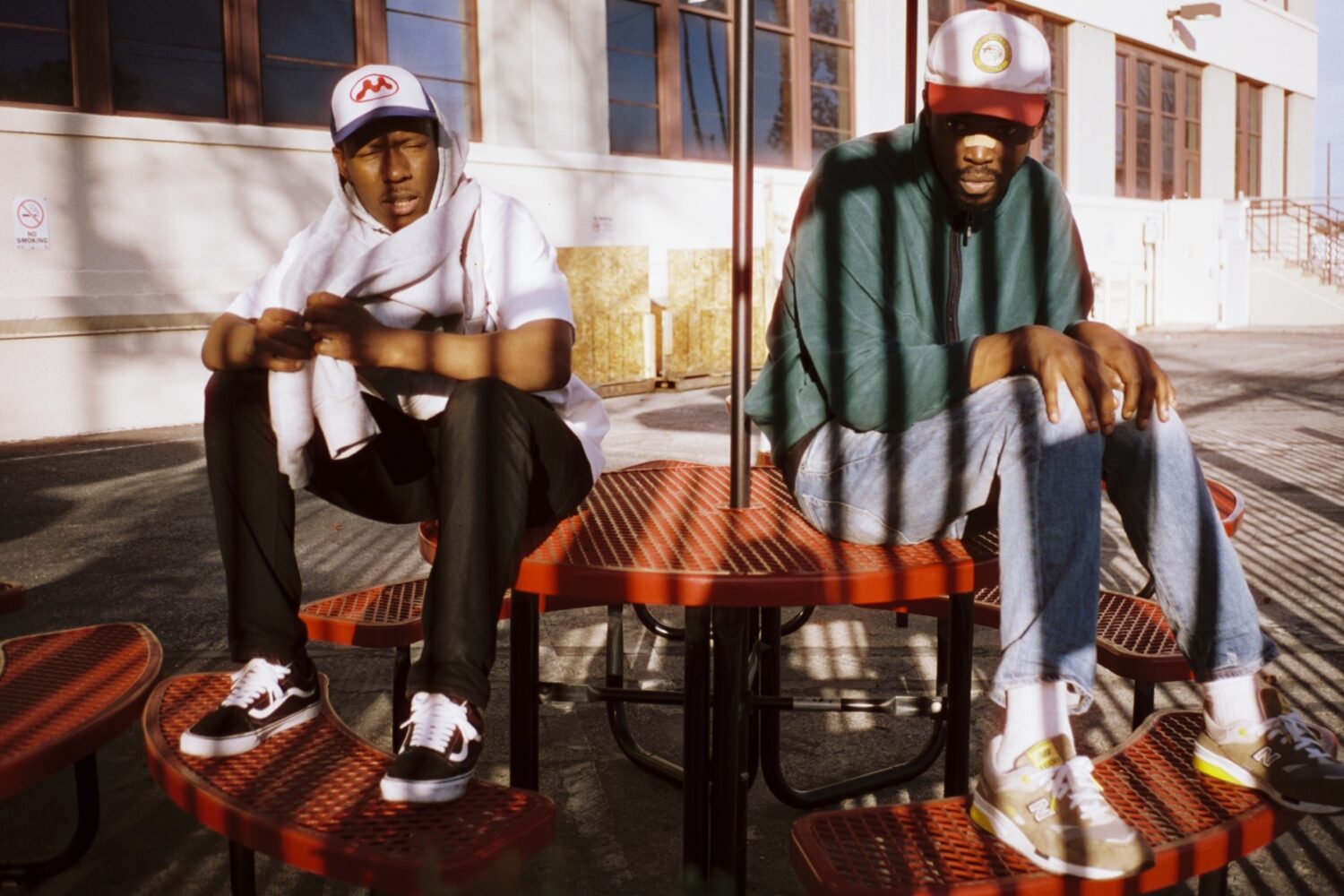 The LA rap duo blasting apart tradition with every new drop.
Back in February, music Twitter was set alight with the sudden drop of a song called 'HEAVY METAL'. Blending thrashing guitars with slick rap beats, and sizzling with a rare kind of electricity, praise came flooding in from all angles for the unknown group behind the attention-grabbing debut.
Who were the masterminds behind it all? Enter Paris Texas - aka childhood pals Louie Pastel and Felix.
"We met at school and he rapped and I was learning how to rap, and he was way better than me so I thought, let's practise together," Louie smiles of their beginnings. "I think it was like, the second beat he ever showed me [when I thought], 'Oh yeah, this is gonna be crazy'," Felix adds, sitting next to his bandmate on their sofa in LA.
Clearly locking into the right premonition, the pair began crafting bangers together and playing live for their local community. As soon as the feedback from their live shows started rolling in, Louie and Felix knew they were onto something. "We kind of knew we were doing something special," Felix affirms, "but obviously when people are gravitating towards your sound really early on, it's very interesting."
"When people are gravitating towards your sound really early on, it's very interesting."
— Felix
Now with three songs officially out in the world - 'HEAVY METAL' is joined by the creeping synth world of 'SITUATIONS' and lo-fi leaning 'FORCE OF HABIT' - each release has seen the experimental duo hailed for their refreshing style and knack for playing with genres. So has their aim always been to shake shit up with every offering?
"I think a lot of the time it comes off that way - but in the process? No, never," Louie laughs. "It's funny, I attribute this to not being a very good producer. I'm always trying to do something I'm inspired by - I won't snitch on myself and say who - but it's not what I imagined it would be, it just came out cool. All the songs we do are accidents! We try to do something completely different and then it's like, 'Oh, this is cool too. This is also pretty fire, fuck it!'"
"There's intention, but not all the time like, 'This is going to be that one song!'" adds Felix. "When I first realised we had something special, I'd just written a verse and I was listening to the beat he made and I was like, 'Yeah, this is crazy. No one's doing it like this'. But it's never really going into it like, 'This will be the next best thing'."
"It's never premeditative," Louie nods. "Did I say that word right?! Anyway I think that's why, when people were giving a lot of attention to 'HEAVY METAL', it's like, this is all kind of accidental. Hope you don't expect it again!"
Luckily, the beauty of Paris Texas lies in their ability to deliver the unexpected - accidentally or not - and forthcoming debut project 'BOY ANONYMOUS' is similarly full of sonic twists and turns. Comprised of eight captivating, shapeshifting tracks, both Louie and Felix brush off questions of pre-drop nerves with the kind of confidence you can only really rock when you know you're creating something unique.
"The only thing I'm curious about is if people are gonna be very honest when they hear it," Louie says. "I think when people have a lot of attention and hype around them, sometimes it can blind them. People are like, 'I fuck with this thing, so it must be tight. It's different so it must be tight'. I really do love the project and I already know what it can do, but I'm curious if it's gonna hit anybody in a good way, if it's gonna be memorable."
"You want it to get the hype it deserves," Felix adds. "You don't want it to be over-hyped and then people are just sheep. You want a genuine reaction. But this is the first one! We're talking about it as if it's our magnum opus but it's one tape. We haven't even really grabbed anything by the balls yet!"
Overall, the pair want 'BOY ANONYMOUS' to act as an introduction to the world of Paris Texas and an invitation to jump on and enjoy the ride. "I want people to go into this knowing that we went into it not knowing who we were, being young and not being certain about anything," Louie notes, "and listening to it with that same energy of not really knowing and embracing it. Not really putting a pin on it, like 'This is so and so', or 'This is rap-rock': don't do that. 'This is the new fucking yada yada': don't do that. Go into it like, I don't know what this is, they're having fun with all these different sounds, they're finding themselves. Hopefully all our fans can find themselves with us. Hopefully we can all go on this journey together."