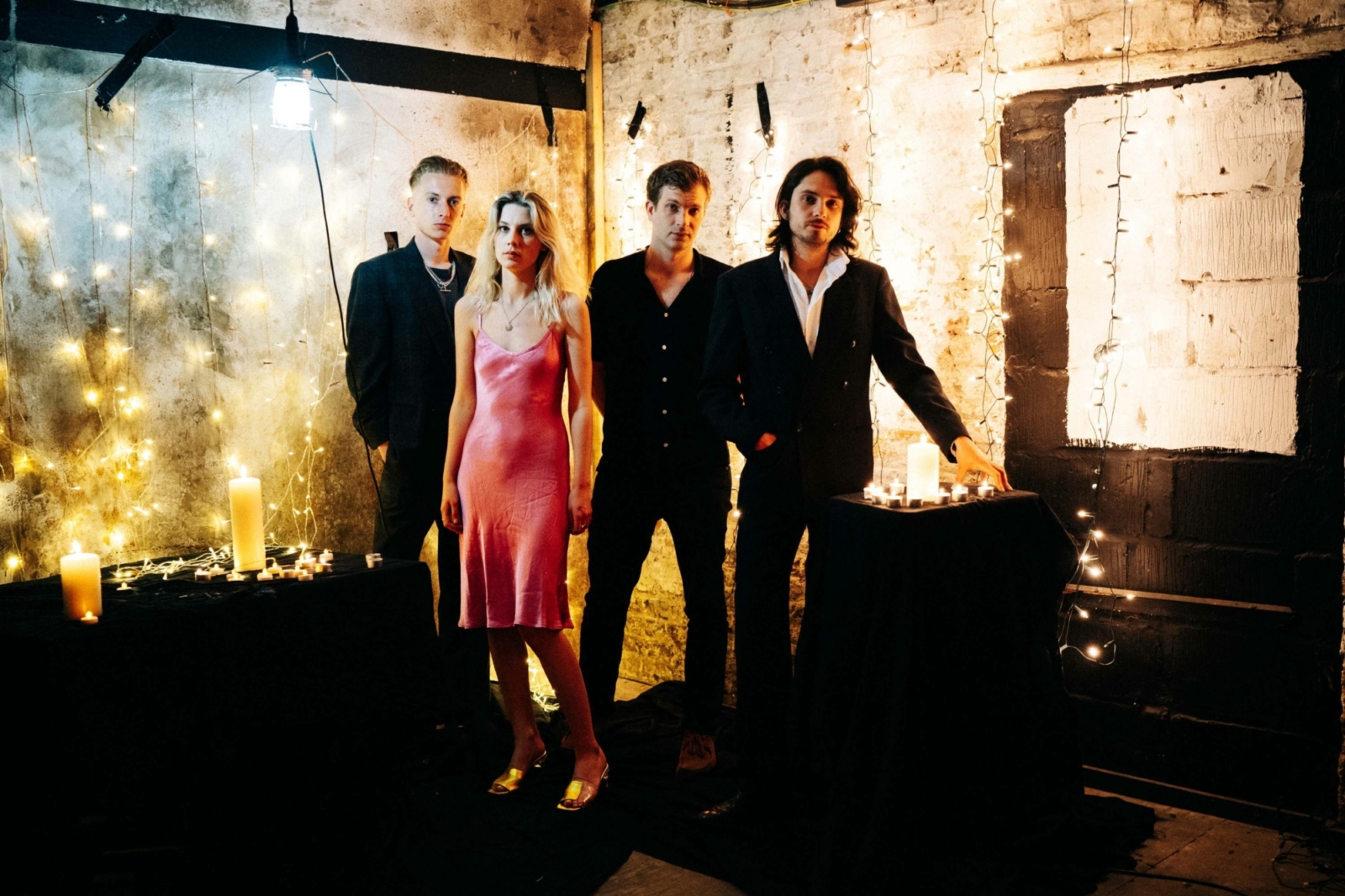 Wolf Alice: Full Throttle
With 'Blue Weekend', Wolf Alice are proving that the best bands don't always have to shout the loudest. Their finest work yet, DIY dives deep into the joy of getting comfortable with your own voice…
"We don't go for subtle identification; it's either gold all over your face or blue all over your head," laughs Theo Ellis, running a hand over his new Slush Puppy-hued scalp. Every Wolf Alice album deserves a physical embodiment, and their bassist has taken the new album title 'Blue Weekend' quite literally, manifesting the emotions of the record with an icy dye-job.
"As long as the glitter doesn't come back, I'm happy," says guitarist Joff Oddie. "You find it everywhere; you haven't played a show in months and it's still everywhere. Just see a little glimmer on your arm like fuck, it's back."
"I might bring it back," quips Theo, swigging from a can. "Just to piss people off."
Having become one of the most beloved guitar bands in the country, it's difficult to imagine Wolf Alice inciting anything other than love. Over ten years as a band, Theo, Joff, singer Ellie Rowsell and drummer Joel Amey have proven themselves to be a certifiable force of nature, nabbing a Mercury Prize and drawing in an ever-swelling legion of glitter-daubed fans with their sincere, versatile take on indie rock'n'roll. A different band might have let it go to their heads, but they're still as humble-shy as ever, gathering on Zoom with all the 'we'll tell you later' in-jokes and 'no, you first' nods that come from easing yourself back into a jam-packed promotional cycle.
"We'd been working solidly for a period of five or six years non-stop," says Joff, recalling the headspace of late 2018. "In fact, there wasn't a gap at all - we finished touring 'My Love Is Cool', had three months working in a rehearsal space, went to record 'Visions Of A Life' and then went right back on the road. By the time the Brixton shows came around, I think we were just knackered, just done. Needed a snooze!"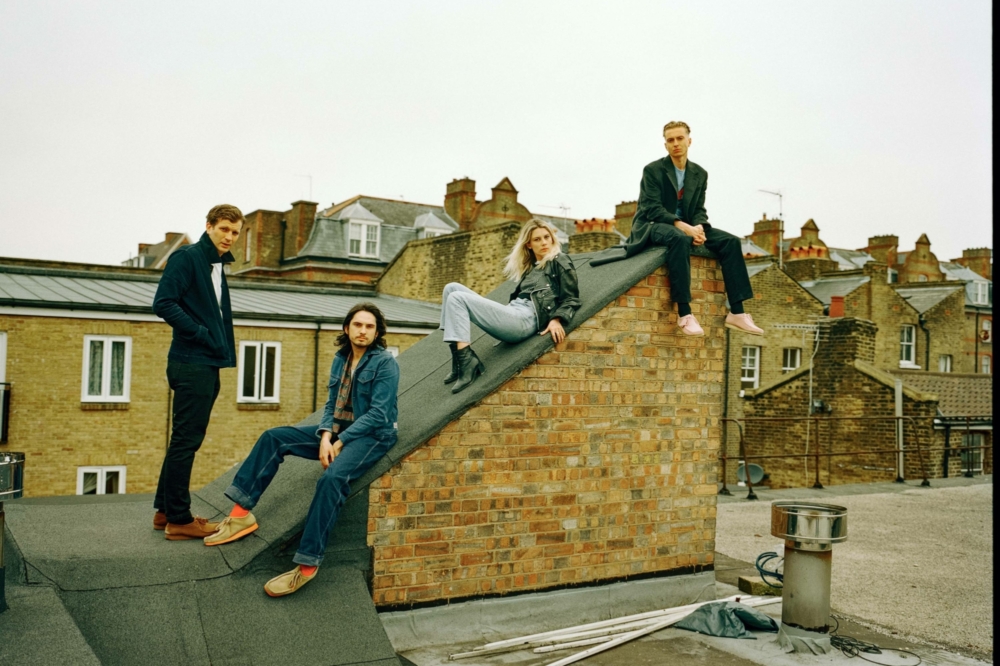 "
"I don't feel like I have the same sense of trepidation anymore; I don't want to regret that I didn't try."
— Ellie Rowsell
Nobody could have predicted quite how substantial that snooze-time would have turned out to be, but the precious months of pre-pandemic downtime did at least offer some breathing room, finding ways to reconnect with their offstage selves. Joff volunteered at a food bank, taught music lessons and set about finishing up a politics, philosophy and economics degree, while drummer Joel moved to Hastings and joined an angling society, settling into a slower pace of life. And our frontwoman Ellie? Ellie was in London, trying to piece her pre-tour existence back together.
"I tried to slip back into my old life and I failed miserably," she says, lounging on an impressive array of sofa cushions. "I tried to do the things that I'd been putting on hold; I moved house three times, tried to repair all my broken relationships, went to the pub a few times. But there's always that background thought lingering when you realise you haven't put any music out for a long time, that you don't want to play the same songs at any more shows. Clearly I wasn't getting up to much in those months off, so I needed something to do!"
That something turned out to be writing - sporadically at first, and then ramping up as the band reconvened at Mary's Gaff, an Airbnb where they began to test out their ideas. In early 2020, they headed to Brussels to work with producer Markus Dravs and engineer Iain Berryman, known for atmospheric epics by the likes of Arcade Fire, Coldplay and Florence + The Machine. A bid for a 'bigger' sound wasn't necessarily intentional, but with lockdown upon them, their focus on making a great record became singular. There were a few weekend adventures ("We did try to go out horse riding once, but they turned out to be miniature ponies and it was a bit of a disaster...") but every weekday was spent ensconced in the studio, figuring out how to push each track skyward with less filter.
"I think you do put a kind of protective, ambiguous blanket over your lyrics sometimes," Ellie says, considering her much-discussed move towards more 'straightforward' songwriting. "You're not sure whether they're good or not, basically; when you're writing to make an album, it feels like all your songs have to 'make the cut' in some way, like you're auditioning your own works against what you've done before. It can be a bit scary, but you know you won't ever move forward unless you get over that and embrace that journey." She shares a somewhat apologetic smile. "When I have to do something that scares me, I just kind of go on autopilot.'
In truth, it's Wolf Alice's reluctance to let the world revolve around them that made February's 'The Last Man On Earth' such an impressive lead single. A building examination of narcissism and self-absorption set to a theatrical, Beatles-worthy crescendo, it was the world's first glimpse of a real shift in the singer, shaking off some long-held insecurities about how she might be perceived.
"I feel like I have a weird relationship with piano, I think because - and this might be ridiculous - but because I'm a girl," she explains. "I always feel like I kind of denounced it because it was what was expected of me, so I went for the guitar even though I fucking suck at it and I find it really hard. Now that I'm older and wiser, I'm much less embarrassed about using the piano as a songwriting tool."
Reflecting on the song's meaning, some old embarrassments still die hard. "I don't really know who I'm speaking for on that song, probably just myself or something," she laughs and squirms, shrinking back into her cushions. "I really don't know! I guess it's about how we're all kind of the main character in the movie of our lives and having to grapple with the pros and cons of that. But if I try and explain it too much, it always kind of looks like I'm pretending that it's about anything at all, do you know what I mean? I'd rather somebody else explains it to me so I can be like yep, that'll do!"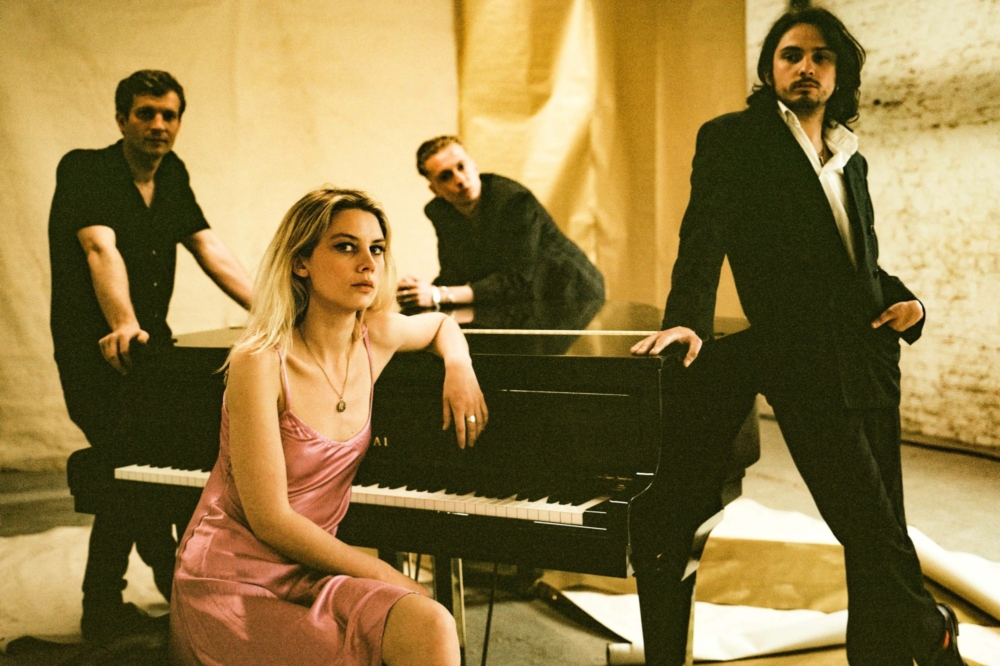 "
"It's like, 'Oh no, I have to write something about me being insecure again!'. But why should I?!"
— Ellie Rowsell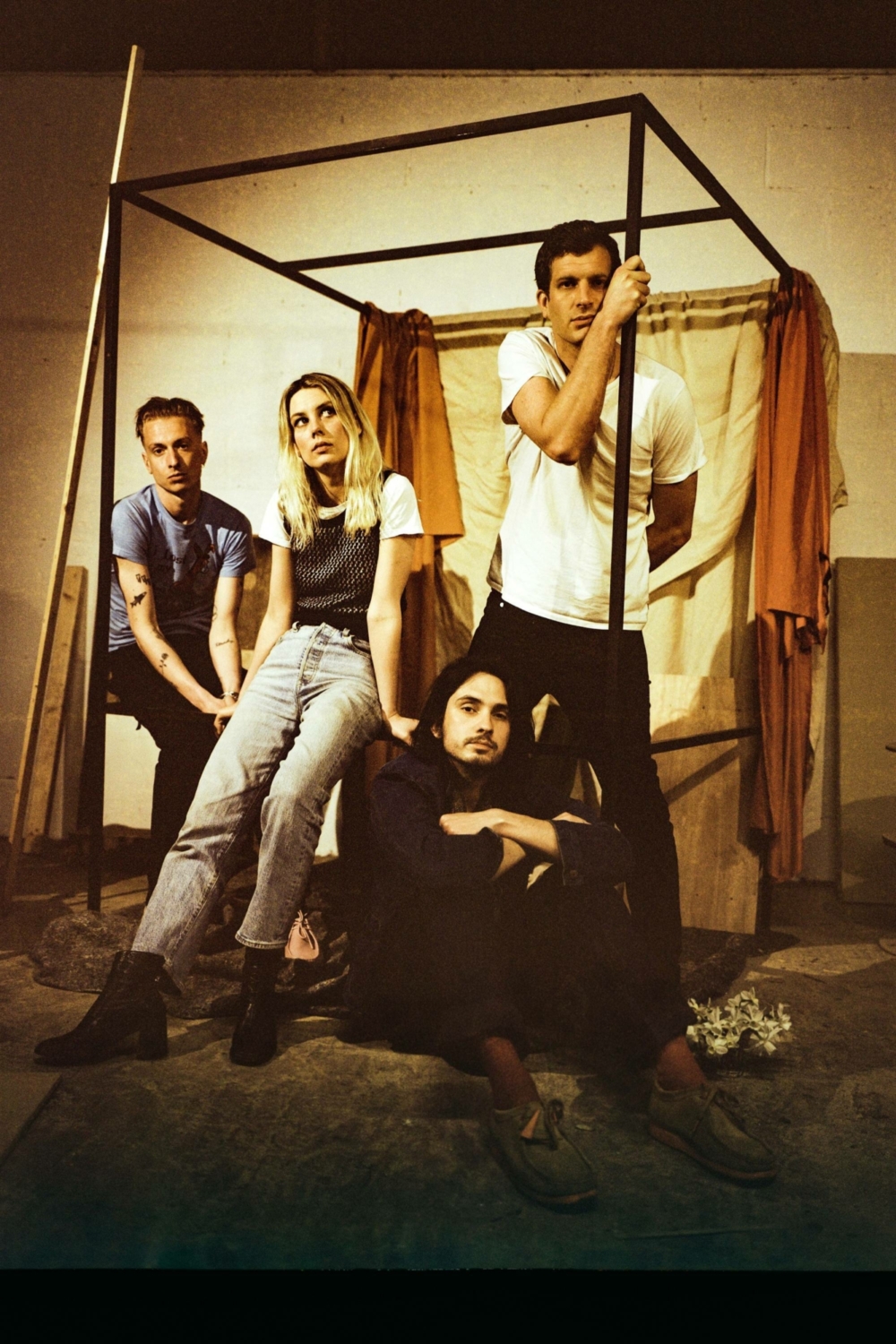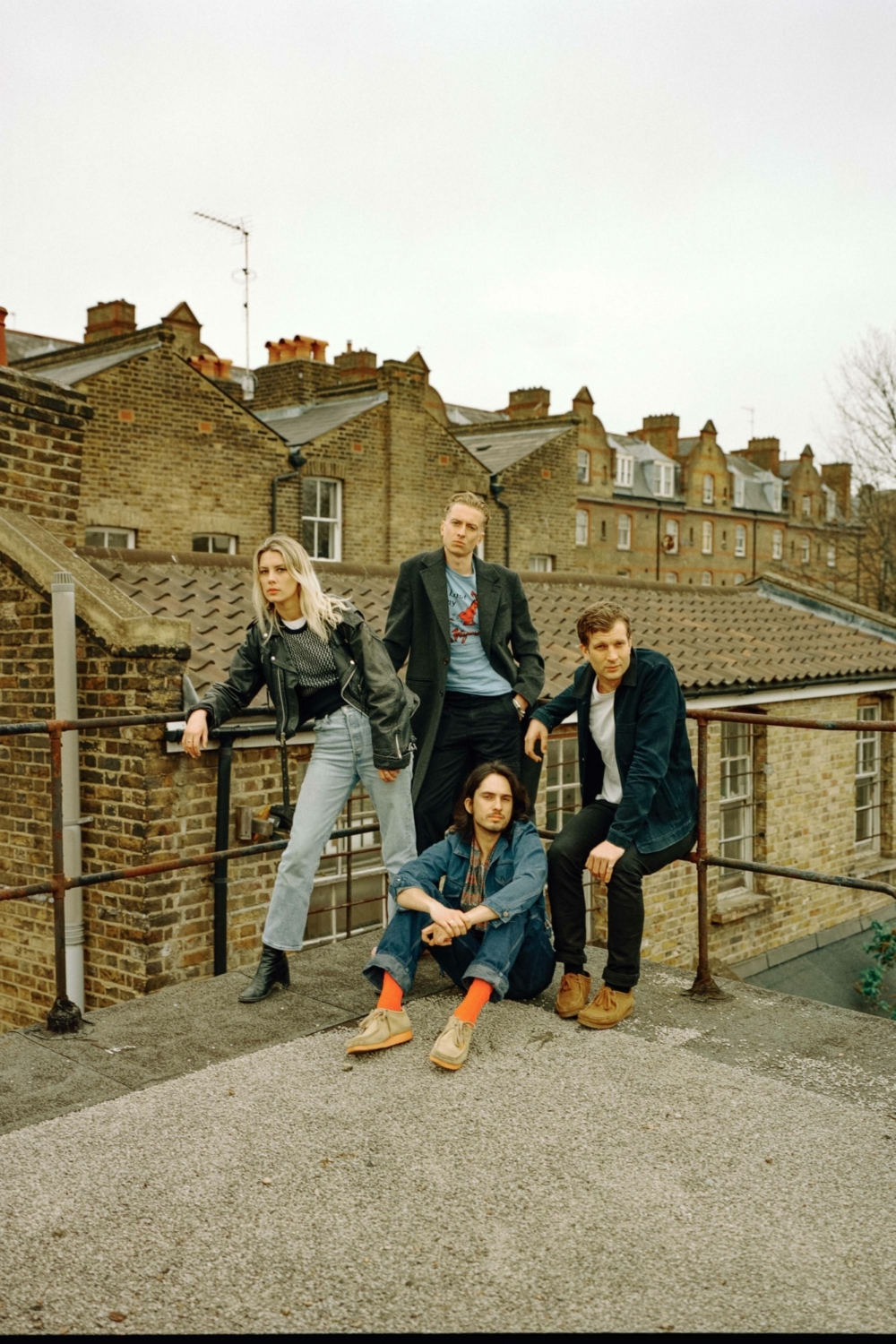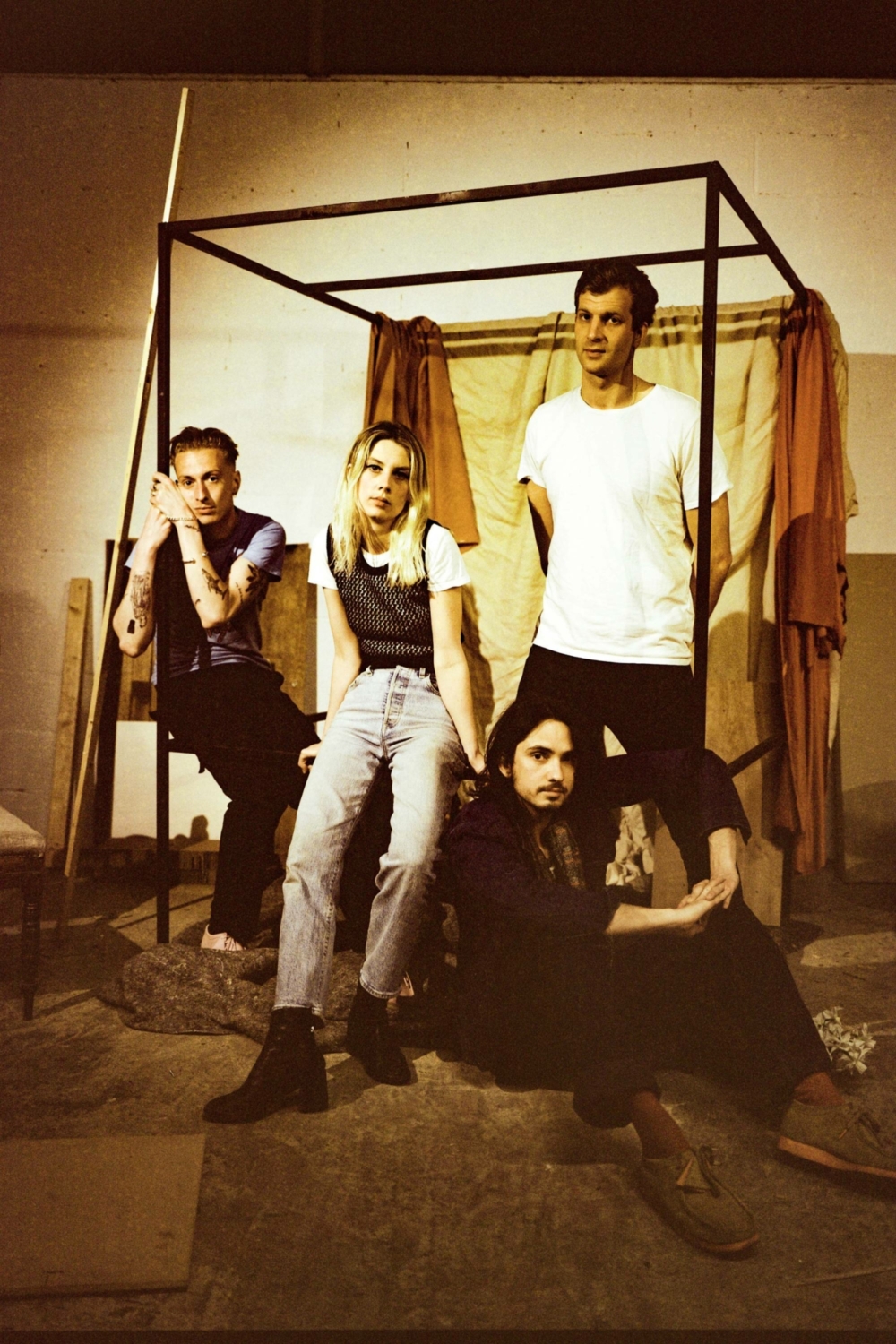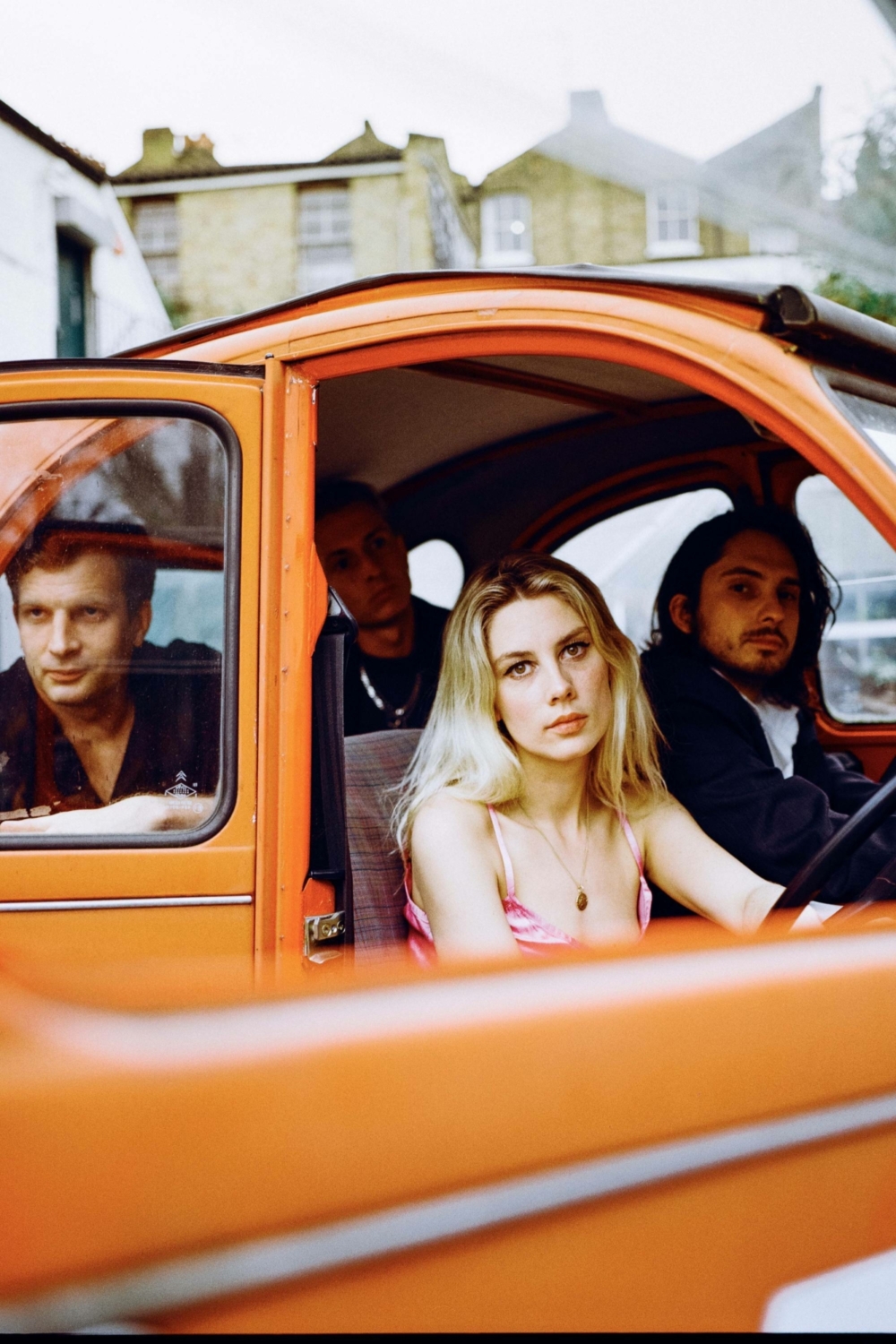 Hymn For The Weekend
Wolf Al gives us the lowdown on some specific album highlights…
Lipstick On The Glass
Joff: 'Lipstick On The Glass' took a very long time to get to the place where it is now. There was always faith in the song, but not so much in the initial musical rendering of it, so it was just a lot of experimenting. Experimentation sounds great and exciting, but after a while, you're just like, 'For fuck's sake, this is getting a bit much!' It took a very, very long time for that to get there, but it was so worth it in the end."

Play The Greatest Hits
Ellie: "This one was so fun to write, just an old school band in a room jamming. We'd just been out the night before, we were hungover and making this silly fun song with made-up words about going out every weekend with the same five songs on the playlist cos you don't want to hear anything else - just the greatest hits! When I think about where it comes in the album, it's a moment of like, 'Look, everything's fucked, so I'll just go out and scream'. The song sounds like what it's talking about, which is fun."

The Last Man On Earth
Theo: "In terms of the demos that we had to choose from, we all had a real instant reaction to 'Last Man…' when Ellie sent it over. I think that's one of the most important things that I've learnt from being involved in music, trusting that first instinct. When we had the idea to put it out as a single, we knew it was the most different song on the record, maybe even the most different Wolf Alice song so far, and it's been amazing watching people's reactions. People filming themselves crying and all kinds of stuff – it's been emotional. Viciously emotional!"

No Hard Feelings
[On the lyric "Crying in the bathtub to 'Love Is A Losing Game"]
Ellie: I feel like one of the things that Amy Winehouse did was unashamedly sing about love, quite a lot! I've always shied away from that, but listening to someone like Amy who has so much moving stuff to say about it, and was clearly so moved by her own words, it was really inspiring. She was so fucking cool in so many ways."
When DIY call again a month later, the comfort cushions are packed away, any residual awkwardness suitably loosened up by the turning wheels of their newly-packed calendar - a show at this year's virtual Glastonbury, a slot at Reading & Leeds, and a recent televisual appearance on James Corden's Late Late Show that has gained them a whole new fleet of American fans for starters. 'Smile' is thriving as a single, and 'No Hard Feelings' has premiered mere hours before we speak, its YouTube numbers tripling with every refresh. The idea of a new Wolf Alice era is properly upon us, the album release date only a few weeks away given their decision to pull it closer.
Talking about the logistics would be "a bit boring," so we focus instead on the scope of the record, the undeniable step forward that it is for their cinematic outlook. Wolf Alice have never been quiet about their love of film, but 'Blue Weekend' really does have the widescreen aesthetic of a Hollywood soundtrack, capturing a mood as much as it does a lyrical specificity. By way of testing early demos, the band would play the songs over film trailers, trying to encapsulate what they saw. "It's always about striving to create a world and a stimulating feeling; the sound of your favourite band playing in the distance at a festival, trying to make songs that capture that excitement," says Theo. "There's all these kind of nuanced, weird, stupid ways of saying it, but I think 'cinematic' does fit into how we want to make things."
The problem, with 'cinematic' however, is that it does tend to feel synonymous with age. "Quite a few people recently have described the record as 'mature', which is like oh, so we're OLD now," says Joel. "I much prefer 'cinematic'; 'mature' sounds like the album is an adult movie, which is not exactly what we were going for…"
That would certainly make for a very different kind of 'Blue Weekend', but the conversation touches on an important air of expectation that tends to hover mostly around female-fronted bands or artists, the idea that their work should follow a pre-set path to emotional 'confession', particularly when it's to do with love. Ellie acknowledges the somewhat infantilising "coming of age" narrative that has long lingered around observations of the band, and Theo concurs, commenting on the "massive questions" that tend to get pitched at Ellie, pedestalling her as a de-facto spokeswoman for 'women in rock'.
"I mean, it's kind of good in that it makes me think instead of just talking, I suppose," she ponders, trying to be even-handed about her very visible position as a rare frontwoman in a very masculine space. "But one of the things that I have been thinking about recently is how everyone keeps talking about how personal the record is, or how honest I've been. But how can they really know? I don't think people realise that I can mould my personal experiences to be something for everyone, I can be inspired by things I've seen or done or heard but then turn them into something else. Compared to a lot of others, this album probably isn't that personal or 'diary-like' - I'm not actually putting out my memoir, y'know! I do wonder how much of that has to be with me being a woman..."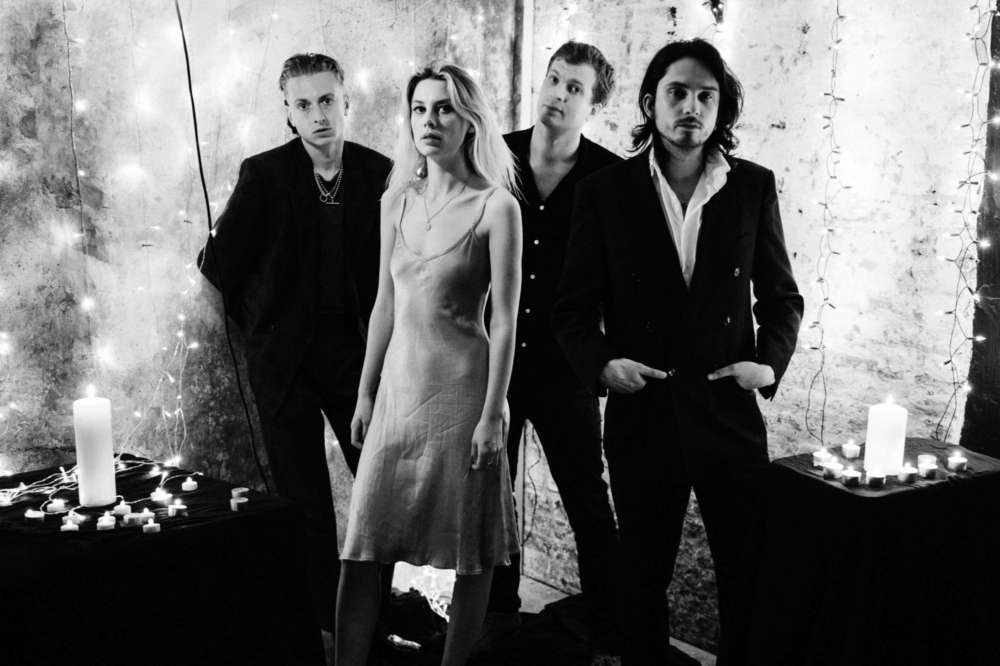 "
"It's always about striving to create a world and a stimulating feeling."
— Theo Ellis
As with all great art, 'Blue Weekend' is a balance of truth and evocative fiction, but it undeniably thrives under the growing dexterity of Ellie's pen. Spiralling across raucous nights out and melancholy nights in, she examines the romantic skeletons in the closet but also knows when to lock them away for a laugh and a pint, using her singing voice in newly creative ways. Though it may wrangle with some emotional lows, it's also a record that refuses to regret, drawing upon the wide-eyed spirit of the band's early beginnings in order to chart their future path.
In keeping with that theme of cinema, much of 'Blue Weekend' lives under the sunny skies of Los Angeles. 'Delicious Things' references it directly in the story of a night out in Tinseltown, but there's also a hefty dose of Americana to be found on 'How Can I Make It Okay', an instant classic from the songwriting school of Fleetwood Mac. What is it that they find so endearing about LA?
"Well obviously, it's where we came of age," deadpans Theo, deliberately antagonising Ellie's rolling eyes. "There's always been these pinpoint moments of great things happening where we'd find ourselves in Los Angeles; finding out review scores for the first record, recording the second one."
"If you're a young band going there for the first time, it is very much what I thought would be too obvious to be true," says Ellie. "I found it kind of sweet to remember us going there for a first time, really being a fish out of water."
If the dive-bar decadence of LA plays its role on 'Blue Weekend', so does the confidence of a glossy stadium hit. Pressing play on 'Feeling Myself' for the first time, it's difficult not to audibly gasp at its Ariana-noir, elegantly executed by a no-fucks-given Ellie. Tapping into that desire not to shroud her life in metaphor, the groundswell of its latter half is nothing short of a sensual release.
"I mean, a lot of female pop stars big themselves up in their tunes don't they!" she laughs. "I don't know if you hear a lot of that in indie or rock music. I've always been like ew, I can't talk about myself like that, but why not? It felt good; it made me want to dance and it felt… sexy." She shakes off a full-body cringe at the 's' word, adopting a self-deprecatingly glum parody of her own voice. "It's like 'Oh no, I have to write something about me being insecure again!'. But why should I?!"
"It's like that thing Noel Gallagher said about 'Live Forever', that he wrote it in opposition to all the depressing grunge that was going on at the time," chips in Joff. "He was like fuck that; I wanna live forever mate!"

There is perhaps nowhere on the record where Wolf Alice sound more immortal than on 'Smile'. Tackling industry misogyny and misconception with fizzing guitars and triumphant choruses, it is the closest they've ever got to a mission statement: "I ain't afraid though my steps seem tentative / I scope it out then I throw myself into it." In just over three minutes, it says plenty about Ellie's state of mind.
"I just had that first line and ran with it," says Ellie. "There's such pressure when you're doing something that you find really difficult. Doing radio interviews in the early days, I found it so nerve-wracking. You're literally just having a chat with someone, but you come away after and you're like, I wonder if they actually knew how nervous I was? Maybe I just came across like I was being horrible? You see people being like, 'Oh, she was a bitch' or whatever, and it's like nooooo, I was just really scared! That song is me saying I don't want it to be like this. I'm confident that I am a good person, and it serves as a reminder of that, in a fun ranty way."

"
"'Mature' sounds like the album is an adult movie, which is not exactly what we were going for…"
— Joel Amey
With fun firmly on the agenda, her growing articulation is telling of just how far Wolf Alice have come. From the sombreness of 'The Last Man On Earth' to the bratty, turn-it-to-11 silliness of 'Play The Greatest Hits', Wolf Alice consistently make being in a band sound like the best thing in the world - no insignificant feat given the increase in bedroom pop soloists and singular stan objects. If 'confidence' is the word of the day, it's not just about Ellie's lyricism: it's about the recognition that, ten years in, the quartet are more comfortable than ever to experiment as a unit, giving anything a go if it'll lead to a better end product.
"I always think back to when we first recorded 'Fluffy' - before the version that's on 'My Love Is Cool' - and just getting to the shouted chorus and just not being able to do it because I was so embarrassed," says Ellie. "I was just there whispering it; "Sixteen! So sweet!". I always think back to that, being too scared to shout a single lyric. I don't feel like I have that trepidation anymore; I don't want to regret that I didn't try.
"For me, the time where I really love being in a band is when we're having a 'mare. I'm really sensitive, and I know that if I was alone having that 'mare, I would probably quit. But I can look around me and see support, and then it all just becomes jokes instead of horror," she smiles. "Even though this album has got some really serious moments and it's very emotional, there's some really playful stuff on there too. I really like that about it, and about us."
"I don't think we've ever thought about things too much, and I think that's the best thing about us," agrees Theo. "I feel like this record is just the organic next step for us, that we care about it so much that it must be the right thing to happen next.
"The reason I do this is because of the camaraderie. I still remember the first rehearsal I came to for Wolf Alice where it was like yeah, there's an amazing vibe in here that just feels..." he pauses, searching for the right words. The rest of the band stay silent, waiting expectantly for a profound moment. "Actually nah, I'm not going to big you all up on a Zoom, fuck this!" The call crackles with group laughter. "I feel like I'm out on a night out telling you how good you are. I've only had one beer!"
DIY's attempt to encourage at least one much-deserved brag has been foiled at the very last turn, but why change the habit of a lifetime? As always, Wolf Alice can be relied on to know exactly what works for them – one comfort zone shift at a time.
'Blue Weekend' is out now via Dirty Hit.
Special thanks to the state51 Conspiracy for our photoshoot location.