Interview
Babes in Arms: Sugababes
Ahead of the 'One Touch' 20 Year Anniversary Edition release, we took a trip down memory lane with Keisha and Siobhán.
Over two decades ago, Sugababes released their debut album 'One Touch', thus cementing their name in the girl group history books and helping to shift the landscape of pop. Written while they were still at school (!), the record would go on to become an iconic snapshot of teenage life, captured in candid lyrics and smooth harmonies, with beats and hooks that still endure today.
Now, a staggering 21 (!!) years on, and a meme-worthy series of line-up changes later, the original trio - Keisha Buchanan, Mutya Buena and Siobhán Donaghy - are revisiting their iconic first steps and inviting collaborators from across their career to contribute to a brand new reworking of the record.
How does it feel to listen back to 'One Touch' now?
Keisha: It instantly connects me to a point when I was a kid and what I was feeling. When you read some of my early journals, it's the 'One Touch' album, almost.
Siobhán: To me it sounds as fresh as the day it was cut. I'm so proud of it and not shy in being able to say I think it deserves another moment; I think it was ahead of its time.
What was it like writing and recording an album so young?
K: We'd come out of school maybe on the first break or lunch break and then we'd go straight to the studio. We'd be recording until maybe five o'clock in the morning, or six sometimes, and then literally we'd go straight to the house, brush our teeth, put a new uniform on and go back to school.
S: It was kind of magical, because we were super young and we weren't doing anything really that bad or naughty, but we were also kind of living the dream. We were so young, no one really knew what it should sound like, so we just had to experiment.
Looking back, what was your favourite track to write?
S: I always look back at 'Look At Me' because it was the first one we actually wrote. [Producer] Cameron McVey gave us a backing track, a cassette each, and said, 'Look, write whatever you want'. But he explained to us the importance around having a voice, never looking away, really kind of taking ownership.
K: There's a song called 'Just Let It Go', and I remember just wanting to write a song about being a tough cookie and girls supporting each other. At the time, there was this boy in our neighbourhood that we felt was taking Mutya for a bit of a ride, and I remember being like, 'Just let it go, move on girl!'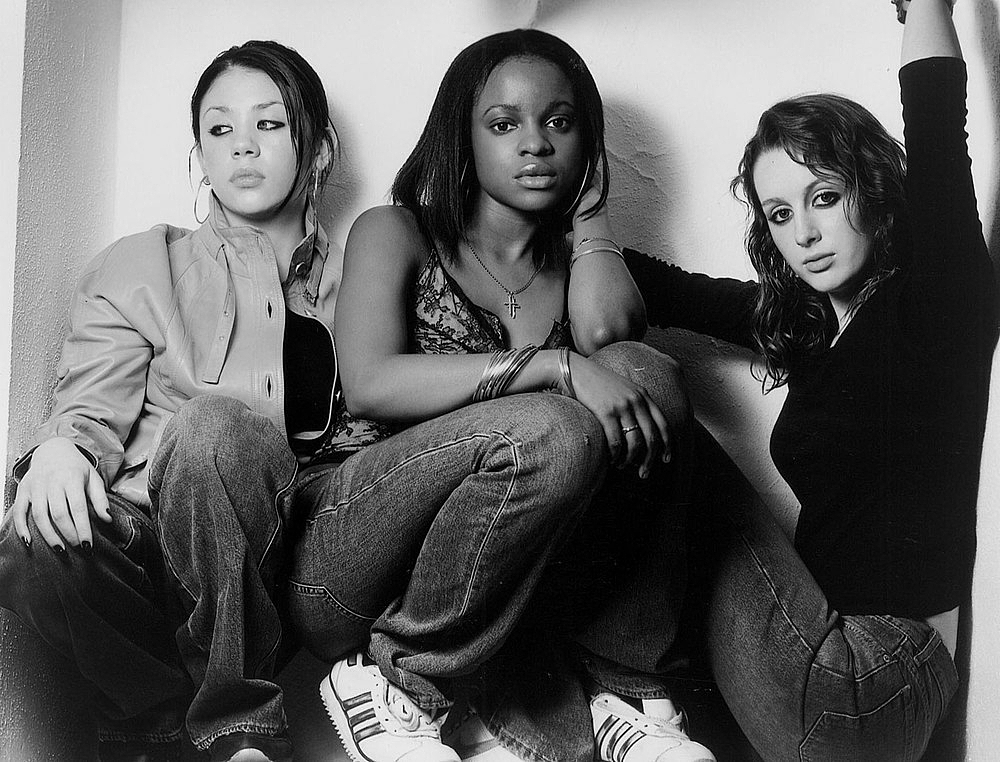 "When you read some of my early journals, it's the 'One Touch' album, almost."
— Keisha
How did you decide who to bring on board for the anniversary project?
S: MNEK we've worked with previously quite a lot, he was just a no-brainer. He holds a special place in our heart in terms of being a really big part of the MKS work that we did, he's just someone who we clicked with instantly. I was really keen to ask Dev Hynes - he did 'Flatline', our single with MKS. He was born in Essex and remembers the 'One Touch' record, and finding people that get us now but also understand where we've come from was really important. It was quite nice he [remixed] something that had never been a single ['Same Old Story'], it comes in with that piano intro and I just thought it was so beautiful.
People are beginning to look at the treatment of women in the 2000s through a new lens, do you feel like things have changed since then?
S: It was very obvious that it was an incredibly sexist industry, and I've actually noticed that more so since we came back as MKS. Having an opinion of any kind, you're just seen as so incredibly difficult. I find it exhausting because I don't know how to be any other way.
K: As the only Black girl in the group, I wasn't necessarily handed the same amount of fairness with public perception. It really took a toll on me, I would walk into every interview really defensive just hoping that people wouldn't notice. Now, I think that people who are seeing injustices are speaking up. Recently Leigh-Anne Pinnock from Little Mix did a documentary that I was a part of, and I feel like the more it's spoken about, the more there can be equality all the way around. I feel like I've been holding my breath for such a long time and didn't know why.
What advice would you send back to your past selves if you could?
S: It's okay to just be true to yourself and life's gonna work out anyway, you know? I turned down a lot of things that maybe could have made me more successful but would have made me really uncomfortable, and I'm really glad that I did that.
K: I would say to always really try to remember who I was as a person. I could always talk for England, always bubbly, and I think being in the public eye made me feel like I couldn't be that because it was perceived as something else. I would just say to enjoy yourself and check on that mental health to make sure you're not letting yourself be too affected.
'One Touch (20 Year Anniversary Edition)' is out 1st October via London Records.