Interview
Stranger Than Fiction: John Grant
John Grant has spent his life trying to find his place in the world. From the minutiae to the most maximal modern horrors, 'Boy From Michigan' sets out to punctuate that kaleidoscopic journey.
John Grant, both in conversation and his now-five album catalogue of solo endeavours, has a way of wording things that's just that little bit better than most. Whether exposing life's futilities or highlighting its beauty, pointing a fucked-off finger at the political shitstorm we've found ourselves in for years now or looking back at the formative moments that shaped him, the 52-year-old's linguistic choices are ones that never fail to boil a feeling down to its bones.
Right now, dialling in from his adopted homeland of Iceland, heaving record collection spilling out the sides of the screen in the background, he's recalling the particular childhood moment from nearly four decades ago that informs 'County Fair' - the rose-tinted second track on this month's Cate Le Bon-produced 'Boy From Michigan'. "It was dusk on a summer evening, with this twilight sun coming through the leaves that were already really green and lush, and this car pulled up and I saw this girl's face who was so beautiful and it's just funny," he pauses to himself for a moment. "I've been around the world and been through all sorts of stuff and I still think back to that moment, which was just an incredibly beautiful moment for me." Then he's off, enthusing about his life-long passion for the Zipper fairground ride, trotting off screen for a second to find the painting of it that's since become a reference point for his current album art.
Fast forward a few minutes, meanwhile, and we're talking about what it's like to turn 50. 'Boy From Michigan' - the follow-up to 2018's more overtly antsy 'Love Is Magic' - is the first record John has written since the milestone; it seems notable, then, that his latest begins with a delve back into his childhood, the following tracks widening the lens out until we reach the present day.
"I suppose one thinks about death, and one thinks about what one has accomplished and to what extent one can plan for the future or what extent one can analyse the past," he ponders. "And I don't think I've ever been very good at living - just never really learned to do a lot of things, just getting by - so I suppose it's quite natural for me to look back on those times when there was a structure and I knew what my place was. 'Cause when you get out into the world, there's no borders, no boundaries and everything's up in the air, which can be great but it can also be overwhelming…"
"I feel like you have to be quite mentally ill to be well-adjusted in America."
Cate: C'est Bon
Cate Le Bon helmed production duties for John Grant's latest - he explains how the two paired up.
"We met in 2013 at Glastonbury and we've been friends ever since - so more than anything, we wanted an excuse to hang out. She's got impeccable taste and is incredible, I love her as an artist and as a person. I'm not gonna say it was easy because we were starting to get deep into the pandemic and making a record is never easy; it's a crazy time in the world and you're making yourself really vulnerable to do this thing, so a lot of the time I felt like I didn't have the defences up like I needed and I think it was similar with Cate. But we had a lot of incredible times, and it wouldn't sound the same without her."
If the two interactions seem like a u-turn in tone, then John makes them feel like parts of the same intrinsic whole. Since 2010's solo debut 'Queen of Denmark', its title track a glorious, end-of-tether piano crash of withering couplets ("You tell me that my life is based upon a lie / I casually mention that I pissed in your coffee"), his niche has been one of brutal, often heartbreaking, regularly hilarious honesty.
The point seems to be that you can't have one without the other. On this album's sparse, reflective 'Mike and Julie' he reflects yearningly on his first gay sexual experience; two songs later, with 'Rhetorical Figure', he's having a hoot reeling off obscure bits of linguistic terminology he's just learnt while declaring himself an "ASSonance man". There's a constant, witty sense of playing with levels that's a joy to listen to.
"I think it's important to understand that every level of language is equal to every other level of language. The way a farmer expresses himself out in the middle of nowhere with tons of slang and maybe not in a way that's considered educated - that's not an inferior way of expressing yourself to me. That's equal to any other way and maybe higher because the guy isn't putting on airs, he hasn't gone through a system where he's been told, 'You have to express yourself in this way in order to be taken seriously'," he asserts. "I think that's what I do in my music - I'm always using all these different registers of language because I love slang and I love profanity and I think all of these ways of expressing yourself are [equally valid].
"But I do love learning, and I do have this curiosity - one of the things about being a bit immature is I still have a huge portion of that childlike curiosity about things and I love that. That's something I think is good about me," he decides.
Indeed, if curiosity and inquisitiveness are traits normally associated with those his junior, then John has lost none of the reactiveness and rage of youth either. Though the first third of the record acutely speaks of his pre-teen years - a time in his life where, he explains, he felt "there was definitely at least an appearance of stability" before uprooting to the harsher judgements of Colorado - then the latter portion is very much anchored in the present day. More than birthday-related, half-century reassessment, the impetus for 'Boy From Michigan', John states, was watching the slow self-combustion of American politics over the last years; despite having been away from the country for nearly two decades, it is still the place he thinks of as home.
"I'm tired of hearing how great our country is, how superior and incredible it is. If you look at the drug problem, the homelessness problem, the violence, the amount of death everyday - it's a mess. Here in Iceland, people can't even get their heads around that shit," he begins angrily before pulling back slightly. "Can you imagine growing up and everyone's always saying, 'This is the moral standard'. 'This is the best place'. But you also know that you're not really welcome there - that the American dream isn't really meant for people like you unless you can fit in and change? I feel like there is no other country that's preached to the rest of the world like America has, and unleashed this way of living and doing business and manipulation. I feel like you have to be quite mentally ill to be well-adjusted in our country."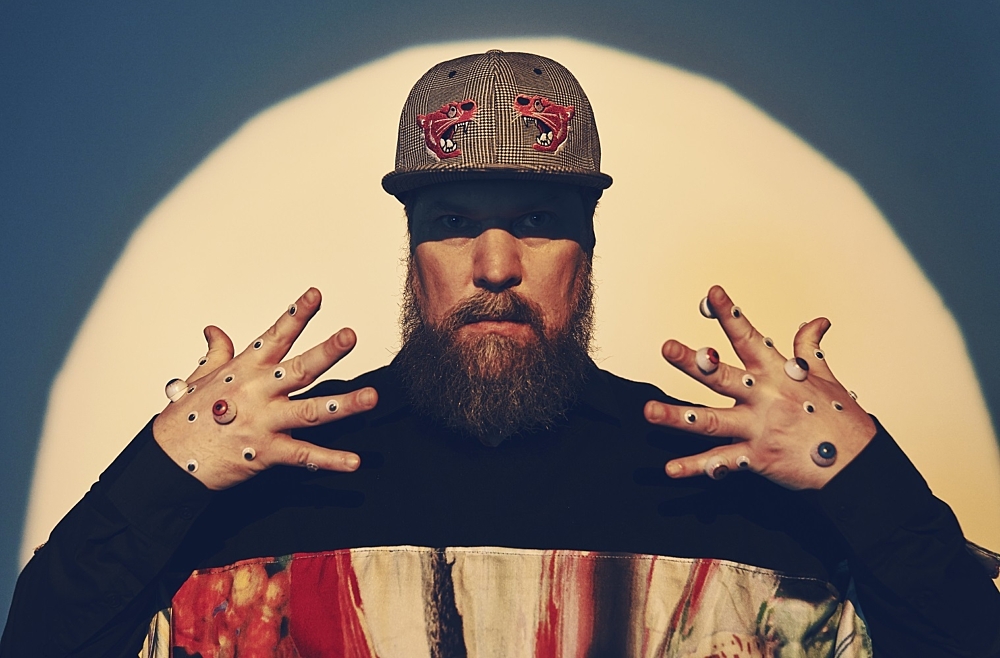 "One of the things about being a bit immature is I still have a huge portion of that childlike curiosity, and I love that."
John Grant - born in Michigan, raised in Colorado, brought up in an orthodox Methodist household before traversing all kinds of demons and ending up here, sometimes happy and objectively successful (a casual mention in passing of his friend Elton John will nod to the latter) in Reykjavík - still clearly relates a huge part of himself to that American boy. "It's where I come from and what I identify with. I suppose in some ways it's always gonna be home," he shrugs. "I wouldn't write an album about Iceland or Germany, where I lived for six years before; [America is] what I come from and I'm very affected by it, I guess we all are affected by what we come from."
But the takeaway from his latest album - and, perhaps, his life in general - seems to be that even if you've weathered your fair share of storms, if you approach things with an equal dash of hope and humour, and try not to shut yourself off to the world, then maybe you can create your own ending.
The last track on 'Boy From Michigan' is a warm, actually fairly Elton-ish track entitled 'Billy' that rightly demonises the "cult of masculinity" with a still-fragile outlook: "We're both disappointments to so many folks in this society". John, however, doesn't see it as a negative. "Life is difficult and you can find your place anywhere pretty much," he decides is as good a conclusion to the record as any.
"There are a lot of things to get excited about: music and trees and people and languages and books and landscapes which trees are a part of… There's so much stuff to get excited about…"
'Boy From Michigan' is out now via Bella Union.