Introducing…
Get To Know… SEB
Fresh off of the release of his debut EP 'IT'S OKAY, WE'RE DREAMING', meet the pop polymath.
Hello and welcome to DIY's introducing feature, Get To Know… getting you a little bit closer to the buzziest new acts that have been catching our eye as of late, and working out what makes them tick.
Recently we've met dynamic duo Wooze, South London-based multi-instrumentalist Hussy, Wunderhorse, Isle of Wight's finest new indie export Lauran Hibberd, and now we're introducing you to LA-based pop hit maker SEB.
Already with a viral TikTok smash under his belt, the pop polymath recently dropped his debut EP 'IT'S OKAY, WE'RE DREAMING'. Speaking on the project he says, "'IT'S OKAY, WE'RE DREAMING' serves as the first act to this whole journey. It fleshes out the mind-state I was in senior year where all these possibilities were about to open up, but at the same time, I'm starting to deal with the realities of growing up."
We sent him over some qs to find out more…
Describe your music to us in the form of a Tinder bio.
Enjoys walks on the beach during sunset. Loves house parties but also perfect headphone music when you're in your bag. All around, just a chill vibe.
What's your earliest musical memory?
I remember being like 5 or 6 and not knowing any english at all, and seeing the music video to Rubberband Man by T.I probably playing on MTV's Sucker Free Countdown. I never heard anything that good before.
Who were some artists that inspired you when you were just starting out (and why)?
I was huge into the Datpiff, Livemixtape era of music in middle school. Specifically, Young Money artists like Gudda Gudda, Jae Millz, Lil Wayne and Lil Twist. Any music I was making starting out, was trying to sound like them.
You're based in LA! What do you think of the music scene there at the moment?
I honestly haven't gotten a chance to experience much of it at all. I moved out here right before the pandemic hit, so it's been tough to move around and really see things.
Are there any other artists breaking through at the same time that you take inspiration from?
I'm a fan of people like Dominic Fike, Jean Dawson, and Remi Wolf. They're all really sick.
Who would be your dream collaborator?
I missed my chance to work with Prince. That would've been really cool. Benny Sings is really dope too. I've been a fan of his for a while now.
Musically or otherwise, what are you most looking forward to this year?
I've been looking into some vintage point and shoot film cameras, so hopefully I find one I really like soon.
If people could take away one thing from your music, what would it be?
It's ok for things to be off a little bit, just trust the feeling.

Get your copy of the latest issue
More like this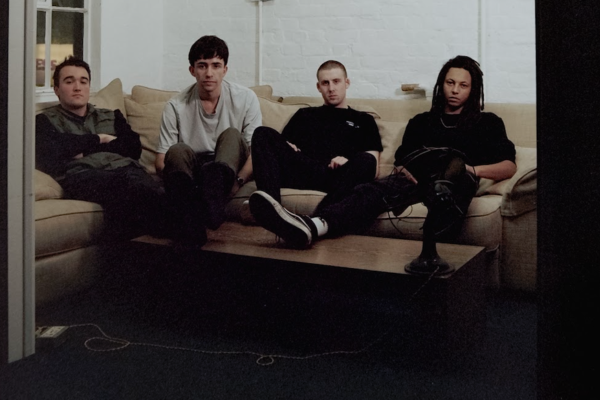 DIY's essential, weekly guide to the best new music.