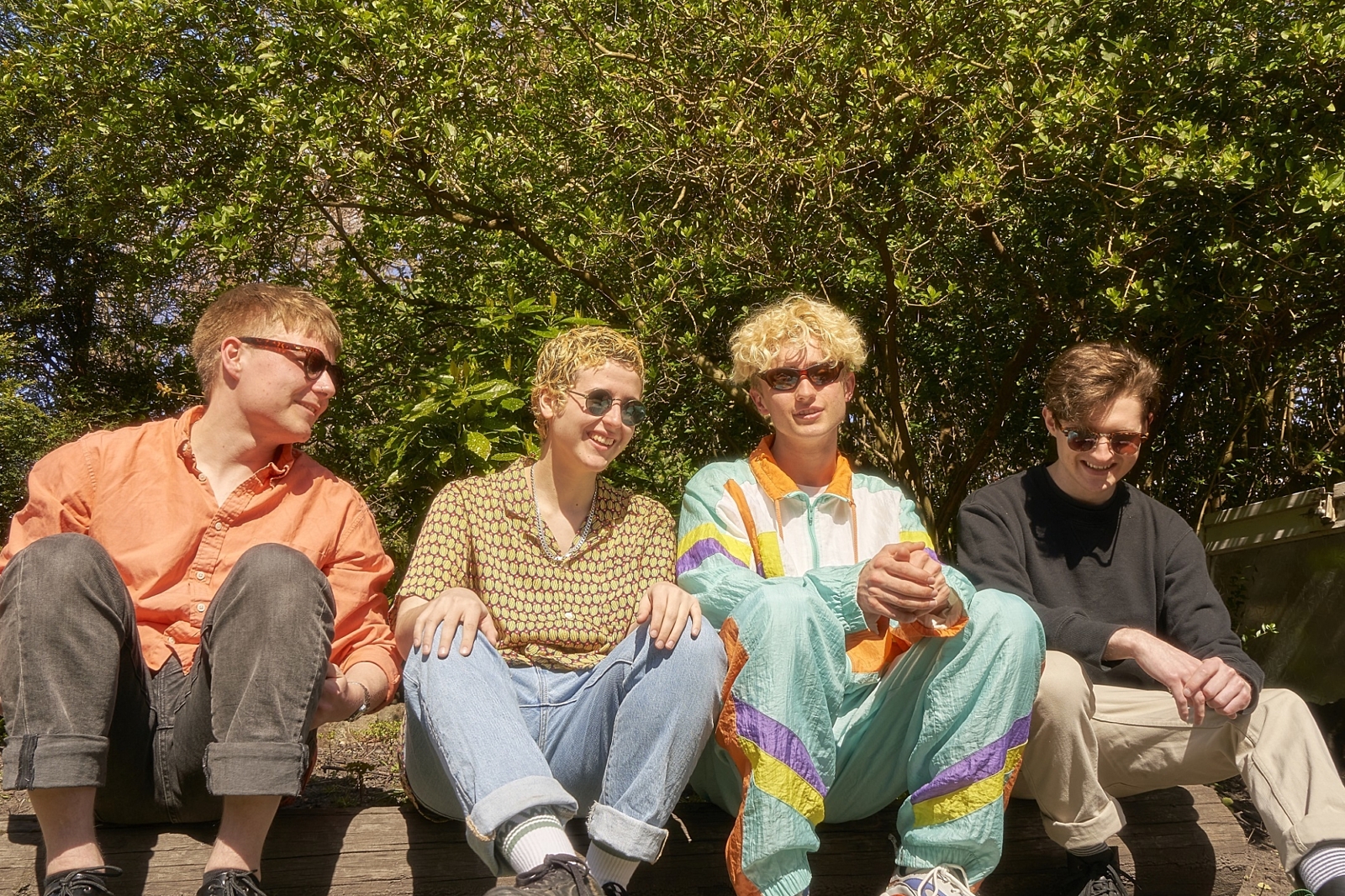 Photo: Oliver Pringle
Interview
Porij: "Make big, dirty tunes, have a blast, and hopefully you'll be alright"
The Manchester gang, taking dance music to new places.
Final mix checks in the Maccies drive-thru, warm, flat beer before a gig, and 'Original Nuttah' amplified by a makeshift Pringles can speaker: the 'normal' world of Manchester quartet Porij might not be a glamorous one, but it's one they can't wait to return to.
"During the pandemic, a lot of our income completely dried up, but we're quite lucky in the fact that we're so DIY everything!" vocalist and keys player Eggy explains after sipping their coffee. "We've organically always enjoyed working with what's in front of us. We're very much a 'do' [rather than] a 'think' group."
"Like our record label [Oat Gang Records], which arose purely because Distrokid needed a label name so we could release shit ourselves," drummer Tom continues. "Even our band name! James [Porij's bassist and keys player] said it was just something to get out of the way. So, we picked Porij - and spelt it the way a five-year-old would!"
It's this homespun yet confident attitude that's precisely what makes the genre-melding dance band so enticing. Forming a tight-knit friendship during their time studying at the Royal Northern College of Music, their similarly idiosyncratic music tastes fused together to form their quirky, self-proclaimed 'Oats' sound. As a band who makes dance music, it's not shocking then, that their work is surreal and funky like no other - swimming between sweet pop licks to groovy rhythms that will egg on some skanking.
"Why be two dimensional and limit yourself when you have the ability to do more?"
— Eggy
"We just listen to bare music!" guitarist Tommy exclaims. "And we also play instruments, so including them into the electronic aesthetic is always quite mind-bending, but very fun."
This diverse yet effortlessly danceable sound is excitingly showing up not only in September's debut EP 'Baby Face' - but also live, from their rave-filled home of Manchester to across the UK. "Manchester was the first place I felt like we could get involved in a scene that had a reputation for bands that you can dance to," Tommy explains. "It's been such a pleasure to now be able to add something to that."
Still, while their EP's title points to a band embracing their youth and holding a carefree, feel-good energy, Porij's music is artfully sparking important conversations and deep-diving into personal difficulties too - despite its ability to make you move your feet. On previous single 'Ego', for example, Eggy shares their difficult experience with light and dark, and recent track 'Nobody Scared' touches on gender-based violence and Reclaim the Night marches. "I think we would never shy away from being political, even if it isn't our sole purpose," Eggy explains. "It comes down to not being afraid to show depth. I just think, why be two dimensional and limit yourself when you have the ability to do more?"
And 'more' is precisely what Porij are and intend to continue doing. Their advice to their younger selves is still what they're preaching now: "Make big, dirty tunes. Have a blast. And hopefully you'll be alright."
Records & Merch
£12