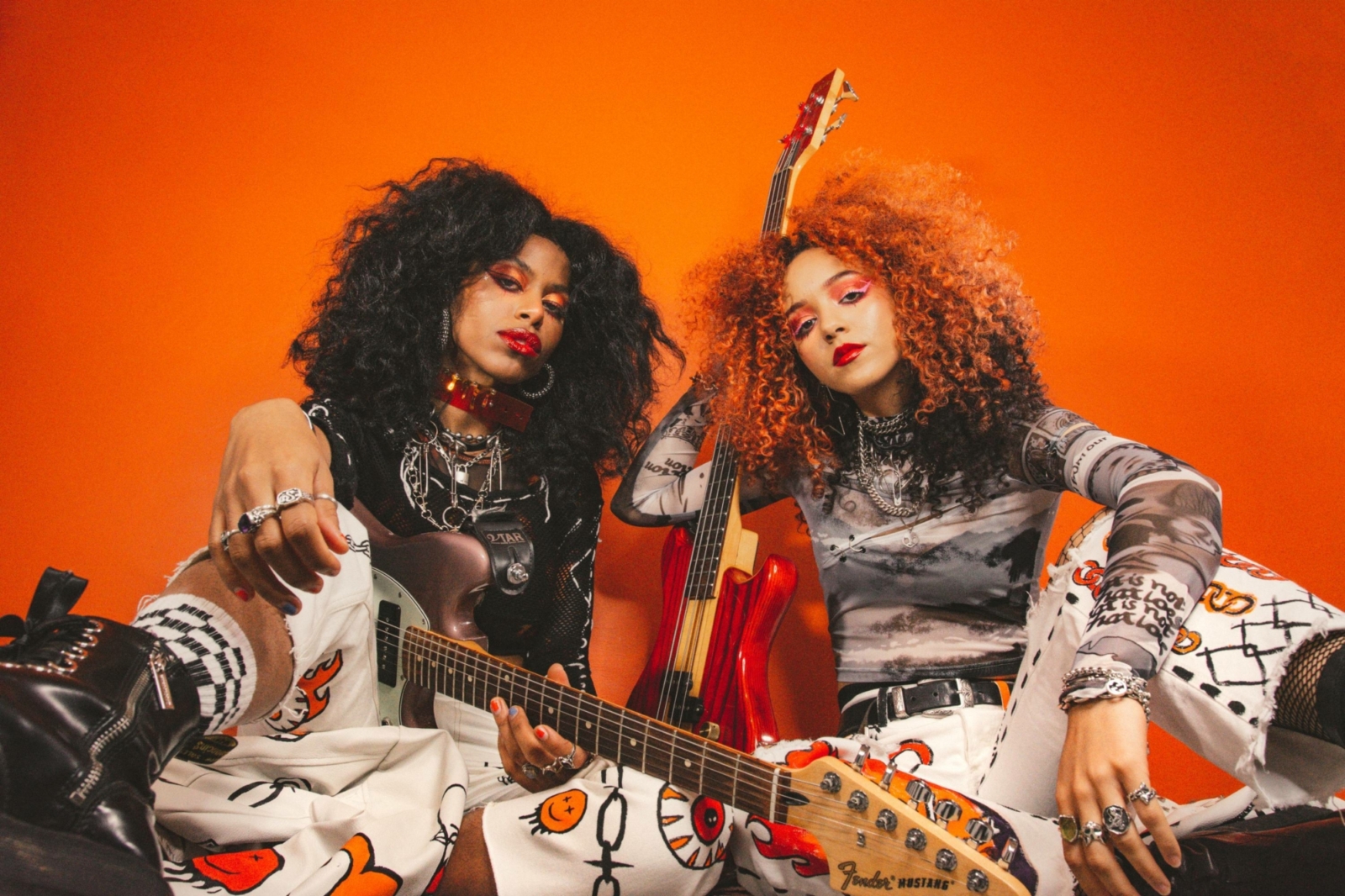 Photo: Arthur René Walwin
Interview
Nova Twins: "We want to make the music scene less pigeonholed and boxy"
Following the release of their debut 'Who Are The Girls?' last year, this duo are breathing new life into rock.
Nova Twins are long overdue a victory lap. Back in early 2020, they unleashed one of the year's most accomplished debut albums in the form of 'Who Are The Girls?'; a record that ripped rulebooks to shreds with its genre-demolishing hybrid of rock, punk, grime and electronic. They were quickly tipped as a one-to-watch, yet more significantly, were hailed for bringing fresh new sounds and a new voice to a famously male, pale and stale genre. The visibility of these two women with afros and bright, punky outfits in magazines and on Spotify playlists felt genuinely important, the start of a paradigm shift where young Black women going to rock shows could see people on stage who looked like them.
It's been a long time coming for vocalist and guitarist Amy Love and bassist Georgia South, given that their first EP came out five years ago. "It's great for us to reflect on the journey," says Amy. "When you first start off, you want everything to happen straight away, but you can't beat having experience under your belt. It's all about the steady race. You want the memories, and the memories are so good. We're having such a great time, we've been making more music and we're excited for the next steps."
Like the rest of us, however, the 2016 versions of themselves couldn't have imagined their breakout moment would come in a year that, for reasons we're all too familiar with, they would spend mostly at home. "We have felt our success,' says Georgia, "but we've been very isolated, not really out in the world. It's a weird one. We love all the support we've been getting online and it's incredible, but we can't wait to see some real people and get to interact in a more human way."
Now that the situation has improved and live music is back on the agenda, they can finally begin to reap the rewards in real life. "We're going from no gigs to a ton of gigs!" rejoices Georgia. Already, they've been booked for a flurry of support shows with Bring Me The Horizon, Enter Shikari and Sleaford Mods in quick succession, while their own headline shows are planned for Spring next year. Before that, however, is the AIM Awards, which recognises the best names making music on independent labels in the last year. The London duo have been nominated for the Ones To Watch award, where they are the only rock act in their category. It's something that excites them – after all, they're doing what they've always wanted to do: representing. "It's great that [the AIM Awards] are including rock in the Ones To Watch [category]. We see it as progress in terms of diversifying how we listen to music," Amy explains. "It's an amazing thing to be in that category, representing and pushing the boundaries in the mainstream."

"We want to keep pushing it forward so that the next generation can see two odd looking girls playing weird punk and rock and everything-in-between music and think 'If they can do that, I can do it too'."
— Amy Love
There's plenty more where that comes from too. The duo are aware that they're leading a charge of a new wave of rock bands that is more visibly diverse than ever, and they're determined for you to know the names and voices of their compatriots. After the wave of Black Lives Matter protests on both sides of the Atlantic last summer, magazines and streaming services rushed to spotlight the names of the most up and coming bands with POC members for fans realising they needed to diversify their playlists. Nova Twins made their own contribution in the form of Voices For The Unheard, a limited edition vinyl compilation showcasing some of the most exciting names from the world of alternative POC music, including Loathe and Big Joanie. They've also engaged in an open dialogue with the MOBOs about introducing a rock category into the award, pushing not only for the recognition of the swathes of talent coming from the underground, but also the recognition of rock's history as a genre pioneered by the black community.
"We want to make the music scene less pigeonholed and boxy," affirms Amy. "But the underground is thriving. It's such a wonderful place and you find the most interesting acts there. Then when you start to look upwards to the mainstream, they take what they want and then really dilute it. We want to make sure [the underground] is an inclusive scene that can keep moving forward."
"[We want music to be] less tokenistic too," adds Georgia. "We don't want to be the only POC alt band on a festival line-up. You can have more than one, rather than thinking 'Oh, we've already got Nova Twins this year, we've already got Ho99o9 this year, we can't have anybody else'."
It's for this reason that Nova Twins' AIM nomination is a triumph in multiple ways; for the band themselves, for a genre experiencing a new lease of life, and for anyone who has gone too long without feeling represented in music. Above all, they are here to inspire. "We want to keep pushing it forward so that the next generation can see two odd looking girls playing weird punk and rock and everything-in-between music and think 'If they can do that, I can do it too," says Amy. Two girls and two guitars can make a lot of noise.
Nova Twins have been nominated for the AIM Independent Music Awards 2021, which takes place as a global livestream on 25th August. For more information on the event, and to check out the other nominees, head to their website.

Get your copy of the latest issue